[Artikel ini diterjemah daripada rakan rakan kami di SOSCILI. Untuk baca artikel ni dalam Bahasa Melayu, klik sini!]
[UPDATE 22 OCT 2017: A few days ago (15th Nov), it appears that the fuel prices are still climbing, and not just by one or two cents. In the period from the 16th to the 22th of November, the fuel prices rose by 7 cents, the same as the week before that (9th Nov to 15th Nov), which amounted to a 14 cents's rise within two weeks.]
While yesterday it had been announced that fuel prices will be dropping 2-4 cents this week, the gomen have been announcing a rise in fuel prices weekly since April. It doesn't matter whether it's RON95, RON 97 or diesel, they all went up. It would seem that until yesterday, for the past 10 weeks the prices of RON95 and RON97 made like Taio Cruz and kept going higher, higher, higher off the ground.
However, when we look at media reports, we'll find that the global oil prices are actually falling. So why is Malaysia's fuel prices rising? Because we love us some numbers, we plugged the data for fuel prices (you can find them here) into Excel, and the graph we got confirmed it: Malaysia's fuel prices are slowly but surely rising, even during periods where the global oil price dipped.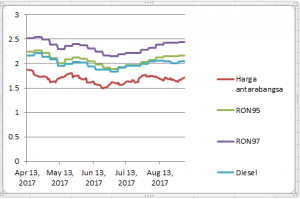 However, as any recurring Cilisos reader would know by now, it would be wise to not jump to conclusions, as there are probably valid reasons why this is happening. The global oil prices in the graph above are actually the prices of crude oil, and Malaysia didn't use that to determine fuel prices. So what do we use?
We didn't use the price of crude oil, we use MOPS.
But seriously, what is MOPS? It's short for the Mean of Platts Singapore, which is an index of prices that fuel buyers refer to as a benchmark in determining the price of processed petroleum products. The MOPS index is handled by a Singaporean company named Platts, so it's no wonder that Singapore became the biggest supplier of processed petroleum products in Asia Pacific, and the third largest in the world.
There are two other indexes used when considering fuel prices, and they are the New York Mercantile Exchange (NYMEX) and the London Stock Exchange (LSE). However, MOPS's values are more commonly used for fuel prices as unlike MOPS, NYMEX and LSE are based on crude oil prices. This is the reason why the MOPS's values are a bit higher than NYMEX and LSE. Our gomen, like many others, also uses the MOPS to determine oil prices.