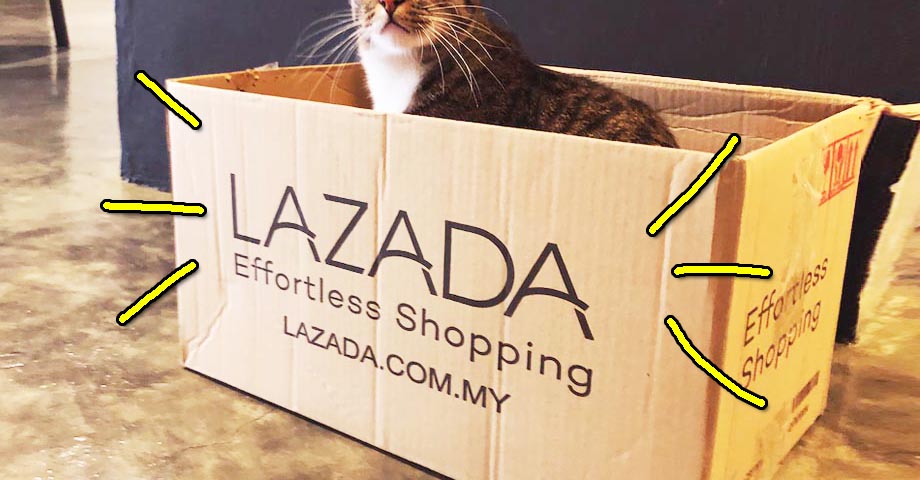 A lot happened in 2012 – Proton launched Prevé, the Pudu prison buildings got torn down, and our colonisers returned but this time as Will & Kate… and without taking our tin ores and rubber.
But something else happened in 2012 that would make this writer consistently broke af: the arrival of Lazada.
As they celebrate their 7th birthday next week, Cilisos thought it would be fun to look at how they went from a tiny bean into the giant beanstalk they are today. Now, to comprehensively detail out their evolution in an article would be like stuffing 23498 lions into a UHT milk box, so we're gonna try to keep things as light as possible with the help of some stories shared by Lazada relics.
Their first order was… not what you'd expect 🙂
Just ask around the Lazada office and you'll hear of the legendary rumour about Lazada's first order when they first launched in March 2012. It was a TV, and upon receiving the order, the team excitedly ran off to a mall to purchase it (?!!) and deliver it to the buyer. TBH, we also had the idea that top-level executives would be busy behind their desks, but…
"[During massive campaign days,] many times the entire leadership team had to spent whole weekends in the warehouse picking and packing orders to reduce our backlog, but also to compete who packs the most items per hour and wins the forklift truck races." – Hans Peter Ressel, former Lazada Malaysia CEO and now CEO/Founder of Momentum Commerce
"When we first started out and were relatively unknown, brands and distributors were understandably not always comfortable allowing us to source products from them," Hans Peter added. "Once, during a workshop in SG, a customer suddenly ordered a Macbook and we had no other choice but to buy it ourselves at Changi airport and personally bring back to KL before shipping it out to the customer."
Truth be told, Lazada truly didn't have it easy at the beginning. Not so much the fact that the media and other players drew parallels to a US-based e-commerce giant, but because they were just so darn new.
"We didn't get (to where we are now) in one day. At the beginning, it was not the most exciting. It was a tough concept that nobody really knew how to do." – Kevin Lee, Chief Operating Officer of Lazada Malaysia tells Cilisos
This, along with growth in other parts of the business, got Lazada into rapid-fire succession. "Every week was a new milestone. Every month was a new milestone," Kevin tells us. "We were just growing veryveryveryvery fast."
Not wanting to be known as "a site for cheap electronics", Lazada then grew its other product categories, pushing an assortment of stuff that most people in 2012 wouldn't have bought online. (Think salted egg yolk snacks or cartoon Cars towels.)
2012 was also the year they first started their legendary sales, such as the 12.12 sale. "During our first 12.12 sale, we decided to allow customers to pre-order the PlayStation 4 ahead of its launch date about a week later," Shah Suriye Ruben, Senior Vice President of Operations at Lazada Malaysia tells us. He adds that it even accounted for around one third of the sales for 12.12.
"The moment the stock was available, four or five of our staff volunteered their cars, went to the warehouse and stuffed their cars full of PS4s and delivered them to customers on the same day which was also the day the product was launched in the market." – Shah Suriye Ruben
It was also the year where they began building relationships with last mile delivery companies (basically going from warehouse -> your home) in Malaysia. "It started with limited support due to our very small volumes, but I can still remember how proud we felt once we started to receive calls like 'please stop handing over new parcels for today, we can't cope with the volumes anymore'," Hans Peter Ressel shares.
But Lazada's retail business model just didn't make sense to scale the business. Imagine forking out money to buy a gazillion products from suppliers, store them in a warehouse, and wait for Malaysians to buy them one by one…
From capitalist business to empowering the rakyat
And so, sometime in 2013 saw the birth of the Lazada Marketplace. Instead of buying stocks from suppliers and selling them, they became a platform for Malaysians to sell THEIR stuff to other Malaysians.
This meant that a pasar malam uncle getting RM200 a night selling socks could instead rake in 30 times more profit (our agakration la) by listing his shop online. No rain, no lugging stocks in a Nissan Vanette, and most importantly, no annoying aunties trying to haggle 50 sen off a pair of Minion socks.
"We introduced Marketplace in July 2013. That. Changed. Everything. We brought the whole ecosystem on board." – Kevin Lee
To be fair, Marketplace wasn't something they pioneered. With the new model, they could sell more without needing to put the cash into retail purchasing – which meant that Lazada suddenly became self-sufficient, a feeling Cilisos can only dream of. Sigh.
"We supported them and gave them what they needed to grow. There were sellers who were turned into instant millionaires [during last year's 12.12 sale]. We're creating the next layers of Malaysian entrepreneurs." – Andrew Gnananantham, CMO tells Cilisos
This made Lazada a real digital mall – one that digitally houses a gazillion stores selling gazillion things for Malaysians to browse at their whim and fancy. Buttttt this also meant that shoppers would have to start paying for delivery more often, since more items would now be delivered from the sellers instead of Lazada's warehouse.
Speaking of delivery, it would seem like even logistics companies were taken by surprise at the sheer volume of products being moved around.
"After our Raya campaign in 2013, logistics companies began having capacity issues because of the overwhelming number of orders from our customers. We were all taken by surprise, even our sellers who had to manage their stocks." – Hans Peter Ressel
(It was also not too long after that when Lazada decided to introduce their own e-logistics arm, LEL.)
And suddenly, you could see the word 'China' everywhere
Wanting to sell more stuff, by mid 2014, they had increased their product SKUs from 100,000 to 1 million. A lot of this was obviously supported by cross-border sellers with majority of stock coming from China. (Side note: Regionally, there are 300 million SKUs available today?! A little bird also told us that you can get stuff from China delivered to you in 24 hours! But selected items la.)
With the floodgates open, some of the most obscure items quickly found their way to the site – like mole removing pens and adult Spongebob costumes – and at lower prices too. "We had access to so many products and it enabled us to pass on more savings to the consumer because we could get them directly from the supplier,"Andrew Gnananantham tells us. "For example, we could sell 10 times as many watches because we were able to reduce their prices."
This would also presumably rattle some offline sellers, who would typically mark up their prices to make up for labour, rental and all. (Hands up if you've ever been one of those who'd sneakily compare prices of an item in store and on the Lazada app!)
IRL, they were also shifting from warehouse to warehouse almost yearly. "To give you a sense of scale, our first warehouse in 2012 was 15,000 sqft. The second was 45,000 sqft. The third was 220,000 sqft," Kevin tells us. "Today, we have 8 warehouses scattered across the country."
For another sense of scale, they started off with processing 50-100 items a day. Today? At its peak, they tell us that they saw 3,000 transactions… per minute. 
Speaking of Chinese imports… April 2016 saw Alibaba first buying controlling stake in Lazada, but by 2018 it would have invested multiple times with a staggering $4 billion in total. The 'why' is obvious – they've got lots of faith in e-commerce in our region, which is why they've even backed other companies beyond Lazada. Business talk aside, what's it like to suddenly be on the shoulder of giants?
"It's like we've been the key to the biggest library on e-commerce in the world. Sometimes you get lost because there is so much knowledge." – Kevin Lee
Clearly impressed, Kevin says that having Alibaba on-board has made them lightyears ahead in the industry. "I think the tech is amazing, no? [For example,] we get a lot of the algorithms at the backend which have changed the personalisation for customers," he tells us. It was only a matter of time before the app introduced impressive features – like an e-wallet and an AI function for when you can't identify something – that we've covered in length before (which you can read here).
A particularly notable one would be the 'chat with seller' function equipped with all sorts of add-ons, from camera to cute stickers. This writer tested it out the other day when she was unsure about lithium ion batteries, and within 10 minutes (lucky la the seller online at the time) she had gotten all the clarification she needed – and even a free voucher to shop from that particular shop. We wouldn't be surprised if romantic relationships have developed from chats like these. <3
"People say that (e-commerce) is gonna be less and less personal, but I think functions like these are empowering sellers to be much more personal with many more customers than they could do in a store." – Kevin Lee
At the same time, they were a part of something even bigger…
The move that officially shaped the country
Recalling a time where he sat with government officials to understand how Lazada could play a role in shaping the economy, Kevin also tells us this:
"It was validation that this is more than just a business model, that it's more than just earning money for the company. We're doing something for Malaysia, and it was a really, really proud moment." – Kevin Lee
We previously covered the launch of the Digital Free Trade Zone during ex-PM Najib's days, but you can read it on your own here. And if you check out the DFTZ site, you're gonna get a lotta big big words too. We try to sum it up for you ok.
Global e-commerce is booming, but small and medium Malaysian companies don't seem to be there yet. Malaysia a bit kiasu, and panic a bit also cos 97% of all businesses in Malaysia are SMEs. If we don't do something, we're gonna lose out real badly. And that's where DFTZ comes in: leveraging on Alibaba's expertise, they'll make it easier for our SMEs to sell their stuff – not just to Malaysia but the entire region.
So in other words…
Previously, a makcik in Perlis would have a LOT of disadvantages compared to sellers in Klang Valley. But through Lazada and the DFTZ, she'll get to utilise all sorts of services like a warehouse to store her stuff, no tariffs for goods below RM1,200, faster customs clearance, dan semua yang sewaktu dengannya.
Actually, it's not just Lazada that has changed… WE'VE changed too
Regardless where you prefer to do your online shopping, it's impressive to see how these guys have helped play a part in shaping the digital economy of Malaysia. But beyond that, it seems as though they're also shaping our behaviours.
"Over the years, we've seen an evolution of shoppers as well. From being deal-seekers, now we're seeing people who prioritise convenience and trust, and they're willing to pay for the value," Kevin tells us. Lazada also seems to be bridging the logistic gaps to a certain degree, bringing to rural areas what they could never previously get.
But when it comes to our online shopping behaviour, Andrew tells us that we're very different from Western shoppers – we're a lot more social… so much so they've just introduced a new term:
"When you go to the mall, you don't go there to only shop – you also entertain yourself. 'Shoppertainment' refers to that experience when you go to the mall, but you get everything in the Lazada app." – Andrew Gnananatham
Most recently they ran their 7th birthday bash with a 'Super Party' – an international live concert featuring Grammy winner Dua Lipa and other regional celebrities, all viewable via live stream on the app. Throughout the show, viewers also got the chance to snag vouchers up to RM777. But the best part is, it's an all-in-one app… which meant you could be buying Milo while watching Dua Lipa on stage, lol.
"The goal is to be a lifestyle destination," Andrew tells us. "We wanna be a place where people can browse things, hang out, and have fun." No wonder why they've also added on three addictive arcade-style games (termed 'LazGAME') where you can win cupcakes and trade them for – you guessed it! – real vouchers.
And with us being social shoppers and all, they also introduced something called "Group Buy with Friends", where you'll need to gather X amount of friends to unlock a certain deal and ALL of you would be able to purchase it at the same, discounted price.
With everything moving at the speed of light, it's exciting to imagine what things would look like a year after this. While there are gaps to fill for the ecosystem to thrive – like better delivery and faster payment systems – Andrew knows that Lazada cannot be the only one in this. "One thing we've learned from Alibaba is that it's not about a single player, but the whole ecosystem growing together," he tells us. "We're working together with other industry function players to bring them up to speed."
And as for what shoppers like this writer can look forward to buying in the future?
"One day, we will sell islands," Kevin tells us. "You should write that."