Last week, KL played host to the ninth session of the World Urban Forum (WUF9) convened by the UN Human Settlements Programme, aka UN-Habitat. As part of the conference, more than 25,000 people from 185 countries were in KL to attend workshops, talks, and other events that were held at KLCC and Medan Pasar. Among those attending were local government leaders, cabinet ministers, academics, and more. But there was one fler in particular who seemed to have caught the attention of Malaysians more than any other…
For the first time in history, a team of Israeli diplomats were allowed into Malaysia to take part in the WUF9 conference. This is despite the fact that Malaysia doesn't recognize Israel as a country and that Israelis are supposed to be unable to enter the country using their passport. The ambassador leading the delegation was David Roet, Israel's Deputy Permanent Representative to the UN and a veteran diplomat for their Ministry of Foreign Affairs. As part of the visit, David took to Twitter to share his experiences, but what happened next turned out to be a bit of a… conflict.
Malaysians blamed BN for letting Israelis into the country
A couple of the responses David received from Malaysians included anger at him spelling KL wrongly and also confusion about how he even got in. But for the most part, a lot of the replies went pretty much like these: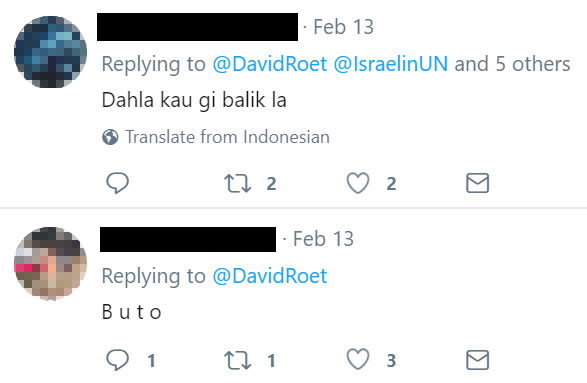 Since it was made public, his visit has been heavily criticized, with PKR's communication director Fahmi Fadzil asking the Home Ministry to explain why the delegation was allowed to attend the conference even though Malaysia does not recognize Israel as a country.
"Not only did a delegation of senior Israeli diplomats enter Malaysia, but David Roet, who led the delegation, blatantly claimed on social media to have entered our country using an Israeli passport." – Fahmi Fadzil, in a media statement posted on Facebook.
Other flers expressing outrage over the visit include Harapan MP Raja Kamarul Bahrin Shah as well as the CEOs of NGOs such as Aman Palestin and Al-I'tisam Relief Programme, who voiced their disappointment over the delegation being allowed in despite Malaysia's current stance on the Israeli-Palestinian conflict.
Political groups also issued their condemnations, with Bersatu's Selangor Youth Chief calling Israel's participation in WUF9 an "insult and betrayal of the Palestinian people" and PAS' Kelantan Deputy MB declaring UMNO "two-faced" for allowing the visit to happen.
In response to the public outcry, Malaysia Foreign Minister Dato Sri' Anifah Aman clarified saying Israel was invited by the UN through its agency UN-Habitat as the organizer of the forum. According to David Roet however, the invitation only came after Israel fought to pressure Malaysia into allowing them to attend, with the issue going all the way up to the UN Secretary General. Also, contrary to claims that the delegation had used their Israeli passports to enter the country, it was reported that they had actually used diplomatic passports instead.
"Malaysia was compelled to host the Israelis, since it was required to grant visas to all delegations in order to hold the international conference." – In a report quoting Israel's Hadashot TV.
Despite meeting senior Malaysian officials and reiterating Israel's desire to establish relations with us, David Roet described Malaysia as "a tough nut to crack" and that Malaysia is probably "not on its way to establishing ties with Israel". Similarly, Dato Sri' Anifah reiterated in a press statement that Malaysia's position on Israel remains unchanged, while also pointing out that the host agreement signed between Malaysia and the UN-Habitat required that all UN member states be allowed to attend the conference.
This is actually not the first time Israelis have been allowed to enter Malaysia, with their cricket team having taken part in an international tournament here back in 1997 and journalist Gideon Levy paying us a visit in 2013 on Mahathir's invitation. But now that there's been a wave of people condemning the gomen for allowing the Israeli delegation into the country, we wanted to find out… what ACTUALLY is the current status of relations between Israel and Malaysia?
Malaysia has been one of Israel's LARGEST TRADING PARTNERS for more than five years ?
Last year when the US announced that they would move their embassy in Israel from Tel Aviv to Jerusalem, thousands of Malaysians marched at the US Embassy in KL to protest the decision. Standing by them, Najib reiterated Malaysia's commitment to Palestine and condemned the US' decision during the UMNO General Assembly in December. And as far as diplomatic relations go, this has pretty much been our policy with Israel since day one, with Malaysia remaining one of 36 countries in the world that have not recognized Israel at all.
Interestingly, Israel's first foreign minister Moshe Sharett visited KL in October 1956 where he floated the possibility of there being an Israeli embassy after independence, with Tunku apparently "welcoming" the idea. When Malaya later became independent and subsequently applied to join the UN in 1957, Israel was actually one of the countries that voted in favor of accepting our application for membership. However, over the years and despite various attempts by other Israeli diplomats to establish relations, Malaysia became aligned with pro-Arab groups that were against recognizing Israel because of the Palestinian issue.
Aaaaand that's pretty much why today we still have "valid for all countries except Israel" in all our passports.
But despite there being no diplomatic relations, things seemed quite different when we looked into the economic relationship between Malaysia and Israel. Although we've had a ban imposed on trade with Israel since 1974, Malaysia has actually been among Israel's TOP TRADING PARTNERS for quite some time. To be more specific, it was reported in 2014 that total trade between Malaysia and Israel stood at USD1.529 BILLION in 2013 (equivalent to RM5.068 BILLION back then), which was almost double that of 2012.
The same year that was reported, five MPs wrote a letter asking why was Malaysia Israel's 15th biggest trade partner. And from 2010 to 2014, we were number 19 on the list of countries that had the fastest growth of Israeli exports, with our purchase of Israeli goods increasing by 72% or USD1.4 billion during that period. But since these numbers were relatively outdated, we decided to dig up the latest available figures for 2017. That's when we discovered something way, WAY more surprising.
Looking at data that we obtained from the Israeli Central Bureau of Statistics, we noticed that Malaysia has actually been among the top importers of Israeli products for the past five years. In fact, from 2012-2016, Malaysia was consistently in the top-20 ranking of countries that Israel exported to, beating out other flers that actually have diplomatic relations with Israel such as Canada, Singapore, and a bunch of European countries. The only reason we didn't include the previous years even though we were number 17 in 2010 was because we fell to 21 in 2011, which kinda messed up the consistency of being in the top-20. Yay, we guess?
According to the figures, Israel's total exports to Malaysia were worth USD760 million in 2012, doubling up to USD1.4 billion in 2013, USD1.3 billion in 2014, and USD1.4 billion in 2015, before falling back down to USD580 million in 2016 and then USD7 million last year in 2017. These numbers are publicly available for anybody to check out, but because the Israeli CBS website seemed inaccessible on our normal browser, we had to use a VPN re-router instead.
Of course, some of you may have noticed that from 2016 to 2017, Malaysia's position as one of the top importers of Israeli products fell from number 20 down to 87. Similarly, the amount of goods Israel exported to Malaysia decreased by more than 99%, from USD1.4 billion in 2015 to USD7 million in 2017. We wondered what happened in the past couple years that led to this drastic change and found something else that we thought Israeli interesting…
Other "anti-Israel" countries have been having relations with Israel too
Although Israeli exports to Malaysia hit their peak and went beyond USD1 billion from 2013 to 2015, we noticed that the decline started in 2016 and fell even more last year to less than 1% of what it was just two years before. We tried looking for reasons why this happened and noticed that for every year that Israel exported its products to us, more than 99% of it was in the mechanical and electrical industry. This was confirmed by a news report which said that most of the trade boom between Israel and Malaysia was from Intel, which produces computer chips there before sending them to a second assembly plant here.
Now, around the same time that our imports of Israeli goods started to take a plunge in 2016, we started to find these stories in the news:
It was first announced in April 2016 that Intel was looking to cut 11% of its entire global workforce and that their facilities in Penang and Kulim were looking as likely candidates to be axed. This was confirmed a couple months later when Intel announced that they would be relocating part of their production in Malaysia over to Vietnam to save on labor costs. This resulted in 600 Intel staff in Kulim losing their jobs while another estimated 400 were laid off in Penang.
Sure enough, when we looked at Israel's data for export stats in 2014, Malaysia was the third largest importer of Israeli mechanical and electrical goods behind China and the US, with our trade valued at USD1.4 billion while Vietnam's was at number five with USD568 million. However, this changed in 2015 when Israeli exports to Vietnam jumped more than threefold to overtake Malaysia's spot in third place, before our imports dropped further in 2016 likely reflecting the move by Intel to Vietnam.
Of course, Malaysia's recent trade history with Israel was less a direct relationship between them and us, and more just the result of decisions made by Intel which is based in the US. Still, this is one example of economic cooperation between Israel and Malaysia that has been going on despite the Minister for International Trade and Industry, Datuk Seri Mustapa Mohamed saying that Malaysia has no economic ties with Israel.
And really, that's been the case for a bunch of other countries that don't have diplomatic relations with Israel too. Saudi, whose relationship with Malaysia is at "an all time high", has been reported to be engaging in talks with Israel to establish economic and diplomatic ties. Although the talks have been hush-hush and Saudi has denied the news possibly due to there being an Arab league boycott of Israel, the reports say that Saudi is considering letting Israeli companies do business in their country and giving Israel's airlines permission to use their airspace.
But Saudi's relationship with Israel may be less about them liking each other and more because they both dun like Iran. Other neighboring countries such as Egypt and Jordan actually have FULL relations with Israel, even though it was Egypt who first pressured Malaysia to not friend-friend with Israel. Turkey, who Malaysia has a strategic partnership with, recently signed an agreement with Israel to repair their relationship, six years after Israeli commandos killed ten Turkish activists who were trying to deliver aid to Palestine.
Closer to home, Indonesia has built substantial ties with Israel in areas such as big data and agricultural technology. Trade between the two countries are estimated to be between USD400-500 million, although Indonesia has been iffy about establishing diplomatic relations with Israel for pretty much the same reasons as us with regard to Palestine. Still, despite the political unpopularity of Israel among Indonesians, the relationship has been quietly growing with the help of various organizations aimed at boosting cooperation between the two.
All things said, Malaysia and Israel will probably not have ties anytime soon

With the recent backlash by Malaysians against the Israeli delegation that were in KL, and the trade relationship between Israel and Malaysia moving to Vietnam instead, there doesn't appear to be any political or economic reason for things to change between our countries. Until the Israeli-Palestinian situation improves, Malaysia will probably not want to have anything to do with Israel and it doesn't look like things are getting any better over there.
For now, David Roet wondered whether it was wise for Malaysia to continue boycotting Israel, especially since doing so would prevent Malaysia from having any influence with Israel as they would much rather take advice from friends rather than enemies. But for Malaysia to change its current foreign policy strategy in the Israeli-Palestinian conflict to try something different, we would first probably need to be able to be ok with letting Israelis into the country without getting a n g e r y.