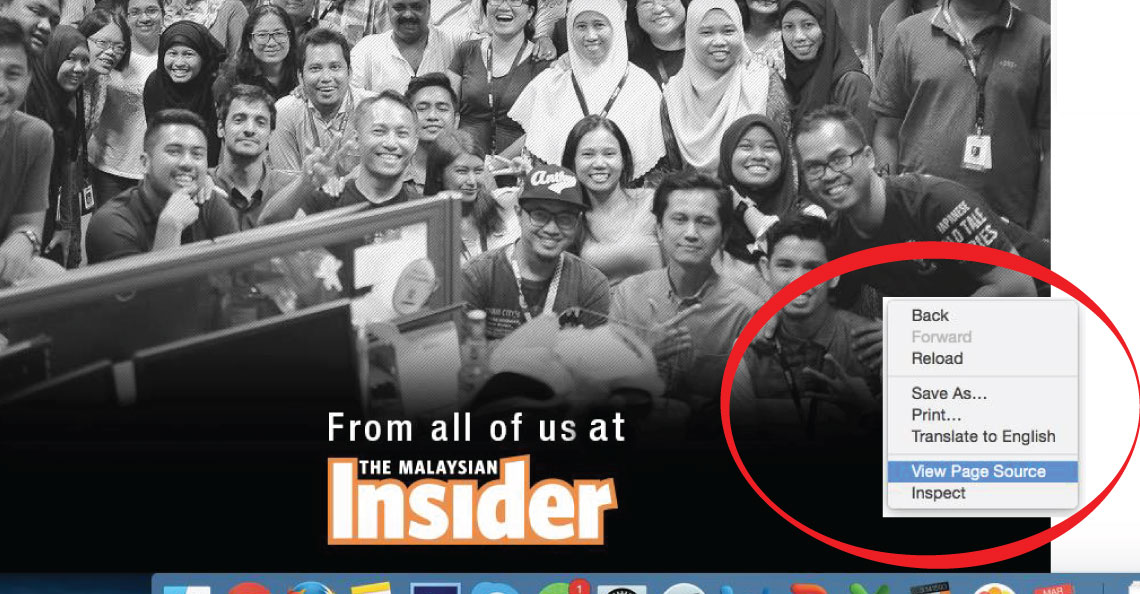 So Monday was The Malaysian Insider's last day of publication. A publication that many of us have seen on our newsfeeds on a regular basis stopped publishing on Tuesday to be replaced with this simple image.
But had they REALLY stopped publishing? On most browsers (except Safari), there's an option to "View Page Source" which allows you to view the code behind the website. Go try it! www.themalaysianinsider.com or at www.themalaysianoutsider.com. You should see this.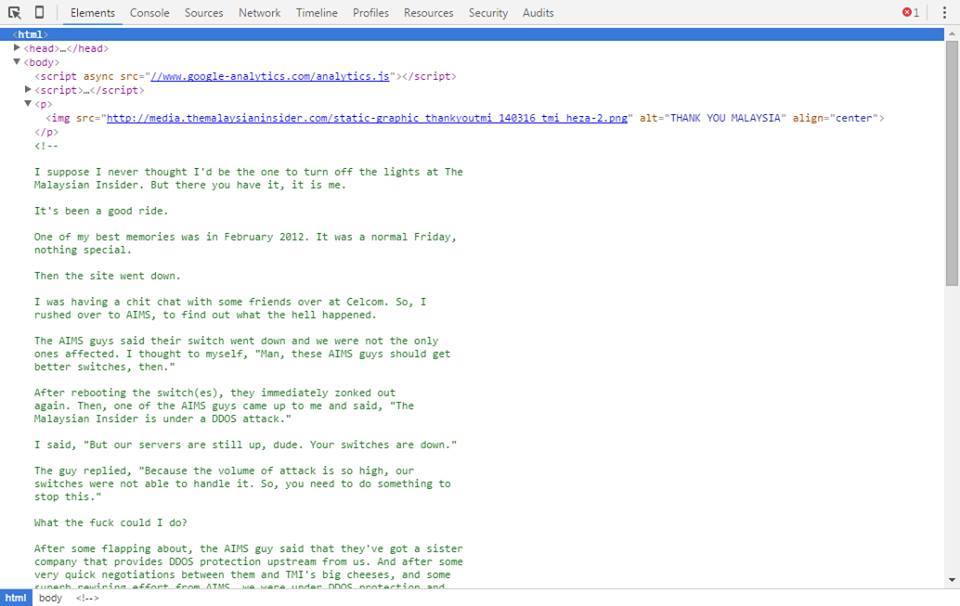 TLDR: it's a story told by Yusseri Yusoff*, who as far as we can tell, was a senior tech guy for TMI, and the one who finally turned the site off :(. Yusseri tells the story of how just before GE13, they detected someone hacking the Malaysian Insider, and that hacker or team of hackers continued to try hacking them for a WHOLE MONTH!
(*previously spelt 'Yusof')
Thankfully, because of the good work of their hosting providers – AIMS and GTC, they were able to stay operational despite the hacks.
So did the gomen finally kill off The Malaysian Insider?
With all the clampdowns on media recently, many netizens took to their social networks to bemoan the seemingly increasing trend of blocked sites. Sure, the blocks definitely reduced the pageviews of Malaysian Insider …
"We believe the recent problems TMI had with The Malaysian Communications and Multimedia Commission (MCMC) had made it more difficult for a sale to be concluded even though discussions had started before that." – Ho Kay Tat, theedgemarkets.com
But wait… what discussions? Well… while the MCMC blocks definitely reduced traffic to The Malaysian Insider, it wasn't the real reason behind the closedown.
Actually, The Malaysian Insider were losing half a million ringgit a month for ages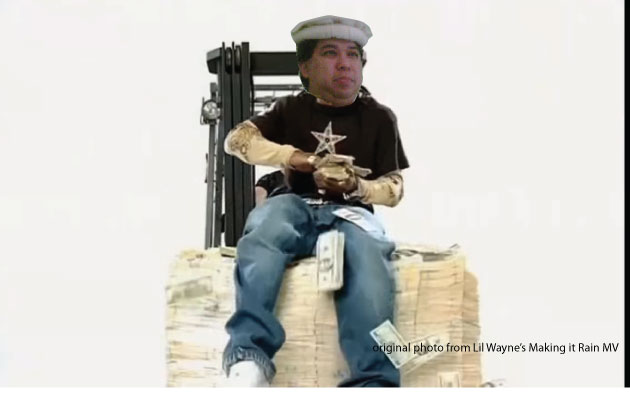 On March 14th, Malaysian Insider announced its shutdown. A few weeks before that, the Rakyat Post also shut its doors (It's back now, but without staff). Depending on who you ask, TheRakyatPost was among the top100 sites in Malaysia, and The Malaysian Insider ranging from number 10-60 at its peak.
Before TMI shutdown, we had heard rumours they were burning through RM500,000 a month (revenue – cost). The director of The Edge Media Group (TEMG) who owns Malaysian Insider basically confirmed this in his letter released today.
"TEMG has incurred losses of around RM10 million in the 20 months since we acquired TMI in June, 2014 and we are no longer in a position to keep it going." – Ho Kay Tat, theedgemarkets.com

RM10million/20=RM500,000 per month lor.
In fact, word on the street is that The Rakyat Post wasn't making any money either. It'll actually shock you to think of this… but MOST online news sites don't actually make money.
The first thing you need to realise is that there's a difference between NEWS organisations like The Star, Malaysiakini and The Malaysian Insider, and CONTENT sites like CILISOS or Says.com. NEWS organisations have to send reporters to cover EVERYTHING. They're the first line… going out to look for stories every day. That needs ALOT of manpower – thus a headcount of almost 60 people at TMI.
In contrast, sites like ours and Says take alot of info from their reports, and spin it or add value to it. This is arguably easier, at least from a cost perspective, as we need less people (currently 8 people) because we don't need to cover all the news going on in Malaysia.
Think of NEWS sites as the farmers who get all the chicken, vegetables and sow rice, while CONTENT sites as the restaurants (or some as fast-food outlets) that repackage and cook the food into something more digestible for the masses. Sometimes people like buying raw ingredients to cook themselves, and sometimes you just wanna go to a restaurant.
Without NEWS sites, restaurants wouldn't have any supplies to make food.
"But Malaysian Insider got banner ads wut… should be okay right?"
In late 2014, CILISOS did an article highlighting how despite most Malaysians spending most of their time online, websites still received a very small percentage of Malaysia's advertising budgets. Part of the issue is a focus on traditional media…
"Malaysian marketers would find few excuses here either. According to Mindshare data, on a daily basis, Malaysians spend 1.3 hours watching TV, 0.6 hours listening to the radio, and 0.3 hours reading newspapers or magazines. 

They however spend 2.8 hours a day on their mobile, 2.7 hours on their PC or laptop, and one hour on their tablet. Malaysia stands out as a multi-device, mobile-centric country." A. Asohan, 'The digital/ mobile revolution: Malaysian marketers are laggards', from our friends at Digital News Asia
But another part of the issue is BANNER ads, which are getting cheaper, and less desirable by the day. This makes websites wanna get more pageviews just to stay afloat, which would result in clickbaity content to increase the number of pageviews.
While international sites like Buzzfeed or BoredPanda have enough pageviews from an international audience to sustain, it gets more difficult with localised news sites, which cover many things on the ground that Buzzfeed might just pickup and write a listicle about.
If CILISOS were to have depended on banners, we'd have closed shop a long time ago, which is why instead we do sponsored content, which we feel is much more useful than banners. #smallshamelessplug
Other sites aren't so lucky. There's a whole list of sites that have either shut down or stopped publishing in 2015 simply because they couldn't make enough money.
And when sites can't make enough money, then other people with agendas of their own put money into them to keep them running. Among media insiders, there are strong rumours that Khairy Jamaluddin was funding The Rakyat Post and at one time, Jho Low was funding the Malaysian Insider (!).
Ask your friends in the industry 😉
"So? If readers come to your site means we supporting you la!"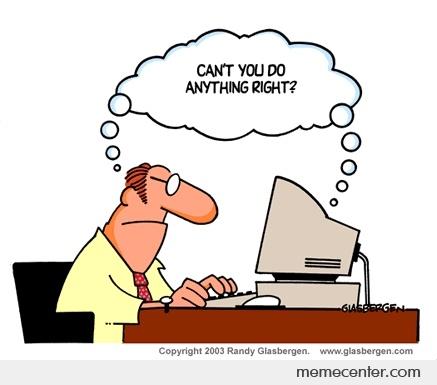 Sorry ugaiz, while reading our stuff does help, your pageviews can't really pay for our nasi lemak lunches. In an ideal world, readers should pay for content. Malaysiakini has managed to thrive because of a small group of readers who continue their PAID subscriptions there. But we hear even they are barely breaking even.
The key message here to all Malaysians is that the government isn't shutting down your websites, you are.
Most Malaysians have the privilege of getting their content for free. From CILISOS perspective, with our small team, if every one of our 300,000 readers a month were to contribute just 20sen, we wouldn't even have to look for advertising. Unfortunately, paying for content is a very difficult thing to get people to do. So in the meantime, maybe you readers can try…
Clicking banners more often, to support your favourite sites.
Reading their sponsored content, being nice about it and understanding that its keeping your sites alive
Recommending your favourite sites to potential advertisers, to help those sites to continue publishing the content you enjoy. (contact

[email protected]

!)
Pay for a subscription to sites like Malaysiakini or The Edge.
Actually, just a general appreciation for the free content you receive would go a long way. Realise that you're getting entertained or informed for free, and that the banner ads alone aren't even close to enough to pay for most news organisations. But of course, if you'd like to do more, subscribe to sites like Malaysiakini or The Edge.
Many CILISOS readers leave awesome feedback, which really does go a long way in keeping our engines going (and alot of our clients happy), but Malaysia does have a bigger problem in terms of normal news reporting. We've already lost two massive news portals in the last two months.
If one day we were to lose all of them, then even sites like CILISOS would be left with little to cover 🙁