Culture
Lifestyle
OMG there's a 'Refugees Got Talent' in Malaysia?! Check out their mad skills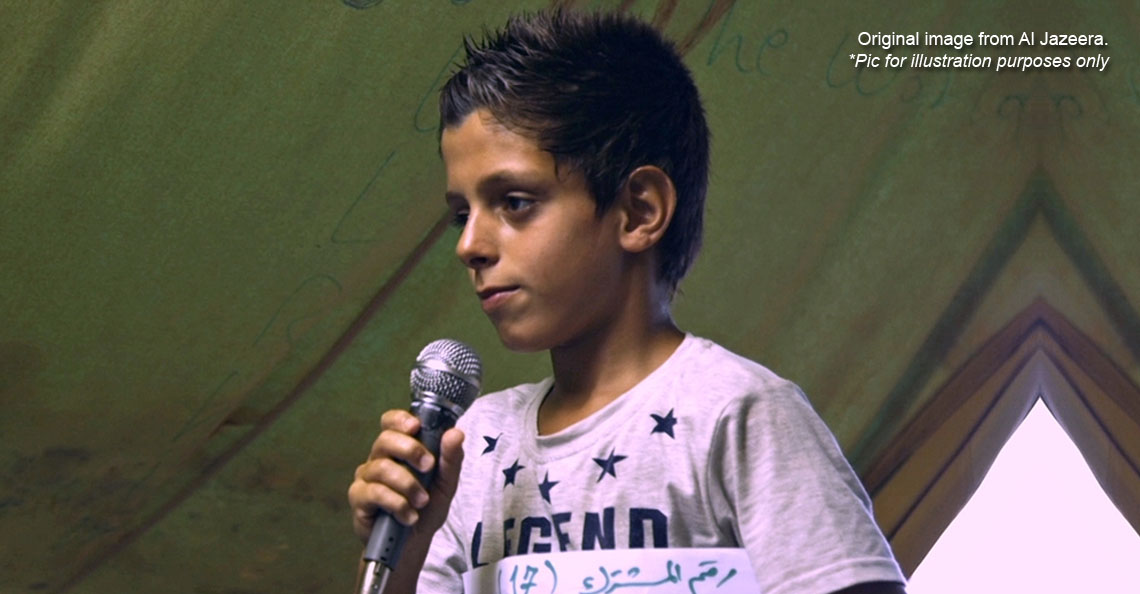 At first there was America's Got Talent, the show created by Simon Cowell, featuring singers, dancers, magicians, comedians, and… this guy:
The reality TV show, where performers compete for the prize of one million dollars, spawned spin-offs in over 58 countries. And then there was Asia's Got Talent, which started airing in 2015. Several Asian countries began airing their own shows, but not Malaysia. Now it seems the Got Talent franchise has found its niche in Malaysia among refugees! Yep, Refu­gees Got Talent!
It was organised by two Syrians, one of whom is only 18
The reality show is the brainchild of Give & Go (GNG), an NGO founded in 2016 to inspire the act of giving to those in need. Only thing is there are no screaming, cheering crowds filling a huge amphitheater in the background like America and Asia's Got Talent.
This NGO was co-founded by Syrians Hasan Al-Akraa and Alaa Bakkar. Hasan is only 18 years old! He fled Aleppo with his family in 2011, with nothing but their clothing, when he was just 12. An immigration crackdown once led to his imprisonment for 9 days at Bukit Jalil detention centre. He's currently pursuing his O-Levels sponsored by a Malaysian doctor and speaks both BM and English. Alaa is also from Aleppo, and he is a Doctor of Philosophy (PhD) at Limkokwing University.
Incidentally, Malaysia was represented by 24-year-old Syrian Sobhi Shaker in Asia's Got Talent!! The family was forced to stay indoors all the time for their safety when the Syrian war broke out. To pass the time, Sobhi got into card tricks and a new hobby (that his mom hates) was born. Sobhi came here in 2015 and auditioned for AGT in 2017, impressing the judges with a mind-blowing card trick.
Refugees Got Talent just wrapped its first round of auditions on Saturday (20 Jan). Its judges are Deborah Henry (Miss Universe Malaysia 2011 and Miss Malaysia World 2007), Australian singer Cassidy Anderson who covers Malay songs, and NGO Care­fugees committee member Monir Azzouzi.
The show's contestants aren't just from Syria… there's Geeti Ara from Pakistan, who finds release for her troubles through poetry writing, portrait drawing and public speaking – all of the talents she performed at the first round of auditions. Geeti left her home country because of religious persecution.
Afghan sisters Parisa Ahmadi, 22, and Samana Ahmadi, 18, excitedly brought their artistic talents to the show. Parisa paints and writes short stories – she has even published a book called Girl Attractions in Kabul.
"I express my emotions, feelings, ideas of Afghan women (through my art)." – Parisa, The Star
Samana too is talented in painting and drawing, and dreams of becoming a famous artist one day. The sisters and their family left Afghanistan a months ago after facing persecution. And we found a video of another contestant who played the guitar, uploaded by Deborah Henry on Facebook.
The former beauty queen who left the runway for refugee children praised the show, saying it was a positive way for participants to hone their talents and feel valued by society. "That's what a group of people labelled as 'refugees' living in Malaysia need – they need opportunities to succeed in life, to be happy, and to be fulfilled," she said.
Because refugees just want to lead a normal life
The talent competition gives refugees a chance to show off their diverse skills and perhaps more importantly, a sense of normalcy in life.
"When we think of refugees, we think of people fleeing war, with torn clothes, begging for money. Our main objective is to change the perception of refugees and to make them think positively. We want to show them that refugees have various talents, they can do so many amazing things too." – Hasan Al-Akraa, C0-founder of GNG, The Star
GNG Co-founders Hasan and Alaa hope that the competition will give them a chance to do just that.
It's like the Refugees Got Talent show that was started by four other Syrians in Greece, that Al-Jazeera covered. Having been stranded at the Oreokastro refugee camp in Greece for months, Sameer, Mahmoud, Basil and Mustafa, came up with a unique way of dealing with the trauma of war and displacement, which is depressing for many residents. They decided to organise an exciting TV-style talent show – Refugees Got Talent.
In fact, there are quite a number of similar show concept for refugees around the world, including one hosted by UNHCR (United Nations High Commissioner for Refugees).
Their show is broadcast on an internet channel the group already run called refugees.tv, where hundreds tune in. They made buzzers out of camping lights, got a speaker, found a presenter, made a table for the panel of judges and then rounded up their participants and audience to watch the talent.
The thing is, they faced backlash as some feel the upbeat show is insensitive at a time where families mourn the deaths of loved ones and people grow increasingly desperate waiting to be resettled.
But the four friends don't want to back down because it brings people joy in the most difficult of times. Mahmoud says in the film that no matter what happens to them, they will always have the talent show. "At the very least, I hope their memories of it will always bring them some comfort and remind them of their ability to create lightness in the darkest of times."