One of the things that scares any mobile user the most is the bill they receive at the end of the month. With so many different things you can get charged for, like Data, Calls, SMS-es, Subscriptions, Ringtones and Roaming, we've had our share of ridiculous bills before.
So we thought, let's see HOW MUCH we can rack up on a phone bill within one week! Part of the reason we want to do this is to answer alot of the questions you might have about how your mobile bills are calculated (and we think we've answered a whole bunch of em below). Of course, to make it more interesting, we coincided this test together with a trip that I took to Indonesia (specifically the Lembeh Straits if you were interested, a dive spot that hosts the world's weirdest sea creatures.)
Of course, CILISOS not so rich to go and do this themselves (in case you haven't heard, content sites don't really earn that much), so MAXIS stepped in to sponsor our little experiment (as part of their new NO BILL SHOCK GUARANTEE), with these very specific conditions:-
1. That we would be free to highlight the pros AND the cons of their system (really one).
2. That roaming would be tested, but not using extremely long phone calls (cos confirm can get to RM1K la like that).
3. That they would get to take a look at the final article before it goes out, but promise make as little changes as possible.
CILISOS is always trying new forms of content, so here's a really strange one – a hopefully credible sponsored piece. Our loyal fans will also know that we value credibility very highly, so we won't write anything intentionnaly untrue (although we get a friendly accusation every so often).
Wah like that …what does MAXIS gain? Well, they need us to test their UCE (Unmatched Customer Experience) system, which promises NO BILL SHOCK. So of course, as we're testing, their packages n stuff will get mentioned la. Let's test whether they'll censor us now first k?
"There are still some things that need to be improved about Maxis' NO BILL SHOCK guarantee."
See? Didn't censor also. Don't even know if true yet. We're just testing the limits and really trying our best to be credible here.
REALLY ONE. PINKIEPIE Promise k?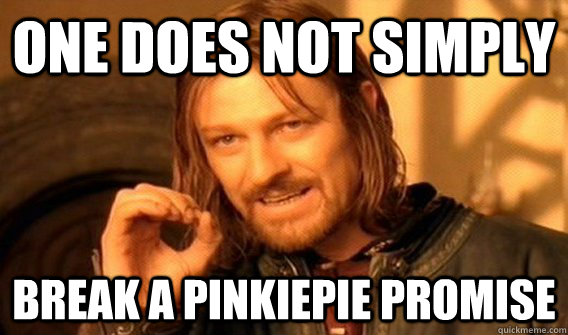 Ok with credibility hopefully established, let's see if we can rack up some serious doolah on this sponsored RedMI Note (phone also sponsored by Maxis, k?) on the MaxisOnePlan. We also note costs on other plans from other providers. But will we reach RM1000 within 7 days? Shouldn't be hard right, considering a kid can do it in one day….
1. Leaving the phone on call for 24 hours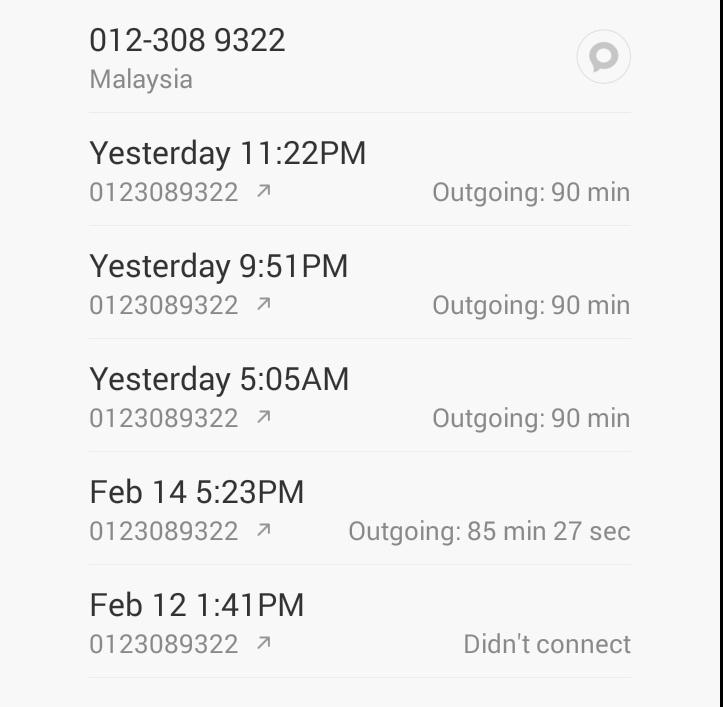 What we did at night was to call our other test phone, turn off the screen and go to sleep. The next morning, we found the call cut off at exactly 90 minutes. Next day, we tried again and again, and each and every time, there was a magical 90 minute cut-off.
Of course, we asked our sponsors about it, and verified with Maxis that this was a policy (that even some of their own staff were not aware of) to prevent people from abusing the service by starting up their own call-centres, or to prevent overcharging on phones accidentally left on (say in your pockets). Other networks have similar policies too. But even for new couples or phone porridge boilers (chinese term), it's not TOO big a deal to just call back after 90mins? Gives you time to go wee-wee.
Total cost accumulated: RM0 (Part of the unlimited calls package on Maxis One RM128 Plan). Haiz…. this RM1k charge isn't going to be easy!
Cool telco fact: All voice calls end at 90 minutes in Malaysia
Should you do it?: By all means go ahead. Even if you do get billed for the call, almost all telcos cut off at 90 minutes, which means the most you'll EVER get charged is RM18 per unintentional call.
2. Downloading a 4GB file off the Internet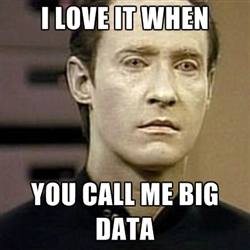 Maxis previously had a policy where if you exceeded your quota they'd start charging –  this made for alot of paranoid mobile surfers – paying for any amount that you exceed your 2GB quota!
Thankfully, they've got the same policy as most others now – once you reach your quota (2GB for the MaxisOnePlan), you'll still have internet, just very very very slow internet. We think this policy rocks, but we wanted to test just HOW SLOW it would be, so we started downloading a 4GB file and watching lots of videos, and happily reached our quota by the second day. WOOHOO!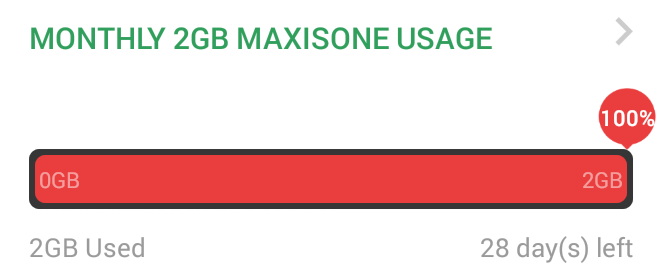 We did a speed test before we reached the limit (Maxis sent us a text at 80% of data quota, so it's quite friendly), and another one after…
As you can see, it's not fast enough to surf websites, but it's still good enough for chat programs like WhatsApp and Facebook Messenger. Since we hadn't finished downloading the file yet, we paid for an RM30 1GB boost, resumed the download, and the speeds were as before.
Also, for the two people on Maxis' PPU (Pay-per-use) no-data package, Maxis is also very diligent about informing you of your RM10 for each 50MB, and will waive any charges above RM50 (250MB) per billing cycle (month). Pretty cool, but who uses this!? If you do, let us know in the comments below 🙂
Total cost accumulated: No fees for the first 2GB which the Maxis One Plan gives you. + RM30 for a 1GB boost. Their 2GB limit is a little stingy in this day and age, but it's very very fast (at least in PJ and KL), and is charged as promised.
Cool telco fact: Once you exceed your data quota, you won't be charged and you can still Whatsapp.
Should you do it? For us in the office,most of us don't even get near 2GB of usage a month, except maybe Lydia, who uses it as a hotspot at home!? Games, music streaming and pretty much everything else are pretty ok, although some apps can be quite sneaky. Most phones have a data monitor function, or you can download a third party app for it.
Generally speaking, don't download big files via your mobile la …DUH. If you're gonna download stuff more than 1GB in size, use Maxis Home or something, which doesn't have download limits for now.
[mashshare]
3. Using the phone as a mobile hotspot for a day overseas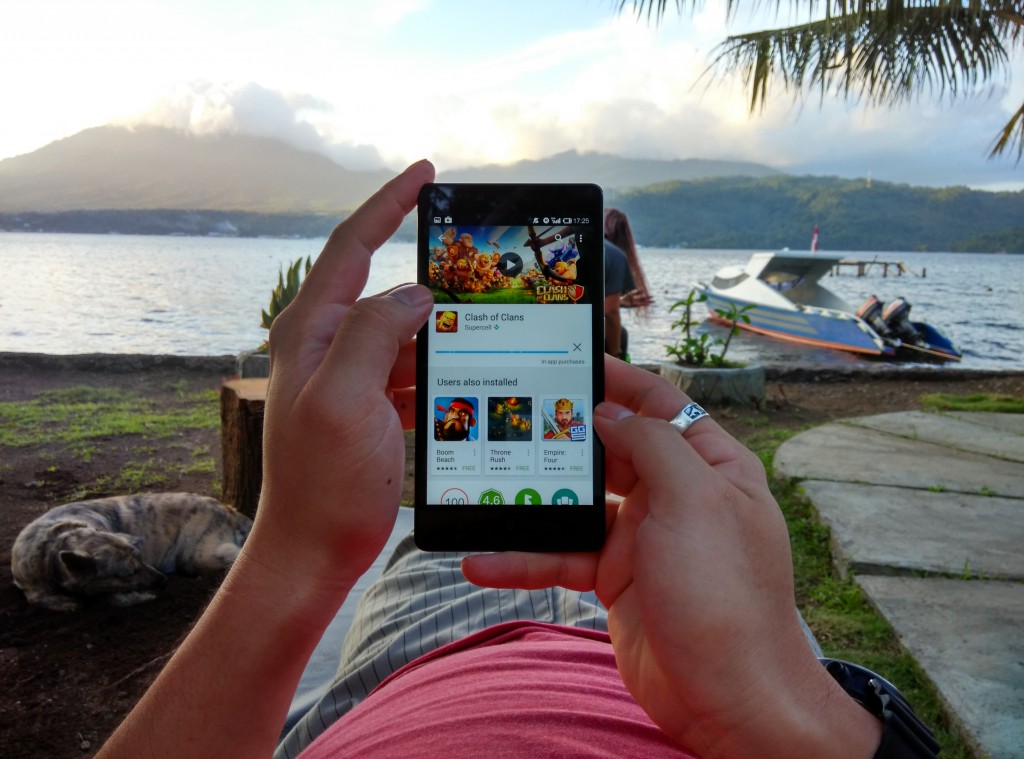 Since Maxis is footing the bill, we decided… why NOT just leave the bugger on as a WiFi Hotspot for the whole day? We then used that hotspot to do pretty basic things on Day 1 – like check Facebook, Email, play Clash of Clans (not me). So at about 4pm, we turned on the sim card, and voila… we get an SMS telling us that we are now on worry-free roaming. No need to sign up or anything – cool. However, it would've been nice for Maxis to tell us how much MB we get in the SMS.
Answer? 250MB. OK wut…
Or maybe not…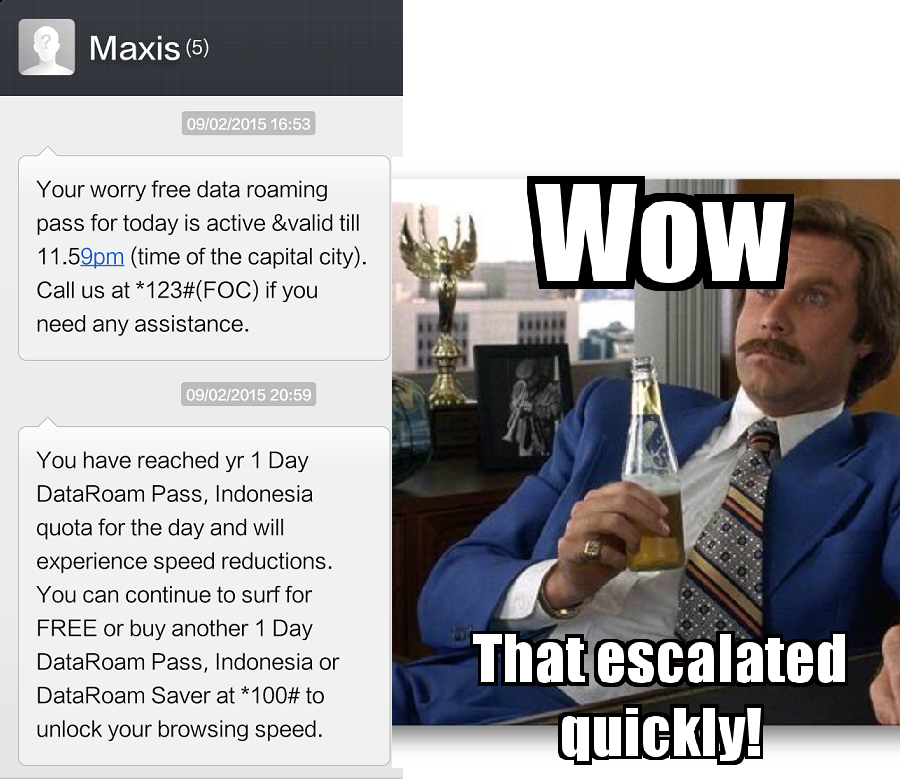 250MB finishes pretty quickly. The one big surprise was that Maxis' app actually took almost a quarter of the allocation (possibly cos it was the first time we installed it, so maybe install it BEFORE you leave town)! We didn't even download anything except the MyMaxis Mobile App (about 10MB), just surfing a bit, Facebook, and my friend playing Clash of Clans.
The next day, we finished the 250MB on a few big email attachments for work, so we went to the app to top-up. The MyMaxis app is quite useful for telling you how much data you have left, and have quite alot of packages which are surprisingly affordable. However, we later learnt that these packages were for LOCAL roaming.

We tried buying one, which was confirmed via the app, but local provider Telkomsel kept sending us error messages. Maxis, you need to fix this in your app k?.
Total cost accumulated: RM76 (two days RM38). The only way to get more than 250MB a day is to buy another RM38 pass.
Cool telco fact: A one-day data pass isn't really 24-hours – it ends at 11:59pm on the day you bought it. So don't go and buy one at 11:40pm unless you working on million dollar deal.
Should you do it?: Surf internet while roaming, sure. Hotspot, be careful tho. Apps like Dropbox if they're syncin' can rack up 3GB in an hour (if your phone can keep up). The thing is, your phone is smart enough to manage bandwidth, but other devices (like evil laptops or other phones not set to roaming considerations) connecting to your hotspot might not lor.
Actually, other telcos have similar fixed data roaming deals, but be sure to check which countries and what their price per day is. Maxis makes it easier by having the same price in ANY of its 106 countries, and on ANY of their postpaid plans, which we'd say is pretty awesome for their No Bill Shock promise cos no need to think so much. See? After all that, now when we say something awesome can believe right? But really, we do like it.
4. Surfing the internet in 3 countries in the same day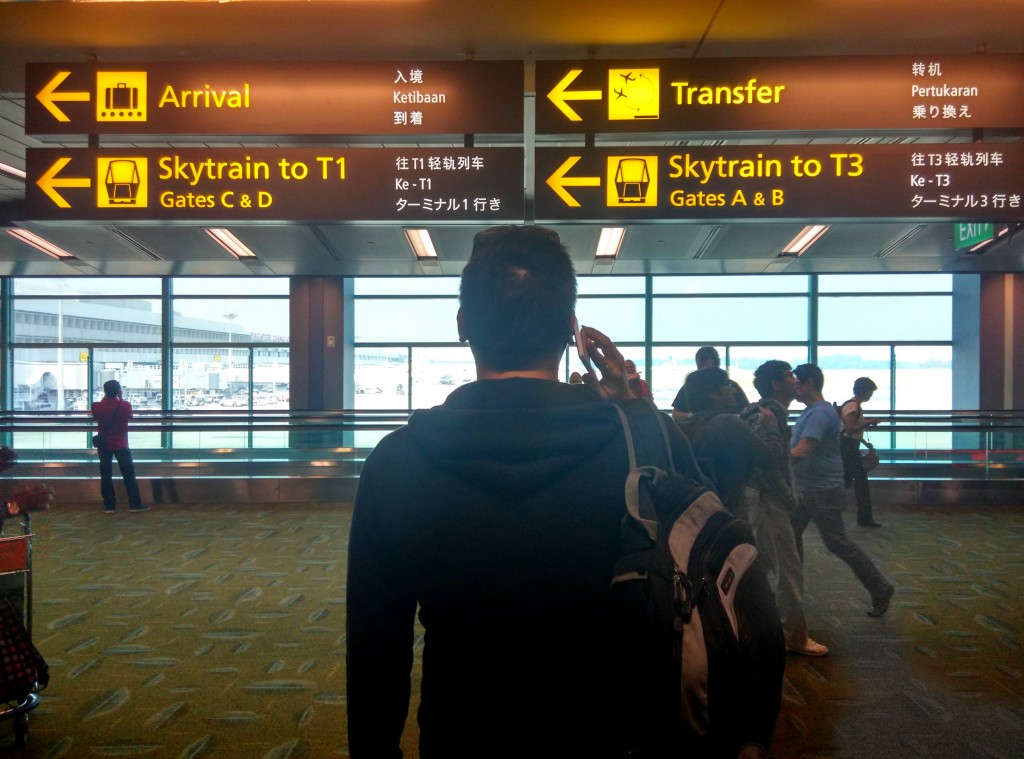 One thing about going to Lembeh, Indonesia is that you'll transit in Singapore. So we had the opportunity to surf in 3 COUNTRIES in a single day! We wanted to test what happens if you roam in two countries. We activated a 1-day pass in Indonesia, used it quite a bit, and then on the return transit, kept it on when we touched down for two hours in Singapore.
Of course, Changi has Free WIFI everywhere, but what are sponsors for after all? We ignored Lionel WeeFie (geddit geddit) and instead logged into our own hotspot to check some emails. We kinda hoped that Maxis would cap it at RM38 per day regardless of country, but yea… too much to ask for la. Maxis said that each provider bills them, so it's difficult to waive that cost to their customers. Here was the end bill.

Oh well. Still pretty reasonable.
Total cost accumulated: RM76 for roaming in two countries for data. Not cheap, but fair, we suppose. Malaysia don't have? Of course la… cos it's under the standard plan.
Cool telco fact: Roaming to two countries will get you two-times the daily rate. We're pretty sure other telcos are the same, except they have different charges depending on the country.
Should you do it? If you're on a multi-leg flight, we wouldn't actually recommend it. Besides, most civilised airports have Free WiFi anyway. But if you HAD to, this is how much it would cost, and it's fair.
5. Leaving the phone on call for 24 hours… while ROAMING!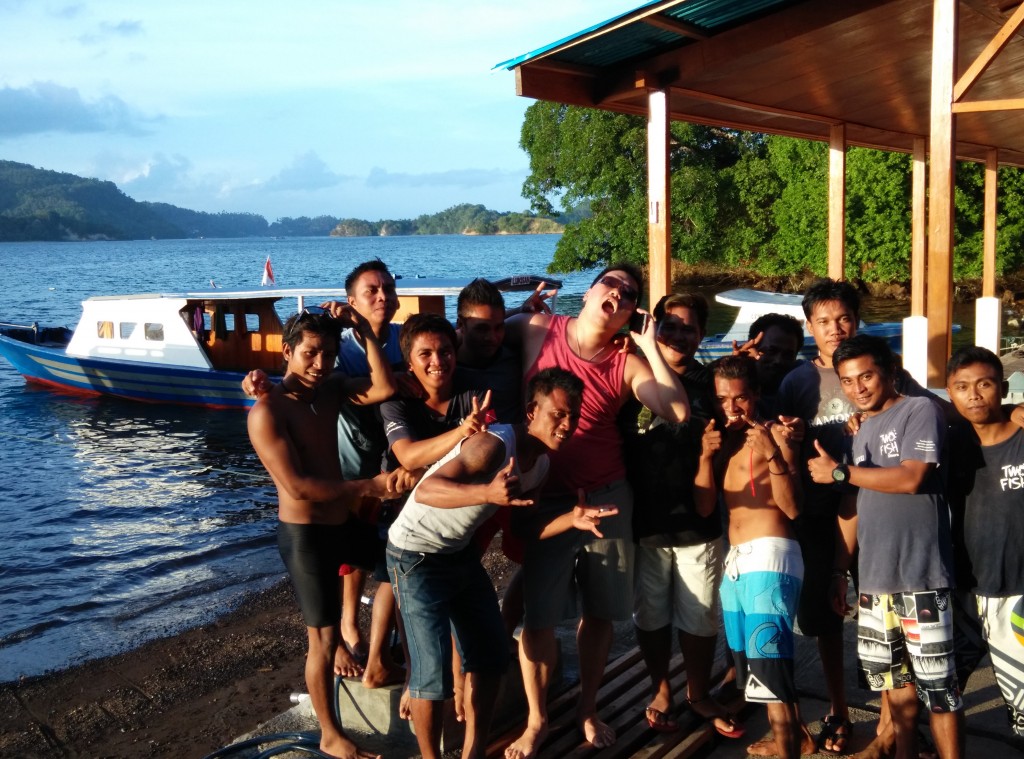 Ok… first of all, this one CONFIRM can rack up a big bill. Roaming is expensive, people, and we did some research and it's negotiations with telcos from various countries that aren't governed by the same regulations (and our currency, of course) that make it so expensive.
And eventhough we were told NOT to do this, we figured we'd do it FOR YOU, dear reader. Except that the first call cut off at 48 minutes. Aiyo. Unperturbed, we tried again, and guess what… the 90 minutes cutoff thing applies here too (in Singapore, cos it kept dropping before the 90 min mark on our remote island).
Why are we testing this? Because most of us have at sometime or other left our phones on in our pockets... and I'm sure someone here has done it while in a foreign country.
So at RM2.70 a minute (standard fee) for roughly 140 minutes, that should be around RM378. Let's see if the total bill is correct.

Note that the cost is calculated per call, so there's some rounding up, which we guess is acceptable. RM3 extra isn't really going to shock you when you've already accumulated RM378 bucks worth of calls.
So from a Bill Shock perspective, if you roam like crazy, you shouldn't be shocked by your bill lor. Their MAXIS app does convey quite a bit of information, but that info gets updated only closer to billing time, which makes its usefulness kinda limited. Also, apparently ALL telcos only get their roaming bills 3 days after the charges are logged, so there's no way to inform end-users immediately.
We fedback to Maxis that maybe the cut-off for roaming could be 30 mins instead of 90 minutes, since it's unlikely that someone would purposely make a 30minute overseas call. They're seeing what they can do about it.
Total cost accumulated: RM381.90.
Cool telco fact: OMG. Calls get cut off at 90 minutes overseas as well (at least in Singapore). Let us know if you'd like to help test this as well.
Should you do it? Sure. If you're a Datuk's son or something la. But for the average person, there's no way to get around it – roaming is EXPENSIVE.
Final bill tally and conclusions
RM706.90 in 3 days in Indonesia, half a day in Singapore, and 3.5 days in Malaysia.  Which is about right, including RM128 for the Maxis OnePlan commitment (unlimited calls and SMS yo) plus an RM5 for bill itemisation (can we get rid of this gaiz?) and RM10 for a simcard we er… lost (sorry gaiz!). Well… we got pretty close. Maybe next time we need to go to The Bahamas (which is not covered by any telco. we checked). In the billing there were also one or two small unexplained amounts – for instance when we got charged for a Data Pass that we didn't use, but these are like RM5 and Maxis will refund these without much hooha.
Anyways, just to re-iterate our earlier statements, this article is actually meant to demonstrate Maxis' promise to No Bill Shock under its UCE program. Here's the thing – in our interactions with them, we felt that they genuinely wanted to help customers to manage their bills. Check out our typical conversations via Whatsapp on the right.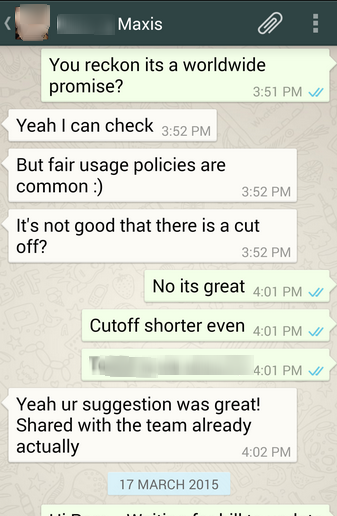 Their current promise includes the following:-
Promise 1: Call ANY local number for free on MaxisONE plan

Verdict: PASS. No matter how many calls we made, they didn't show up

Promise 2: No more than RM38/day for Data Roaming in 106 countries

Verdict:

SEMIPASS

. We actually racked up RM72 cos we roamed in two countries within a day. We've told them about it, and they're tweaking their messaging accordingly.

Promise 3: No Pay-per-Use Charges for Accidental Usage up to 250kB
Promise 4: No Pay-per-Use Data Charges without Notifications

Verdict: PASS. We tested this and Maxis PPU actually lets you know BEFORE they charge you, which is pretty cool but again… WHO USES THIS!?
* FYI: Maxis chose to implement Promise 3 and Promise 4 at an undisclosed loss to their bottom line, so you know they're serious about the promise (and that there are quite a few people who use this function)
Overall, we personally find their data quota a wee bit stingy, and their roaming policies, while ahead of the competition, could still be improved (although this takes negotiations with ALL telcos in all countries so a bit hard la)
CILISOS SUGGESTION: Perhaps users can even set a PER DAY credit cap for overseas roaming? That would be AWESOME.
Any other suggestions, please let us know in the comments below, and we promise we'll make Maxis read them.
So here's our official (and yes, slightly sponsored) verdict:
"Maxis' No Bill Shock system isn't quite perfect yet, but it's a good start. More importantly, through our dealings with them, we also feel like they're genuinely trying." – CILISOS
And yes, you can take that and put our name on it 🙂
PS: Think you can do better than our editor?
If you're interested in testing ANY of these functions yourselves, send me an email with the title "Maxis UCE Challenge" at [email protected] and tell me what you'd do to beat my record (without excessive roaming, cheater). Maxis has offered to provide sim cards with RM1,000 credit to see if you can do any better than I did. Limited to first 10 people, and only valid for a week.