If we talk about traveling in Penang, we will always hear about what famous food to eat, or which famous location to go to. But then how often do we still hear people talking about Penang's ferry rides?
For those from an older generation (it's a compliment), we might remember having to ride the ferry with our family cars just to get to Penang island. But as you might have heard, the almost forgotten ferry service in Penang will be taken over by Prasarana Malaysia Bhd, the gomen's public transportation agency that also takes care of the buses, LRTs and monorails we enjoy daily.
Prasarana even posted a "teaser trailer" about it on their Facebook page, and … there's really no point guessing what they're going to name it.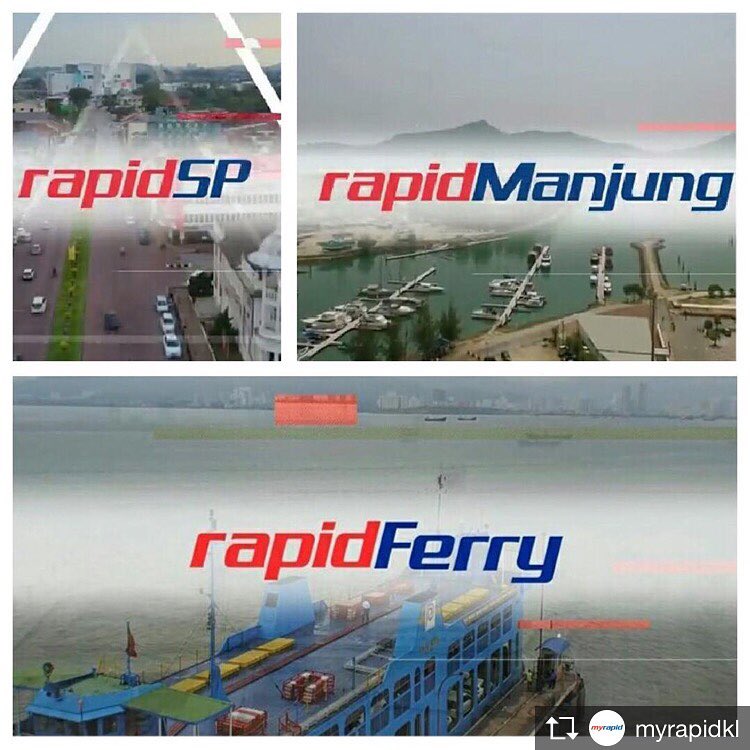 But wait, the whole ferry operation was sold for only 1 ringgit?!
The original owner of the ferry service, Penang Port Sdn Bhd (PPSB), will be paying Prasarana a token sum of RM 1 to take over the operation, but they are also going to pay Prasarana yearly to help cope with the losses.
Until now, there are commuters that frequent the ferry service, although the numbers weren't as high as they used to be. According to The Straits Times, the ferry service has been losing RM20mil A YEAR, while others estimate a lost of RM700 every trip … at full capacity. Now, PPSB only has a fleet of 7 ferries (which are named after nearby islands), and only 3 or 4 will be operational during peak hours.
"The frequency of trips has gone down from 109 per day in 2008 to only 60 per day currently (2016)," – Lim Guan Eng said in a statement
Despite that, there are still a lot of people that depend on the ferry service. But because the service has been wind down so much, the commuters now have to tolerate long waiting times and sub-par service.
35 year old ferry commuter, Siti Nadiah Sukorr, told Astro Awani that she still sees plenty of people lining up to take the ferries, especially during peak hours and holiday seasons. Another commuter also expressed his distress on behalf on frequent commuters like him.
"I have been using the ferry for a very long time to travel from the mainland to the island for work, but if this type of service continues, many people like me would suffer," – ferry commuter Ahmad Khairul Ismail told Astro Awani
A reader told us that if you're in the north of Penang, taking the ferry is still a better choice over suffering the massive jams on the bridge, which are caused by accidents and bottlenecks. And that is despite the long waiting time for the ferries.
If Penang had taken over the ferry service, we could have had water taxis
Currently, the ferrying fees for an adult is only at RM 1.20, and RM 0.60 for children. There's even a monthly pass at RM 30 for pedestrians. On the other hand, cars are charged RM 7.70, and motorcycles RM 2.00. We couldn't find the more recent numbers, but the break down of ferry commuters in 2012 and 2011 are like this:
Penang Chief Minister Lim Guan Eng welcomed the take over and expressed his confidence that the ferry service will be improved under the care of Prasarana.
"RapidPenang (Prasarana's bus service in the state) has improved greatly over the past few years. We see the people running RapidPenang are committed and professional," – Penang Chief Minister Lim Guan Eng said in a press conference
But Penang actually had been trying to take over the ferry business, and they had big plans to expand public transport on water, requesting for 30 additional license to operate water taxis and extra terminals across Penang. They also asked to be free from the ferry service's previous debts, and that it be independent from federal gomen's control.
But Putrajaya insisted that the ferry service to be under the Penang Port Commission (PPC), which is the one overseeing Penang port for Putrajaya, so the deal didn't happen. But don't worry, PPC said Prasarana is planning their own addition to water transportation. They will be introducing catamarans to transport pedestrians, cyclist and motorcyclists, as it "would be faster".
The ferry service could have shut down years ago, but the Ministry refused to let it end
Way back in 2004, PPSB was already thinking about shutting down the ferry service, since it was losing them so much money, and it was also costing them the chance to become a listed company on Bursa. Obviously it survived, not because there were still commuters that depended on the ferries (because who cares about the people right?), but because of the historic value the ferry service has.
"But the Transport Ministry refused to allow it to end. There is too much tourism and heritage value in Penang's vehicular ferry service." – a source told The Star Online
The ferry service was first established in 1920, which was the main mode of transport to Penang from the mainland. But now, with not just one, but two bridges connected to Penang, traveling there by bridge has become the more preferred choice. Waiting for ferries has become a thing for those who can't afford to take the bridge, or those have the leisure of catching the sea wind and waving at the jellyfishes.
But that's enough of a reason for the gomens to want to preserve the ferry service. Where else can you drive your car into a ship and sail across the ocean?
"Most of the time, outstation cars wait for our ferries. Since visitors to Penang love taking the ferry so much, Prasarana will look into improving the experience for them." – Penang Port Commission (PPC) chairman Datuk Tan Teik Cheng said
Hopefully, there will soon be a water based public transport in Malaysia
The balance between development and maintaining our heritage is an on-going issue that Malaysians are facing. On one hand, development brings progress and improves the quality of live. On the other, parts and pieces of Malaysian heritage/culture might be put at risk.
It's harder for buildings to change and adapt to the flow, but old school services might be able to. Our batik industry is a great example of an industry based on a traditional skill, and now the Penang ferry service is now undergoing a similar transformation. Water based transportation can serve as a great tourism tool too, as such attractions are already being offered around the world in cities like New York and Sydney.
On top of that, there are still Penangites that depend on the ferries like how some KLites depend on the LRTs. Perhaps it would be better for them now that the responsibility rests on a gomen public transport agency. With Prasarana's access to more resources, it'd would be great to see the ferries maintain or even surpass its former glory, and maybe taking boat rides around Penang will become a cool thing.