Wheeee…. it's Merdeka Day today! (Or Kebangsaan, according to a new directive by SKMM.)
If you grew up in Malaysian schools, we can confirm 100% say you've heard at least 5 national anthems in your lifetime. And not just that – you had to write down the lyrics in your Buku Latihan, memorise it, and then sing it over and over and over again. Or you had to hear it being played during recess for a month!
Even though most of us are out of school, we're still bound to hear it with all these Merdeka celebrations and whatnot going on recently. But if you don't fancy the standard overplayed songs on RTM, there are also those more gaya ones by local artistes Sudirman and Pete Teo, like 'Tanggal 31' and 'Here in My Home'. (While these aren't listed as lagu patriotik in our gomen's website, doesn't mean they're not patriotik ma…)
So anyway, we decided to pay homage to these musical numbers and create a really simple quiz you can show off to your friends. Answers are below the quiz, but DON'T CHEAT OK. We're trusting ugaiz on this!
[interaction id="55dc3eb2f11a0e7e785c9768″]
1. How did 'Negaraku' come about?
Answer: From Perak state song, which was from another song
In 1955, Tunku Abdul Rahman entrusted RTM founder Tan Sri Dol Ramli to hold a competition for the national anthem. Although entries did come in, none managed to impress Tunku Abdul Rahman. Here's where the history gets tricky due to multiple accounts out there. So, one story was that Tunku himself wanted to use the Perak State song. Another story said it was the committee that chose it after hearing every other state's song. But anyway they chose the Perak State anthem due to the traditional flavour of its melody.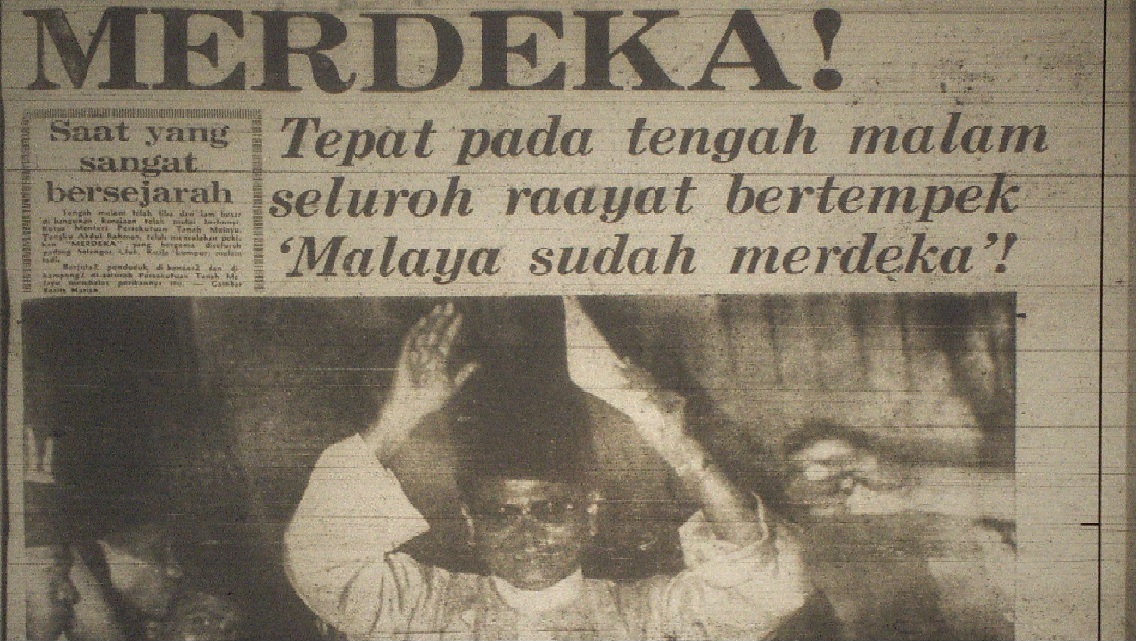 Now moving on to Perak's anthem history!
Ok, Sultan Abdullah of Perak was once exiled to Seychelles. On that island his children would frequently play a song called 'La Rosalie'. His eldest son then wrote lyrics to that song, took it with him when he visited England where it was played for the first time as the Perak State Anthem. Another story revolved around Sultan Idris attending an event in England. The private secretary of the Sultan improvised when asked what was Perak's state anthem. So, he started playing the tune of 'Terang Bulan'.
We really really need to sync these stories, it is our history yo! It's been 58 years and we still can't say which is the right story?
2. In 'Jalur Gemilang', the colour red is referred to as…
Answer: A fearless spirit
OK, we aren't gonna post the entire lyrics here for ugaiz, so click here instead, but here is the first verse of the song:
Merahmu bara semangat waja
Putihmu bersih budi pekerti
Kuning berdaulat payung negara
Biru perpaduan kami semua
And here is the English version of the lyrics.
This song was written and composed by Datuk Suhaimi Mohd Zain (Pak Ngah). But seriously, to all students out there, just memorise the first verse of this song! It will be super useful in your exams when asked about the meaning of the colours since this author uses it constantly!
3.'Tanggal 31′ was originally sung by whom?
Answer: Ahmad Chass Barra
When we think of Tanggal 31, we will definitely think of Dato' Sudirman. Contrary to popular belief, he actually isn't the song's original artist. Tanggal 31 was actually written and recorded by famed indonesian artiste, the late Ahmad Chass Barra (Ahmad CB).
Dato' Sudirman later recorded the song in 1982 for his patriotic album titled Abadi, giving it a more upbeat pop tempo. If ugaiz really wanna know what happened to Ahmad Chass Barra, this article by The Malaysian Insider talks about him and how he wasn't given enough credit for coming up with such an iconic song.
4. How many 'Keranamu's are there in 'Keranamu Malaysia'?
Answer: 13
This song was created by Datuk Suhaimi Mohd Zain (Pak Ngah) and composed by Siso Kopratasa. Just like the song 'Jalur Gemilang' it is a bit hard to remember the exact lyrics of the song (well, they did have the same composer).
But we seriously counted because ugaiz are supposed to repeat from the start again after singing the verse and then end it with:
Keranamu negara Malaysia,
Malaysia,
Terima kasih Malaysia!!
So yeah, 13 times!! Why 13, erm erm erm don't know!!
5. Finish the lyrics for 'Setia'. "Demi negara, yang tercinta, …"
Answer: Dicurahkan bakti penuh setia
We tried looking for some info about this song but have failed miserably. All we know is that it is also known as Demi Negara and this blog states that it used to be the last song on RTM before the broadcast ended. That is until we started researching about the song Sejahtera Malaysia! So remember to read below ugaiz, remember question 7, k.
6. What does 'barisan' in the song 'Inilah Barisan Kita' refer to?
https://www.youtube.com/watch?v=CQPssVJrEnk
Answer: Malaysian military forces
This iconic song expressed how soldiers would fight for the love of their country was composed by Saiful Bahari (Seriously Google, Bahari not Bukhari!) under the pen name Surya Buana.  If you didn't know that this was the title it might be coz it used to be known by a different name, 'Perajurit Tanah Air'.
According to this blog, the song was created after Malaysia was formed. Our neighbours, Indonesia and Philippines were not to happy with us then. Remember Indonesia's President Sukarno declaring to 'ganyang Malaysia' aka crush Malaysia?  That means at one point in time, there was a possibility of war with Indonesia so Tunku Abdul Rahman decided to rally the rakyat with music. Cause you know, we respond better to music than to boring speeches… What's ironic was that Saiful Bahari was an Indonesian. Well, at least according to this Utusan article.
7. "Puji dan syukur, pada Ilahi…" What is the title of this song?
Answer: Sejahtera Malaysia
According to this blog, this was one of RTM's favourite songs, which might be because of what we are gonna reveal below (spoiler, it's a propaganda song!) …
Anyone knows the late Tan Sri Mohamed Rahmat (Tok Mat)? He kinda was the propaganda minister of his time. Why? The Tan Sri mentioned that he wrote the song 'Setia' due to the internal conflict in UMNO during the 1987. In an interview in The Star, he said that:
"I had to bring Malay loyalty back to UMNO. And I had to raise a presumption that anybody who supported (Team B led by Tengku Razaleigh then) was not loyal. I went all out in this psychological warfare," he writes.
"The Malays were numb to political arguments … I needed something that penetrated the heart. I needed a song."
Thanks to this man, we have iconic songs like 'Setia', 'Syukur' and 'Sejahtera Malaysia'. Yes, Tan Sri intended them to be for his "nation-building" campaigns. However, over the years many people didn't see it that way but instead remember it for its melodious lyrics. We guess he did manage to penetrate Malaysian hearts with this song but as to whether it made us more supportive of UMNO, we can't quite tell.
 8. How were the Japanese referred to in 'Saya Anak Malaysia'?
Answer: Kamikaze
We are totally serious!! Ok, but it seems that the newer, more politically-correct version of this song doesn't use the verse containing the word 'kamikaze'.
Ok, what is the meaning of kamikaze? It is a Japanese word originally referring to the strong wind that was traditionally believed to have destroyed the fleet of invading Mongols in 1281. Later, it was used in reference to a Japanese aircraft loaded with explosives and making a deliberate suicidal crash on an enemy target or the pilot of such an aircraft. During World War II, about 3,860 kamikaze pilots died. Why? The goal of crippling the enemy's ships, particularly aircraft carriers, was considered by the Empire of Japan to be a just reason for sacrificing their pilots.
Ugaiz might not agree with what they did but they are part of our history. They probably believed that what they were doing was best for their countries, you know like some people here…. But we still do not recommend calling a Japanese that.
9. Who composed the song '1 Malaysia'?
https://www.youtube.com/watch?v=hwAOsnMqbcY
Answer: Limkokwing University
This song was composed, sung and arranged by Limkokwing Sound and Music Design Academy students and staff. If ugaiz aren't sure if this really is a patriotic song, this government website listed it as one (click on 06 – SATU MALAYSIA).
More on this song below! Question 14!
10. When was Negaraku first sung?
Answer: 1957
OK, so ugaiz read the confusing history of 'Negaraku'. The lyrics for the song came from Tunku Abdul Rahman, with edits from Tun Syed Nasir Ismail (former director of Dewan Bahasa dan Pustaka).
So while they had recorded the song earlier, it was only officially played on 31st August 1957 as the new flag of Malaya was raised. Yes, Malaya! It was only on 16 September 1963 that the name changed to Malaysia.
11. Who wasn't in Pete Teo's  'Here in My Home'?
Answer: Aaron Aziz
The song 'Here in My Home' is a project from Malaysian Artistes for Unity. This project involved 120 people from various backgrounds. Although it featured mostly English lyrics, there is a multi-lingual rap section in Malay, Mandarin and Tamil. In an interview with The Star, Pete Teo said that the project was completed in a month with zero budget, since no one was paid for it!
With the personalities involved, it would had incurred a very high cost indeed if everyone was paid. Don't believe us? It was directed by Ho Yuhang and the late Yasmin Ahmad. Then, it also featured local personalities like Ning Baizura, Jaclyn Victor, Reshmonu, Datuk Tony Fernandes, Maya Karin, Sharifah Amani, Amber Chia and even Harith Iskander. All the femes people yo!
(Sorry, Aaron Aziz, you're femes oso. But you're Singaporean leh 😛 )
12. What was the official song for National Day (2000 to 2006) ?
Answer: Keranamu Malaysia
From 2000-2006, the theme for our Merdeka Celebration was 'Keranamu Malaysia'. From 1976 till now, this is the ONLY logo used 6 years in a row. Due to the theme, 'Keranamu Malaysia' was used as the theme song!
13. Highest hit on YouTube according to Malaysia's Book of Records…
Answer: 1 Malaysia
We are not kidding about this, but seriously the 1Malaysia theme song is in the Malaysian Book of Records as 'First Malaysian Patriotic Song to Have Highest Hits on YouTube'.
But we tried searching the Malaysian Book of Records website itself and we really couldn't find anything… hmmm…
14. What is the theme song this year's Merdeka Celebration?
https://www.youtube.com/watch?v=TXhENm8oCuk
Answer: #sehatisejiwa
Eh, serious with the hashtag sign! Cause we love to #everything…
Actually introduced and used in 2015, this theme was chosen because it reflected the spirit of solidarity, understanding, togetherness and humanity of all people in the country. It's also being reused this year, as announced by Communications and Multimedia Minister Datuk Seri Dr Salleh Said Keruak.
But our Hari Kebangsaan logo has attracted its fair share of controversies, not just talking about what went on in Penang. In 2012, there were arguments that our ruling party was using the Merdeka Celebration to improve their image among Malaysians! Huh what, well… Initially the 2012 Merdeka theme was Janji Ditepati, which they had to axe later.
– ——- –
Regardless of age, race, religion and gender, we are ALL MALAYSIANS! Even if we did balik Cina, India or Arab, Malaysia would still be our tanah air. Can ugaiz imagine if one day an entire race left Malaysia, would that still be the Malaysia we have grown to love? Just like how we can all enjoy the patriotic songs regardless of race, surely we can all live together!
But seriously, Selamat Hari Merdeka ugaiz!! Check out this meaningful, heartwarming short film, SELISEH by Ismail Kamarul. We enjoyed it quite a bit 🙂
(p.s. if you think the song at the credit is familiar it is called "Mamula Moon" a Hawaiian song that suspiciously coincidentally sounds like Negaraku)