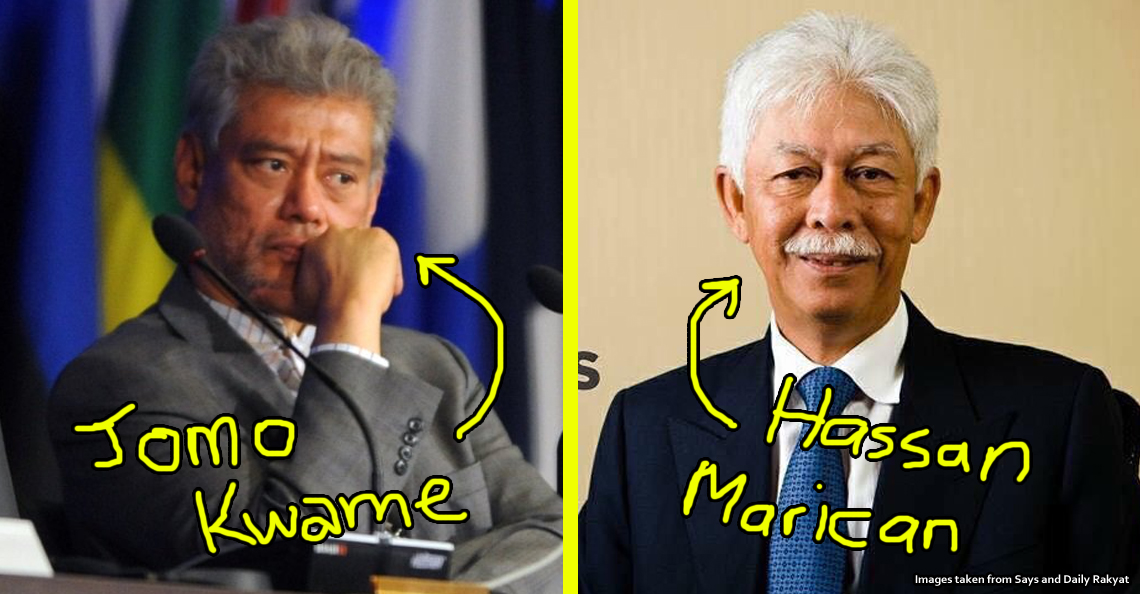 [This story was originally written by our friends over at Soscili. To read this in BM, click here!]
Up to this moment, the heat from the last General Election hasn't died down yet. You know what else has not died down? There are squabbles over who will become the next state's Chief Minister, like what happened in Perak and Sabah. There were also cases of state assemblymen who decided to jump parties, and all sorts of juicy political gossip floating around.
Within this chain of exciting incidents, Tun Mahathir still managed to steal the show by announcing the establishment of a Council of Elders. This Council was formed to advise the new government for the first 100 days on how they can establish the best economy for Malaysia. Within the Council, there are some familiar names like Tun Daim Zainuddin (former Finance Minister), Tan Sri Zeti Aziz (former Bank Negara Governor) and Robert Kuok (billionaire extraordinaire), plus two rather unfamiliar names.
They are Prof. Dr. Jomo Kwame Sundaram and Tan Sri Hassan Marican. Who are they, and what are they doing in the same council as the other three people? Our friends from Soscili did a backgound check on why these two guys are so important, starting with Prof. Jomo…
Prof Jomo once published an article that criticized Mahathir and got sued for RM250 million
It turned out that Prof. Jomo was one of Mahathir's biggest critics the last time he was Prime Minister of Malaysia. Prof. Jomo criticized Mahathir's economic policies, him putting Anwar in jail and his privatization of government entities. But perhaps the most prominent act of criticism he did was to write an article for the Wall Street Journal that slammed the economic policy of Mahathir's era that prioritized crony companies.
That article caused the CEO of Berjaya Group, Tan Sri Vincent Tan, to sue Prof Jomo as well as the Wall Street Journal for RM250 million. Prof Jomo, however, refused to amend anything in the article. But why was Vincent the one who's angery? Well, among other things, the article alleged that the reason Vincent got contracts to build monorails and Linear City was because he was a government crony. This suit was later dropped.
But Prof. Jomo did not keep his criticisms in the economic sphere only. He also once filed a summons in court to null the results of the 1999 General Elections, as he claimed that he and 680,000 other new voters had been denied their rights as they weren't allowed to vote. However, the Election Commission filed a request to put aside the summons as it was seen as petty and cumbersome (means 'leceh').
Prof. Jomo's criticisms continued into the Najib era, where he said that the cost for the East Coast Rail Link (ECRL) project would actually be borne by Malaysians themselves.
"…the ECRL will be funded by China's Exim Bank, with the Malaysian government, or the taxpayers, as the trustees. So the risks and liability will be fully borne by Malaysians,"- Excerpt from The Malaysian Insight.
Before this recent election, he told people to look at other scandals as well instead of just 1MDB, for example the scandal involving Felda Global Ventures (FGV) that was a lot bigger and involved more people. According to Prof. Jomo, losses by the FGV had drove Najib to bribe settlers by abolishing the RM5,000 nominal debt.
But Prof Jomo wasn't just all talk…
Besides having received the highest award in the economical world, Prof Jomo was also active in the UN
If you were to look at his CV, chances are you'd gasp at the length. We won't be going into his many accomplishments here, but we'll be highlighting some of them to prove his prowess in the field of economics.
As of this year, Prof. Jomo is 66 years old, so you can probably imagine what he'd achieved in all that time. In 2005, he was appointed as the UN's Assistant Secretary-General for Economic Development under their Department of Economic and Social Affairs (UN-DESA), and he held that position for over 7 years! As for what he did in DESA, well, the department supports policymakers, publishes economic analyses and helps countries to develop, so it's probably something along those lines.
That's just one of his posts in the UN. He was also a board member for UN Research Institute for Social Development (UNRISD) from 2002 to 2004. The UNRISD is a research institute with autonomy in the UN that researches and analyzes social policies related to current development issues.
In 2000, the Global Development and Environment Institute (GDAE) introduced the Leontief Prize in remembrance of Wassily Leontief, who received a Nobel Prize in 1973. The Leontief Prize is given to…
"…recognize outstanding contributions to economic theory that address contemporary realities and support just and sustainable societies."- Exceprt from GDAE's website.
So in 2007, this prize was awarded to a Stephen DeCanio from the US as well as… you guessed it, our very own Jomo Kwame Sundaram. As it turns out, we have a global economic expert on our side.
Besides Prof Jomo, the other name in the Council of Elders would be…
Tan Sri Hassan Marican, the guy who made Petronas what it is
"Hassan is well known among the oil companies and they are impressed by the way he does things and has taken Petronas forward,"- Excerpt from The Star.
Hassan Marican was the CEO and President of Petronas from 1995 to 2010. Among other things, he was seen as a veteran in the gas and oil industry. He was later replaced by Datuk Shamsul Azhar Abbas after his contract ended on 9th February 2010. After announcing the replacement for Hassan's post, the then Prime Minister, Najib Razak, mentioned how important Hassan was.
"The government appreciates and thanks Hassan for his contribution to the nation and the petroleum industry. During his tenure, Petronas was recognized as a reputable company and continued to be the only Malaysian company to make the Fortune 500 list,"- Najib Razak, as reported by The Edge Markets.
Najib also stated that Hassan was instrumental in leading Petronas in getting projects and competing internationally among the world's biggest companies. However, according to Reuters, Hassan Marican's replacement was actually political. In 2009, Hassan disagreed with Najib on many issues, ranging from the naming of board members to the sponsoring of Formula One cars. Najib was then said to give him a six days' notice, saying that his contract would not be renewed in 2010.
It was reported that many of the staff were disappointed with Hassan Marican's replacement, as he had been said to have left quite a legacy and a golden era for Petronas during his time with the company. So what did he do to deserve that statement?
Petronas was among the earliest companies to invest in South Africa after the abolition of apartheid
In the beginning, Petronas existed only to control the management of Malaysia's domestic resources. That was, until Hassan Marican entered the scene. Along with Azizan Abidin, the chairman of Petronas at that time, the company began aggressively going global. Dr Mahathir, who was PM at that time, also wanted his government to openly help developing countries.
Petronas then launched many partnerships with countries that could not have other international oil companies invest in them. In 1997, the Petronas team under Hassan partnered with China and transformed Sudan into an oil-exporting country in less than two years. Although there had been a US embargo on Iran at that time, Petronas joined hands with a French company and successfully launched operations in Iran.
During its time, Petronas was also known as one of the earliest companies to invest in South Africa after the apartheid system fell, buying a 30 per cent stake in Engen, South Africa's biggest oil refinery company.
"After more than a decade of expansion, Petronas had a presence in 35 countries, with almost 80 percent of its revenues coming from global partnerships and exports."- Excerpt from Referenceforbusiness.
In 2003, Petronas made US$21 million, with a net profit of almost 4 billion. Even though success was pouring in, Hassan did not want the credit to go to himself solely, as he believed it was from superb teamwork. In the final moments before his contract ended and Hassan was replaced, Petronas managed to secure a contract from the Iraqi government to develop an oil field, winning 4 out of 5 bids.
"Net profit during that time grew from RM35.6bil in 2005 to RM52.5bil in 2009, with the peak of RM61bil earned during its 2008 financial year."- Excerpt from The Star.
Even though he no longer worked at Petronas starting 2010, a year later he was appointed as a director at ConocoPhilips, an energy company in Houston, US starting December 2011. Three years later, he was appointed as the chairman of Sembcorp Industries Ltd, the world's largest rig maker in 2014. It would seem that international companies really want his expertise.
There's no point in having many experts if the country don't use them
The two experts mentioned in this article are no ordinary people, and we bet that when you first heard of their names in the Council of Elders, you have no idea who they are. Or did you?
Here in Malaysia, we actually have many experts in their field, yet we don't hear a lot about them. It is hoped that in the future, more experts from Malaysia will be utilized to drive Malaysia to a better future. Tun Mahathir's decision to turn to these five independent experts for economy advice could be the start of a new form of governing in Malaysia, and whether we'll see more of this in the future (and the results) will remain to be seen.