Health
Lifestyle
MAT-MATIK
[UPDATED] Govt is giving RM8,000 to poor Msians with cancer. But here's why it may not work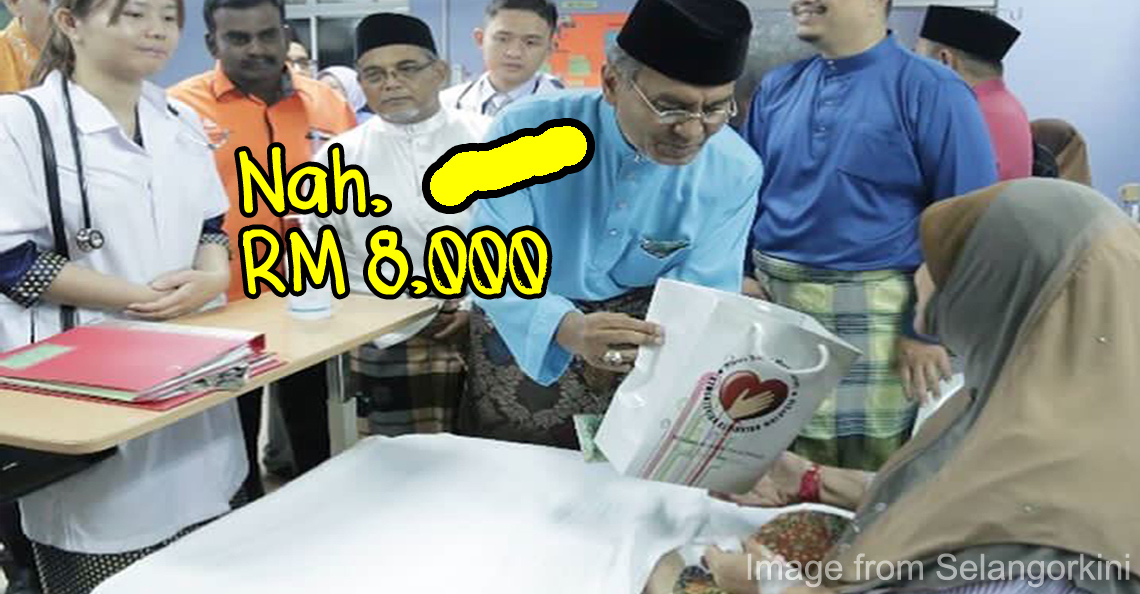 If you're categorised under B40 and a recipient of the Bantuan Sara Hidup, then you may be eligible to this newly launched health scheme called the  mySalam B40 National Protection Scheme. Under this scheme, you may be getting a one-off contribution of RM8,000. On top of that, the govt will be giving you RM50 per day, for a maximum of 14 days per year if you're admitted in any govt hospitals. Wah, the govt so generous hor!?
Well, if that's so, then why are the NGOs asking the govt to temporarily suspend the scheme? About 40 NGOs and 46 individuals including Parti Sosialis Malaysia (PSM) and Suara Rakyat Malaysia (SUARAM) had reportedly endorsed a memo to urge the govt to reassess the scheme. This is because they claimed that…
The govt may not have made a thorough research before implementing the scheme!
MySalam will reportedly benefit 3.7mil poor Malaysians. However, although it may seem like it will be helping many people, the NGOs are stating that the govt may have accidentally forgotten to conduct an actuarial assessment on the scheme before launching it. Actua-what?
Basically, an actuary, who works in an insurance company, would evaluate complex risks, ensure that the premium is set accurately and adequate funds exist to meet the claims. In this case, an actuary would be calculating possibilities of people in the B40 group of getting chronic illnesses, the types of illnesses and cost of treatment before coming up with a policy that may be beneficial for all parties (consumers, insurers and govt). But if you wanna know more about the job, you can watch this video here at 5.30:
Despite the claims made by the NGOs, mySalam was said to be designed based on the findings from the Finance Ministry, Health Ministry and Bank Negara Malaysia (BNM) which probably meant that the scheme may have gone through an actuarial assessment after all! If that's so, then why are the NGOs still kancheong about the scheme?
Well, let's just start with how…
1. Great Eastern Takaful is in charge of the scheme instead of the govt
We get how most people are worried if the scheme will only benefit insurance companies instead of consumers. Heck, some people are worried if the scheme would lead to cronyism!
As it turns out, the govt has chosen to collaborate with Great Eastern Holdings (GEH) to start up this scheme. This was reportedly done without an open tender. GEH has reportedly contributed RM2bil as a seed fund for the scheme in return of an exemption from selling 30% of its shares to local shareholders. Fyi, it is a requirement for foreign companies to sell some of its shares to local shareholders.
But CHUP, how did the govt agreed to the RM2bil cash contribution anyway?
As it turns out, the govt had used 30% of GEH's net profit in 2017 which amounted to RM238mil in the calculation and expanded it for 10 years (which also means that GEH may not need to sell off its shares for the next 10 years). Do the math and you'll get RM2bil!
The govt believed that this cash contribution would benefit more Malaysians in need instead of selling off shares to local investors whose financial returns may only concentrate to the rich Malaysians.
Since GEH contributed to the scheme, its subsidiary company, Great Eastern Takaful is administering the scheme. And if the govt is using the RM2bil to pay the premium of the scheme for 3.7mil people, which cost RM112 per person, then who will be getting the money?
Although it might seem as though Great Eastern profits from this (like the meme above), the govt stated that all money from the contribution or premium actually goes to mySalam's Trust Fund. Yeap, even excess money!
But that's not all…
2. People diagnosed with chronic illnesses last year may not be eligible for mySalam 🙁
Earlier we mentioned the two out of a few other criteria to be eligible for this scheme. Most people may be eager when they first heard about this scheme but what they may not know is that:
The scheme only covers those aged 18-55 years old, and
It didn't really specify any exclusion in the policy
Former MP of Sungai Siput, Michael Jeyakumar, questioned the likelihood of these people getting chronic illnesses, particularly Parkinson's.
"Parkinson's disease generally affects people in their 70s and above. The MySalam only covers people between 18 and 55 years. So the vast majority of Parkinson's patients are excluded because of their age." – Michael wrote to FMT.
UPDATE 28/3/2019: So amid criticism about the new health scheme, Finance Minister Lim Guan Eng announced that the govt will be considering raising the age to allow more people to be covered by the health scheme – but whether they go thru with the proposal or not remains to be seen.
And unlike other insurance policies like Great Eastern, for instance, mySalam didn't really specify any exclusion clauses (things that aren't covered under the scheme). So this created some speculation among many people as to whether people with pre-existing illnesses (aka diagnosed before mySalam was launched) would be covered under this scheme.
Since the NGOs believed that mySalam may have adopted a similar model of health policy from Great Eastern, then let's take a look at the exclusion clause of Great Eastern's health policy:
Although this might mean that most people under B40 won't be eligible under this scheme, a general practitioner in KL, Dr Yew Lim actually defended the idea of excluding those with pre-existing illnesses to filter out those who really need the financial aid. This may also be needed to sustain the RM2bil which would be used for over five years. This is because if everyone with pre-existing illnesses would be covered under this scheme, then the RM2bil will finish before five years lor.
However, he also added that since the website didn't actually mention any exclusion, then chances are there isn't any! If that's so, then anyone from B40 may be eligible for this scheme. But wait…
3. Only those with SEVERE chronic illnesses will be covered under this scheme
If you scroll through the list of illnesses on mySalam's website, you may find out terms like 'of specified severity' and 'inability to perform Activities of Daily Living'. Chup, is the govt saying that those chronic illnesses listed aren't severe enough?
As it turns out, pretty much. You see, illnesses like cancer have several stages and in this scheme, you may not be covered if you're diagnosed with cancer stage 1. However, mySalam didn't really specify the level of severity of the illnesses unlike its contributor, Great Eastern.
So, this has yet again created another speculation if the definition of the severity of the illnesses is similar to Great Eastern's or not. Michael added that it may not be possible for anyone with Parkinson's to be covered by this scheme.
"He (Patient) would not be able to apply (for the scheme) for he would have been diagnosed several years ago (Parkinson's takes 10 to 25 years to result in severe disability). And MySalam excludes conditions that were diagnosed before 1/1/2019." – Michael wrote to FMT.
Well, that's considering mySalam has an exclusion clause la (we've covered this earlier).
Although you can't really tell how severe your illness is, your doctors can. A former Medical Malaysia Association president, Dr Milton Lum gave an example of heart attack. He mentioned that while most people may refer heart attack as… heart attack (duh), doctors may have other terms for it depending on its severity.
"'Heart attack' is a layman term that some may mistakenly take to include unstable angina. This is less serious than actual myocardial infarction, but requires hospitalisation nonetheless." – Dr Yew wrote to FMT.
4. RM8,000 may not even be enough to pay for medicines and medical equipment!
First things first, the scheme is not gonna be replacing the cost of public healthcare. In fact, it is a financial aid for people with chronic illnesses who may also enjoy low or free public healthcare services. But why do they even need to be covered under the scheme anyway?
Well, aside from diagnoses and treatment in hospitals, another important thing for a patient is… medication! Remember that RM8,000 one-off contribution given to those eligible under mySalam?? Apparently, that money will be used for payments that will not be covered under the scheme aka your medication and medical equipment such as prosthetic legs.
However, Dr Milton mentioned that some cancer patients, for instance, have to purchase their own medication outside govt hospitals as they're not listed in the Ministry's Essential Medicines List. And these medicines may be expensive. Heck, RM8,000 may not even be enough for cancer patients to undergo chemotherapy for more than 40 times!
Bear in mind that although each cancer patients have to undergo chemotherapy depending on how severe their illnesses are, there isn't any maximum amount of cycles they can go through. So it probably makes sense when Dr Milton claimed that the RM8,000 won't be sufficient for the patients anyway!
Even Lim Guan Eng admitted that the one-off contribution may not be enough.
"Even if we provide RM80,000 (protection coverage), it will also not be enough because healthcare costs are so high." Lim Guan Eng told The Edge Markets.
Having said that…
Insurance require some real MAT-MATIK skills
As it turns out, it takes more than just giving out a huge sum of money to people to make an insurance policy. There are many things to consider and calculate. That is probably why the NGOs felt that it may be better for the govt to suspend the scheme for a while to reassess the package offered by GEH.
The implementation of mySalam is a step closer to getting those in the B40 group access to better healthcare and bridge the health protection gap. However, as for now, it may also seem like those who gets mySalam are scoring a lottery, at least based on the NGOs concerns that we've listed above.