One of the many questions about death that we would be curious to find out would be how our lives would end. Or where you'd wanna be laid to rest. In fact, some of us may already have a plan on where we'd be buried or cremated.
But among all these questions, one that may not even cross your mind is where you'd be relocated or reburied. So why are we bringing up this slightly awkward question?
Well, that's because relocating a grave or reburying deceased people may not be as uncommon as you think it is. As a matter of fact, we briefly mentioned about reburials in our previous article about the cost of funerals.
In that article, we mentioned that funerals can be very costly and one reason for that is the decreasing amount of land available. While this is true, we also found out that…
Exhuming bodies is actually ILLEGAL in Malaysia unless…
Before we proceed, allow us to clarify that the Local Government Act 1976 states that all cemeteries should be run with a proper license given by local councils. And all bodies buried in these cemeteries CANNOT be exhumed and relocated without valid reasons. 
There are actually plenty of reasons as to why bodies of deceased people are exhumed and the Act itself noted some of them such as for judicial inquiry. One example of this being done is when the police exhumed the body of the Cradle Fund's former CEO, Nazrin Hassan, to facilitate with the investigation into his death.
Besides that, the Act also noted how bodies MUST be exhumed and relocated if they are not buried in licensed cemeteries. This would mean if you were to dig a grave and bury someone on a random land that's not a cemetery (why tho?), you're at risk of getting a RM1,000 fine or serving jail time of not more than 6 months or both.
The Act also mentioned that you can relocate the remains of a deceased person with the permission of the city councils and with a certain amount of payment la. We checked the KL City Hall (DBKL) website for more info about this and found that reburials in public cemeteries can cost you RM100. Private cemeteries may cost you more than that but we've covered that in our previous article.
Anyways, other reasons for grave relocations could be…
Old burial site is now in a horrible condition

due to weather or pest infestation

Feng shui/superstitions.

 For instance, if you and

your family are always in bad luck

, it may have something to do with the burial of your deceased family members

Danger imposed when visiting

 such as the site became a drug addict or crime spot.

Convenience for family

to pay respect

Land development like what happened in Pengerang, Johor in 2014 when 3,000 Chinese graves were relocated to give way to a RM60 billion project.
But as we mentioned earlier, one common reason for such a relocation to happen is due to the decreasing amount of available land, especially in huge cities like Kuala Lumpur, Petaling Jaya and Johor Bahru. And even back in 2015 when we wrote the article about the cost of funerals, 80% of the public and private burials are either occupied or blocked. 
In fact, DBKL reportedly mentioned that there is no more land to bury the dead in KL. And this statement came out in… 2014.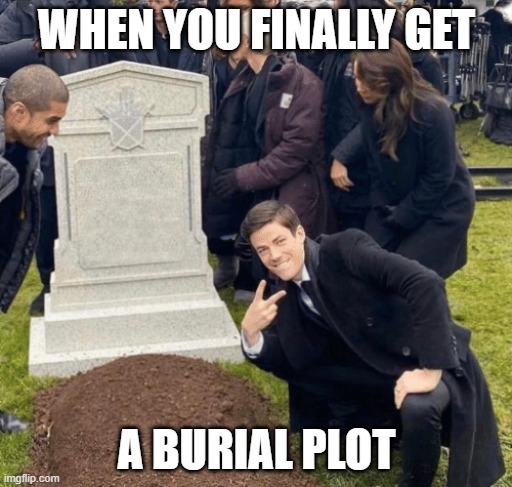 Fast forward to 2019, Lee Chun Kong, president of the Federation of Selangor and Kuala Lumpur Chinese Cemetery Associations, mentioned that most Chinese cemeteries are running out of plots.
"Over here, burial plots in Chinese cemeteries grow scarce with over 70% of the space used up." – Lee to The Star.
With that being said, are there any actions taken to tackle this issue? Well, yea. And one of them include how…
Graves at super old cemeteries can be REUSED! :-O
When we talk about land scarcity to bury the deceased, we can't help but to think of our kiasu neighbour aka Singapore. And that's because, uhh… well, it is still a smaller country compared to ours despite its land reclamation activity. So, we wonder how it deals with this issue?
As it turns out, the country has a policy called the New Burial Policy which was implemented in 1998 to tackle this issue. This policy limits burial to only 15 years. This means that once a deceased person has been buried for 15 years, the remains would be exhumed and either cremated or re-interred, according to the deceased person's religious requirements.
Remains that are cremated would be given to the National Environment Agency for cremation and then placed in a wall to display the urns (aka niche). Remains that would be re-interred, on the other hand, would be exhumed and be placed with seven other remains (so, a total of eight remains would be placed together) in a newly interred coffin for one. Singapore's interment system is reportedly modelled after similar graves in Saudi Arabia.
Ok la, while Singapore has their own somewhat canggih systems, Malaysia also has its own ways to tackle land scarcity. For those who memang have to bury the dead like the Muslims, because cremation is strictly prohibited in Islam, the Jabatan Agama Islam Wilayah Persekutuan (JAWI) actually allows graves at old cemeteries to be reused. 
In a 1992 discussion on the management of cemeteries and cremation, the religious body agreed that this method can be used on old graves that may have existed some 90 years ago. However, while researching for this story, we weren't able to find any news reporting if this has happened. We've contacted JAWI but it has yet to reply to us.
What we found tho was how officials expanded Muslim cemetery areas on forest reserve lands and lands outside of KL. And let us add how JAWI also agreed to find lands outside of KL for this purpose in the aforementioned 1992 discussion. You can see the result in the opening of the KL-Karak Cemetery, one of the largest Muslim cemeteries in KL.
As for non-Muslims, public cemeteries in KL and PJ have been practicing 'reburying'. Just like the interment system in Singapore's Muslim Cemetery, this practice involves interring one body over another several years later after it has been buried or even cremating the remains of the third and subsequent persons in a family and placing their urns in the same burial plot.
According to Francis J. Mascrinhos @ Pope of Norman Funeral Services, reburying has been a popular method among the Christians in KL and PJ. 
"Many people are opting to rebury, which is two-in-one, or where allowed, even three-in-one." – Francis to Malay Mail in 2015.
In addition, Lee mentioned that there is a trend of more people switching to cremation due to land scarcity and high cost. Oh, just in case you don't know, burial plots at private cemeteries can cost you a LOT. A family burial plot for 10 persons can easily cost you about RM280,000.
And with a lot of people opting for cremation, this may also be why land scarcity may not be a serious issue, especially outside of KL. In fact…
Penang surprisingly has MORE space for… the dead than the living??
While researching for this story, we can't help but to point out how land scarcity issues to bury the dead may not even be a problem for everyone in Malaysia. While it may be a problem for the people in KL, it is reportedly not a problem at all for the people in Penang. 
In fact, Penang has MORE space for the dead than the living despite facing land scarcity issues. And this space is still available up til today.
Apparently, according to the Penang Hindu Endowment Board (PHEB) executive director Datuk M. Ramachandran, the Batu Lanchang burial site saw fewer burials each month – about two to three burials per month. And, mind you, Batu Lanchang burial site is among the largest burial sites in Penang.
And that's mainly because 90% of the people are opting to cremate the dead compared to burying them. In addition, Ramachandran mentioned that some may also choose to bury their relatives in the same plot.
"They may bury other relatives in the same plot, as long as six years has lapsed from the last burial." – Ramachandran to The Star.
But that's not all. Even the Muslim cemeteries in Penang have ample burial grounds! OMG, what is going on here?
One possible reason, according to a study done by a team of researchers from Universiti Tun Hussein Onn Malaysia, might be the migration of people from one state to another. This would cause an escalating of population in a certain area such as KL.
The study also stated that this migration would oftentime complicate the projection in the planning for the disposal of the dead for city councils. This may be why certain areas like Penang would have ample burial grounds while another area like KL may have little to no space to bury the dead.
Another reason tho, according to the Penang Islamic Religious Council chairman Datuk Abdul Malik Abul Kassim, would be how the authority has worked out a plan to make these burial sites sustainable for at most 20 years.
"We have gone through the statistics and worked out a plan to ensure there will be enough burial ground over the next 15 to 20 years." – Abdul Malik to The Star.
And Penang isn't the only one to do that. Apparently, KL burial grounds at 20 Muslim cemeteries can also last for 30 years from now. 
See, land scarcity has been an issue for the living and the dead in huge cities for quite some time. And it doesn't seem as though the issue would be resolved anytime soon, especially when it comes to available land to dispose the dead. But rest assured that, with the available methods to dispose the dead, there will be enough resting place for everyone.