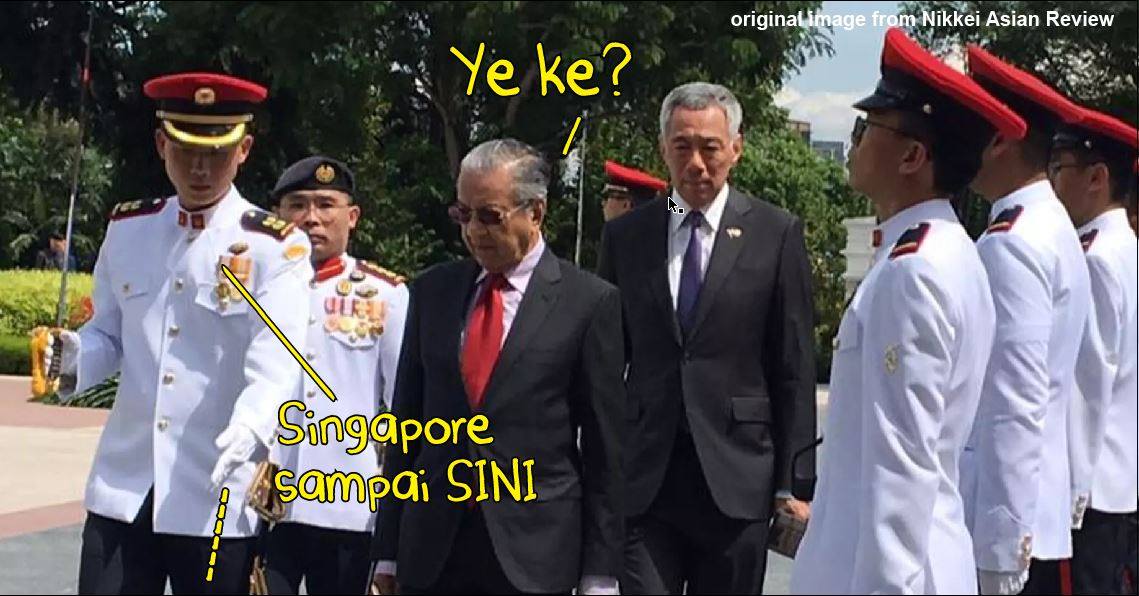 [This article was originally published 8 Dec 2018. Update to the story at the end.]
You might have noticed recently the latest trending debate surrounding the Malaysian-Singaporean relationship – cendol. That's right, CNN Travel somehow listed cendol as Singaporean in its list of 50 world's best desserts. The audacity! But right, next thing you know….
WATCH: The Republic of Singapore Navy issues warnings to Malaysian government vessels intruding in Singapore territorial waters https://t.co/hWfu2rosqyhttps://t.co/5rYYRkVh96

— CNA (@ChannelNewsAsia) December 6, 2018
Hold up, what?! The Singaporean Navy is warning us? Over cendol??
Well no, it's not actually because of anything to do with cendol laa #ihatecilisos, it's actually because of what Transport Minister Anthony Loke said when he answered a simple question from his colleague in the Dewan Rakyat earlier this month.
It started with Anthony Loke wanting to take back Singaporean airspace
During a parliamentary meeting on the 4th of Dec, Pasir Gudang MP Hassan Abdul Karim posed a question to Anthony Loke on what the govt's plans are regarding Singapore's plans to expand commercial flight operations at the Seletar Airport, located just 2km away from Malaysia's borders. It was here that Loke dropped the bombshell – Malaysia would try to take back airspace in southern Johor currently managed by Singapore.
So back in 1974, an agreement was struck between Malaysia and Singapore where the airspace in southern Johor would be delegated to Singapore to manage, which kinda made sense at the time as they had better infrastructure at the time. However, Loke now wants to take it back, and in fact we've already told the Singaporeans of our plans to do so back in late November. The govt expects to do this in stages, which will begin in late 2019.
"The government will discuss this in more detail with Singapore regarding the reclamation of airspace in the south of the peninsula, and if necessary will refer the matter to the International Civil Aviation Organization for advice," – Anthony Loke, as quoted by Malaysiakini
Part of the reason why the govt wants to do this could be due to Singapore's plans for the Seletar Airport. See, Seletar Airport in north Singapore – built in 1928 – was until recently only for private jets and for training new pilots. However, that's supposed to change with the Singapore govt building a new terminal at the airport to take turboprop planes away from Changi, seeing as Changi's really busy these days.
Now Seletar's expansion involves a new flight procedure system called the Instrument Landing System (ILS) being implemented at the airport. It's basically a system that helps guide the plane to land safely instead of just relying on the pilot. Singapore told Malaysia about it in December last year, and informed us about how it works and what not. And because Singapore wanted to make it official and publish the ILS procedures, they asked us for any feedback.
However, we didn't give them any feedback, despite repeated attempts by the Singaporeans in August this year. Eventually, the Civil Aviation Authority of Singapore (CAAS) met with the Civil Aviation Authority of Malaysia (CAAM) on the 29th of Nov, and the CAAM mentioned that uh, got few problems laa. The CAAS said that they would 'address these concerns' and kinda sorta made it clear that they will publish the ILS procedures on Dec 1. The CAAM apparently didn't bring up any other issues the next meeting.
The problem that Anthony Loke also raised in the Dewan involves the ILS. The ILS flight paths that the Singaporeans intend to use might cause planes to fly low over Johor, leading to height restrictions and limiting port activities in Pasir Gudang, Johor. With the possibility of Johor's development being stunted cos of Singapore, you can probably understand Anthony Loke's annoyance.
"This contradicts the principle of national sovereignty provided for under the Convention on International Civil Aviation. The Foreign Ministry will issue a protest note to Singapore immediately concerning this breach of sovereignty," – Anthony Loke, as quoted by Straits Times
The Singaporeans however denied that it would affect Pasir Gudang. According to Singapore's Transport Minister Khaw Boon Wan, the ILS procedures have already taken into account the existing entities in Pasir Gudang. Singapore's Ministry of Transport also made it clear that the new ILS procedures would apparently not add any further impact on Johor's residents. 
One side effect of the stand off over Seletar Airport has already happened. If you're a frequent flyer between Malaysia and Singapore, you've probably taken Firefly Airlines before. They were set to move to Seletar on Dec 1. However, instead of moving, they suddenly announced that all flights to Singapore were suspended, and it turns out that its cause the CAAM did not approve the move from Changi to Seletar. With no where to go to, over 12,000 people who had booked Firefly flights find themselves affected.
[UPDATE 12/12/18]: So it appears as tho our Transport Minister Anthony Loke has been watching videos on his Facebook during his spare time, as he too has responded to the Singaporeans – in the form of one of those shareable FB vids. You can watch what he had to say about the Seletar Airport and the ILS implementation below:
"Hi Singapore, Seletar Airport is yours, but Pasir Gudang, Johor, Malaysia is ours. So please hear us out. To Malaysians, please watch and share this – there are reasons why Malaysia has to oppose the ILS (Instrument Landing System) of the Seletar Airport which Singapore wants to implement from 3 Jan 2019. We urge Singapore to withdraw the ILS announcement and to amend the flight path as per our request," – Anthony Loke, on his Facebook
*Original article continued below*
And to make matters between the two countries even worse….
Singapore responded by claiming we're in their seas
So this is where that video of Singapore's Navy warning us to back off comes in. In what The Malaysian Reserve called a tit-for-tat move, barely days after Anthony Loke announces that Malaysia wants to take back its airspace, Singapore said that they have concerns over Malaysia's extension of the Johor Baru port limits. According to our neighbours, Johor's port limits have gone into Singapore territorial waters, and in response they sent their navy and coast guard to patrol the area.
We're going to be super simple here in explaining how the water territory for both countries and ports changed over the years, so bear with us here yeah. Note that we'll be referring to port limits, which are boundaries of a country's sea port activities, and territorial waters, which is basically all the water a country owns laa. Port limits can be but don't necessarily have to be as big as territorial waters. And just for clarity we took the map data from Mothership, a Singaporean website, in case got any patriots out there saying we jual negara laa k.
1. In 1979, Malaysia drew that brown dotted line claiming its territorial waters which Singapore didn't agree to. Not only did Singapore not agree to it, they ended up reclaiming land that literally goes over it years later (the part that looks like a comb/a capital E).
2. In 1997, Singapore drew its port limits, which stayed pretty much on their side of territorial waters. Malaysia meanwhile drew the JB port limits two years later, well within our side of the territorial waters too. This was the agreement we had all the way til now.
3. Malaysia decided to expand our port limits… which goes even further than the already problematic 1979 territorial waters line. This time, it's literally all the way to Singapore's port limits. See that shaded area? That's our new port limits for JB. If this was a game of Civilization V, you'd probably get a warning from the AI opponents for doing this.
4. Now Singapore didn't like our move laa to say the least, so they expanded their side of the port limits…. which pretty much covers what we claimed as our port limits too. Also probably worth noting that Singapore btw still doesn't accept the 1979 Malaysia territorial claims, so yeah. As for our own govt, Dr M has so far denied these allegations.
To make the mess on sea even messier, our boats have apparently been caught in Singaporean waters too. It appears as tho a number of Malaysian govt vessels have been going into Singapore's waters, at least, according to the Singaporean Transport Minister Khaw Boon Wan.
Singapore's Defence Minister Ng Eng Hen has also made it clear that Singapore will take firm action against intrusions, and cautioned those who entered Singapore's territorial waters. He even posted a video of a Malaysian govt vessel being warned that they're too near on his Twitter too:
For 20 years or more, the RSN and PCG have patrolled our Singapore Territorial Waters in Tuas. Out of nowhere, the Malaysian Government now claims these waters as theirs and have been intruding, violating Singapore's sovereignty. I strongly caution violators to leave our waters. pic.twitter.com/J4oYaa8zl0

— Ng Eng Hen (@Ng_Eng_Hen) December 7, 2018
As for our response, just as we're writing this, Foreign Minsiter Dato' Saifuddin Abdullah has issued a statement, calling for a de-escalation of tensions between the two countries, altho his statement also does note Malaysia's protest at Singapore's new port limits too. Saifuddin also called for a "cease and desist from sending assets into the disputed areas" from both countries.
"At certain times, the competition between Malaysia and Singapore will be intense. But regardless of the level of intensity, Malaysia recognises that it is not helped in the first instance to characterise it in emotive terms, viewing it as challenges to sovereignty… all disagreements must be worked through in a spirit of dialogue and cooperation," – Dato' Saifuddin Abdullah, in a statement by MoFA
And literally just as this writer thought we could publish this article, the Singaporean govt responded to Saifuddin. Basically, they are saying no to his suggestion of a cease and desist. However, they also made it clear that they're more than happy to discuss this issue out in a constructive manner.
In any case, it's far from the first time Mahathir has tussled with Singapore
Some of you younger avocado-eating millennials might not know this, but Dr M actually has quite the reputation when it comes to annoying Singapore.
When Harapan won GE14 back in May, in the aftermath of the election, South China Morning Post ran a story on Mahathir, which mentioned Mahathir's penchant of poking at Singapore over issues such as airspace and Singapore's land reclamation during his first tenure as Prime Minister. And if you still have doubts over the history of Mahathir's frosty relationship with Singapore, here's a quote from him back in 2002:
"It's impossible to be friendly with Singapore because of the neighbouring city state's unfriendliness towards Malaysia. Singapore gets into that kind of mood that they reject anything that comes from Malaysia. We try to be as friendly as possible but it's impossible", – Dr Mahathir, as quoted by the study Malaysia-Singapore Relations: Issues and Strategies
To put it into perspective, Singaporeans apparently really liked Najib, as Najib not only doesn't annoy Singapore, but does them good too, such as scrapping the crooked bridge project and forming the High Speed Rail project. However, with Mahathir and co back in town, Lee Hsien Loong might wanna be ready for more troubles ahead, according to a former ambassador who wished to remain anonymous:
"The Najib Razak administration was more interested in working with Singapore to protect itself from the fallout of the 1MDB scandal than standing up to Singapore. Singapore had best get used to the fact that there is now a new government in Putrajaya that prioritises Malaysia's interests above all else," – Anonymous Former Diplomat, as quoted by Free Malaysia Today
Going back to the recent airspace issue, it might feel like deva ju for Mahathir, as in 1998, he formally revoked permission for the Singaporean Air Force to use the southern Johor airspace. That being said, there was allegedly trespassing by the Singaporean Air Force so perhaps it was a move made in reaction rather than provocation. It still did annoy our Singaporean counterparts tho.
That's on top of various other territorial issues over the years, such as the Pedro Branca a.k.a Pulau Batu Putih issue. Pedra Branca, a small rocky island that's *coughpatriotismcough* closer to Johor than Singapore had been maintained by Singapore and considered Singaporean since 1850. However, in 1979, we updated our map to include it, that started a long, long fight over it which we can't cover in this article. This is on top of other more recent developments such as the High Speed Rail project that got shelved.
In any case, like two old friends, Malaysia and Singapore will always one day or another bicker and argue. But hopefully, just like two old friends, they can put issues aside come to an agreement, even if it is to disagree again like in 1965.
[UPDATE 7 April 2019]: Well whaddya know, looks like Malaysia and Singapore can come to an agreement of sorts.
Singapore has indeed agreed to withdraw the controversial ILS procedures for the Seletar Airport, while Malaysia would suspend the Restricted Area over Pasir Gudang as a compromise. But the result from this that y'all probably care about the most is that Firefly is set to resume flights between Malaysia and Singapore, with the airline now able to access the Seletar Airport. 
"This agreement was implemented by the civil aviation authorities of both countries yesterday (April 5) at 11.59pm. With this agreement, the Transport Ministers look forward to FireFly commencement of flights to Seletar Airport effective April this year," – Joint statement from the two Transport Ministers, as quoted by Malaysiakini
Yay to diplomacy!… (and cheap flights :D)