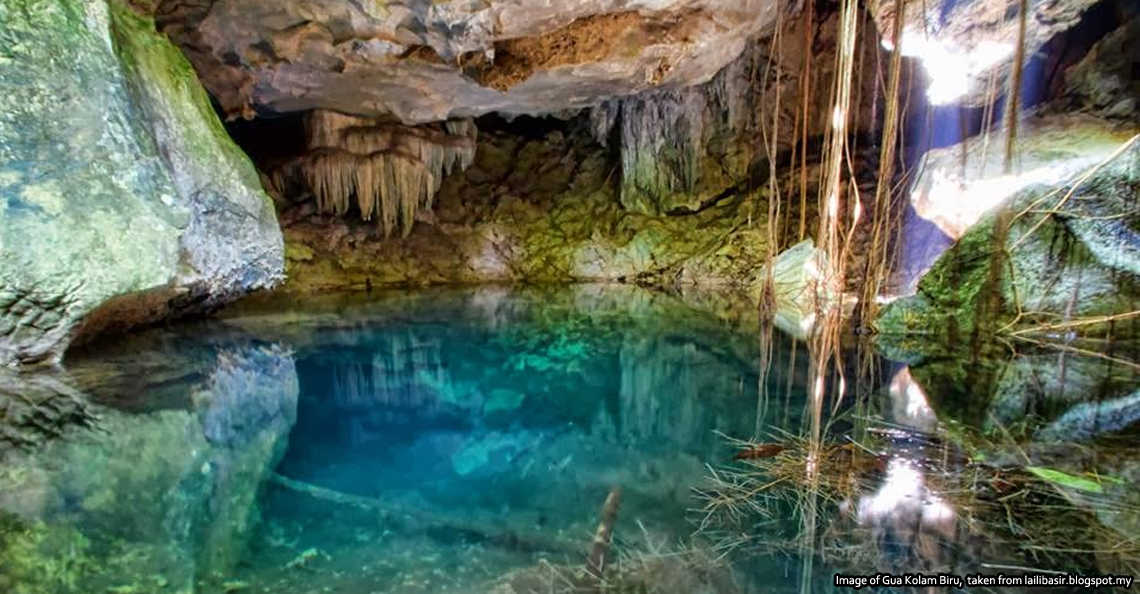 [Artikel ini diterjemah daripada kawan-kawan kami kat SOSCILI. Kalau nak baca artikel ni dalam BM, klik sini!]
Unless you're a hiking enthusiast, you may not have heard of Merapoh. It's a small town somewhere in the district of Lipis, Pahang. Malaysians who travel regularly from Kelantan to KL might have seen signboards saying 'Merapoh' along the rural, somewhat lonely stretch of highway. However, if you're an avid mountain climber, you might know Merapoh as one of the starting points of the long trek to the top of Gunung Tahan, the highest peak in Peninsular Malaysia.
What most people don't know about Merapoh is that its forests are home to a network of awesome prehistoric caves… and (as is so common in this country) they are all being threatened by rampant logging. To find out more about that, Soscili spoke to Laili Basir, who is the Chairman of a movement called "Save Merapoh Caves", which aims to do exactly what its name says.
According to Laili, logging in the area had been an issue for many years now, but last year, it started to get out of hand. 2,600 acres of water catchment forest were mowed down. Water catchments are areas of forests that sort of function as sponges, absorbing heavy rainfall and releasing it slowly. Without them, soil erosion and floods will happen.
Logging activities also happen close to some villages in the area, and it really messed up Merapoh River, which is their main source of water!
"That's the only river providing drinking water to 10,000 people from 8 villages. If this water source is threatened, polluted and destroyed, the first ones affected by that are the villagers." – Laili Basir told SOSCILI
Besides muddying the water, logging also threatens the wildlife seeking refuge there. Laili explained that the forests in Merapoh are the LAST places for them to go to, after vast forests in Perak and Kelantan were cleared. With this last patch of forest disturbed, the wildlife will likely enter nearby villages to look for food, possibly injuring the villagers in the process.
And then, there's the issue of the caves found in the forests.
The forests house probably more than 550 valuable ancient caves
"The logging is also happening where there are caves dating back hundreds of millions of years. These caves have world-class beauty and uniqueness. In fact, the reason why Merapoh got on the National Geoparks list was because of these caves." – Laili told SOSCILI
In the interview, Laili said that up until last month, their organization had discovered 146 caves in the area, but they estimated there to be at least 550 caves in all. And the ones that they have found are pretty amazing.
On 16 September 2012, the Merapoh Scientific Caving Expedition headed by Laili and a Croatian named Sinisa Jembrih discovered an amazing limestone cave in the forest. Due to the date it was discovered, it was named Gua Hari Malaysia. While you'd normally find waterfalls in open spaces, in this there's not one, but five waterfalls. There's even a natural slide in there named after one of its founders, the Sinisa Slide.
If scaling wet walls and sliding down rocks sounds a bit exhausting, fret not. The caves are categorized based on the kind of activities you can do in there, so you don't need to be Indiana Jones to explore one. There are three categories at the moment:
Showcase Caves: For tourists who want a leisurely walk, much like walking in a museum.
Adventure Caves: Have challenging paths inside, for tourists who like a bit of a challenge. Hari Malaysia Cave is one.
Archaeology Caves: A sort of combo between the two types. Contains some challenging paths, and most have historical artifacts like bones and wall drawings. 😀
Yep, there are artifacts in some of the caves. One of them, called the Gua Seribu Cerita (Cave of a Thousand Stories), has drawings on the walls, believed to be the work of ancient people.
"From 2012 until now, there had been numerous discoveries of new or endangered species of flora and fauna. What's interesting is the discovery of a large number of evidence that suggest the existence of prehistoric people living in these caves, and it's not impossible that we're looking at a lost civilization here in Merapoh." – Laili
Meanwhile the surrounding forests outside are filled with plants and animals you cannot find elsewhere. A research team from California University found three new species of geckos here and ancient plants have been rediscovered around the cave's area. Of interest is a sort of baby relative of the Rafflesia, called the Pakma Tikus (Rhizanthes lowii).
Imagine how we almost lost all this beauty, because some time in the past…
The caves were almost blown to bits to make way for Asia's Biggest Cement Factory. Seriously??
While some may see limestone caves as a source of recreational activities, others see a buttload of raw materials for cement $$$. Since 1996, plans to build a cement factory in Merapoh had been discussed, and the local people tried to stop it through petitions and protests. However, the fight to protect Merapoh's forest and caves did not garner any support or help from the local experts.
Probably because caving was too new back then and people hadn't known about the recreational value of caves yet. But professional caving had been a thing outside Malaysia since the 1600s, and foreign cavers came to Laili's aid. In 2012, Laili and his local bois teamed up with Croatia's Professional Cave Exploration Club, the SK Zeljeznicar, as well as Liz Price, an avid caver and current cave representative for Malaysia for the International Union of Speleology (global body dedicated to the study of caves).
"A team of 9 from Croatia came to Merapoh with money from their own pockets to help us. Meanwhile, Liz Price, who has studied caves for more than 20 years, came from England." – Laili
Their efforts managed to halt the building of the cement factory in 2013, and the Pahang State Government retracted its license. Despite being victorious, these guys did not rest on their laurels and continued to encourage the caving scene there. The European team offered their assistance through cave mapping, as well as donating safety equipment. They also went the extra mile and promoted the caves back in their home countries.
Laili told us about how Merapoh's caves made it into the main newspaper, radio and TV stations in Croatia, while in the UK, the caves were featured in Descent, one of the world's most reputable caving magazines. Furthermore, a documentary about them also competed in the Speleo Film Festival in Croatia. LOL, a cave film festival! This year, Malaysia is the sole Asian entrant competing in this festival. While we're relieved to know the caves narrowly evaded the fate of being turned into cement…
The fight to protect the caves is far from over
Today, they're still threatened by rampant logging activities. One of the reasons why people can just waltz in and cut down trees is because Merapoh's forests are not included in the Sungai Relau National Park area. According to Laili, this happened because our country has no specific law to protects limestone caves, so people can just destroy them with no repercussions.
But Laili is undaunted. He believes in educating the people to appreciate the caves first, and the rest will follow. New jobs and sources of income have been created for the villagers through caving activities, by providing services like transportation, catering, lodgings and making souvenirs for tourists. Once the caves and forests become a source of income to them, Laili believes they will want to protect the caves naturally. Besides, it has also benefited Malaysia's eco-tourism.
"We're turning the caves into a place of learning, a place of research and a place to challenge your courage, all with experienced and knowledgeable guides from the nearby villages." – Laili
Now we know about this awesome place in Pahang with caves that contain priceless historical artifacts that have yet to be properly studied. But nothing is safe, as in the past we have heard a lot of stories about our forests being logged illegally and priceless historical sites destroyed, like Lembah Bujang and the prehistoric Neolithic site in Penang.
One wonders if there is a place in Malaysia's future for forests and archaeological wonders, as it would seem that the value of these places are viewed by the authorities as less than the value of the materials they are made of.  🙁
If you'd like to explore Merapoh, contact Laili +60179828538 / +60127008014 or [email protected]