Before he became PM of Canada, Justin Trudeau and his Conservative counterpart Patrick Brazeau decided on a novel way of settling traditional Liberal-Conservative disputes: a good ol' fashioned boxing match! And it had everything: the classic pre-fight 'trash-talk', a bet (the loser had to shave their head!), and a charitable cause. The result? 10-9 to Trudeau!
But this got us thinking: What if our local politicians took to the ring to settle disagreements as well? Like, when Najib disagreed with Lim Guan Eng's SST policy; instead of keeping the trash-talk online, wouldn't it be awesome-sos™ to see these two settle it by letting them beat the living crap out of each other on live television? Or, instead of resorting to carrot-based insults, we'd have Khairy challenging Lokman to a no-holds-barred, 'Eat-The-Carrot' matchup!
Yeah, pretty cool stuff, but unfortunately it remains a pipe dream, and we don't know if we'll ever get to see such epic-ness on our shores anytime soon.
But guess what? Someone's actually gone ahead and recreated our local politicians and celebrities on the video game WWE 2K19, where he makes them slug it out for… come on, do you really need a reason for that?! Isn't this what we've always wanted?!
Check out some of the fights he's put together:
So just how many characters has this guy created? Well, the answer is: too many for one article! Literally anyone who's anyone in Malaysia has been parodied in his WWE 2K19 series, including superstars such as:
1. Najib Razak
2. Dr. Mahathir
3. Mat Sabu
4. Syed Saddiq
5. Rosmah Mansor
6. Anwar Ibrahim
7. Lim Guan Eng
8. Zahid Hamidi
9. Ahmad Maslan
10. Siti Kasim
11. Aliff Syukri
Like we said, he's made so many characters that we can't cover them all in one article!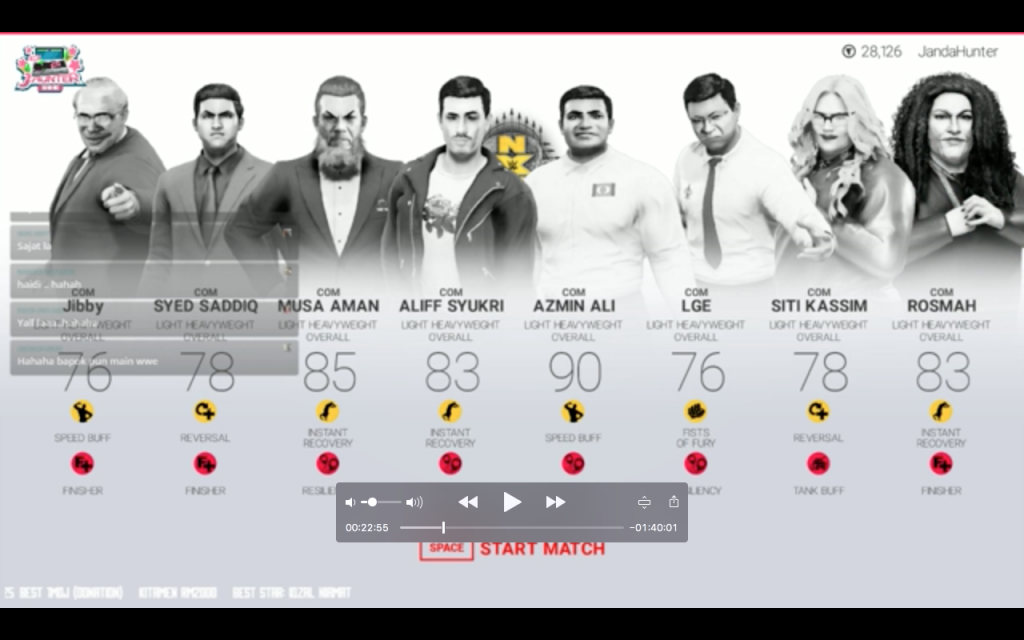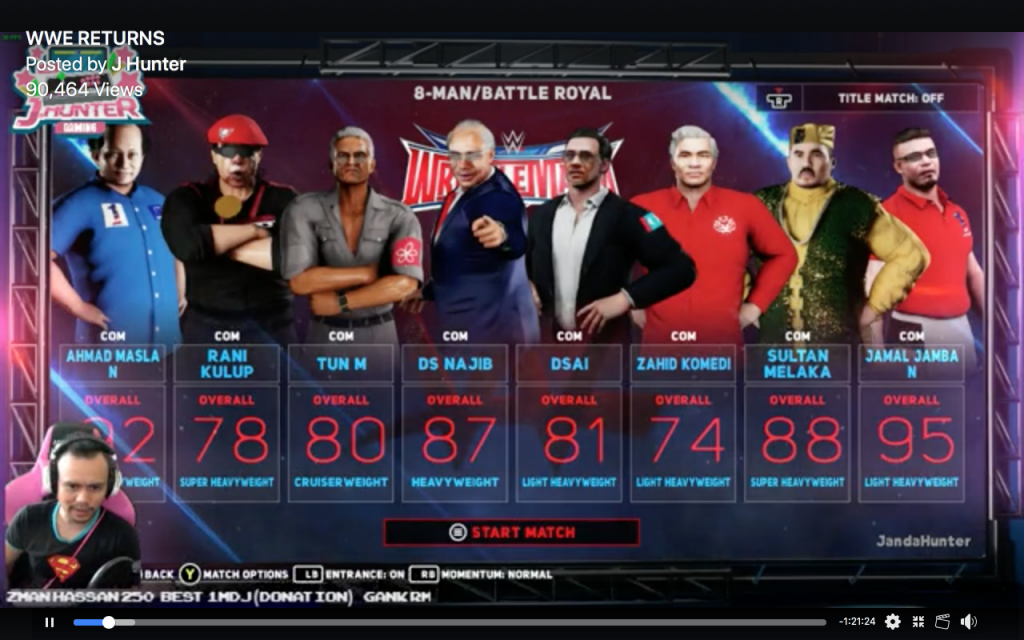 He's even made customised entrance sequences for them!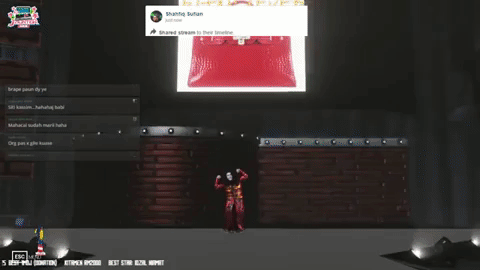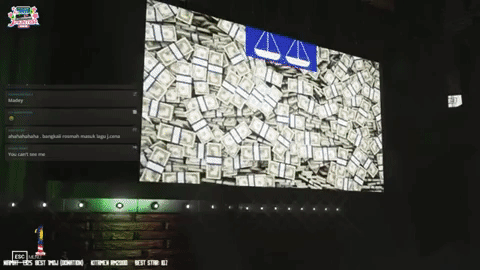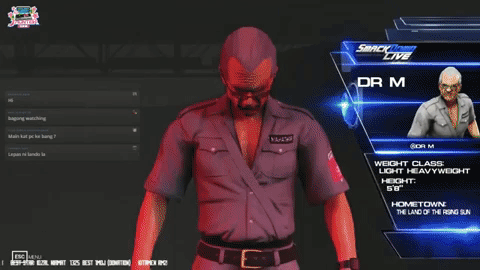 The best part is that whenever these politicians or celebrities have some kind of spat or argument in the media, he puts them head-to-head in themed fights, while providing hilarious commentary! Some of these genius matchups include:
*click on fight titles to view full fights*
Battle for Borneo: Musa Aman vs Bung Mokhtar vs Shafie Apdal for the cozy seat of Sabah Chief Minister. No pesky High Court to spoil all the fun , bosskurrrrr!
Perang Harapan (War of Hope): Azman Ali defends his PKR vice-presidency in an 8-man battle royal. Standing in his way are arch-nemesis Rafizi "Lapiji" Ramli, a fresh-from-MACC Rosmah Mansor, and a very pissed-off Sultan Melaka (no, really).
Perlawanan Lobak (Carrot Fight): Yes, it's happening! But rather than settle things with a boring ol' 1-on-1 (yawn), KJ and Lokman "Lobakman" have got friends, enemies, and frenemies joining up for an 8-man battle royal (carrots not included)!
Check out some of his other videos here!
So who's the mastermind behind this madness?
His name is Azrul Anwar, and he's a US-born Malaysian shout caster (e-sports commentator) who goes by the handle @JandaHunter ('Widow Hunter' in English, definitely a nickname we wish we'd thought of first). But, as it turns out, he isn't new to the scene: he's actually a leading local esports personality who's covered major events like MATIC 2017, Hotshotz, FV Cup 2016, The International 6 Open Qualifiers, and many others.
We got in touch with him to find out where he got the inspiration for his WWE streams, and he says that it it was thanks to cartoonist Zunar and filmmaker Hishamuddin Rais, who both mentored him in the art of storytelling. However, he took it to a more modern format through video games.
"The idea was influenced by the question 'what if?'. Since celebrities (in real life) tend to only trash-talk each other, the stream allowed me to put them in a situation where physical confrontation would be possible." – JandaHunter
So how long does it take to create one of these characters? JandaHunter says that it takes an average of one hour to create a character via the game's built-in 'Create-A-Wrestler' function, and that he blends real-life images of these personalities with the in-game 3D models for a more realistic look.
But… these people ok or not about being parodied in a video game?
Given that not so long ago, people like JandaHunter's own mentor Zunar were being thrown in jail for artistic criticism of He-Who-Must-Not-Be-Named, how have the real-life people parodied in JandaHunter's stream reacted to being put in virtual fights for the whole world to see? Are they amused by being made fun of, or are they surrounding his house with pitchforks?
Well, according to JandaHunter, responses have been mixed:
"Some party members have given their fair share of support/criticism, as well as suggestions. Some have even requested to be put into the game!" – JandaHunter
However, he stresses that it's all good fun, and maintains neutrality when commentating on his streams, preferring to focus on the entertainment value rather than supporting or bashing any one party.
Maybe we could pitch for him to recreate Cilisos writers in his stream one of these days? *hint hint*
JandaHunter is just one of many in Malaysia's growing e-sports scene
We're wayyy past the time when gaming was seen as a 'bum' pastime for virgins people who ponteng sekolah and annoy others with their loud fengdao music. It's now a multi-million dollar industry which is growing every day; just check out the earnings of our top gamers:
But it's not all headshots and killstreaks though. Despite our Youth and Sports Minister Syed Saddiq pledging support to the industry (being an avid gamer himself), top local gamer Jian Wei aka xNova has admitted that it's still not easy in general to make a living with gaming in this country. Compare this to countries like China and South Korea, where gamers are treated like rockstar celebrities:
"To motivate the Korean soccer team to play better (during the 2002 World Cup), they brought in Starcraft Brood War professional gamers into their locker room before they went out, so that they got to meet what were their heroes." – James Harding, e-sports commentator

"(In China) the girls like their boyfriends to be Dota players." – excerpt from the documentary 'Free To Play'
But don't start farming for that Divine Rapier just yet, because we haven't been doing too shabbily in the e-sports scene: our Malaysian League of Legends team brought back the grand prize in the recent Hyperplay Grand Finals in Singapore, while xNova has been making waves himself after his team placed second in The International 8 Dota 2 tournament (but ugaiz don't look down on them yeah, second place oso US$ 4.1 million ok!).
Our country is actually full of talented young people who have successfully turned their passion into income like JandaHunter and xNova. And, now that our gomen is finally giving e-sports the recognition it deserves, hopefully we can see more world beaters rise up in the near future. #SupportLocal #NoFeedersPls #JustKiddingWeSuckAtDota