Believe it or not, Malaysians have been involved in Hollywood since the 60s when Ibrahim Pendek became the first Malay actor to act in Hollywood movies. Since then, there have been many more Malaysians like Henry Golding getting involved in the Hollywood industry and we've written about some of them here.
And we're not only talking about Malaysian actors but also directors, producers and even scriptwriters. Just recently, we found out that there's another Malaysian who managed to sell a script for an upcoming Hollywood film.
Meet Teng Ky-Gan, a humble Malaysian playwright turned screenplay writer for the upcoming Hollywood movie called Swept Away. 
Upon hearing this, we've decided to talk to the man himself to find out how he managed to sell a script in Hollywood. And the first thing he told us was…
He wasn't interested to be a script writer until he was sorta 'conned' into doing it 😲
One of the first things we learnt about Ky-Gan is how he had no interest in writing scripts for films. And that's because he has always loved musical theatres.
"Musical theatre is my first love. I wrote my first professional musical called Broken Bridges (which was played in KLPAC in 2006)." – Ky-Gan to CILISOS.
In fact, his dream was to write for Broadway or West End theatre where shows like Les Miserables and Oliver!, among many other shows, were played. Surprisingly, Ky-Gan shared that one of his musicals was actually accepted into an 0ff-off-Broadway theatre! However, his musical wasn't staged because they couldn't raise enough money to fund the show. 
At the time of writing, Ky-Gan has…
12 completed and produced

works (a

mix of stage

plays, musicals and short films)

3

completed works that are still in the

development process

(two of these works are in Hollywood)

11 completed works that didn't quite make it anywhere 🙁
Despite claiming that he had no interest in writing scripts, he still wrote for two local short films (you can check them out here and here). This may sound confusing to some but Ky-Gan considers these short films as small projects.
But even so, Ky-Gan shared that it's pretty easy for script writers to break in the filming industry in Malaysia. 
"The industry is very small and it's easy to break in. There are almost zero barriers to entry. (However) It's not a terribly exciting industry." – Ky-Gan.
Well, this may have something to do with how local producers, according to Ky-Gan, tend to churn out the same thing because it's a safer option (read: films or drama that audience will confirm watch). This is why he proposed that if local script writers have ambitious ideas, then they're probably better off pitching them to Hollywood than to local producers. 
This may be why, after spending six years writing for stage plays and musicals, Ky-Gan embarked his journey as a screenwriter in 2012. And he wrote for a film by a producer who claimed to be affiliated with a HUGE Hong Kong star. Sounds like a good deal, right?
Unfortunately, here comes the unexpected…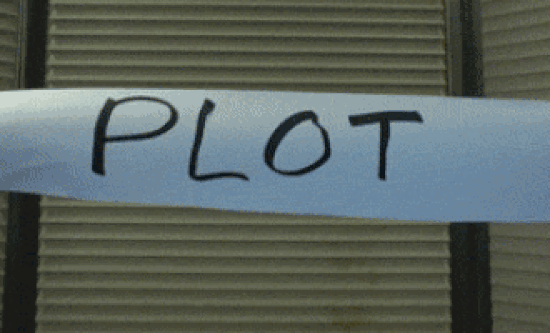 "I wrote a couple of treatments but I never heard from him since. He simply disappeared." – Ky-Gan.
Despite feeling as if the producer has somewhat 'conned' him by giving him false hope (ya la, work so hard then the producer simply ciao like that 😠), Ky-Gan was still determined to continue working on his script. After finishing his first ever screenplay, he decided to pitch it around but nobody was interested with his work. So, it ended up in his list of works that are not produced.
But that didn't stop him from pursuing his newfound interest. In fact…
It only took 2 years for Ky-Gan's script to be accepted… in HOLLYWOOD!
People always say third time's a charm, but, in Ky-Gan's case, it's his second try.
After his first screenplay got rejected, Ky-Gan tried his luck again by writing another script – Swept Away (the one we mentioned in the intro). To prevent y'all from any confusion, we're not talking about the horrible (based on the reviews la ok) 2002 movie directed Guy Ritchie and starring Madonna. Ky-Gan's movie is about a devastated young man and single-mother dive instructor who team up to find bodies of those they have lost in a tsunami.
Unlike his first try, this time around, he writes under the guidance of someone more legit. 
"I wrote my second screenplay under Sundance-winner Gordy Hoffman, a famous screenwriting teacher in Hollywood. That's when my 'real' screenwriting career started." – Ky-Gan told us.
If the name Hoffman rings a bell, that's because the screenwriting guru is the brother of the late actor, Philip Seymour Hoffman. Just in case you didn't know, Philip starred in several well-known movies such as The Hunger Games trilogy and Mission Impossible III besides a movie written by Gordy himself called Love Liza, among other movies.
Ky-Gan then pitched his script to producers in Los Angeles but as with his first screenplay, he kept getting no as an answer. Despite that, he kept trying until he met a packaging executive who pretty much liked his script. 
"I developed the script for 1 year with this packaging exec who gave excellent notes on how to rewrite my script so it's 'sellable'." – Ky-Gan.
When he said develop, Ky-Gan meant writing and re-writing the script, countless and countless times. Although some screenwriters find it a nightmare, this is apparently a common practice in the industry (even in Malaysia!) to ensure that the script is appealing to other people like producers, directors and even audiences. Normally, this process can take about 5 to 15 years! 
Miraculously, Ky-Gan only took TWO years to develop his screenplay – from writing the first page to rewriting it and even selling it to a producer and two directors.
See, unlike selling scripts in Malaysia, Ky-Gan shared that the process to sell a script in Hollywood is pretty strict. 
"What I realize about Hollywood production companies is that they treat filmmaking as a serious business.There are systems, unions, guilds and best practices to follow." – Ky-Gan.
What this means is that you can't just simply sell a script like you sell items in pasar malam. Based on Ky-Gan's experience, you would need a lawyer to represent you when you sign a written deal with the producer. Okay, we get it. Lawyers may cost you a fortune but Ky-Gan assured you that it's necessary (and worth it). 
Here's why: the lawyer that represents you would also help you negotiate your fee (aka how much you get to sell your script for). Ky-Gan shared that producers signed under the Writer's Guild of America (WGA) would have to follow a guideline called WGA Schedule of Minimums on how much to pay writers. And under this schedule scripts are purchased based on the budget of the films…
Low-budget

films (less than $5 million): minimum of $72,662

(RM316,138)
High-budget

films ($5 million or more): minimum of $136,413

(RM593,506)
Ky-Gan pointed out that this is the minimum fee la and it's really up to your lawyers to negotiate the fees. Heck, lawyers can even increase the fees to up to millions of dollars if the writer is super famous. 🤑
But this is not always the case. Some producers are NOT signed under the WGA so, for these kinda cases, lawyers are free to negotiate anything. But here's one tip to Malaysian writers who wanna make it big in Hollywood.
"Don't ever sell your script for cheap! If you're good and you're a professional, you should get paid a fair amount!! There is no film without your script, so the fees should reflect your important role." – Ky-Gan.
In comparison, back in our home country, Malaysian script writers are often paid about RM30,000 to RM50,000 for films, regardless of the film's budgets. We've written about how much script writers are paid in Malaysia and you can check that out here.
Although Ky-Gan's script has been optioned (bought by producers)…
Ky-Gan's Swept Away won't be sweeping you off your feet anytime soon
Now, here's the tricky part. Ky-Gan shared that even though producers buy scripts from writers, this doesn't necessarily mean that it's gonna be produced. What this means is that producers would now own the rights to the script.
In order to turn the script into a film, the producers would have to raise money to fund the production of the movie (this is called shopping) and develop the movie. 
Well, if it happens to be your lucky day where everything just falls in place like puzzle pieces, the agreement you had with your producer would automatically turn into a sales agreement upon greenlight.
"Greenlight here refers to first day of Principal Photography, (which is also known as the) first day of shooting or first day the project becomes 'real'." – Ky-Gan.
But not every writer gets to experience this. And Ky-Gan shared that there are thousand reasons why the project could fail. It may be because the producer cannot find enough money to fund the project or no distributors think it'll sell. When this happens, the rights of the script goes back to the writer.
Thankfully, this is not what happened to Ky-Gan's film, Swept Away la. As it turns out, his movie was supposed to be filmed this year but it has to be put on hold due to the global pandemic.
See, writing and selling a script to Hollywood may not be an easy process especially when you're competing with everyone, including your Starbucks barista!
So how do you stay competitive?
"Having a unique voice help stand out. Always churn out material. You can't possibly even begin a career as a scriptwriter in Hollywood until you have 5, 8, 10 solid screenplays that have been optioned." – Ky-Gan.
Besides that, Ky-Gan also added a few more tips for aspiring writers who wanna make it big in Hollywood like him…
You've to be at the top of your game even if you're a top writer in Malaysia because you'd still have to start from the bottom when you wanna break into Hollywood.
Execution is everything so write your ideas.
Treat your writing as a career. This includes networking, sending emails out, submitting to applications or contests and talking to agents or managers.
Get to know the industry by reading sites like Hollywood Reporter every day. 
Make friends with other writers and get them to read your work and give notes
…and, ofcos, write every day. If there's one thing we learnt from Ky-Gan's story is to persevere despite getting thousands of no's from producers because sometimes all it takes is just one yes to get your work into Hollywood.