Who hasn't seen a hypermarket shouting about the lowest rates in town? According to an article written way back in 2012, there are 296 hypermarkets in Malaysia (we're darn sure there are even more now). And of course, everyday in the paper you'll see pricelists like this… touting the cheapest products in town.
With each hypermarket costing as much as RM60-80 million to set up depending on size and location, you know that things are going to be majorly competitive. In fact, alot of these deals are specific to one outlet because any catalyst to shop there will indefinitely result in you going there to buy even MORE stuff (who buys just one item from a hypermarket?). And according to people in the industry, these prices change every month, and some are even location specific to attract people in that location to buy.
So  how is the poor average Malaysian grocery-shopper to decide which one to shop at?
One of our advertisers, TESCO had given us some vouchers to try out their new LEBIH JIMAT promo, so we thought we'd go and check em out. But that wouldn't make a very interesting article by itself, so we pumped in a bit of our own money to check out some of their competitors too!
We also included a whole bunch of other products that people (or at least younger people) usually buy – totaling 37 products across 9 categories.
How we compared prices of 222 products in 12 hours
For this study, we chose two areas which have GIANT, TESCO and AEON in close proximity – Kota Damansara and Puchong. First off, let's say this was one of the hardest most kancheong articles we've ever had to do. It's simple math… 37 products times 6 hypermarkets = 222 miniscule pricetags we have to search for in hypermarkets that are thousands of thousands of square feet.
We also bought items at every store to look at their GST implementations, rounding charges AND how legible the receipts were.
DISCLAIMURZ: We really tried our best to be accurate with this comparison, but one outlet (not TESCO) did politely shoo us away when they suspected what we were doing. So the list below might contain some minor errors since we had chose to be as discrete as possible in checking these prices.
Red means most expensive, Yellow for cheapest and a little red tag means promo price. Oh and blue items are those under TESCO's LEBIH JIMAT promo.
1. Carbs

First stop, the staple of every Malaysian diet except gym freaks and hipsters – CARBS! Unfortunately TESCO's promo item rice was a very rare type of SIAM rice that we couldn't find at any other outlet.
Actually right… can anyone tell us what the difference is between all the variations of Jasmine SIAM rice? There's SIAMBEST, SIAM88, SIAM Special 5… all within a few ringgit of each other. Luckily we also included Jati Special Tempatan, which IS available everywhere, but cheapest at GIANT.
For bread (both MASSIMO and Gardenia white slices), prices are controlled, so they're the same price everywhere. Whew. That makes things so much easier.
2. Fresh & Frozen Foods

For this one, we looked at whole chicken and cabbage by kilo, fresh organic eggs. Chicken is really competitive, with most around the same price range, except for a promo at Giant Kota Damansara… although it was limited to 3 birds per customer (how much chicken can people eat!?).  Most produce was quite expensive at AEON, EXCEPT for cabbage, in which they came the cheapest by far.
TESCO's LEBIH JIMAT campaign did really well here for the Ayamas drummets… beating the others by more than 25%! Yes, Hans bought some to eat. Eggs pretty much the same price everywhere. Also, another thing we realised is that people REALLY love Ramly Beef burgers. Either that or they're running out of patties everywhere.
3. Sweet drinks

For some reason, this category ended up being the biggest. Maybe it's because our editor is finally off his sugar fast? For the MILO 2 pack, AEON kinda cheated cos theirs doesn't have the 200gm percuma that the other two stores have. GIANT sneakily beat TESCO by 1-sen on one of the most hotly contested products – 3-in-1 coffee.
Again for Milo UHT, TESCO's LEBHI JIMAT promo does really well with a significant saving (30% over AEON), although AEON beat them back over Ribena (although TESCO also had a 2-litre bottle for RM21.99, which is much more competitive).
4. Instant noodles and sauces

Of course, which hypermarket comparison would be complete without some CILISOS? We took LIFE brand which was the cheapest at TESCO, although AEON Kota Damansara was close behind. Strange tho, cos AEON Puchong was one of the most expensive.
TESCO win with Kicap as well #yayadvertisersurehappy, although it loses on cup noodles #aiyocilisosstupid (which is a shame cos one of our team members doesn't eat ANYTHING unless it's in a cup).
5 Confectionery

Another CILISOS office staple (no wonder all of us gained weight since starting work here). This one we can comfortably say… AEON needs some readjustments. In this category, GIANT does pretty well, only losing to TESCO's promo Oreos. Strange thing with Oreos tho… the price shown at Kota Damansara was only for the Berry version (all the other ones much more ex). Tak sedap ke? Anyone try to eat before? Let us know in the comments.
Again, GIANT does that cheeky 1-sen thing again with Cadbury, although they win comfortably with Jacob's Crackers.
6. Dairy Products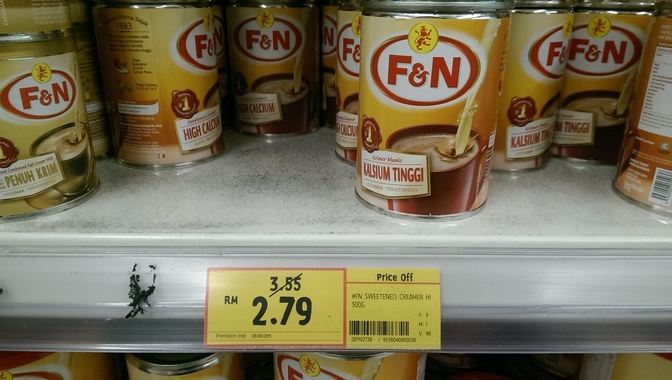 TESCO has quite a few promos in this category, so they do pretty well in it. However, what was weird is AEON winning both cheapest AND most expensive in the Goodday Fresh Milk category. So much so that we had to do a barcode scan check to verify (yes it was true!).
But again, that's the unpredictable nature of prices which makes comparing them so difficult, and why we had to go to most of these supermarkets twice in the same weekend to double-check our prices.
7. Baby products

Only two things in this category. Sorry we kinda realised after that we should have done baby powder 🙁
Anyways… as for keeping your baby's tushie clean, TESCO literally has your baby's back. Having said that, this Baby Products category has alot of brands that are available in one location, and not in another… so if you find one supermarket that has everything you need, you might wanna stick to it.
8. Household items

Ok another advertiser shoutout: If you're as messy (and fond of white clothes) as the family above, you better SHOP AT TESCO! Cos their washing stuff is damn cheap wei. On the other hand, their lightbulbs not so much.
Again, AEON shows some of the biggest price discrepancies between branches, although we suspect this could be to draw more crowds to their KD branch which was quite empty. Hot tip: If you lazy to find parking or wait in queue, this is the place for you.
9. Toiletries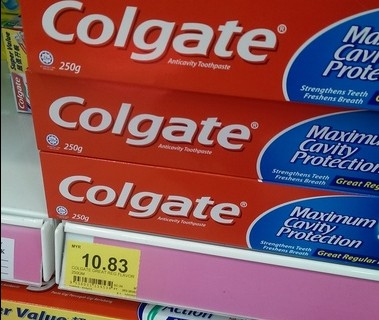 Not much in the way of difference for shampoo, but toothpaste is another matter. You would think that it's easy to compare toothpaste prices, but they come in so many different sizes! For the 250gm we picked, two branches didn't have it. Well sorta… AEON had TWO 250gm for RM18.40, which is pretty cheap but that's ALOT of toothpaste.
For toilet rolls, we looked at 2ply cos CILISOS office uses ALOT of TP (some might say we're full of er… dooodoo). TESCO won this one again, but for Lux SOAP this time, THEY did that cheeky 1-sen thing back to GIANT.
Wow… it really is competitive lor.
As you can see from this list, YES there are differences in price, but it largely depends on which promos are running at any given time. Overall, we think AEON is a little bit on the high side, while TESCO and GIANT are pretty comparable. Overall, TESCO had more cheaper items, but that's also cos we made sure we covered their LEBIH JIMAT items as well. One thing we're sure of is that these guys DEFINITELY keep track of each other's pricing (note how some of GIANT's price wins are cheekily by 1-5 sen).
From a convenience perspective, most all outlets have free parking (Tesco Mutiara Damansara requires shopping to get free parking, but that's probably because they're worried about freeloaders from The Curve), and all sorts of price promises.
About GST? It's a non –issue. We checked the receipts of all the stuff we bought, and found all prices GST-inclusive. They'll display on the receipt how much GST you paid, but it's not really important since you're making buying decisions on the absolute price, not the GST-ed one. Here are the receipts.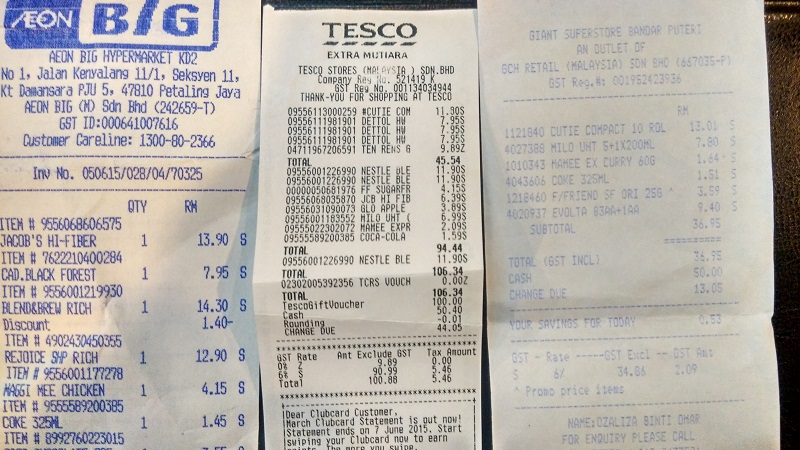 We voted for TESCO – it takes the least paper, and is the clearest to read. Speaking of clear, we found price displays pretty good for all supermarkets, except AEON, which often mixes product shelves up, with teeny tiny signages often requiring us to go hunt for a barcode scanner.
Keep in mind that this feedback is not meant to target any particular hypermarket, but hopefully that they take the feedback to make the consumer shopping experiences better 🙂
With these kinda differences, is it really worth looking for the absolute cheapest?
Here's the thing. You might save on batteries and diapers at one supermarket, but lose out on buying a whole chicken or a bottle of kicap. And we reckon only the most aunty of Ah Poh aunties are going to go to 3 hypermarkets to get their goods, even if they're all within a few kilometers of each other (don't forget petrol costs and time). So at the end of the day, it's probably best to just go to the one that's most convenient for you.
And that's a key consideration for our dear advertiser, TESCO. To be honest, they gave us the vouchers cos they wanted us to talk about their LEBIH JIMAT promo, which is great… but then again all hypermarkets run promos, and all of them won in different categories. The difference here is that TESCO runs them at every outlet, and exactly the same price.
This is probably the reason why the other hypermarket sites (or their apps) can't have much more than promo brochures or store locators on their apps, cos the prices aren't standard. By standardizing their prices, Tesco can do a lot of other stuff that some of the other hypermarkets can't – like a app with a barcode scanner, and even an e-shop that delivers straight to your house for a small fee. #advertiserhidungcoklat
OKOK cukups. We think we earned the RM500 voucher adi. What would YOU like to see in our next supermarket price comparison? Let us know in the comments below.
Oh and if you need any extra 3-in-1 coffee, 2ply toilet paper, or Milo UHT… feel free to drop by the CILISOS office sometime soon 🙂