Crime
Culture
How common is child organ harvesting in Malaysia? The answer might surprise you.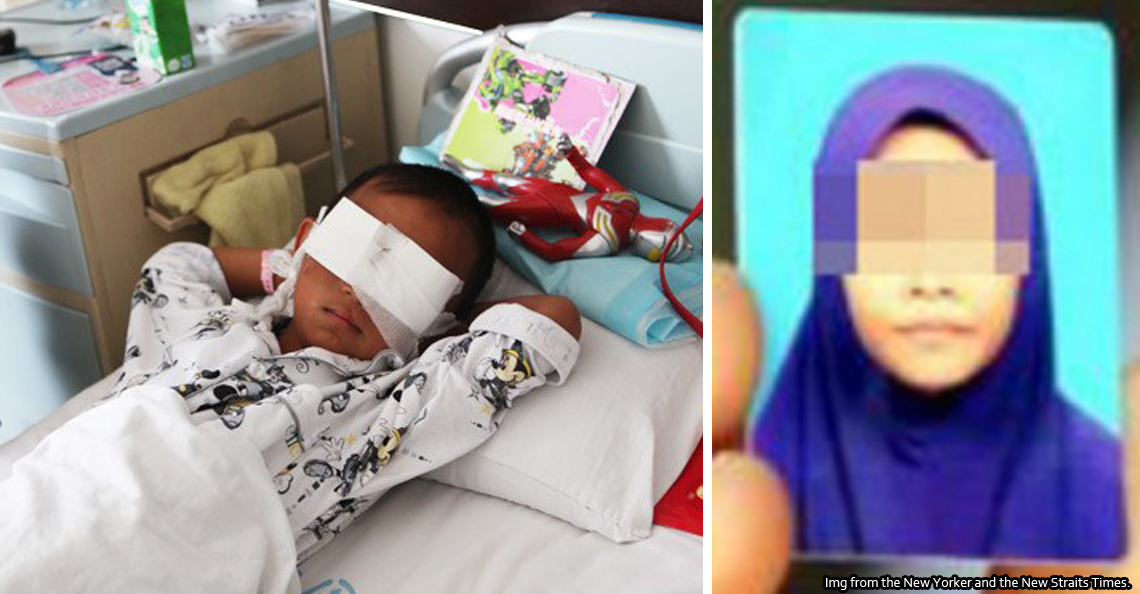 A few weeks ago, the nation was shocked by the gruesome death of a Cambodian child in Pahang. 11-year old Siti Masyitah Ibrahim (or Masitah) went missing for more than a week, and her decomposed body was later found in an oil palm plantation near her home, with the head separated and missing several internal organs.
"It broke my heart to see my daughter's body. Her hands and legs are tied, and her head is severed. We searched for her in the same area 11 days ago, but she was not there," – Zaleha Abdullah, (or Solihah), Masyitah's mother, as reported by New Straits Times.
The horrifying murder, said to be the first of its kind in the village, shocked the villagers, with her family believing that she might have been a victim of a human organ trafficking syndicate.
However, the Pahang Police Chief, Mohd Zakaria Ahmad had denied rumors that Masyitah's body parts and organs were missing. He had also dismissed claims that the body was found with her hands and legs tied up.
"Hands tied? That's not true. The body was also intact. We are now awaiting the results of the post-mortem and to ascertain the identity of the victim through DNA tests," – Mohd Zakaria Ahmad, as reported by MalaysiaKini.
According to a statement by Pahang CID Chief, Datuk Othman Nayan, however, it is implied that some organs may have been missing, but he had dismissed the connection to human trafficking and organ harvesting, saying that it's possibly due to wild animals or exposure. The motive behind the murder could be revenge, as shortly after the missing persons report was lodged, the police had arrested a suspect seen with Masyitah on the day she went missing. The man, who the family knew, did not confess at first, but revealed his involvement after the body was found.
So it was not a case of organ harvest (taking someone's organs without their consent), but why did people assume it was at first? Before we get to that, you might be interested to know that…
Real reports about real organ harvesting are pretty rare
Children having their organs harvested had been a hot rumor in many countries for the past few years, but more often than not, the real stories have nothing to do with organs. For example, we found three cases in a psychology site article talking about the problem of organ harvesting, but two of them can be debunked while the third one doesn't have enough details.
One of them was the story of a six-year-old boy in China named Binbin. In 2013, a tabloid reported that Binbin was kidnapped and drugged while playing outside, and his family found him several hours later, with empty eye sockets. His eyeballs were found nearby with the corneas missing, and since corneas can be transplanted, it was implied that an organ trafficker was behind it. It was later found that it was her aunt who gauged the boy's eyes out, but the motive was never disclosed as she killed herself six days after the attack. As for the missing corneas… they have been at the scene all along.
Also in the same year, a teenager named Kendrick Johnson was found dead in his school's gym in the US, about two days after he went missing. His body was rolled up in an upright exercise mat, with his head downwards, and initial investigations said that he had accidentally fell into the mat, couldn't get out and died from being unable to breathe. However, the family did not accept this explanation, and dug up the body for a second opinion. That's when they found that most of Kendrick's organs were missing, including the brain. His empty body cavity was stuffed up with old newspaper, leading some to believe that he was a victim of organ theft.
However, it turned out that it's just sloppy embalming on the coroner's part, and though it was disrespectful and made a lot of people angry, it's not organ theft. But they did find that Kendrick's death was not accidental (he was probably murdered), so that's something. So while Masyitah's death, like these examples, are tragic and real, organ harvest may not necessarily be a part of it. Why did people initially thought it has something to do with it? Well…
There's a prevalent fear of organ harvest in Malaysia
After scouring the news for a bit, we've found that the police had been denying viral messages alleging children organ harvest as far back as 2014, up until last week. These messages have reared their heads on both the Peninsular and East Malaysia, but we have yet to find a bone fide case or child organ harvest due to a lack of details. Those with enough details, however, have been easily debunked.
Some of us might remember rumors of children being smuggled across the Malaysia-Thailand border, and of a viral video back in 2017 of a man getting beaten up for allegedly kidnapping a girl to sell off her organs. News portal Says already did a debunking piece on the Malaysia-Thailand one, and as for the man getting beaten up one, it's thankfully not about organ theft, but sadly a molestation by a family member.
The then Deputy Home Minister Datuk Wan Junaidi had previously claimed that these rumors were nothing but hoaxes to scare the population, and based on Home Ministry intelligence there have yet to find any data on any organ selling or buying syndicates by any quarters in the country. Still, as the Malay people would say, if got no wind then the tree won't shake, so did organ harvesting happen at all in Malaysia?
Well, it probably did, but probably not to local children. There were mentions of organ harvesting in the Wang Kelian human trafficking case, but it was limited to Bangladeshi and Rohignya migrants involved in the trafficking, and there's no concrete fact to support it, other than scattered testimonies of the few survivors.The NGO Tenaganita was said to have uncovered several schemes involving human trafficking in Malaysia, and among other things the cases involved sale of babies, child prostitution and organ harvesting, but there's no mention that it involves local children outside the trafficking schemes.
Also in the same year, Malaysia came into focus as one of the countries being investigated by Nigeria for illegal organ harvesting. However, this is not the same as kidnapping children and stealing their organs, as it's more of an under-the-table business where people either sell (or were tricked to sell) their organs to other people. Interestingly, these ads found on the comments section of one of our previous articles that touched on the illegal organ business seem to lead there.
So the point here is, for something that has been so widely speculated for so long, there's too little evidence to say for sure that our children are being stripped off their spare parts. So the rumors are most likely false. Also, Negeri Sembilan Police Chief Datuk Jaafar Mohd Yusof had highlighted that it's not that easy to deal in organs without the police noticing it.
"As for the selling of organs, there is no truth in that as it's not easy to sell an organ. It involves medical specialists, and in our country it's not probable that these specialists would take part in that. Even if it's done illegally, it might be easier, but it will cause death, and so far we have not recorded any dead bodies with missing organs." – Datuk Jaafar Mohd Yusof, translated from MStar.
Still, we shouldn't breathe easy just yet, as it's no rumor that…
Other bad things still happen to children in Malaysia
Here's a quick question for you. Do you think it's safe to, say, send a child to a grocery shop alone to buy some eggs?
Despite how safe one's community might feel, the news had been worrying. Back in 2017, it was reported that an average of four children went missing per day in Malaysia. Granted, the report said that a majority of them were runaways, but a number of them were never found. More recently, a report revealed that pedophiles are now making Malaysia their go-to destination after crackdowns on pedophilia in neighboring countries. Even if they're not being whisked off somewhere, some of our children are starving, others abused, still others are married off too early.
While there had been improvements to the laws that protect children recently, we need to focus and do more on these very real issues that are plaguing our children. At the end of the day, it's sort of ironic that as a society, we may have been too focused on spreading news about imaginary bogeymen while ignoring the real monsters out there.