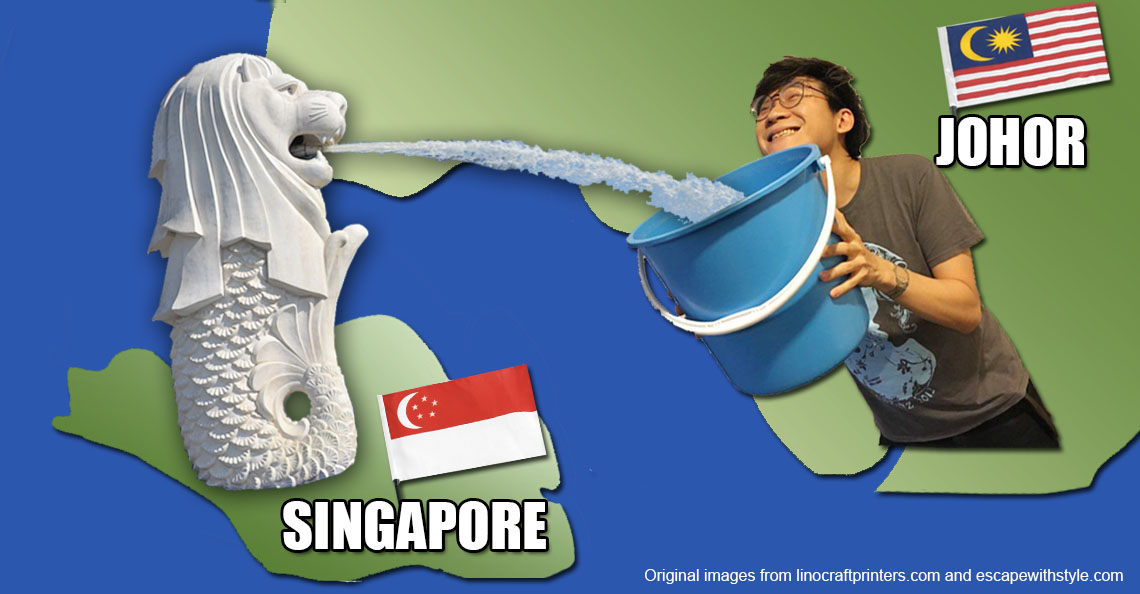 Just recently everyone's jaws dropped seeing what a freak storm in KL did to an office, petrol station and people's cars. It was like one mega-ultra-hyper ice bucket challenge from the sky (coz got hail also)! And a few weeks before that, Jalan Duta in KL was hit with a massive flash flood which damaged a truckload of cars.
If you recall last year, Malaysia faced its worst ever flood in 30 years that saw 160,000 people forced out of their homes and 21 killed. Until today there are still flood victims living in tents.
Word in the news is La Nina's expected to start in November and last up to 12 months! (La Nina is the rainy season that takes place after the hot, dry El Nino season.)
So if La Nina is coming, and if we're getting so much downpour from the skies, then… why is Malaysia is asking for more water from Singapore???
Johor is dam kering already
Johor sent an S.O.S. for EXTRA treated water from our water-deficient neighbour. But what for? Well Johor's Sungei Layang dam is running VERY LOW due to the dry weather! Coz La Nina hasn't started yet mah and fill up the dams. Starting 4 June, Singapore's Public Utilities Board (PUB) is sending Badan Kawalselia Air Johor (BAKAJ) 22mgd (extra 6mgd) of treated water every day for one month.
But of all places to get water, why take from Singapore?! The country where water is one essential asset they do not have?!
Well, water has been a national priority for them for, like, ever and since the signing of the 1962 Water Agreement between both countries, Singapore's been working on a deadline to get a sustainable supply for when the agreement expires in 2061. Based on the agreement, 50% of its current supply is imported from Malaysia.
And now we're buying water from the country that tak cukup water until they gotta drink their own toilet water? How come?
You may or may not know this, but actually both countries have a mutual water relationship – Singapore takes 250 million gallons per day (mgd) of raw water from the Johor River daily, while Johor takes 16mgd of treated water from Singapore.
If you're thinking whewww good thing I don't live in Johor, boy is there a rude awakening for all of us…
9 states in Malaysia have been hit with a "super drought"!
OMGWHAT? Dunno if you read about this but the National Water Services Commission (SPAN) announed in April that 9 states really kena teruk-teruk.
1. PAHANG: You won't believe what residents discovered at Sungai Pahang because water levels had dropped so low… a sunken British merchant vessel! More than 7,000 water bill account holders in Lipis, Pekan and Temerloh are facing supply disruptions.
2. PERAK: Tasik Takong has almost disappeared completely so people went on a fishing bonanza. Coz easier to catch fish in shallow waters mah.
3. KELANTAN: Always wanted to visit Thailand? Now you can walk across Sungai Golok, which used to divide Kelantan and Thailand, without showing passport.
4. PERLIS: Water levels at the the Timah Tasoh Dam have dipped BELOW critical, until cows can even graze there.
5. MALACCA: The Chief Minister said there's enough water in all three major dams for now, but they might ration if the dry spell continues.
6. SABAH: Villagers on Banggi Island are digging into dry riverbeds, while others are relying on wells and springs which are also drying up.
7. PENANG & KEDAH: Share a water catchment called Ulu Muda. When reporters were invited to visit it, they were met with the sorry sight of a shallow river. At times their boat would stuck on the bed and the boatman would call out, "Turun, tolak." The culprit is logging on Kedah's side.
In 2003, the Federal Government agreed to pay Kedah RM100 mil annually in exchange for the state to stop logging. It was Tun Mahathir's last year as PM and the money never got paid. PAS took over in 2008 and logging still continued. In 2013 when BN took over, they pledged to stop logging. But two years later, Menteri Besar Mukhriz Mahathir said they cannot stop issuing logging licences because it had been approved by PAS previously.
This of course affects Penang as much as it does Kedah since they're sharing Ulu Muda. Penang called on the Federal Government to stop all irrigation of padi fields because water is simply too precious right now.
8. JOHOR: But the WORST hit is poor Johor! Especially for 85,000 domestic and industrial consumers in the state.
—
SPAN Chief Executive Datuk Mohd Ridhuan Ismail told the public it's time to start conserving water, like seriously. But howww, when the hot weather IS the reason people use more water – they drink more, shower more… If it's the weather's fault, that means other countries would be facing problems too right?
Thailand, India, Vietnam and Laos are in the same boat…with no water
A quick search on Google revealed that other countries in Southeast Asia are suffering too. Thailand for example is facing its worst water shortage in 20 years! Despite tourism being a big industry there, the government has instructed hotels to give fewer towels to its guests and for the huge Songkran Festival (the one where they splash water everywhere), officials warned people not to waste so much water.
Vietnam too is reportedly suffering its worst drought in 90 years and rice crops have been decimated across the country, affecting 1.8 million people.
But in terms of scale, India might be the one suffering the most in Asia. The country doesn't actually have proper irrigation systems, so they are at the mercy of the weather. They've had two consecutive years of drought – water tanks are drying up and destitute farmers are committing suicide! Officials have even deployed armed guards to protect a reservoir that's drying up very quickly.
Seeing the terrible circumstances that hit Southeast Asian countries Laos, Cambodia, Myanmar, including Thailand and Vietnam…China has stepped up donate water from a number of its dams.
Oddly enough, Singapore did not raise a red flag. Despite lacking in the H2O department, on top of selling extra water to Johor summore, how come they not thirsty hippo? What does Singapore have that other countries don't? Only a reliable water supply system like NEWater, ugh like whatever! If you don't fren Singapore, but you're still curious, click here to read the story of NEWater and how their genius marketing enabled something as gross as toilet water become accepted by the public. Humpphhh!
Much of the region has been struggling with severe hotter and drier weather than usual because of El Nino. Ok, sure, but is El Nino the only factor to blame?
So what's gonna happen to Malaysia next?
Wait for La Nina to fill up our dams and rivers, we guess? Everyone hopes La Nina is gonna replenish our water supply, but dunno if it's enough or not. As we've learned in our previous article, sometimes it does not rain in water catchment areas or dams, so potong stim also if like that.
While its easy to blame our problems on the weather, some environmentalists believe there are other factors which are within our control and we can do something about it if we choose to. Logging, mining and farming. These activities are some of the major causes that destroyed our water catchment areas and rivers.
Ulu Muda river is a perfect example of the adverse effects of logging. World Wide Fund for Nature Malaysia (WWFM) staff Carell Cheong explained that the forest acts like a giant 'sponge' absorbing excess rainwater during the wet season. When drought comes, the 'sponge' slowly releases water into rivers. Without this 'sponge', the overwhelming flow of water hits us as devastating floods. Deforestation is no secret in Malaysia, having lost an amount of trees that's equivalent to the size of Denmark!
So is it fair to blame our problems on the hot and dry season? Maybe human greed is to blame too. We simply cannot rely on the weather to decide our fate. Otherwise, what's else can we do?…