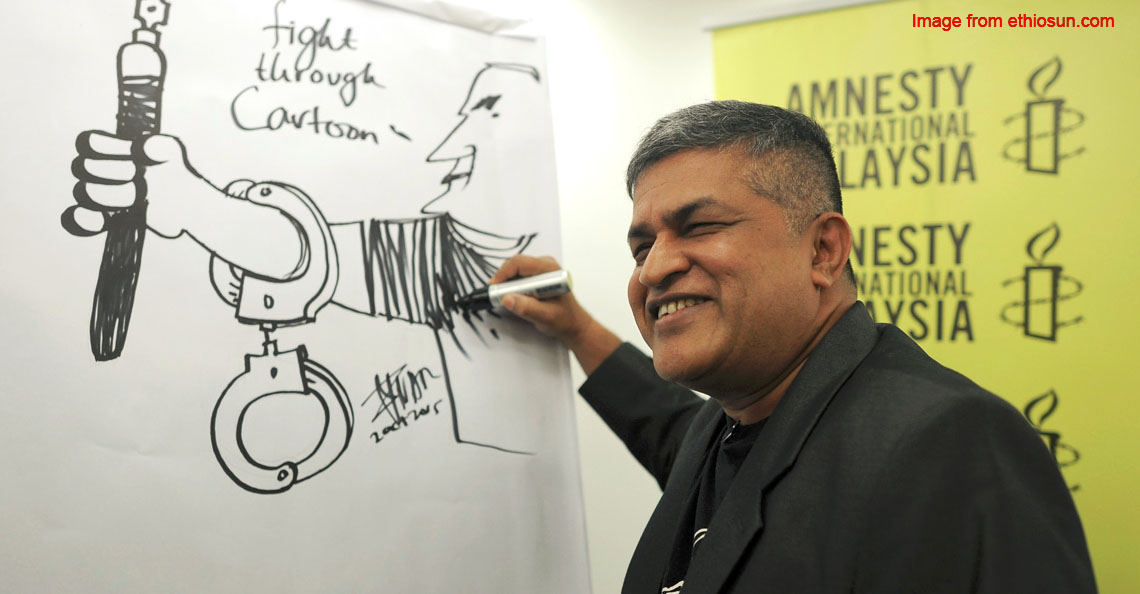 OMAIGASH! Zunar just won RM18,000 in damages for his claim against the Government and the police!!
Other people have sued the Government before, some were successful, while others lost the case. But we're talking about the 'Most Seditious Man' in Malaysia, who's got 9 charges amounting to 43 years of imprisonment… and he won.a.case.against the Government. We called him to speak about it.
This was regarding a lawsuit that the political cartoonist, 54, filed in 2011, but it's ONLY for an original drawing he made depicting PM Najib and his wife Rosmah, which he made using real hair collected from barber shops!! Finally after six years of battling in court, VICTORAYYYYYEAHHH!
Malaysian govt, bound by court decision today agree to pay RM18k (USD 4000) to Zunar for damaged cartoon work during his arrest in Sept 2010

— Zunar Cartoonist (@zunarkartunis) April 11, 2017
But RM18,000 enough meh? 🙁
It all began when the cops raided his office 7 years ago… At 4pm on 24 September 2010, a police team led by Assistant Superintendant (ASP) Arikrishna Apparau, raided Zunar's office in Brickfields. They seized 66 of his then newly published book Cartoon-O-Phobia (which he was preparing to launch in a widely-publicised event), they seized his original artwork of Najib and Rosmah, and they seized…HIM!
Two days later he was released on bail, but the cops hung on to his things. So, on 15 June 2011, Zunar and his company, Sepakat Efektif Sdn. Bhd. SUED two police officers, ASP Arikrishna and ASP Marina Hashim, former Inspector-General of Police Ismail Omar, the Home Ministry, and the Malaysian Government for unlawful detention and false imprisonment.
More than a year later on 31 July 2012, the High Court ruled that his arrest was lawful, but that the rampasan of his books and artwork was not, ordering the police to return his stuff. This decision was upheld by the Court of Appeal on 1 Nov 2013.
Left with no choice, the cops finally returned Zunar's belongings in March 2015…FIVE YEARS after holding on to them. (In our previous article, Bonn Advocates lawyer New Sin Yew revealed that cops can hold on to confiscated items for a year or two, in cases forever, if they deem it necessary.) BUUUTT they had damaged his lovely artwork!! 😥
"I am satisfied with the condition of the Cartoon-O-Phobia books, but I am disappointed and outraged by the condition of the collage. The drawing is unique, because the hair on the PM's wife's head was made with real hair, collected from barber shops and glued onto the image. The drawing has been folded, and badly damaged, thus causing the hair in the image, to come off." – Zunar said in a statement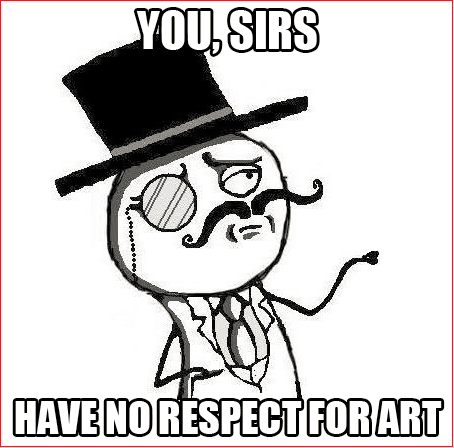 Actually the damages is just for the ruined artwork
When we spoke to Zunar over the phone, he explained that the RM18,000 is damages awarded only for the artwork. In law, damages are an award, typically of money, to be paid to a person as compensation for loss or injury. And since Rosmah's 'hair' was ruined, the High Court decided oklor award Zunar damages. The Malaysian Government and Royal Malaysian Police would pay the sum to him and Sepakat Efektif, NST reported.
However is it enough to cover his losses? A bit hard to count financially la, he said, but he gave us an estimated figure that his confiscated books should be worth RM3,000-RM4,000 and the drawing about RM50. The figure of RM18,000 was agreed to between the parties during an assessment of damages, as recorded by High Court Deputy Registrar K. Pavani.
"The authorities have failed to give evidence to substantiate the confiscation [of his books]. The law doesn't allow the authorities to keep the materials for a long time. The continued confiscation of the books will affect the plaintiff's livelihood." – Judge Vazeer Alam Mydin Meera, quoted on Free Malaysia Today
Ultimately, it's not about the money to the cartoonist. He said the artwork should have been handled with utmost care and respect.
"The important thing is that it's not about the quantum. It's about the principal. The police were forced to admit they are wrong. They cannot go around raiding people's office confiscating their belongings." – Zunar told CILISOS over the phone
It's a small victory, but the fight continues. In fact, as he's going to court on 14 April as we write this
Over the phone, Zunar told us that the Government never wanted to reward him anything for the loss, but he believes he got a break:
"In Malaysia, it's not about the system. If you are lucky, you'll get a good judge." – Zunar told CILISOS
So, the battle for 'Rosmah's ruined hair' is a done deal, but the war isn't over yet. Zunar still has more ongoing court cases, including one which will be heard in court on 14 April. He is challenging the Immigration Department's travel ban on him because he was stopped from going to Singapore in October last year.
Besides, he refuses to just accept his arrest, so naturally he will appeal. Back in 2012, his counsel N. Surendran argued that authorities "had an ulterior motive" for arresting him – to foil Cartoon-O-Phobia's book launch, thus they "had acted with malice".
In addition to that, he reminded the cops that they've yet to return more of his stuff (confiscated on separate occasions)  – 40 of his cartoons from Penang and 1,300 books from KL. He'll be taking legal action in the next week or two for their return… in good condition this time, hopefully.
Despite all he's been through – the arrests, sedition charges, travel ban, confiscation of his stuff, etc. – Zunar just wants to exercise his freedom of speech, which is a right for every Malaysian, according to highest law in the country (the Constitution). Whether you agree with his cartoons or not, you have to admire his tenacity la.
"Definitely, I'll keep fighting on. At the end, it's not about the system. We need to carry on fighting to pave a way for young cartoonists." – Zunar told us over the phone