If PM Najib's leadership crisis this year was made into a movie, the upcoming UMNO General Assembly on December 8th  would be the last act – the final major challenge before the happy ending and the rolling credits.
Unless PM Najib decides to step down himself, there were only three ways in which he could be quote-unquote forced to give up his position as Prime Minister, two of which have already come and gone:
A vote of no confidence in Parliament – Tried but failed
Voting against the 2016 Budget in Parliament – Tried but failed
Vote of no confidence against PM Najib in UMNO's General Assembly – Don't know yet!
We have a whole article about the vote of no confidence, but the short summary is that it's kinda like a condition that a leader can only be in power as long as the majority still supports him. And what's interesting is that recent events from within and around UMNO seem to suggest that this might be a very real possibility. Let's take a quick look at what's been happening.
1. Some UMNO members are openly criticizing PM Najib (and getting punished)
Most of us would know of Muhyiddin's infamous speech and Beban Dance™ by now, which (allegedly) got him replaced as Deputy Prime Minister during the cabinet reshuffle.
However, this is kinda the tip of the iceberg as other current and ex-UMNO members have openly spoken up – with some being fired from the party, or willingly leaving the party or their leadership positions in protest. We have a running tally of them in an article which you can read here. There's even a movement called Gabungan Ketua Cawangan Malaysia, a group of UMNO branch leaders trying to force PM Najib to resign. As can be expected, the party will be calling some of them in for a disciplinary hearing.
Most recently, Gopeng UMNO Wanita chief Datuk Hamidah Osman was sacked over "disciplinary issues" for attending an event with Najib super-critic Dr. Mahathir and for making critical statements such as:
Don't tell me three million members need to sacrifice for the sake of one man. It should be the leader who sacrifices for the sake of the party's three million members. – Datuk Hamidah Osman, as quoted by The Malaysian Insider via Sinar Harian.
She also stated that "democracy was dead in UMNO," which prompted Khairy Jamaluddin to respond that UMNO is the "most democratic party in Malaysia" because, unlike other parties, all heads are chosen by an election process. He also added that while members were given freedom, it was important that members didn't cross the line.
"Many who criticised the party leadership were not sacked, she was sacked because she has crossed the line." -Khairy Jamaluddin, as quoted by The Malaysian Insider.
However, Muhyiddin claimed that her sacking was unconstitutional as Datuk Hamidah claimed that she wasn't called to any disciplinary hearing before she was removed. And since we've been mentioning Muhyiddin so much…
2. Muhyiddin isn't allowed to spread his (party) wings
Traditionally, the UMNO wings (divisions) are officiated by the party's deputy president with a speech. While Muhyiddin is no longer Deputy Prime Minister, he still retains his position as UMNO's deputy president. So he was apparently "shocked" when UMNO's Supreme Council decided to NOT allow him to open the Youth, Wanita, and Puteri wings during the General Assembly. If you're wondering, the Supreme Council is kinda like a gathering of the party bigshots, whom we assume sit in a circle and discuss important issues in deep, sombre voices.
But try-hard jokes aside, it seems that a lot of attention is being paid to what's going to happen to Muhyiddin next week – and if we'll get to see any of the resulting fireworks – as he's not only said that he'll continue to speak up, but also asked his Pagoh division if they'll still support him if he runs as an independent candidate. The response from the 1000 branch leaders including those from MIC, MCA, and Gerakan? A very solid YES. 
On UMNO's side, the reason for the break in tradition wasn't to silence anyone but apparently due to a request from the wing leaders themselves, who would rather officiate the divisions themselves in order to create a "more positive atmosphere". Deputy Prime Minister Zahid Hamidi (who replaced Muhyiddin btw) also confirmed that there would be no change in the seating arrangements during the General Assembly… Muhyiddin would still be seated next to Najib following party hierarchy.
3. Mahathir is being gagged
In a blog posting (here's the English summary from The Malaysian Insider) on November 23rd, Dr. Mahathir claims that although he isn't contending for any posts, there were persistent efforts to prevent him from meeting with UMNO members and the public. He says that there was no venue available to him as owners were afraid of punishment from the government (didera oleh kerajaan). Dr. Mahathir also added that there was a general climate of fear against those criticizing the government, with those who do being punished in "undemocratic" ways.
Here's a 30 second video if you too lazy to read:
Tun Mahathir regrets UMNO AGM being restricted; says used to be "fun" event @themmailonline pic.twitter.com/Ivm7zgCrgD

— Kamles Kumar (@Kama7esh) December 1, 2015
Five days after his blog post though, UMNO (through Zahid Hamidi)  has extended an invitation to Dr. Mahathir to attend the opening of the General Assembly. Dr. Mahathir has stated that he will be accepting the invitation.
4. The media was ALMOST not allowed to cover the General Assembly
On November 24th, UMNO Secretary-General Datuk Tengku Adnan announced that, for the first time in the party's history, called for a media blackout for both mainstream and alternative media outlets. Reporters will not be allowed to cover the live proceedings of the event due to "the media spinning rubbish," with Tengku Adnan singling out the online media in particular. Instead, reporters will be given a briefing on what went on at the end of the day.
As can be expected, the media weren't too happy with the decision and the coverage it got created quite a bit of backlash both from reporters and from critics. As most of you would have already concluded by this point, the general consensus is that this was kinda like a precautionary measure in case UMNO delegates decide to open a can of 1MDB during the General Assembly.
Within a day of Tengku Adnan's announcement, Zahid Hamidi said that the Supreme Council weren't aware of the decision and were in the dark (Kinda like the media would be. Hur hur) about the matter; saying he would personally check with Tengku Adnan. On his end, Tengku Adnan claimed that his announcement was spun out of context *cough* and that a decision hasn't been made. The next day, he announced that there would be no media restrictions, and all was well.
Should we be expecting drama on December 8th? OMG WILL NAJIB STEP DOWN?? 😯
Eh… answer to the first question is "Maybe", and the second question is "Most likely no". Sorry u#UndurNajibgaiz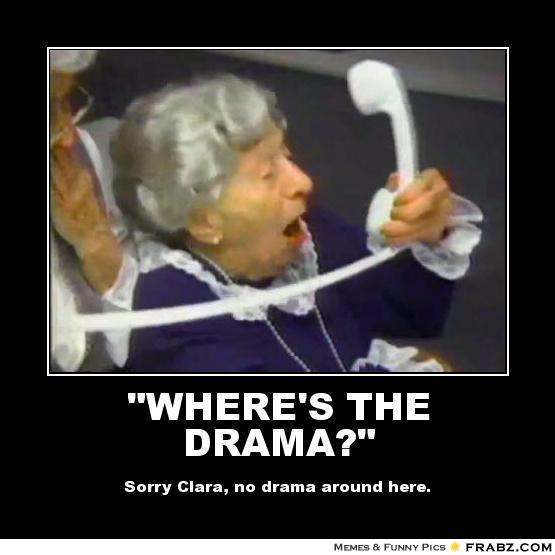 As it stands, the official word from UMNO is that things will run smoother than an a baby's bottom on a slab of butter coated in WD-40, with Cheras division head Syed Ali Alhabshee saying that rumors of leaders being insulted were spread by people who only wanted to see UMNO people fighting among themselves. Datuk Hishammuddin Hussein has also confirmed that there will be no move for a no-confidence vote against PM Najib. He added that of the 738 proposals, none touched on the subject. In fact, 132 of them actually endorsed Pm Najib's leadership.
Also, this won't be the first time there has been a "civil war" brewing within UMNO – there was the infamous 1988 UMNO Constitutional Crisis saw Mahathir being directly challenged by Tengku Razaleigh; and as we'll see in the next paragraph, any challenge to the country's leader seems to result in more gags than a BDSM convention than a TV sitcom.
The "civil war" in 1988 saw a mass arrest of people under the ISA and increased control over the media under Ops Lalang, where dissenters were weeded out and those who wanted to voice their opinions would probably have to think twice. If that sounds familar, it's because we've been facing a spate of increased arrests for making the wrong statements of social media or attending rallies in 2015, with scary new laws being introduced.
Dr. M won his "civil war" by a very slim 43 votes, and his position was more secured than ever at the end of it. So if history repeats itself, unless something truly unexpected happens come December 8th, PM Najib's position isn't only safe, it's also been strengthened for the foreseeable future.