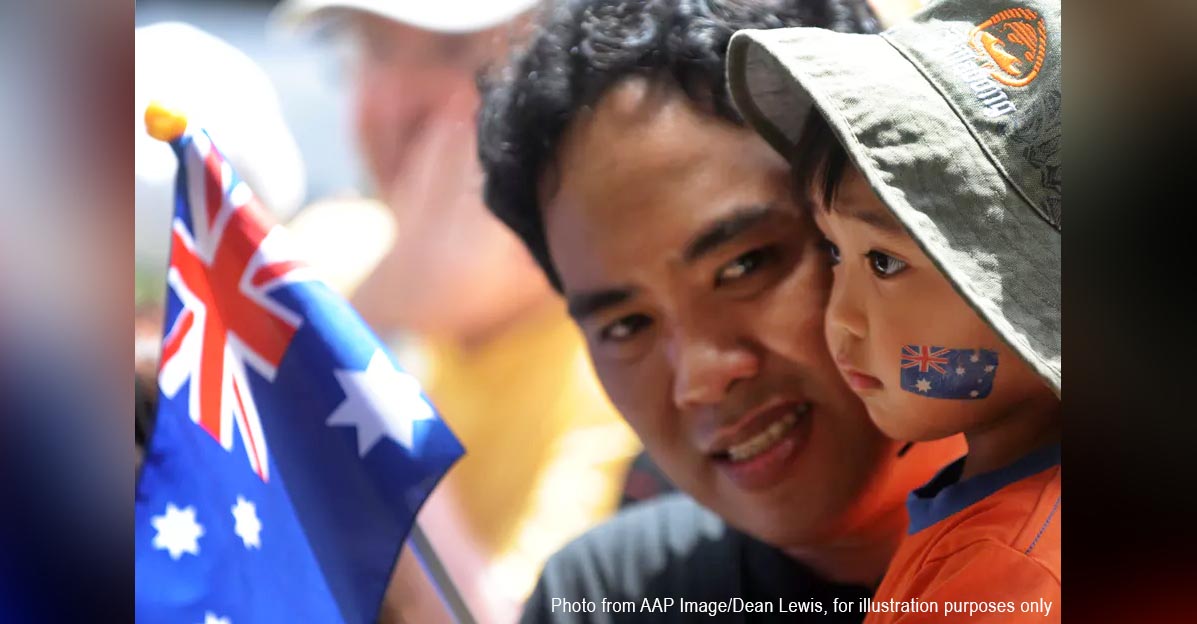 When we say refugee, what comes to your mind? We're guessing it's probably images of people in crowded boats or Syrian children.
But has it ever occurred to you that they could also look like this?
If you're gobsmacked, flabbergasted and jumping around in consternation from that idea, you may want to sit down for what's coming next. Recently, an Australian news portal reported that for the second half of last year, Malaysians make up 50% of appeal cases for refugee status in Australia, or around 3,802 cases. And it's not a case of refugees from other countries in Malaysia transferring to Australia, either. These are everyday Malaysians.
"There has been significant increases in the migration and refugee side of things, but particularly in the refugee caseload a large number of Malaysian applications. I think they represent about 50% lodgements." – Sian Leathem, AAT Registrar, as quoted by FMT.
We've heard of Malaysians leaving the country for better opportunities, but those are migrants. In this case, Malaysians are appealing to be refugees, which is different because…
There's a sense of desperation when you use the term 'refugee'
Let's say that you think our currency is worth peanuts and decide to go and work in Singapore and stay there on a work permit. You can basically just snap your fingers in your boss's face when you've had enough and go home. You have a choice of going there, and you can choose when to leave. For the purposes of this article, that's being a migrant.
Being a refugee, on the other hand, is a lot less whimsical. Imagine an atomic bomb falling on Peninsular Malaysia, and you had to run across the bridge to Singapore. Say the Singapore government recognizes your plight and takes you in as a refugee. You had to escape to stay alive, and you can't go home until the radiation goes away.
And that's the difference between a migrant and a refugee: A migrant, in essence, has a choice; a refugee doesn't. According to the UN's standards, refugees are people who are outside their own country, and they either can't or won't return because if they do, there's a strong chance they will be persecuted, either because of their race, religion, nationality, their political opinion or their affiliations. For example, the Indonesian maids and workers in Malaysia are migrants; they come here to work, and they technically can go back home if they wish to with no repercussions. The Rohingya people, on the other hand, may get killed or worse if they return, so they can't leave until the situation improves. They are refugees.
So now you know the difference between Malaysians migrating to Australia and Malaysians wanting to take refuge in Australia. Being a refugee is literally a matter of life-or-death, and in recent years…
The number of Malaysians appealing for refugee status doubled in 2016, and quadrupled before that
According to the MRT-RRT's (Migration/Refugee Review Tribunals) 2014 annual report, the number of Malaysians appealing for refugee status for that year is 327, an increase of 227% from the previous year. In 2015, the number leapt to 2,006 (43.4% of all cases), and in 2016, the number doubled to 4,230, which was over half (52%) of all refugee appeals in Australia that year. The number decreased to 3,802 in 2017, but now Malaysians make up 54% of all refugee applications.
And while refugees usually come in boats, usually with nothing but the clothes on their backs, none of our Malaysian refugees arrived in Australia like that. Basically, this means that the usual route taken by our Malaysian refugees is to arrive in Australia with valid visas, claim to be asylum seekers then apply for protection as a refugee. Their claims will then be assessed by the Department of Immigration and Border Protection (Department) to see if they fit the definition of 'refugee' or not under Australian Laws. If they fit the description, then good, but what if they don't?
Well, the Department will then see if the persons applying will have their human rights abused if they are to be sent back to their own countries, like be tortured or killed when they get back or something. If there is a chance of that, they will be given something called a 'complementary protection', and these people, along with the refugees, will be granted a protection visa, provided they meet health, identity and security requirements. This is the first stage.
If they fail to either be recognized as a refugee or be given complementary protection, these people can appeal for protection through the Refugee Review Tribunal (RRT), which you may recognize as the body behind the annual reports we mentioned earlier. That's right: Those numbers you see before? That's the ones that failed the first stage and had to appeal. This brings us to the question…
What's so bad about Malaysia that they have to run off and become refugees?
While we couldn't find any of these refugees to interview (plus international calls are so expensive), there was an article from back in 2015, when the Malaysian refugee explosion happened, that interviewed some of them. You can read it here, but here's a summary of their reasons. Also, it might be interesting to note that a majority of them (in 2015, at least) are Chinese Malaysians.
One of them had stated that the Malay Government as well as the ethnic Malay population kept troubling Chinese Malaysians who dominate Malaysia's commercial sector. According to him, the local government often interfered with his family's business, raiding their shops frequently and fining them without reason. This led to his family being blackmailed and threatened, to the point of them having to close down their business.
He tried getting a job afterwards, but he claimed to have been fired from it because of his ethnicity.
"We are living like [dogs], in the past, the Malaysian government kept watch on all the Chinese, if the Chinese children want to enter public school, it would be a very difficult thing almost impossible. The welfare for Malayan is out of reach for the Chinese, the Malaysian political field only trusts Malayan, (they do) not completely trust Chinese, the government does not care about us." – an ethnic Chinese Malaysian's plea to the tribunal, as reported by SBS News.
Another Chinese Malaysian and his wife had a similar story, saying that local Muslims were forcing them to sell over their business, and when they refused, they broke into their shop and sent them threatening letters. However, these couple claimed that the perpetrators are protected by the police, as despite having police reports lodged against them, the police did nothing. This couple's application for protection was rejected.
However, a Christian Chinese Malaysian's appeal was accepted. She once converted to Islam to marry a Malay man but they later divorced. She later returned to Christianity, and her ex-husband became increasingly fundamentalist. The Tribunal accepted her application as they feel that there's a big chance she will be forced to convert against her will, and her daughters forced to go to a religious conversion camp.
Dr Jean Jonathon Bogais, University of Sydney's Foreign Affairs and Human Rights expert, noted that the reason these Malaysians felt threatened enough to flee the country is the increasing Islamization and racial tension between the Malays and the Chinese.
"All they see is fear for the future; economic, political and security concerns which is probably the biggest justification for the migration," – Dr Bogais, for SBS.
While these accounts may or may not be true, all of them were recorded though the Tribunal, where asylum seekers go to appeal for refugee status after failing the first stage we mentioned above. So one might wonder…
Do these Malaysians really need Australia's protection, or are they after something else?
In the past, we've heard of Malaysians leaving Malaysia under persecution, and it almost always makes the news. Activist Ali Abd Jalil, for example, sought asylum in Sweden following sedition charges, and sex blogger Alvin Tan sought asylum in the US. But the thousands of Malaysians fleeing Malaysia in the past years  happened without much buzz at all.
With that in mind, one might wonder if they're truly in any danger. According to SBS News, as the number of Malaysian refugees increases, the number of skilled migrants from Malaysia decreases. In 2015, the number of skilled migrants relocating from Malaysia to Australia dropped by 28% from 2012 numbers, from 5,508 to 3,977. So less Malaysians are going to Australia as skilled workers, and more as refugees. But why?
It can't be denied that there's a perception among Malaysians today that there might be no future for them in Malaysia. We did a survey among 57 millennials some time ago, and only a fifth of them unconditionally want to stay here. The reasons for them wanting to leave are pretty much along the same lines as Dr Bogais' reasoning: opportunity, race, and religious concerns. Even Malay Muslims, who were the reason the refugees fled Malaysia, had been at some time been urged to leave as well, so that they can grow.
Being a permanent resident or citizen of Australia is no easy task, and seeking asylum might be an easier alternative. To get one of the many types of skilled visas, you have to actually have certain skills they can use. Also, you have to be invited for certain visas, so the application process may take a while, and it's pretty costly, too. Going to Australia as an asylum seeker is instant, and if you're successful, you can either get the refugee visa (which is free) or a protection visa (with a small fee), both of which are permanent visas, and both allow you to work and grant Medicare, among other things.
It had been said that the hardest part of getting a citizenship for Australia is getting a permanent resident status first, then staying there for at least four years. Going as a refugee is a sort of shortcut through this first part. Although it's a person's personal choice to leave Malaysia, doing this has a negative impact on other, more deserving refugees, as there's a limit on how many refugees Australia can take in per year.
That is, if they're just using the whole refugee thing as a shortcut. If it's because of persecution… that's another story for another day.