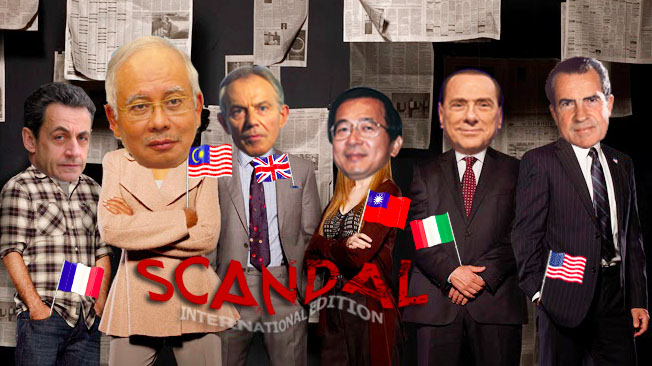 1MDB 1MDB 1MDB….. We are sure ugaiz are sick of anything related to the 1MDB scandal by now (if not click any of the links here, but remember to come back k!). Malaysia is literally "standing in the eyes of the world" just like how our local singer Ella had envisioned in her hit song. However, it seems that the attention are for all the wrong reasons. Visitors no longer associate Malaysia with its delicious food and multicultural citizens. Instead, it's regarding our politics, specifically our PM Najib and 1MDB.
The situation has gotten so bad that our PM Najib in a speech had said that angmohs have no right to decide Malaysia's future by undermining its leaders. However, we don't think foreign medias, not just the white people but seriously every other media outlet in the world, are not very good at heeding our PM's advice (click here, here and here). So, we decided to turn the tables and talk about their scandals instead! Seriously, like one of those 'an eye for an eye' type of payback included with a 1MDB scandal scale, just to see how similar is it to 1MDB.
We're gonna use the angry face emoji to visualise the scale cause yaknow, peepur getting angry mah.

Each scandal will be rated out of 5 angry face emojis.
1. The ONLY US President ever to resign
America, the land with many famous scandals, we are not talking about those Hollywood dramas. The White House has seen its fair shares of famous political scandals as well. However, none can be as scandalous as the Watergate scandal. There are even books and movie based on it (1MDB only got parodies).  This Watergate scandal involved President Richard Nixon, the 37th President of the United States.
The Watergate scandal started in June 1972, when 'robbers' were caught trying to break in the Democratic National Committee (DNC) headquarters at the Watergate office complex (Hence the name of the scandal). The robbers were caught while attempting to wiretap phones and steal secret documents, seriously illegal spy stuff. It was called a 'third-rate burglary' but the timing of the burglary raised suspicions as the Republican President Nixon was then seeking re-elections.
Although later, The Washington Post's journalists Carl Bernstein and Bob Woodward revealed that the FBI believes that the break-in stems from an even bigger plot to sabotage and spy on President Nixon's behalf.
What happened after news broke out?
President Nixon still won re-election in November 1972.
Due to the continuous pressure from the media and emergence of evidence that the President's slush fund was used to finance the break in, the US Senate authorised a full investigation on it. In July 1973, during the investigation it was revealed that every single conversation that took place in the Oval Office (the US President's office) was recorded but the president refused to hand over the recordings. This lead to what is known as Saturday Night Massacre; where the independent prosecutor for the investigation got sacked coupled with the resignation of the Attorney General and Assistant Attorney General.
One year later, the Supreme Court (highest court in the US) ordered President Nixon to hand those tapes over. However that wasn't the end of it. Investigators found an 18 and a half minute gap in a conversation. The president's secretary claimed she had accidentally erased the recordings by recording over that portion, but that only accounted for 5 minutes of the gap. Till today, no one knows what went on during that 18 ½ minutes gap.  #conspiracy
Nevertheless, one of those released tapes is now famously known as the 'smoking gun' tape. This is THE tape that literally ended President Nixon's career. It recorded President Nixon ordering his staff to have the CIA tell the FBI to stop its investigation of the break-in. Once this was made public on 5th August 1974, President Nixon's political support vanished, like literally poof…
President Nixon resigned on the 8th of August, being the first US president to ever resign from the position. His successor, President Gerald Ford pardoned him for any crimes he committed during his office.
However his aides weren't so lucky, some were charged for very serious offences. President Nixon himself never admitted to any wrongdoing.
1MDB Scandal Scale: 3/5

Well, MACC revealed that the 2.6 billion in our PM's bank is donation and not slush funds. Our Deputy PM and AG did get sacked, but not due to 1MDB. Wonder if there are any secret recording in the Prime Minister's Office.
2. The one where the entire family got imprisoned 
We are not gonna tell you whether Taiwan is a country or not, but we can tell you about the Chen Shui-bian scandals. Yes, there was more than one scandal. Chen Shui-bian, was the President in Taiwan from 2000 to 2008. He was the crowd favourite due to his humble beginnings and charismatic speeches.
The first scandal didn't involve Chen Shui-bian directly. It involved his son-in-law, Chao Chien-ming. He was arrested in 2006 for insider trading. He was initially sentenced to 7 years of jail time and a hefty fine of NT$30 million. In 2014, his sentences were reduced by the Taiwanese High Court. Prosecutors alleged that Chao Chien-ming and his father earned more than NT$100 million by manipulating a company's stock prices.
Not long after Chen's son-in law's arrest, his wife and three aides were prosecuted for embezzlement, forgery and perjury in the mishandling of $450,000 from a secret expense fund. There were charges that Chen himself had misused his authority, however he couldn't be prosecuted while in office, due to presidential immunity.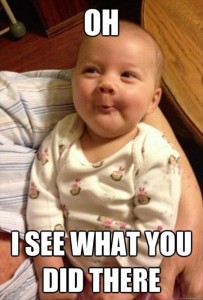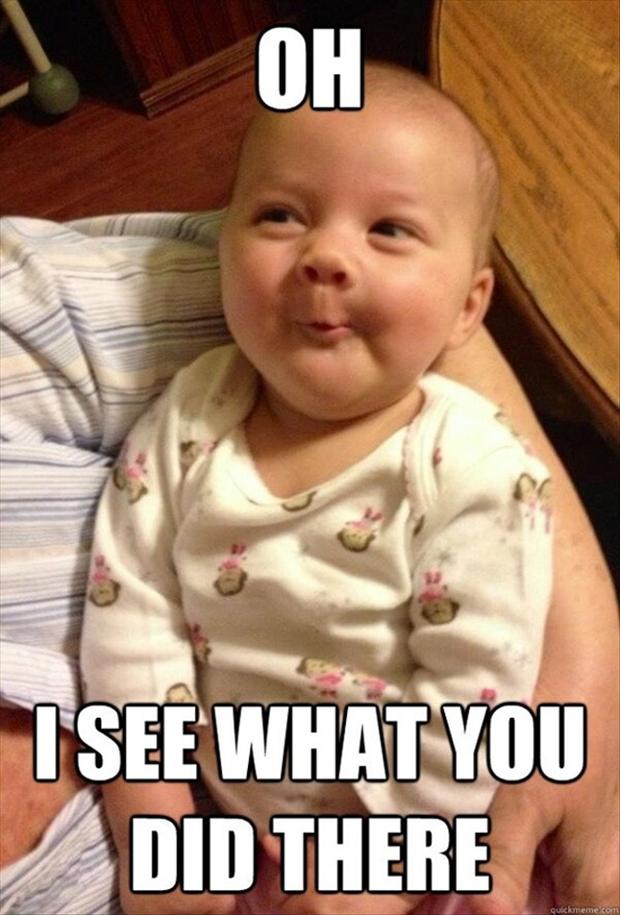 What happened after news broke out?
In 2008, Chen Shui-bian resigned from office after pressure from various parties. He later admitted that his wife's wired money to overseas bank accounts, but insisted they were political donations and that she did so without his knowledge.
In 2009, Chen Shui-bian's wife was sentenced to a year in prison for lying to prosecutors in her husband's corruption charges. The couple's son, daughter and son-in-law were also sentenced to a year in jail for providing false testimony. However due to amnesty rules, their sentences reduced to 6 months.
Chen Shui-bian was later sentenced to life in prison and fined in September 2009 after being found guilty on charges of money laundering, bribery and embezzlement of government funds. His wife also had her sentence increased to life sentence, as she was also convicted on a similar charge. While many would think that life sentence is a long time, Chen Shui-bian was accused of embezzling about US $18.5 million. In 2010, their jail sentences were later reduced to 20 years.
In 2013 during an interview, the former first lady maintains that they didn't take any dirty money and that they were unfairly prosecuted. She maintains that it was done to sabotage Chen Shui-bian's political career so as to undermine Taiwan's fight for independence.
1MDB Scandal Scale: 2/5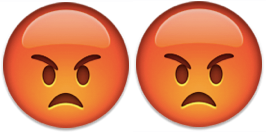 So many cash related charges…
3. The Prime Minister with way too much libido
In 2011, former Prime Minister of Italy, Silvio Berlusconi, was charged with buying sexual favours from a minor and abuse of power. The gal involved in this scandal was then 17 year-old Karima El Mahroug a.k.a Ruby the Heart Stealer, a Moroccan exotic dancer. Fuyoh, this guy's got some skills. He was in his seventies at the time. Taking notes from Hugh Hefner, maybe?
In Italy, it's against the law to pay for sex with a person under 18 years of age. Berlusconi is also known for throwing massive bunga-bunga parties. You wish they had something to do with flowers. In this case, the flowers are naked girls. Other than indulging in underage prostitution, Berlusconi was also accused of abusing his power to get El Mahroug released from jail when she was arrested for theft in Milan circa 2011.
What happened after news broke out? 
Well, Berlusconi denied the charges, his lawyers denied the charges, even El Mahroug denied the charges. This fella can joke summore.
"I'm 74 years old and even though I may be a bit of a rascal, 33 girls in two months seems to me too much even for a 30-year-old." – Berlusconi, as quoted by The Telegraph UK.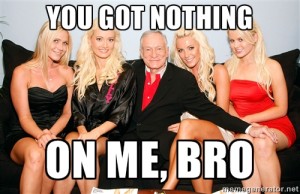 But all the jokes in the world cannot hide the evidence stacked up against him. Many of the girls involved in in Berlusconi's sex parties actually came forward and admitted that they prostituted themselves in exchange for money and promises of television careers. This particular Italian model confessed to sleeping with Berlusconi and witnessed El Mahroug doing the same. They both were paid €5,000 each for doing the deed. Berlusconi responded by saying the bunga-bunga parties were actually elegant dinners followed by burlesque dance contests. Seriously, man?
In 2013, Berlusconi was found guilty of all charges and sentenced to seven years in jail. On top of that, he was banned from running for office, ruining his political career. However, his jail time will only begin after it's been supported by two other courts and damn leceh appeal processes. That's Italy's three-tier court system for you.
Taking advantage of this, Berlusconi filed an appeal to clear his name of the charges of underage prostitution and abuse of power. In 2015, the Italian court agreed to acquit Berlusconi of all charges, making him free to restart his life as a politician. The court believed that Berlusconi had no idea El Mahroug was underage at the time and had helped release her from jail as he was informed that she was the niece of Hosni Mubarak, the Egyptian political leader. Dude, do you even Geografi?
1MDB Scandal Scale: 1/5

No money transfer here. Just shows how powerful politicians can get away with pretty much anything. 
4. Gadddafi's 'secret donation' to a French President
Le ex-President of France, Nicolas Sarkozy, allegedly accepted €50mil from ex-Libyan leader, Muammar Gaddafi to fund his damn power election campaign in 2007. The French investigative website, Mediapart (check it out if ya know French), was first to break the story in 2012. They're kinda like the Sarawak Report of France, only that no one needs to worry about un-blocking the site. The allegations started when Sarkozy gave the green light to send French armed forces to bring down Gaddafi and his regime in Libya.
These accusations were also supported by Gaddafi's son, Saif al-Islam, during an interview with Euronews.
"Sarkozy must return the money that he accepted to finance his electoral campaign. We gave him that money and we're ready to reveal everything about it. The first thing that we ask for from this clown is that he gives money back to the Libyan people," – Saif al-Islam Gaddafi, as quoted by Euronews.
What happened after news broke out?
Sarkozy denied these allegations kao kao and accused Gaddafi and his son of talking nonsense.
"If he (Gaddafi) had financed it, then I haven't been very grateful,"– Sarkozy, as quoted by The Telegraph UK .
Not only that, he also blamed his left-wing opponents of forgery of a document that got published in Mediapart. In addition, Sarkozy accused Mediapart of being a pro-left wing company that should not be trusted. This led to claims that Sarkozy will sue the hell out of Mediapart for libel. After losing the 2012 election, Sarkozy retired from politics, putting a stop to any allegations against him.
People kinda forgot about him for a while until a video of the late Gaddafi resurfaced last year stating that Sarkozy approached him personally for financial help. Soon after this, orders were given out by French judges, Serge Tournaire and René Grouman, to conduct some wire-tapping phone stuff on Sarkozy. Through the wire-tapping, it was revealed that Sarkozy was trying to find some super secret info about France's highest appeal court!
Poop got real as the office of former French Interior Minister, Claude Gueant, was searched for more evidence and Sarkozy was called in by the cops for questioning on abusing his power to obtain that super secret legal info. Despite all the drama and proof of his corruption, Sarkozy announced his return to politics to clean up the mess made by his competitiors, The Socialist Party.
1MDB Scandal Scale: 4/5

Whoa, a ridiculous amount of money transferred to a politician's account to fund his election? Doesn't sound familiar at all. 
5. The Gomen that introduced Cocaine
Allegations were made that the CIA and DEA (Drug Enforcement Administration) started a drug trafficking trade to fund the CIA's guerrilla army in Nicaragua. Wahlao, a lot to take in right? Let's try to break it down. This story first came to light by a series of articles written by Gary Webb, a reporter for the San Jose Mercury News. The articles, called "The Dark Alliance", contained details and revelations on how the CIA was involved in a cocaine trade with African-American gangs in Los Angeles. The profits from that were directly funneled to CIA's anti-terrorist army in Nicaragua, called the Contras.
"The Dark Alliance" directly blamed the CIA for introducing cocaine to Californian neighbourhoods where the majority are African-American residents. This further led to the shocking allegation that the CIA was to blame for crack cocaine epidemic at the time. These allegations tarnished the CIA's reputation as well as turned many of the members of the African-American community into criminals. Ugaiz can read more about this here.
What happened after news broke out? 
The US gomen actually released this report (OMG, and it's on the CIA's website!) which confirmed that the CIA actually knew that their agents were involved in drug trafficking but tutup satu mata anyway. You'd think the media camp would have supported Gary all the way right? Sadly, they did not. Mainstream US newspapers like The New York Times, Washington Post and Los Angeles Times actually berkomplot to take down Gary and said he was reporting lies.
Following the horrible reaction from the media, Gary lost the support of his peers and sadly took his own life in 2004. His death ended the questions and speculations on CIA and their involvement in Nicaragua to the relief of many. However, interest in the matter began to build last year with the release of Kill the Messenger (check out the trailer here), a movie about Gary's investigative efforts to expose this groundbreaking story as well as his downward spiral to his imminent death. Also, two accomplices of Gary gave an in depth interview with Huffington Post which proved that Gary was telling the truth, the whole truth and nothing but the truth.
1MDB Scandal Scale: 3/5

Gomen siphoning funds from illegal sources and exposed by investigative journalist but justice was never served? Hmm.  
6. The UK Prime Minister who kena bribed by Formula 1's CEO
What better way to start off a scandal than to do it fresh after accomplishing a historical general election win, wouldn't you say? As part of their first initiative for being in power, The UK's Labour Party with its leader and Prime Minister, Tony Blair, made a pledge to support a European Union Directive ban against all sports sponsorship by tobacco companies. However, Bernie Ecclestone, the president and CEO of Formula One Management, was not all too happy with this since all of the leading Formula One teams had tobacco company sponsorship.
To try and turn things in his favour, Ecclestone planned a meeting with Mr Blair in hopes of convincing him to reconsider the ban. Although, we're sure that the chances of Ecclestone getting it his way must have been unlikely right? Ya know, since the government already made a solemn pledge against it, and smoking is seen as something that's really bad for your health, and oh… wait… he ended up walking away with an exemption from the ban for Formula One in just a couple of hours… Okay…
What happened after news broke out?
When the exemption came to light, three newspapers launched an inquiry, and after some Sherlock-esque investigation, they found that Ecclestone had donated £1 million to the Labour Party before, and he was probably using his huge donation as a bribe to make his appeal with Mr Blair all the more convincing.
So the money was immediately returned to Ecclestone, and Blair apologized to the people with the cutest pair of googly eyes that he could muster up. However, he told BBC News that the exemption had nothing to do with the meeting he had with Ecclestone because the issue was made only two weeks after. Yet, 11 years later in 2008, after Blair stepped down as Prime Minister, internal memos regarding government affiliations were retrieved, showing that the exemption really was agreed upon during the meeting.
This scandal would be the first to taint the name of the Labour Party – people began questioning the integrity of their newly appointed Prime Minister at the time, especially since it happened just after they had won the 1997 General Election. It also shifted the dynamics between the Labour Party and the media because from that point onwards, the media began going all up in the government's face for any scam that they're involved in.
1MDB Scandal Scale: 2/5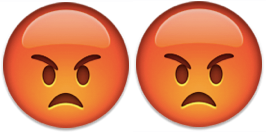 The UK media started hounding Tony Blair kao kao after this scandal, which is kinda comparable to how Malaysian media is treating Najib right now.
7. The tyranny of Russia towards a just whistleblower
Sergei Leonidovich Magnitsky was a Russian auditor at a Moscow law firm called Firestone Duncan. He acted as a legal adviser for Hermitage Capital Management (HCM), one of the largest private equity firms investing in Russia at the time. However, the HCM and its American co-founder, Bill Browder, was widely seen as a national threat by the Russian government for supplying press information related to corporate and governmental corruption, or in short, they hated them for doing justice.
On June 4, 2007, Hermitage's Moscow headquarters fell victim to corporate raiding by the police, something that apparently happens pretty often in Russia. The officers came busting through their doors with an 'official' search warrant and took vital documents away from them. With all the fishy smell that was stinking up the whole incident, Browder got Magnitsky on the case. At the heart of what Magnitsky discovered from his investigation was a big time scam to ruin Browder and his HCM.
What happened after news broke out? 
Magnitsky realized that the HCM have a $1bil worth of fake tax liabilities that they're required to cover for, and soon after that, they were accused for defrauding the government by illegally claiming the return of taxes that they apparently never paid for, an amount totalling to $230mil, the biggest tax rebate in Russian history.
Upon knowing what has been happening to the company, Magnitsky filed a report against those who were involved in the scam, but just like in the movies, those who know anything that they shouldn't know, get punished. At the end of November 2008, police arrested Magnitsky for tax fraud. He spent 358 days in prison, was never able to see his family even once, faced excruciating pain from pancreatitis and gallstones that were left untreated, and in the end, he died. Evidence even suggested that he might have been beaten to death.
In one his letters that he had written in jail, Magnitsky wrote a harsh truth about justice:
"Justice… turns into a process of grinding human flesh to mincemeat for prisons and camps, a process in which people can neither effectively defend themselves nor even realise what's happening. One can only think about when it will end, when one can get rid of this physical and emotional torture."
After some hounding by the Human Rights Council, the Russian authorities finally carried out an official investigation on the case, and several prison officials were fired over his death. However, that's as far as justice goes. No other suspects were named, not 1 government official was arrested. The Human Rights Council claims that a conflict of interest was in play as the investigators involved in the case were the same people Magnitsky had accused of being corrupt, but those claims were disregarded until at last, the whole investigation was dropped.
Motivated by his lawyer's death, Browder reported the devastating chain of events that took place to the US Congress and from there, the Magnitsky Act was formed in 2012. It places a travel ban that prevents any Russian human rights abuser from entering the US.
However, this act just made Russia pissed as hell and they retaliated cruelly by barring Americans from adopting Russian orphans. It doesn't stop there. The Moscow court found Browder guilty of tax fraud and issued a 9-year prison sentence that will be applied if Browder ever steps foot on Russian soil. Think the Russian government can't go further than that? Well guess again. They will also go on to continue a trial against Magnitsky to officially deem him guilty for tax fraud, even when he's already dead!
In disappointment, Browder states:
"Today's verdict will go down in history as one of the most shameful moments for Russia since the days of Josef Stalin."
1MDB Scandal Scale: 2/5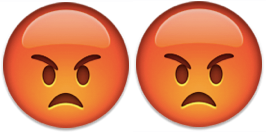 The embezzlement of money is kinda similar to 1MDB, but overall, this is just an unfortunate story about a virtuous man who was taken down by the Russian gomen.
8. The Indian government loses billions over coal scam
Known as the Coalgate scandal, it started in 2012 when the Comptroller and Auditor General of India (CAG) claimed that the Indian government was allocating India's coal supply to public and private companies for free, causing a lost of Rs1.86 lakh crore (1.86 trillion rupees) to the nation. Guess how much that is in American dollars? $29.2bil dollars! And the CAG didn't even put out the full amount of it. You'd need to close your eyes for this one guys. Overall, the government caused a lost of what would be Rs10 lakh crore (10 trillion rupees), which in American dollars, is $156bil freakin dollars!! It's over 9000!!!
What happened after news broke out?
The government was already on thin ice in this matter, but at least it wasn't considered illegal because an amendment in the Coal Mines Nationalization Act of 1973 allowed them to give coals blocks for free. But that all came tumbling down when the Standing Committee on Coal and Steel made a report that all coal block allocations were actually unauthorized because the required transparency in the allocation process was ignored.
To add salt on the wound, it was discovered that the companies that received the coal blocks had bribed government officials to get them, and they were also found to be hoarding the coals rather than developing them like how they should be.
So how did the central government respond when the issue was taken to the Supreme Court of India? Well, speculations came rushing that the government tampered with a report made by the Central Bureau of Investigation (CBI) regarding the whole scandal to make them look better to the Supreme Court. The initial CBI team that was involved in the case would later be replaced by a new one.
Not only that, the government even denied that there was a scam to begin with. To them, the allocation of coals were done as clean as a baby's bottom.
Their argument was that none among the state governments of the 7 states in India where the coals were extracted from admitted that any illegal activity was happening, and because these state governments are the ones responsible for executing the lease to allocate the coals to the other companies, they would know if the deals were made fraudulently or not. Yea, sure, it's not like these state governments are capable of lying right guys?
The ex Prime Minister that was involved in the Coalgate scandal, Manmohan Singh, was summoned to court by the CBI along with 5 others who were also accused of conspiring in the scam. Singh, who was popular among the public for being a man of wisdom and integrity, was criticized for illegally giving out the majority of coal blocks during his tenure.
1MDB Scandal Scale: 5/5

The nation loses a whole lot of money from a government project, things were seen to be clean until allegations of corruption came about, a government investigation agency was found to be biased regarding the scandal. The similarities are uncanny! 
So looking back at the 8 international scandals that we've listed above…
Notice how most of the scandals were handled poorly by the authorities?!
You have lies, denials, bribery, a whole set of variety that looks like a diverse Malaysian dish served on a platter. So there's at least one thing that we as citizens can take from this. Every government has their own fair share of skeletons in the closet. As harsh as it sounds, foul play is a common thing in the world and corruption will exist no matter where we go. Acknowledging this fact would make one realize that 1MDB is just another addition to the long list of scandals that have rocked the world.
So yea, injustice is prevalent in the world. But donchu guys think it'd be totally anti-climactic if we were to see that and go 'Hey, let's just give up on justice and go back home lah. Potong right?
The glory is not in the triumph guys, it's in the struggle, and just like how these countries we've listed above had to persevere through hardship together, it is vital for us to stand together and weather the storm, because if we do not maintain justice, justice will not maintain us.
As a wise man once said, "if you are going through hell, keep going." Thanks for that awesome quote, Winston Churchill.
Before we go, here's what we would like to know from you guys. Among the political scandals we've written about, which one do you guys think is most similar to 1MDB?
Which political scandal is most similar to 1MDB?
*This article was written by CILISOS interns Sue Ann, Letitia Lim and Mahadhir Monihuldin. Visual work by Muhd Adib*