Ah, Halloween.
That one time of the year where scaring people is acceptable. Here at Cilisos, we have a tradition where we try to scare you once a year with scary movie posters based on true Malaysian news stories. Just like in 2014, 2015 and 2016, (dun ask about 2017 😥 ) you can now sit back, brew yourself some pumpkin spice latte, hit the pause button on the annoying theme music (or turn it up)…
…and be prepared to excrete some building materials. Enjoice!
[Disclaimer: The events depicted in these movie are fictitious. Any similarity to any person living or dead is merely coincidental. Cilisos not responsible for PTSD or anxiety after reading.]
1. 12 Years a Bride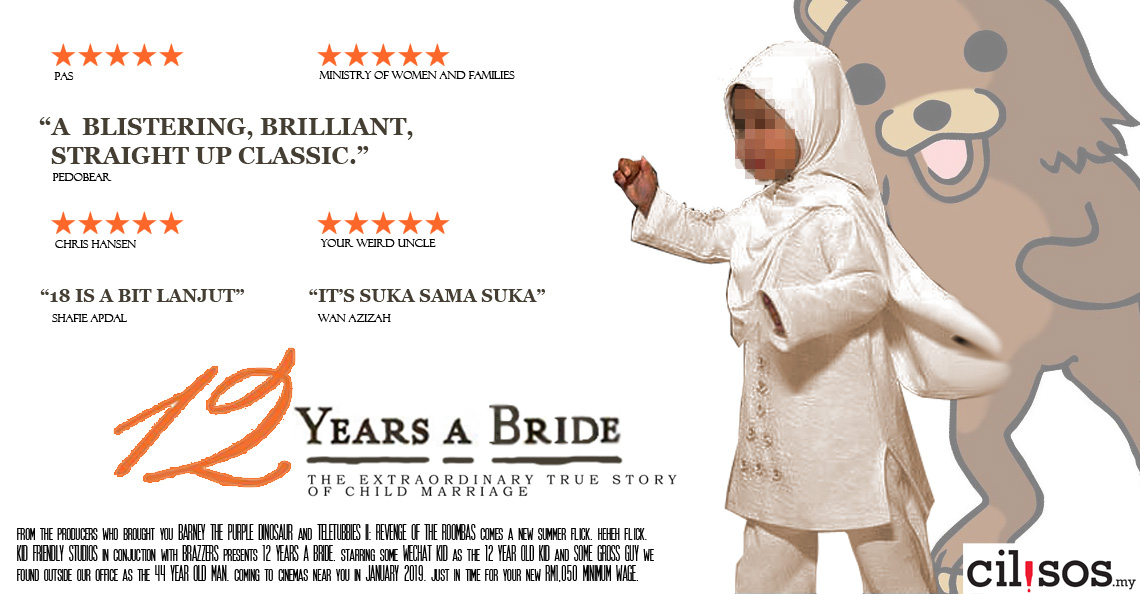 Starring: Some random young girl, a man old enough to be her grandpa, and the angry spirit of Pedobear.
Plot: It was a tale as old as time, true as it can be. Hamid, a 41-year-old married man, took his daughter to the local playground one day. There, he saw Anisah, her daughter's 12-year-old playmate, swinging like an angel from the heavens. It was love at first sight for Hamid, but a host of challenges await him before he can make her his. First, he has to persuade his wife to let him marry again. Then, he has to persuade the villagers to come to the kenduri. Finally, he will face the greatest challenge yet: convincing the society to accept his marriage. With the UN, the new government and the merciless Internet people against him, will he prevail? Can the two be united in holy matrimony? Will he have to get a babysitter for his wife while he's with his first wife? All these questions and more, answered in this two-hour revealing documentary by David Atnineborough.
2. A Quiet Place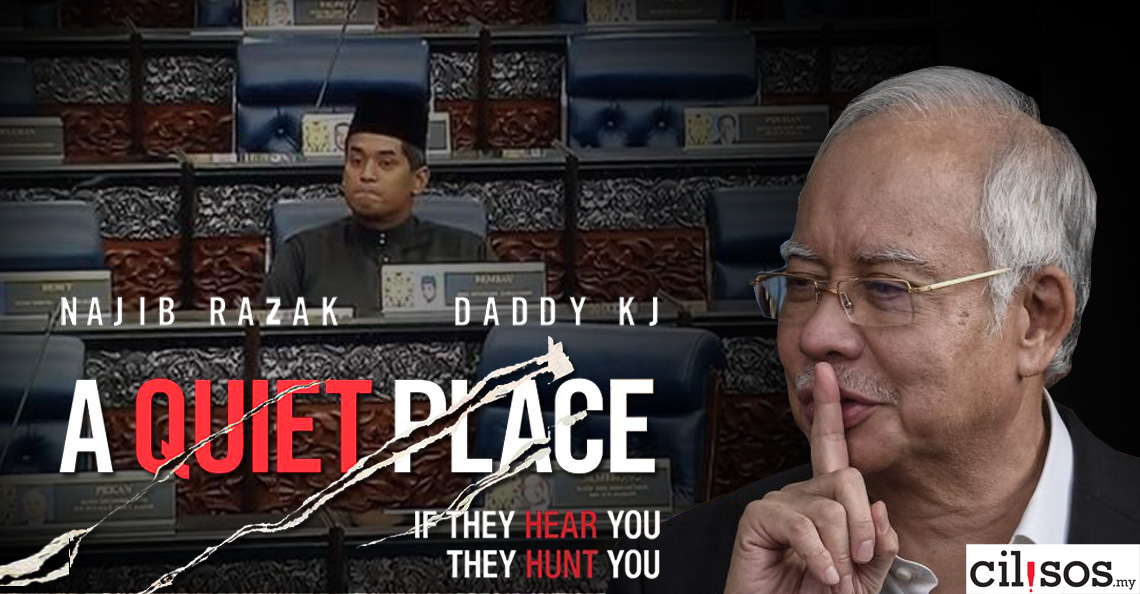 Starring: Daddy KJ, Najib Razak, Zahike, and introducing Haneefa Hamin
Plot: It was 2018. Most of the country Warulkanda had been wiped out by mysterious creatures known as the Paketmen. They now find themselves outnumbered by the Paketmen. The Baris-San family, known for their tough iron fists, try to fight it out, but failed. With their former leader Najuto Razamaki down and out due to the creatures, they now have a vacancy up top, with are fought between the warrior Zahike and the diplomat Kei-J. After a long battle near a waterfall for some reason, Zahike comes out on top, and tells the Baris-Sans to move out of Warulkanda, for fear of the Coalition. But not Kei-J. He and trusty sidekick Haneefa stay on, and fight to survive.
3. The Habit: The Desolation of Smog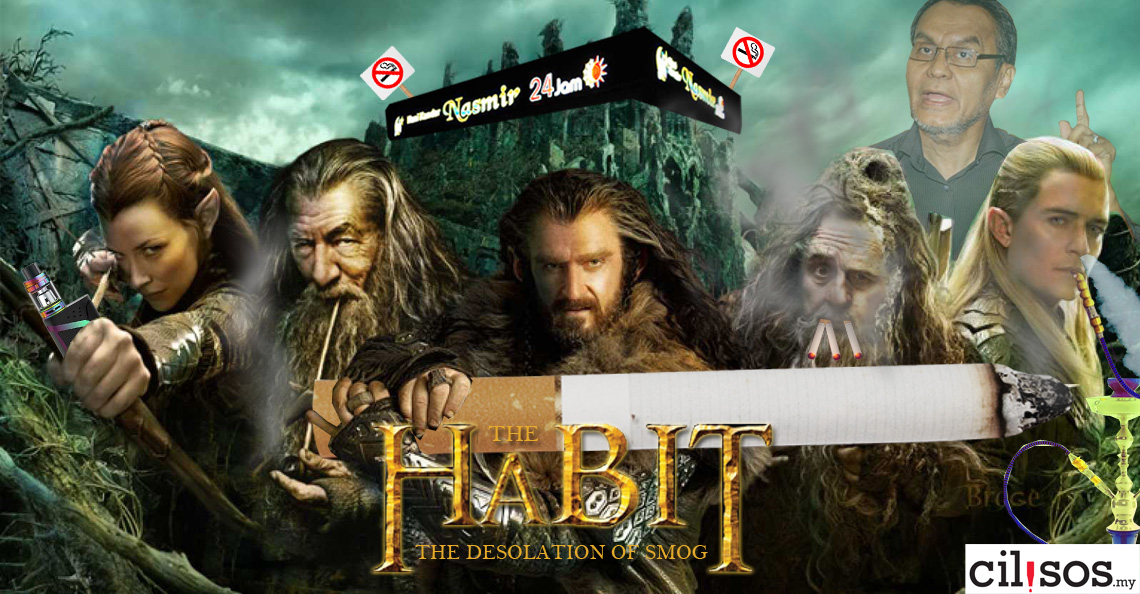 Starring: Taurine the Vape Queen, Gandalf the Pipe, Thorin II GudangGaram, Ada-gas, Legolas Shisha, and Dzulkefly Ahmad
Plot: Also known as "That Hobbit Film We Don't Talk About", this classic is actually a spin off from the main trilogy. Following the event of The Battle of the Five Armies, our heroes find themselves celebrating at a quaint Malaysian tavern called Restoran Nasmir. After ordering a round of teh tarik, they preceded to light up, but was promptly kicked out of the establishment due to new anti-smoking laws in the realm. With the specter of the health minister hanging above them as they smoked in the parking lot, our heroes hatched a plan for a restaurant of their own, where people can rokok in peace…
4. Frozen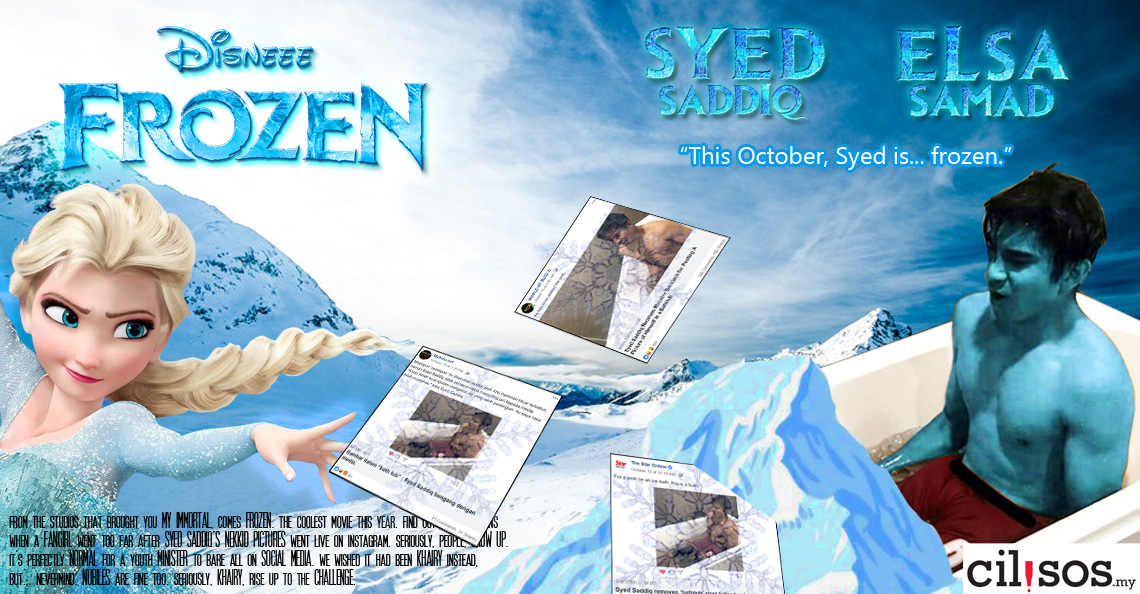 Starring: Syed Saddiq, Elsa Samad
Plot: Based on a work of fiction written by one of Syed Saddiq's fangirls following the bathtub incident, this PG13 story is equal parts creepy and magical. The story follows Syed, a Youth Minister, who just won a football match. He proceeded to strip and entered a bathtub full of ice to treat his sore, glistening muscles, but to his dismay the water wasn't cold enough. "Colder!" he shouted to the empty bathroom. "My abs need more ice!" Having heard the young minister's pleas, Elsa appeared, and proceeded to freeze his bathwater. Taking advantage of the minister's vulnerability, she took his phone, snapped his picture and uploaded it to Instagram, for which the minister will later be reprimanded heavily by the public. With the huge PR mess Elsa left behind, will Syed ever escape the stigma of "Eh, it's that bathtub boy"? Is Elsa weakening the current government to later invade Malaysia? Don't miss this 6 hour cinematic madness to find out!
5. Tun Raider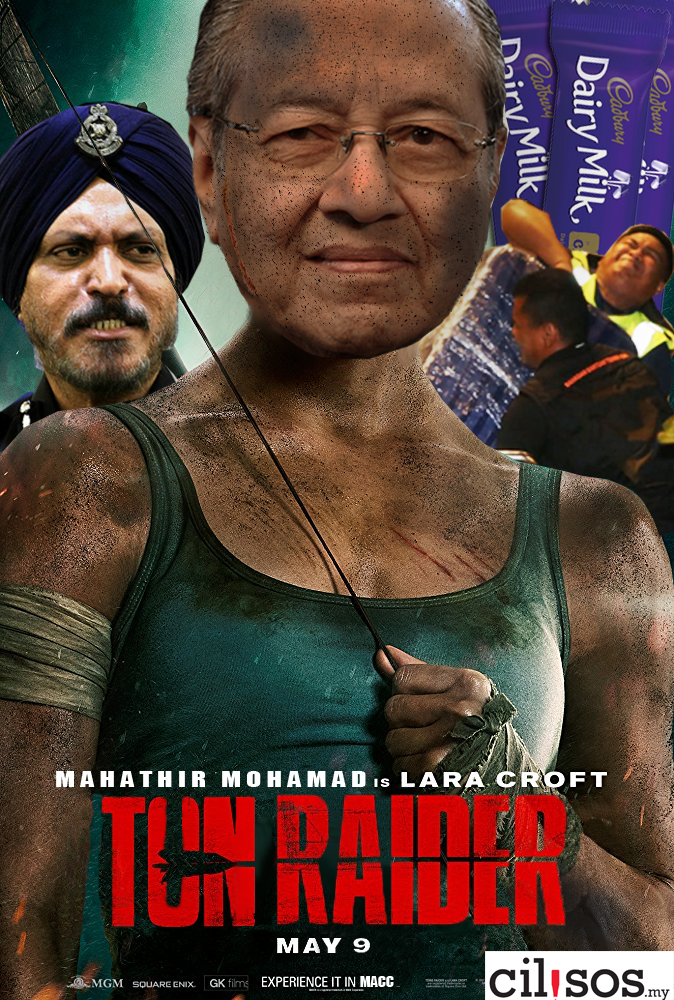 Starring: Tun Mahathir, Lapiji, Aman Singh, and introducing Najib as the Tomb Emperor.
Plot: Tun Mahathir had been retired for awhile now, but following the disappearance of billions of ringgit, Tun suspects that something is amiss. Following leads discovered by his old treasure hunter friend Lapiji, they both hired a cab and set out into Putraville to look for the missing funds. After wandering a bit, they reached a tomb in the center of the concrete jungle. However, they discovered that the funds were long gone, melted into bags and other random knick-knacks by the emperor of the tomb. They managed to escape the king's men and hid in a village to regroup, where they enlisted the help of Amanda Singer, the village sheriff. After an epic magical transformation scene, Tun turned into the Tun Raider, and with the help of the villagers, they raided the tomb and felled the oppressive king's reign. The funds were gotten back, but… some of it are missing. To be continued in Part 2.
6. Boss Baby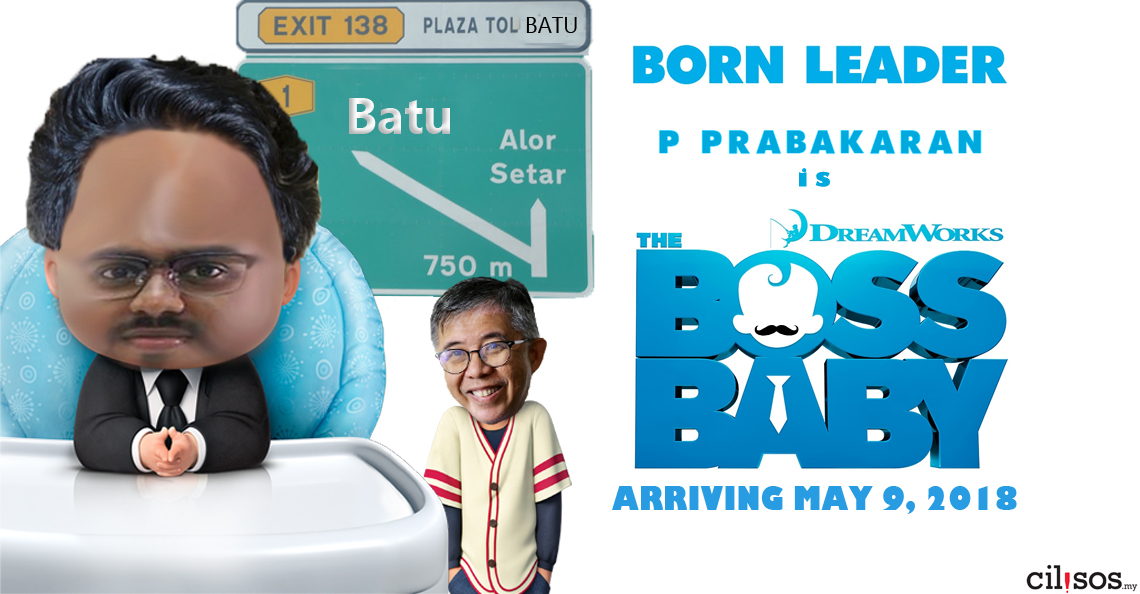 Starring: P Prabakaran, Tian Templeton
Plot: Tian Templeton is just an ordinary boy living in his constituency of Batu, when one day an independent baby in a suit magically appeared. To Tian's surprise, the baby, who we later learn is called Prabakaran, can walk and talk just as good as any other politician. His existence disrupted the attention given to Tian by the people of Batu, and at first it annoyed him. Tian tried many ways to get rid of Prabakaran, either by spouting random passages from the constitution, filing disqualification suits, or even hiding his pacifier. However, a prevalent enemy reared its head and threatened the good people of Batu. Tian, now between a batu and a hard place, realized that he cannot fight the evil by himself anymore, so he reached out to Prabakaran and the two come to an understanding. But will the baby Prabakaran's natural leadership be enough to protect the people of Batu?
7. Murder of the Orient Express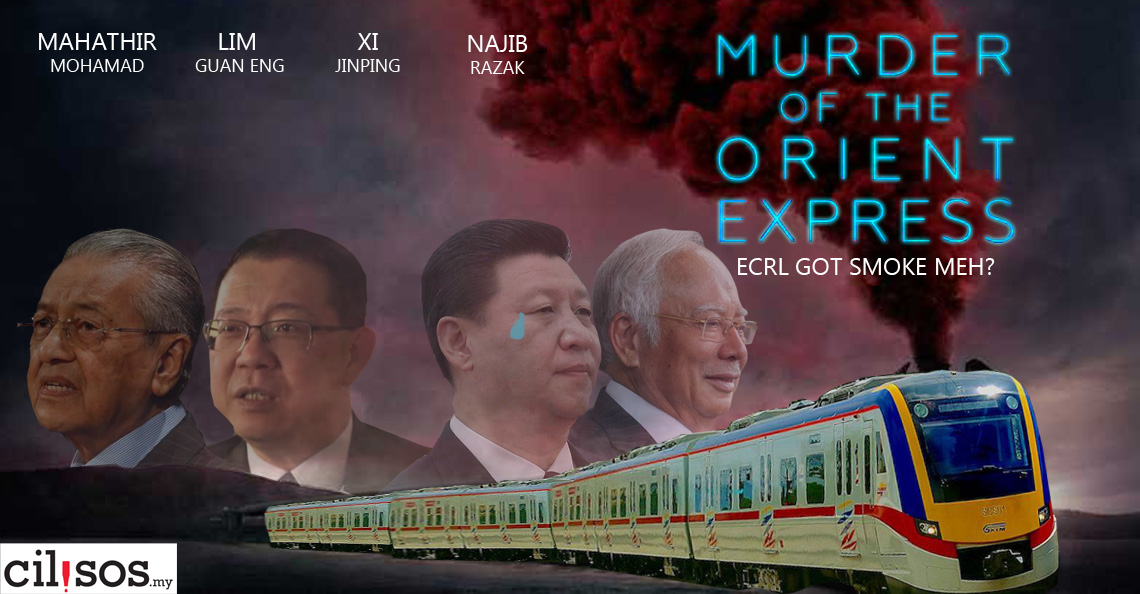 Starring: Mahathir Mohamad, Lim Guan Eng, Xi Jinping, and Najib Razak
Plot: Najeebforatu, the ruler of Malaysialand, had always had a special relationship with Xi 'The Pooh' Jinping, the ruler of Orientland. As a testament to their relationship, they decided to connect their kingdoms through a train line, called the Orient Express. However, the weather did not stay sunny forever. Najeebforatu lost his power, and Mahathir rose up as the new ruler to Malaysialand. Egged on by Lim, one of his advisers, Mahathir put a stop to the physical connection between the two kingdoms, and subsequently the relationship between Najeebforatu and Xi as well. But Xi may have a few cards up his sleeve…
8. Serendi-PD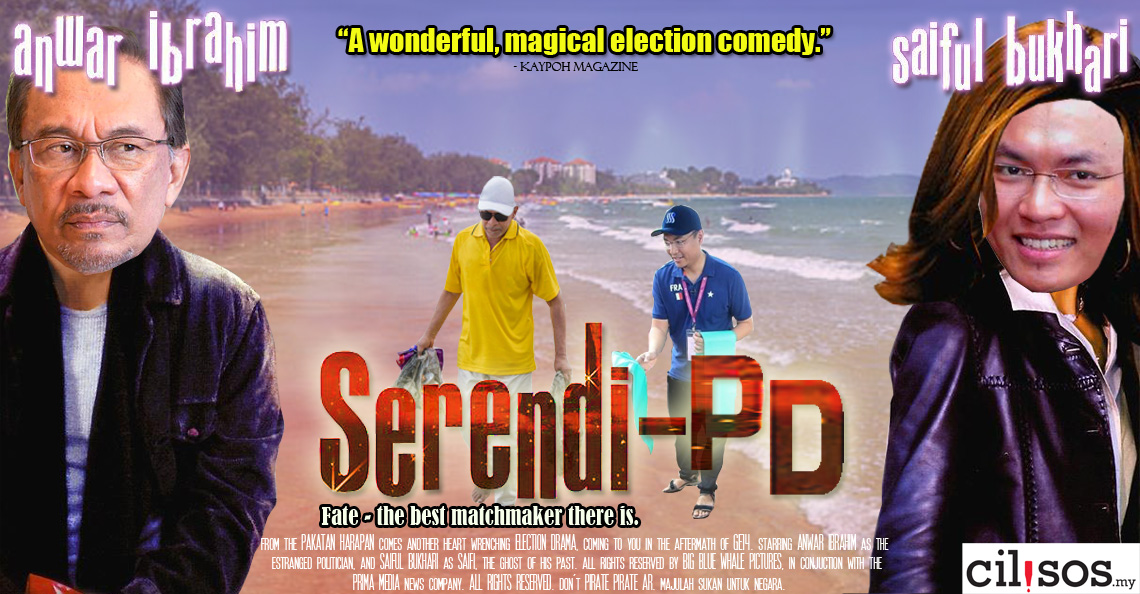 Starring: Anwar Ibrahim, Saiful Bukhari
Plot: Do you believe in fate? Anwar, a high-flying politician, does not. But that's about to change in this romantic comedy brought to you by the people behind Sleepless in Seattle. After a falling out with one of his closest aides, Saiful, they both separated and didn't see each other for several long years. Partly because Anwar was in prison. However, due to a twist of fate, a new government took over, and Anwar was released, once again free to return to his old life. But to get there, he must face several obstacles, one of which is re-gaining the people's trust. The first step is getting back into the Parliament. He engineered a by-election in PD, a beach town, but while he was collecting trash on the beach, a shadow of his past appeared: Saiful! After all these years of separation, they can once again pick up rubbish together on the beaches of PD. Is it fate? Coincidence? Or is it all… planned?
And there you have it. Eight scary (or heartwarming, depending on how you swing) movies to keep you up at night this year. If you thirst for more spoopy thrills, you can check out our past Halloween posters here, here and here. We're stressing again that most of our movies this year are fictional… well, 'most'. We'll let you figure out which ones for yourself.
Now, for the customary spooky article-ending laugh…
Hee.