A really basic article about insurance will likely start by asking "do you have an insurance policy?", but only a true legend will ask you "what kind of insurance policy do you have?".
Even when you're just looking for a "basic" insurance plan to cover yourself, there are plenty of options out there, such as life insurance, medical insurance, and personal accident insurance, just to name a few. And if you're already covered under SOCSO or have a company medical card, what kind of additional insurance should you get, if even any?
If you're already getting dizzy thinking about that, don't worry, we feel you. That's why we talked to Allianz Life Insurance Malaysia Berhad's Chief Product Officer, Ooi Haw Yun to get a better understanding on some insurance plans. While our conversation mostly revolved around life insurance, he also helped us shed light on some general misconceptions. The first one being…
1. "All insurance is the same"
Answer: Got many different types wor
When you're looking for a personal insurance plan, the most common ones you'll see are life insurance, medical insurance, critical illness insurance, and personal accident insurance. Each of them covers different things. To put it in layman's terms:
Life insurance

: You buy this to protect yourself and the livelihood of your loved ones, in case you pass away. For instance, a husband may insure himself with life insurance and nominate his wife as the nominee (beneficiary). When he passes away, his wife will receive a lump sum of money to cover his funeral costs and her living expenses.

Medical insurance

:

You buy this to cover

hospitalisation and surgical expenses

. For example, if you need to undergo a surgery, your medical insurance will cover your hospital bills. But

medical insurance won't cover everything under the sun

(i.e.: giving birth or corrective eye surgeries aren't typically covered), so do check the terms and conditions of your policy contract before you make the commitment.
Critical illness insurance:

People might confuse this with medical insurance because they both cover illnesses. The main difference is, medical insurance covers your hospitalisation and surgical costs, while 

critical illness insurance pays you a lump sum

 amount after you've been diagnosed with a 

critical illness like cancer, stroke, and kidney failure, among others

. 

You are free to use this lump sum payment

for all kinds of things, such as replacing your income, paying your nursing or caretaker costs, and even for alternative treatments like acupuncture.

Personal accident insurance

: You buy this to protect yourself and the livelihood of your loved ones, in case you get injured, suffer permanent disability, or pass away due to an accident. The insurance policy may pay a lump sum if you pass away or become permanently disabled due to an accident, and even pay a smaller amount for things such as dismemberment.
Of course we're simplifying it la, cause different insurance policies will have different benefits and terms & conditions, and the amount insured also varies. But now that we at least know the basics, let's address the next misconception.
2. "Buy one enough dy" … OR … "You should get all of them"
Short answer: No. It depends on your needs and priorities
Walao eh everything also wanna buy ah? No need also. At the end of the day, it all boils down to two things: what you need, and what you can afford.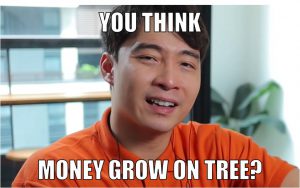 Let's say you can afford all, then by all means, drop that dough! But if you can only afford one or two, then you need to assess your life situation.
Haw Yun gave us some good examples. For one, let's say someone is the breadwinner of the family; and at the same time, this person also has a company medical card and knows he's not leaving the company anytime soon. So, his priority might be ensuring that his family is financially secured if he passes away. In this case, life insurance might be the first insurance he should get.
Or in this writer's case, her previous job involved a lot of driving and quite a bit of climbing in warehouses, so basically plenty of room for accidents. She's also young and doesn't have any dependents, but she thought that SOCSO's maximum benefit of RM118.50 per day isn't gonna be enough in the long run. Thus, she went with personal accident insurance first.
These are just some examples, so if you need help choosing the right insurance for yourself, it's still best to consult an insurance agent.
3. "Only healthy people can get life insurance"
Answer: Partially true, but not always
Now, let's talk specifically about life insurance. We've heard this plenty of times: if you're already sick or dying, you can't get life insurance anymore.
Say that you're already suffering from Stage 4 cancer or other critical illnesses, it might be even more important for you to have life insurance so that your loved ones can move on in life when you are no longer around. But the unfortunate reality is, your options are significantly reduced.
Generally, insurance companies will ask you some health questions like your medical history, and if you're suffering from any chronic disease; or they might require you to go for medical check-ups. Haw Yun says companies do this to help them decide whether to accept or reject your application, and how much coverage they're able to provide you with.
That being said, some issuance of life policies are guaranteed (i.e. the insurance company will accept and issue you a policy regardless of your health conditions). So even if you're unhealthy or you're suffering from a terminal illness, you can still get insured.
However, Haw Yun said products like this are pretty rare, but Allianz does have 2 options that they offer, namely Allianz BolehCover and Allianz 1Cover. We'll give more details about these products at the end of this article, but basically, you don't have to go for any medical checkups. In fact, they don't even ask you any health questions, and you can get your policy approved as fast as 5 minutes! Some terms and conditions apply for the 5 minutes' approval, depending on your case of course.
 So yes, it's still possible to get covered even if you're sick. But can you be too old?
4. "I'm too young / too old to get life insurance"
Answer: False

Ok ok, enough fighting. Haw Yun told us that anyone can get life insurance regardless of marital status or age – from babies all the way to warga emas.
However, he highlighted that the older you get, the more likely you are to suffer from diseases, and you'll likely pay more for life insurance.
This brings us to another factor to get insured – the commitments you have in life. There are two types of commitments, which are life (people who depend on you like your spouse, parents, or kids) and financial (loans) commitments.
As Malaysians, many of us have one commitment in common *coughs* car loan*coughs*. So, while you might not need to leave inheritance for your kids, you may wanna get life insurance so that you don't leave a bunch of debts for your parents to settle in case you pass away.
5. "Life insurance money can only be claimed after you die"
Answer: True… but not always
Since life insurance pays out a lump sum amount upon your death, this would mean your insurance money can only be claimed by your nominee after you pass away. But there are some exceptions.
Some life insurance policies also package together Total and Permanent Disability (TPD) under their coverage, so they might give you a payout if you can no longer work due to injuries, depending on the T&C.
Incidentally, in Allianz's case, under Allianz BolehCover's maturity benefit, if you celebrate your 100th birthday, then congrats! You can get 100% of your insured amount.
But let's be real. While there may be people like this Malaysian guy who actually lived up to 100 years old, the average Malaysian's life expectancy is 76 years old. So, for most of us, our family members or nominees will be the ones getting our money.
"While you can't reap what you sow, you can enjoy peace of mind knowing your family will be financially secured while maintaining their current lifestyle." – Haw Yun.
This is considering you nominate your insurance nominee la. But what if you didn't make a nomination for your policy?
6. "If you don't nominate a beneficiary, then insurance companies will take your money"
Answer: False, and it works differently for Muslims and non-Muslims
One fear that you might have when getting a life insurance plan is that the insurance company would take all of your money, especially if you don't name your beneficiaries, or if your beneficiary also passed away. To make matters worse, some relatives or people close to you might fight over this money right after you pass.
However, Haw Yun assures you that this is untrue and won't happen at all. According to Haw Yun, for Muslims who own life insurance without naming their beneficiaries, the Faraid law will take place and the distribution of the insurance payout will follow that law.
For non-Muslims, this will depend on what's written in their will. If they don't have a will, the surviving family members will have to engage lawyers to settle this. 
But in both situations, the insurance company won't be taking your money, and instead would be assisting you to settle your case. This is also why Haw Yun stresses the importance of nominating at least one beneficiary for your life insurance.
He added that you can also nominate more than one person, but maybe not too many la, ok?
"You can also nominate more than one person but you may want to keep in mind that the share they receive will be divided, and may not be enough to financially help them when you're no longer around." – Haw Yun.
Speaking of which, if you're planning to put your besties, girlfriend, boyfriend, or caretaker (like the nurse in the movie, Knives Out) as your beneficiaries, you may wanna think twice.
Haw Yun said while this may be possible with a will, it may cause legal implications. You can check out some examples of problematic life insurance nominations here.
7. "Saving money is better than getting insurance"
Answer: False
Why do you need to spend money on insurance if you can just keep it in the bank, right? In the end, you'll have the same amount.
To be honest, this writer bought an insurance policy simply because she's terrible at saving money huehuehue. But on the other hand, saving up also takes time. It might take you 5 years to gather RM10,000 worth of savings, but an accident or an unforeseen death (touch wood) might happen before you manage to build up that savings. So while it's tempting to think that you can rely on your savings, you might actually need the money sooner than you expect.
On the other hand, Haw Yun also says that you can kill two birds with one stone.
"Why not, if you allocate 20% into savings, 5% of that is invested into medical insurance, for instance. Then should an unlikely event happen, the medical insurance will pay for it. At the same time, the majority of your savings will still be there." – Haw Yun.
Imagine that you saved up for years then suddenly something bad happens, you'll have to use all your savings and start again from zero. Whereas if something happens and you have an insurance coverage, your savings remain intact.
And if you have life insurance, your loved ones will also get the insurance payout, on top of whatever savings you have. And these days…
Your age and health status can't stop you from getting insured anymore
While insurance can be a daunting subject, our friends at Allianz want you and your family to get life protection (err… not that kind) in the simplest way possible. That's why they made it super easy with Allianz 1Cover and Allianz BolehCover.
As we mentioned before, both policies require no medical check-up, and Allianz doesn't ask any health questions whatsoever. They're also very affordable, with premiums starting from RM0.85 per day for Allianz 1Cover and RM1.65 per day for Allianz BolehCover. That's basically the equivalent of eating a roti canai per day.
Allianz 1Cover is available for those aged 16 to 45, and the coverage lasts for 30 years. Meanwhile, Allianz BolehCover is available for those aged 46 to 70, and the coverage will last up to the age of 100, so even the warga emas are eligible for this protection plan, and can lessen their loved ones' financial burden after their passing.
We're sure there might be more misconceptions you have about insurance other than the ones we listed in this article. If you do, then feel free to ask your insurance agent or, if you don't have one, you can also get in touch with an authorised representative from Allianz here.