Us Malaysians are obsessed about number plates. Way back last year, we found out that there are number plates available in Malaysia for up to RM775,000! But you'd never guess what number plate it was.
YEA. We know right?
ANYWAYS… we figured you guys could definitely do better than that. And so the nice people at Volkswagen have decided to sponsor a CONTEST for the most creative number plates in Malaysia! 
In case you need incentive to join, check out the PRIZES :
GRAND PRIZE WINNER: Drive a limited edition BEETLE CLUB for a week (one of only 50 in Malaysia imported from Mexico yo! T&C apply la of cuz) & a limited edition Volkswagen Touch & Go card 
CONSOLATION WINNERS: a limited edition Volkswagen Touch & Go card 
BONUS PRIZE: exclusive Volkswagen merchandise for existing Volkswagen owners 🙂 
HUAT are ze Germans up to?!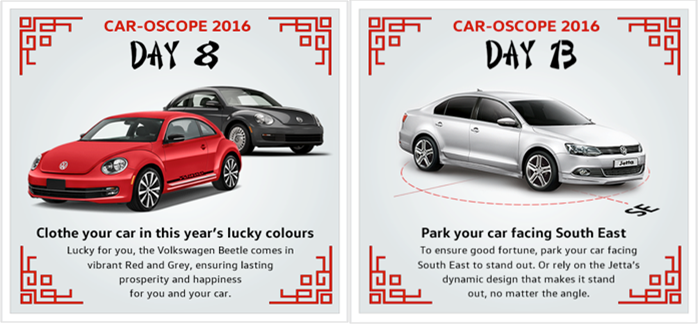 In this year of monkeys, Volkswagen is hosting a playful little thing called the CAR-O-SCOPE. Everyday, there's a new ONG opportunity to help align the luck of your car for this year.
To help this along (and for the non-believers), Volkswagen is also offering awesome rebates for trade-ins on their Passat, Jetta, Polo and Beetle ranges. Check em out HERE!
But FIRST, some rules!
Ok sure you interested to join right? Chillax… some very important ground rules first.
No dirty words please ya (Duh. Sponsored content wei bro)
You must create a number plate that actually follows Malaysian formatting. (e.g.

WTF 8888 / C 8888 S

✓

,

M0N K3Y

✘

). Feel free to use any combination that might realistically be used on Malaysian roads.
Be more creative than just 8888 la.  Oh and make sure you explain the meaning as well. We wanna know cos we banana.
Contest closes 3rd February 2016!