[Update 17/3/2020: Aite guys, you'd probably already be aware of the Covid-19 restricted movement happening right now. In light of that, our friends at GSC are suspending business till 31/3/2020. Stay safe, ugaiz.] 
The movie that you've been waiting for an eternity has FINALLY been released, and it's time to hit the cinema to watch it in all its glory. You've got your popcorn, the best seats, your movie buddy beside you. But… just how tragic would it be if someone were to.. just… y'know… kick your chair the whole time?
In one of our previous articles, we asked our readers to tell us the most annoying cinema habit that they absolutely canNOT stand, and the answers are pretty hilarious! Well, infuriating, but funny to us 🙂
Plus, from our recent Great Malaysian Movie Survey 2019 with our awesome sponsors GSC, we found out that Malaysians can get pretty geram in the cinema, but cos they're nice, 24% actually said they won't tell others off at the cinema. So, take this article as a favour Cilisos is doing for y'all k!
Grab your popcorns as we bring to you… 6 annoying cinema habits in Malaysia that grinds everyones gears the wrong way:
1. Unsolicited public commentators. Eh just shaddap la!
Movie at time of incident: Star Wars: The Rise of Skywalker 
Proposed punishment: "Put him in a cinema filled with people like him who won't stop talking and they'd all end up not being able to watch and enjoy the movie because of people like themselves." 
Now, you'd usually get stories from people complaining about strangers in the cinema, this one was a bit… different. Wai Yee tells us that it was her first movie date with her boyfriend, and obviously she was excited about it. But then, something disturbed the force…
"He kept commentating during Star Wars and making weird sound effects that I quite literally cringed every single time he did that. I tried my best to shush him every now and then because I am quite sure that the man that was sitting beside my boyfriend was about to lose his temper!!!" – Wai Yee
Despite the awful movie date, it seems like his cinema behaviour didn't send her to hyperspace as she tells us that she loves him to bits, and still does today, but… "Omg no more movies with him in public!" (Aside to said BF, Wai Yee's a keeper!)
2. B.O. so rancid, it pierces through your nose O_O
Movie at time of incident: Can't remember because couldn't even focus, 2007  
Proposed punishment: Didn't say, but Cilisos thinks having a rotting bag of soya bean permanently hiding in your bedroom would be reasonable 
Aha! Another stinko de mayo entry!
If you thought the timed farting was bad, then you're in for a treat. Hakim had planned to meet up with an old friend for a movie, but somehow or rather his friend bought a couple seat instead of the standard single seat.
"Because it was a couple seat, he put his arm at the back of my seat. His armpit smelled so bad, like a lori sampah, piercing through my nose, and made me super nauseous.

It was so rancid, seriously I'm not lying. In the end, I went to the toilet twice and each time I came back to my seat, I leaned onto the edge of my seat, far away from his armpit. Him on end, me on another end." – Hakim
Poor Hakim couldn't even tell his friend, cause he felt guilty about it! He adds that he couldn't even focus on the movie because of the ordeal. When asked what he wished he could do, he said: "Maybe I'll just say, "Ketibus (ketiak busuk) la you", or maybe buy him a deodorant as a gift. But if I were to smell it again, I think I'd rather cabut than have a lifetime trauma."
3. Partial blindness from large objects
Movie at time of incident: How to remember when they couldn't even see it? 
Proposed punishment: Didn't say, but if people tall or big not their fault right? Just find out what milk they drank growing up and use it for your own kid lor 
You know how sometimes, you make a decision, get advised not to do so, continue pushing for your way, and live to completely regret it? Well… this happened to Mel Abd Halim Sali, a Sabahan with a hilariously sad experience.
Jeffri was sitting behind a guy with a helmet on. As it was blocking his view, he told him to take his helmet off. "Helmet guy told me that it's okay, that I'll regret it… but in the end I managed to make him remove his helmet." What happened next completely got him by surprise.
"Once he opened it, his HUGE afro unfolded and it was TWICE the size of his helmet!"
If you've followed us for a while, you'll know that we also once had a writer with an afro, called Adly. So we asked him what he'd do if he went to a place like a cinema: "I know that my 'fro will block everyone, so I'd naturally just sit lower so as not to disturb others."
So actually a lot of readers also said that they get annoyed when people block their view – could be a taller or bigger sized person, but tbh all that can't really be helped la. But what grinds a lot of people the wrong way is when you get HUGE hair (like RM4.2 billion kinda huge) blocking your view. Pakai hairband la pls!
4. ? NOT ? RESPECTING ? THE? SEAT ?
Movie at time of incident: Unspecified 
Proposed punishment: "If there was an eject button, I'd definitely boot her off her seat and ban her from all cinemas." 
So, Lyn tells us that she has two things to pick a bone with – people kicking her seat, and people putting their feet up on the seat in front of them. And to be perfectly transparent, this behaviour was the MOST popular complaint so if you're doing this, err… pandai-pandai lah k? You're really annoying k.
Lyn even managed to snap a photo of the incident: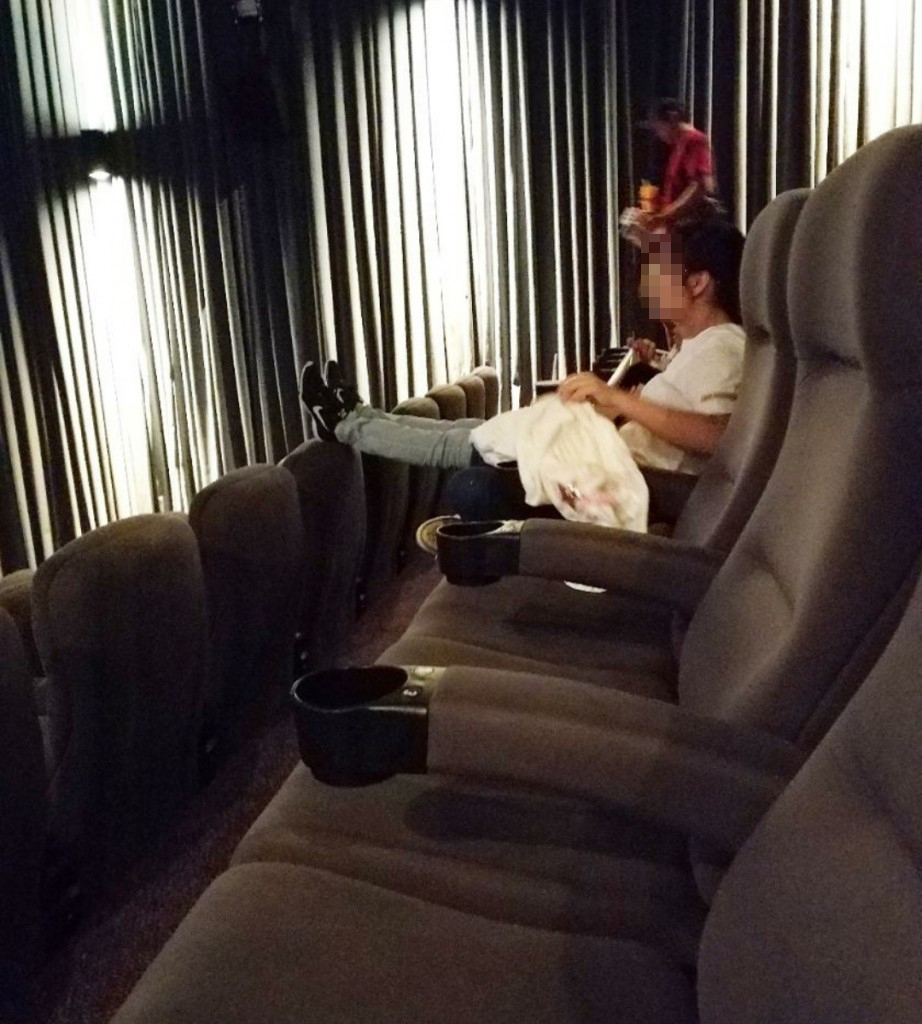 "Bear in mind that her shoes have trudged everywhere, including the washroom before she nonchalantly rested them on the headrest!" – Lyn
Actually right guys, this is SUPER gross, but we honestly don't think people don't know this. They probably just don't care ¯\_(ツ)_/¯ (And to this we say, NOBODY LIKES YOU.) Studies have shown that we step on actual fecal matter more than we know it, so putting your feet up is like… putting a pangsai-soiled diaper to someone else's head!
But beyond that, it's only civil to NOT affect anyone else's seat but yours. This means doing whatever you can to avoid kicking the seat in front of yours, sitting cross-legged to touch the next person's thigh or seat, shaking your legs till the whole row thinks there's an earthquake… It's really annoying la guys. You're not the only one who paid to watch the movie, k?
5. When other people eat your movie food >:-(
Movie at time of incident: Dr Sleep, 2019
Proposed punishment: "Seizing the means of popcorn" 
Popcorn and movies go together as well as nasi lemak and sambal. Now think of the horror of eating nasi lemak after someone took all your sambal, and you can probably imagine the pain Gavin felt when his bucket of popcorn did a Thanos snap and half of it just vanished. But the villain in this story isn't Thanos, but Gavin's own friend!
"I gave my popcorn bucket to my friend for safekeeping to reduce my intake but he started munching on my popcorn!" – Gavin
Many of us have finished our popcorn before the movie starts, but when it's cos your trusted """""friend""""" behind it, it does hurt a lil bit more la. Which is perhaps why you can understand Gavin's suggested punishment of popcorn confiscation for those who keep munching on the snacc before the movie even plays.
However, we'll have you know that for you hungry souls out there, we may just have the solution for your pre-movie hunger pangs. In case you didn't know, GSC's new Aurum Theatre has an exclusive restaurant in-house: Jin Gastrobar. Like forreals, check out the fine dining experience you'd get:
We heard that the food is pretty onz gila babs, and anyone can head there to eat – even if they're not there to watch a movie.
6. That one guy who keeps melatah in the movies
Movie at time of incident: A Quiet Place, 2018
Proposed punishment: Not mentioned, but we'd suggest having someone melatah right in his ear the second he starts falling asleep 
So in case you have the privilege of not having experienced someone who tends to 'melatah', it's basically when someone, after being surprised or shocked, reacts with random screams, curses or uncontrollable laughter. Now imagine that behaviour in a cinema hall, where you're supposed to be quiet, so that you can enjoy a movie…
"I was watching A Quiet Place, when there was this guy who kept melatah oi. Every suspense scene also he melatah. Nicely watching a horror film when it became a comedy seeing all the random things that he spurts out," – Mr Jupiter
Incidentally, the whole concept of melatah-ing has a pretty interesting history. For a start, most people regard latah as a condition that mostly affects only Southeast Asia. The earliest mention of latah in recorded history is from 1849, when British lawyer J. R. Logan wrote about it during his travels in Malaya. Even Frank Swettenham wrote about it in his 1895 book Malay Sketches when he saw two cops melatah-ing after being pranked by their colleagues!
If you want…. send this article to your annoying friend at the cinema 😉
Share it to your annoying moviegoer friend, or just post it on your social media as a subtle hint to them, and make sure they get the hint! Alternatively you could also just share it as a PSA of what not to do at the movies la.
And of course, there are plenty of other annoying things Malaysians do in cinemas but we can't possibly cover everything la woi, later become Kamus Dewan then how? But here are some pretty popular pet peeves that our readers shared:
People getting wild in the movie (and by that we don't mean just kissing but hands moving everywhere)
People who have stinky popcorn breath who breathe hard (keep your breathing to your own personal space – no need to exhale so hard bruh)
Parents who bring their kids in for 18-rated shows, and parents who don't control their kids when they misbehave in the cinema (P/S: GSC has PlayPlus for families, if you didn't know)
People who react at every. Single. Scene. (umm we get that Insidious is pretty scary but it's your shrieking that will haunt the rest of us)
People who use their phones to text constantly (at least bring down the brightness to the minimum la)
People who take off their shoes (PLEASE SMELL YOUR OWN FEET FIRST OMG) and fart quietly
People who come in late and can't find their seats (we're here to watch the movie, not see you stumble around)
Aaaanyhoo… If you want to experience something completely different at the movies tho (and we don't mean the bad kind), why not check out GSC's new Aurum Theatre in The Gardens Mid Valley (KL) and Mid Valley South Key (JB)! They've got a variety of cinema halls to choose from – even got bed! – and if you feel like indulging in a succulent meal before, check out the accompanying Jin Gastrobar too.
You can click here for more deets, but in a quick glance GSC's Aurum Theatre presents you with:
Getha Lux Suites –  the ultimate experience in cinema comfort, featuring two-motor luxury recliners.
Comfort Cabins – the classic Gold Class experience with privacy panels, a side table for in-hall dining, wireless chargers and compartments for personal belongings.
Escape Studios – three different Escape Studios present you the choice of the Hygge Hall with Scandinavian comfort, the Diptych Hall that doubles as a tribute to Andy Warhol, and the Tenenbaum Hall that's inspired by the filmmaker and auteur Wes Anderson.
[Update 17/3/2020: Aite guys, you'd probably already be aware of the Covid-19 restricted movement happening right now. In light of that, our friends at GSC are suspending business till 31/3/2020. Stay safe, ugaiz.] 
And becos our friends at GSC really love you guys kaukau, they've even got a new promo for you lucky peeps in Johor! 

From now till 31st March 2020, purchase any Aurum pass and you'll get a free Pineapple Passion mocktail at Jin Gastrobar! There's also a special bonus on Tuesdays, where you can enjoy one serving of their super delicious Gourmet Popcorn at a whopping 50% off. (Popcorn promo limited to first 50 customers only.) Valid only at Aurum Theatre in Mid Valley Southkey JB yea.
For more details and T&Cs, click here!
So what are you waiting for? For the best in movie experiences, head to GSC's Aurum Theatre. Since everyone's paying a lil more money for the super luxe experience, surely everyone will be on their best behaviour 😉