How often do people get the chance to eat at Michelin star restaurants? Half a month's salary, gone in one night. Poof! So, you can imagine we were flipping somersaults (not Krabby patties) last Saturday when we were invited to Tiger STREATS, an event where TWO chefs from Michelin-star awarded restaurants combined powers in a street-food-fine-dining mashup.
We're sure most of you have heard of the first ever hawker to win a Michelin star in Singapore, Chan Hon Meng. Hawker Chan, who was born in Malaysia, and operates a chicken rice and noodle stall, worked with Jeff Ramsey, also a Michelin-starred chef, who owns Babe, a fun (fine) dining 'Japas' (modern Japanese tapas) restaurant in KL.
Actually, Hawker Chan has been flying to Sydney, New York and Auckland, collaborating with other fine dining chefs to bergambung the best of both worlds for other Tiger STREATS events.
Ok, back to last Saturday, over 700 people came for the event at MH Platinum Warehouse in Setapak. Admittedly we thought it was a weird location to have this and joked that it was a ploy to kidnap us to Thailand. When they finally opened their doors…
We travelled through time and wound up on the streets of KL in the 1950s
They did up the warehouse to look like the streets of KL in the Fabulous Fifties. Old-fashioned shop lots with rusty shutters, weather beaten walls, posters of retro Tiger beer ads, and hawker stalls in different corners to give it a street food feel. We should've showed up wearing cheongsams, like when our grandmothers were young amois. But no, most people probably would not want to see some of the CILISOS staff in cheongsams (coz hairy legs).
Before the food was served, we all had fun playing at the tikam wall to win those school kedai snacks like Choki Choki, Ding Dang, Popo muruku ikan, etc. The game is simple, one person tears off a number from the wall and another person tears off another number. We got 7 and 8. Combine that and we could either pick our prize from number 78 (which was Choki Choki) or 87 (which was bubble gum). We went for Choki Choki la, of course 😛
Feeling too malas to stand for so long and because we didn't wanna bluff the tikam wall operator that we haven't had our turn yet, we parked our butts at our tables. Wowzzerss it was a fine dining setting, with salad plate on top of service plate, followed by napkin, but using those typical hawker plastic plates and chopsticks. BTW, this was our menu for the night:
Everything was described so tantalisingly on the menu, we were ready to eat the paper…
Eating the food was even better than reading it on the menu. Wheee 😀
By the time the food arrived, people were ready to mogok from starvation aldy (or maybe that was just us). The first dish, called 'Down the Rabbit Hole', sounded very vague on the menu. All that's written was that it contained gluten, coconut milk, shrimp, peanuts, anchovies and eggs, so we were like, oooh, what's it gonna be?
It arrived like some kind of orange-coloured purée in test tubes with cork plugs. Like Alice In Wonderland, they had 'Drink me' tags and Tiger labels pasted on the test tubes. So we terus downed it and it hit us that the flavours tasted super familiar, of course everyone started throwing guesses. Then somebody said the answer was revealed at the back of the Tiger label once the glass cleared. Some of us got roti banjir, otak-otak, chicken rice, chicken satay, etc.
While people were makaning, live acts Rozella and Son of a Policeman performed on stage. They were Tiger Jams finalists which we wrote about in a previous article when Chvrches came to Malaysia. Tiger Jams was an event that set out to find local talents through collaboration with their selected international act, which was Chvrches, a Scottish synthpop band.
Ok, back to the food… 'Laksa Injections' was the second appetiser. Served on a sharing platter were three types prawns that had tubes filled with assam, curry and Sarawak laksa. Hard to imagine, so good thing we have a photo of it (right). We were supposed to pop the prawn in our mouths and squeeze the contents out of the tube. Sedaps! Somehow eating it in this unique way made it extra yummy.
At last we came to the main course which was the famous Michelin starred soya sauce chicken rice. If we weren't sharing tables with other people, we would have actually sapu all the food – from the test tube, to the prawns and now this. But of course being brought up right by our parents, we had to share.
The famous chicken was braised with Asian herbs and spices, served with long grain rice. For those of you who usually prefer to order chicken drumstick or thigh (#teamdrumstick 😛 ) because you find chicken breast to be dry and unfriendly, well, this was NOT one of those times! Hawker Chan's chicken was tender no matter which part we ate.
Finally they served dessert, a dish named 'Two Makes a Blossom'. Chef Ramsey and Hawker Chan worked on this together to create a unique combo of Asian pears with a rosewater and honey mousse, flower jelly, fermented roselle and its syrup, and mint garnishing. Walao… it was an explosion of creamy, milky mousse, with a light scent of rose, tanginess from the syrup, with textures that were crunchy from the pears, at the same time berjelly thanks to the jelly.
From one dish to another that evening, we felt like: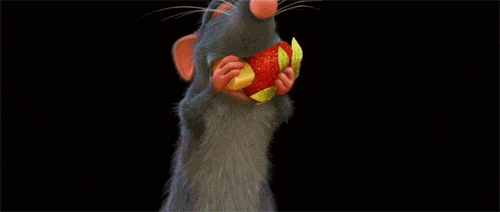 And it wasn't over yet…
At 9pm they opened the hawker stalls for MOARRr food
You know the hawker stalls we talked about just now that looked part of the decoration to give the warehouse a street food theme? Turns out they were not just for decoration. At 9pm, they opened the stalls to serve more food, which guests could claim using coupons. Long lines formed as people queued up for chicken varuval appam and nasi lemak appam by Hoppers, cincalok popcorn chicken by Chocha Foodstore, fried cempedak ice cream and roti ice cream (teh tarik and onde-onde flavours) by Inside Scoop and loh mai kai by Tujo Bar-serrie & Grill.
Tiger's brand ambassadors went from table to table with games. They had a basket of kacang which we were supposed to pick up with chopsticks. The aim was pick up 10 biji of two types of kacang in 45 seconds. We failed miserably the first round and seriously doubted our Chinese ancestry. Then Chef Ramsey and Hawker Chan who were walking around got dragged into our game. It was them against our intern Klaus and his friend Kash. Good thing Klaus brought honour back to CILISOS when he and Kash won!
So we thought they were going to call it a night, but then the emcee announced that in conjunction with CNY next year, guests were going to toss some yee sang. But instead of the traditional one, they had some unexpected ingredients such as dried prawn crackers and satay sauce. Food was just raining that night, man! (And we literally made it rain yee sang trying to toss as high as we could, hurhur).
And then after yee sang, they served…kidding kidding, that was really the LAST thing they served (well, apart from beer la). So yep, that was it. They finally called it a night.
We were expecting the unexpected, but in the end, it was way more unexpected than we expected. LOLwut? Does that make sense? Nope? Neither does combining the powers of a fine dining chef and a street hawker…or so we thought.