Crime
Culture
Technology
OMG, this Malaysian state is kinda becoming that scary Black Mirror episode… like China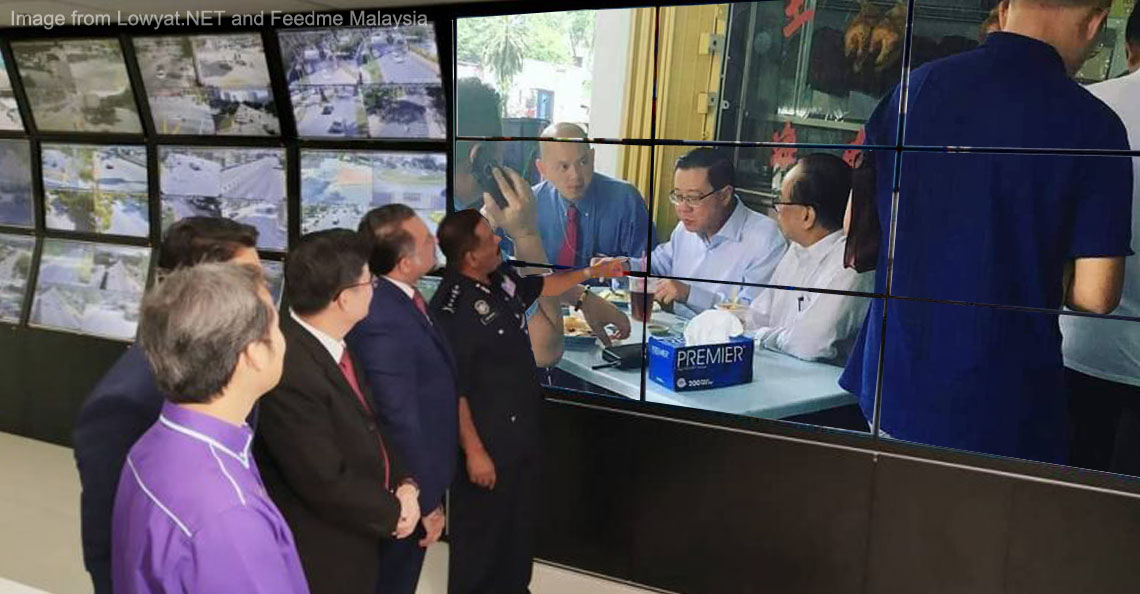 Sometime last year, we pretty much freaked out when China literally turned into one of Netflix's Black Mirror episodes (uh… this isn't a sponsored content by Neflix but we wish it is). If ugaiz haven't watch that episode of Black Mirror, it actually portrays a society whose reputation is built based on a social media score system. This means the higher your score is, the more reputable you are in the society lor.
And China implemented sumthingggg quite similar to that. Biometric facial recognition cameras (cameras that can detect your face and identity) were installed throughout China which not only detect your whereabouts but also your social credit pointers based on your daily activities.
And guess what? Apparently, a state in Malaysia will be turning into China too! Dun, dun, DUNNNNNNNNNN(!).
Penang has recently launched 767 CCTV cameras equipped with the facial recognition technology. Not only that, the cameras are featured with artificial intelligence thanks to IBM.
But don't panic just yet cos, unlike the system in China, Penang will only be using this system to detect and track down criminals on the streets. Aiyer, panic for nothing leh. #ihatecilisos We also found out that Penang's move to integrate this technology to its CCTVs isn't just to catch criminals… but then for what?
Penang has been secretly turning itself into a futuristic city with all these techs!
Uh, Penang didn't install all these cameras in a day (or a year if you wanna be logical) la. When we searched further into this topic, we found out that Penang has spent RM46.2 million to install 767 CCTV cameras around the island… since 2008! Wah, that's more than 10 YEARS AGO wei!
The Penang Island City Council (MBPP) mayor, Datuk Yew Tung Seang mentioned that the technology had been integrated into the CCTVs in stages from December 2017 and it will be continued until 2020. While most people may perceive Penang through its food, drivers and… er… its previous Chief Minister, Lim Guan Eng's bungalow's scandal, the state has been secretly turning itself into a smart city.
"The project is meant to turn the state into a smart city. Among the components in the project are the development of an Intelligent Operation Centre (IOC) for city planning and data collection, and video analytics to monitor traffic congestion, detect abandoned objects and measure water levels." – Datuk Yew Tung Seang told The Star.
A smart city is basically a city which uses different technology to gather data that would help supply information which may be useful for the gomen to manage assets and resources efficiently. The data includes those gathered from citizens, devices and assets that are processed and analysed to monitor various system. In this case, the data would be used to prevent crime lor.
Currently, Malaysia is working its way towards realising the smart cities (cos Penang isn't the only smart city in Malaysia) vision under the 11th Malaysian Plan 2016-2020 (yes, the 2020 vision). At the time of writing, we found out that Malaysia is ranked the 84th country in the list of smart cities around the world, according to Juniper Research. Yet, we're still faaaarrrr away from our kiasu neighbour who tops the list.
But, according to the managing director of NEC Corporation of Malaysia Sdn Bhd, Chong Kai Woon, Malaysia is right on track in realising the smart cities vision.
"In fact, we are already living in a smart city when we start using a mobile application to pay for parking." – Chong Kai Woon told MalaysiaKini.
And we can already see it in Penang's implementation of facial recognition technology in its CCTVs! Although this technology may seem like a good move, some people may be worried about a few things…
Eh, does that mean the gomen can see what we do in private?? 😮
It was reported that the cameras installed throughout Penang are able to rotate and zoom in on the subjects at populated areas and busy streets. Heck, the cameras can detect you if you're at the beach or hillsides on the island! Wadahecckkkkk? Does that mean there will be cameras following Penangites like those in The Truman Show (you're probably too young if you've never heard of this movie)??
So this raised some questions from several experts in terms of privacy la. A constitutional lawyer, Syahredzan Johan suggested that the use of these CCTVs must be confined only to public spaces for law enforcement purposes and shouldn't intrude their personal space. Aside from that, Bar Council Constitutional Law Committee, Andrew Khoo told The Star that there should be check and balance to avoid the breach and violation to the right of life.
Universiti Sains Malaysia (USM) criminologist, Dr Geshina Ayu Mat Saat, on the other hand, pointed out that these CCTVs shouldn't be the only crime preventive system. She also added that the databases should be periodically updated just in case a person's facial structure changes due to ageing or accidents.
"Another related issue are people who are not in the database, for example people who are without ICs, passports, or other forms of identification and stateless children." – Dr Geshina to The Star.
Oh, it's not just that. What will happen if the suspect has a twin? Or someone who may look like the suspect?? Dr Geshina pointed out that some people who share common features could be wrongly identified. In fact, China's facial recognition system had once mistakenly identified a celebrity's face on a moving billboard for a jaywalker!
Dong Mingzhu, a chairwoman of China's biggest maker of air conditioners, found her face splashed on a huge screen along the city of Ningbo that displays images of people caught jaywalking by surveillance cameras. Yeap, China publicly displays your face if you're caught jaywalking!
However, the Penang police chief, Comm Datuk Seri A. Thaiveegan assured the public that there will not be an issue of privacy infringement.
"Only the police will know the details of the case for which a person is wanted. No third parties will have access to these details." – Datuk Seri A. Thaiveegan told The Star.
The police will only be alerted when a face resembling those on the police wanted list is detected and seen at the 24-hour CCTV Control Room in Komtar. Penang police headquarters will then send its officers to check out the suspect at the scene. In the meantime, the camera will track the suspect on the move until police officers arrive.
So, don't worry, gais. You can shishi in peace without worrying if somebody's peeping on you through a CCTV.
Cops elsewhere have been eyeing to copy Penang's move ๏_๏
Penang's Chief Minister, Chow Kon Yeow hoped that the implementation of facial recognition CCTVs will become a national initiative. As a matter of fact, we found out that cops in Johor are more than welcome to implement this in its state to prevent crime.
Johor CID chief Senior Asst Comm Kamaluddin Kassim said that facial recognition technology could be a great asset for the police and would give them a great advantage in fighting crime. Iskandar Puteri (a smart city btw) Mayor, Datuk Adib Azhari Daud added that this technology would be a good addition to the existing street CCTVs in the Iskandar Puteri City Council area which is currently used to assist police in investigation and traffic matters.
We also found out that, at the time of writing, the Penang gomen may have some plans to install another 150 cameras by May. Kon Yeow had also mentioned that the state may need 3,000 to 5,000 cameras to secure optimum level of coverage in keeping the state safe. Walaoweh!!
Unlike Netflix's Black Mirror, Penang's CCTVs may track a suspect's movement butttt it won't give us any social media score whatsoever la. But, the next time ugaiz think of going around and do notty stuff in Penang, just remember that someone is (probably) watching. 😉