If you are reading this, you're probably wondering… huh? Have Cilisos turned into a popular entertainment website that gets millions of views and shares every day?
Nah, not really. Despite the #newyearnewme hashtag going around like the influenza virus, we're still the same news website, so these 'movies' we advertised in the title are actually based on real events. With so many new things promised for/happening in 2020, we thought we'd write an article about it, and throw in some movie posters for good measure.
So without further ado, we present to you some things you can expect this year, starting with…
1. The bill to abolish mandatory death penalties
Release date: March 2020
Genre: Dunno. One of those psychological movies that you can get out in the middle for a smoke break and still not miss anything.
Synopsis: When the new Pakatan gomen took over two years ago (wah, so long ady!), they set out doing stuff to keep up with the promises that they've made before GE14, and one of them is the 'abolition of cruel laws' (Promise #27). And what could be crueler than sentencing people to death with no way out? While they tried to abolish the death penalty altogether, one thing led to another, and only the mandatory death sentences will be abolished.
In other words, you can still be sentenced to death, but now there are alternatives to death as a punishment. Anyways, last we heard, the Minister in the Prime Minister's Department (Law) Datuk Liew Vui Keong said that they're still studying alternative punishments or something, but the Bill to abolish mandatory death penalties is expected to be tabled in March 2020.
2. Some inconveniently-placed public holidays
Release date: It's already started, bois!
Genre: Frustrating rom-com that teases you with conflict when everyone already knows how it will end.
Synopsis: Being the typical Klang Valley office workers that we are, of course even before 2020 we've already plotted out next year's long weekends and whatnot to make the most of our meagre leaves (and strategic MCs). But 2020's not looking good. Quite a number of public holidays either fall on Saturdays (meaning that you won't get it replaced) or fall smack in the middle of the week. Here, have a look:
But it's not all bad. We'll get 8 long weekends this year, and the next one's in… May. Sigh.
Still, this list is pretty KL/Selangor-centric, so you might want to check out the full holiday list from here.
3. Cheaper tolls and petrol (for some people)
Release date: Some have released, some maybe in April.
Genre: Comedy drama with car chase scenes.

Synopsis: This is mostly based on what was announced in Budget 2020, but we can expect cheaper tolls for a lot of highways starting 2020, and those in the B40 and M40 groups can expect to get a subsidy for RON95 petrol starting March or April this year. For tolls,
PLUS rates are planned to be reduced by 18% (not implemented yet)
KESAS, LDP, Sprint and Smart are planned to adopt a congestion charge, which will result in 70% cheaper rates during peak hours and no rates during off-peak hours (not implemented yet)
The tolls on the second Penang Bridge reduced to RM7 from RM8.50 (implemented as of Jan 1, 2020)
For petrol, there is a Petrol Subsidy Programme (PSP) planned, with Bantuan Sara Hidup (BSH) recipients planned to receive RM30 a month for car owners, and RM12 a month for motorcycle owners. Non-BSH recipients will get a card (the Kad95) which will enable them to buy RON95 petrol with a 30 cents discount per liter, or 40 liters a month for motorcycles. However, people won't be spray painting their cars gold yet, because it seems the PSP program have been postponed indefinitely, due to problems with recipient databases and some economic stuff.
4. A possible minimum wage increase in some places
Release date: Supposedly Jan 2020, but unclear whether released yet or not. coming into force on February 1.

Genre: An episode of Suits when you don't understand English.
Synopsis: It's a minimum wage movie, and we've already written a whole piece on that if you're not familiar with it. So after much debate and protests from both workers and employers within the past two years, the minimum wage is now RM1,100, but in Budget 2020 it was announced that some places will get it increased to RM1,200, and last month the 57 places nationwide to get that was announced.
It was supposed to come into effect on 1 Jan 2020, but last we heard, the employers are still worried about it and asking for a deferment, so it's unclear whether the gomen will cave or whether it has been implemented or not. And yes, someone pointed out to us that 'hem and haw' isn't a commonly used phrase in Malaysia, but the poster's been done.
[UPDATE 14 Jan: The bill has been gazetted, and it will come into effect for 56 places on February 1.]
5. 5G internet getting rolled out
Release date: Loading…
Genre: Loading…
Synopsis: Without boring most of yous with tech talk, suffice to say that 5G is a step up from the 4G Internet that we've been using, and it has been in wide use since last year. Malaysia is getting into this technology, and we're like one of the earliest in Southeast Asia to do so. Tests on the technology had been going on in Langkawi for the latter half of last year, and it was reported that so far, the results have been promising. With any luck, we should begin to see implementation by year's end.
6. The use of a new ID card in Sabah for non-citizens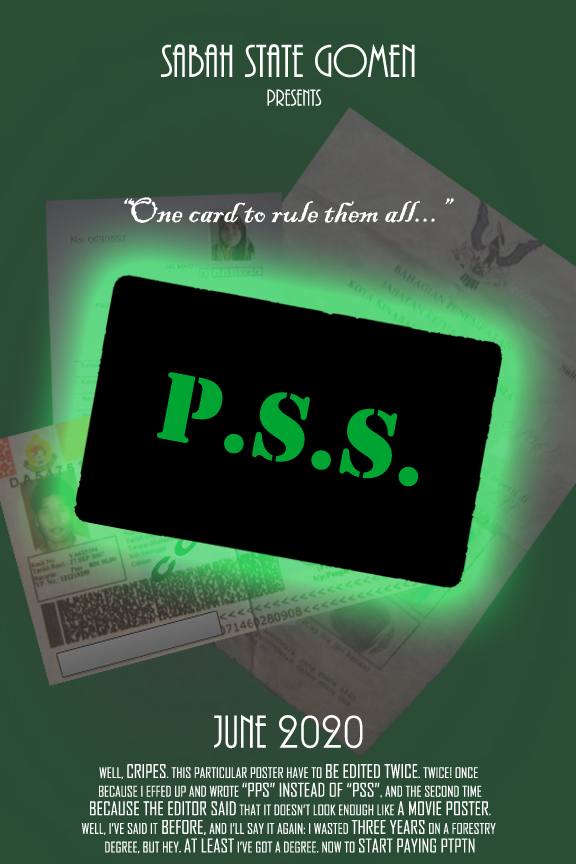 Release date: 1 June 2020
Genre: MMORPG
Synopsis: This has actually been announced since last year, so we've written an article on this that you can check out. In case you haven't heard of it yet, the government of Sabah is introducing a new form of identification for some 600,000 foreigners living in Sabah, and it's called the Pas Sementara Sabah (PSS, or Sabah Temporary Pass). The PSS will standardize the identification of these foreigners by replacing the three kinds of identification they've been using: the IMM13, the Kad Burung Burung and the Census Certificate. Despite concerns over it, the PSS is planned to be rolled out in June 2020.
7. Hitching a bike ride
Release date: 1 Jan 2020, airing for a trial period of 6 months
Genre: Rom-com with a dash of gangster
Synopsis: Although initially a headache for the gomen, they've recently decided to allow motorcycle e-hailing services in Malaysia again. This was seen after the previously-banned local startup Dego Ride started operations on Jan 1 this year with 700 approved riders making their rounds in Klang Valley, Shah Alam and Putrajaya. Youth Minister Syed Saddiq have also mentioned the possibility of at least two other bike-hailing companies – Grab and Gojek – entering the fray in the near future. Grab has been reported to start their services, but only around KLCC, Bukit Bintang and Chow Kit. However, as of the time of writing some have pointed out that the services have yet to be formally regulated.
8. Getting registered as a voter (for 18 and above)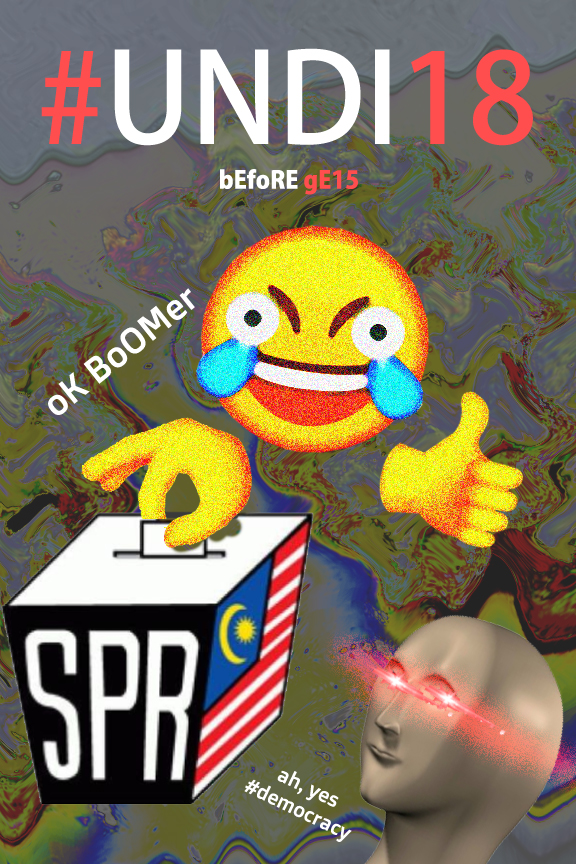 Release date: Maybe this year, maybe the next. But most probably the next.
Genre: Pastries and baked goods
Synopsis: You've probably heard of the long-running move to allow Malaysians to vote as early as 18 years old, and the heated discussions that followed. Well, all that's behind us now, and last October it was announced by the Election Commission's chairman Datuk Azhar Azizan Harun that they expect to not only allow 18-year-olds to vote, but also implement a working automatic voter registration system sometime within the next 18-24 months, or as soon as possible. Until then, they will run a campaign to update the voters' addresses and engage with political parties on the new ruling.
9. Enforcement of no-smoking law
Release date: Supposedly last year, but somehow got postponed to Jan 2020.
Genre: One that's approved by the Association of Concerned Moms Against Cigarette Smoke
Synopsis: Starting 1 Jan last year, all eateries in the country have been gazetted as no-smoking zones by the Health Ministry. But while it was said that the first six months of 2019 will be a sort of grace period before they start handing out fines to people who smoke in restaurants, complications happened, a group of people challenged the ruling in court, and to simplify a drawn-out drama the grace period was extended to a whole year.
With the grace period ended starting this year (despite the challenge to the ruling still being appealed), the government is bent on enforcing the ruling, with 5,000 officers deployed to monitor smokers at eateries. So far, more than half a million ringgit in compounds collected within the first five days of 2020. But will this unholy fervor last, or will people eventually carry on like before? We'll have to wait and see.
10. Probably more tourists at touristy places
Release date: 1 Jan 2020
Genre: Travelogue with a dash of sponsored content
Synopsis: While most of us might only be aware of Visit Malaysia 2020 through the weird logo fiasco that happened before, it seems that the government is really serious about reeling in the tourists this year, targeting 30 million tourist arrivals and expecting a revenue of RM100 billion. To that end, a huge launching ceremony was held on New Year's Day, and tourism officials personally waited at 23 entry points throughout Malaysia to welcome the first visitors, with 299 air travelers experiencing the surreal sensation of being greeted at the KLIA by the Tourism Minister himself.
The campaign, officially known as Visit Malaysia Year 2020 (VMY2020), have received significant attention in the 2020 Budget as well, with RM1.1 billion allocated to the Tourism Ministry, including RM960 million for promotions alone. Tax exemptions and deductions were also planned for companies taking initiative in tourism activities, and overall, state governments and private companies are gearing up for an expected increase in tourists. To prevent some people from profiting too much from gullible tourists, a series of spotchecks will be carried out by the Ministry, and the public is urged to smile and promote the campaign as well.
11. Slightly more expensive digital services
Release date: Jan 1, 2020.
Genre: Documentary
Synopsis: A new tax just rolled into town, but perhaps it's not as scary as it might sound. Called the digital service tax, it is imposed on foreign people/companies that provide digital services to Malaysians. In other words, stuff like Netflix, Spotify and Steam can get taxed, but it won't be applicable to the Milo you buy over Lazada. Following Singapore's model, the rate had been fixed at 6% per year, applicable to companies providing at least RM500,000's worth of services within a year. The tax is expected to bring in more than RM2.4 billion a year, and while it may still be too early to see what effect it will have, some service providers have already increased their prices, so…
12. A possible cabinet reshuffle
Release date: Unknown
Genre: Noir fiction
Synopsis: After Pakatan's crushing defeat at the Tanjung Piai by-elections late last year, Dr Mahathir had said that a cabinet reshuffle must take place, probably before Malaysia hosts the 2020 Asia Pacific Economic Cooperation (APEC) summit… which was launched in Dec last year. Since Mahathir's statement, speculation had been rife, but besides the resignation of Maszlee Malik earlier this month, no big change seems to take place on the surface.
More recently, when asked about the cabinet reshuffle, Mahathir had stated that he "do not know about a Cabinet reshuffle, but there will be a new education minister for sure." If that's not a cliffhanger, we dunno what is. Anyhoo…
Are y'all pumped for 2020 yet?
We sure hope you did, because we paid Brad a whole roti canai to make these posters. Still, we may have missed several more new things in 2020, like mandatory usage of car seats for kids and the plastic straw ban, among other things. New issues will also probably pop up in the future as well, and if we feel like it we may update this article with new posters. But for now, we can see that there will be some pretty drastic changes in Malaysia this year, but whether they will be for the worse or for the better… well, we're not psychics.
So enjoy 2020, and check back again with us at the end of these year for reviews for these movies, which will be written… by you! Probably. We'll see later if we can do that.