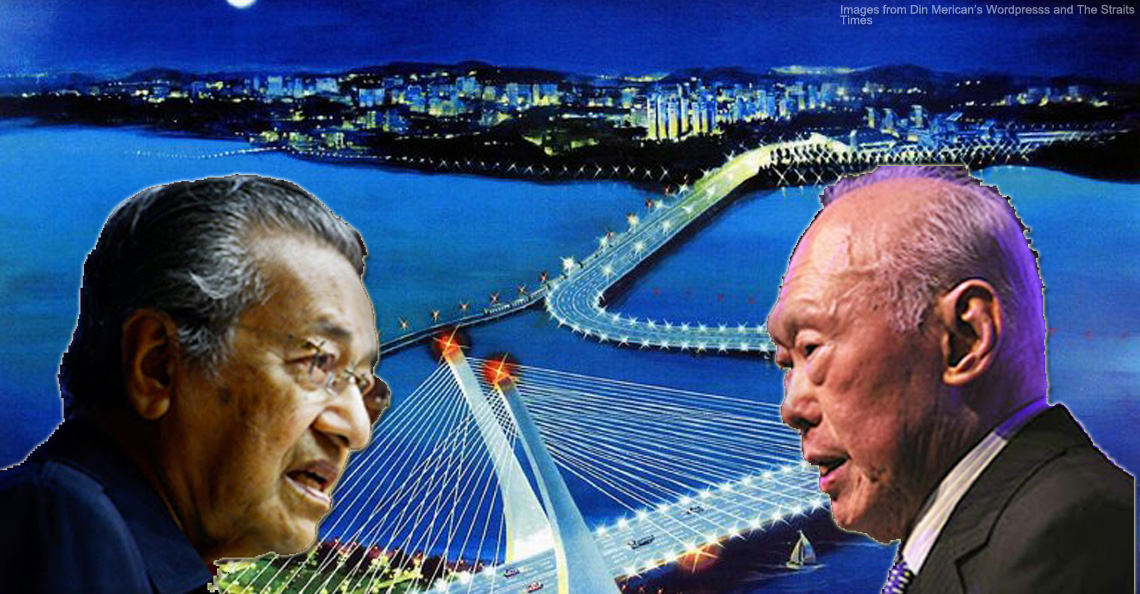 (Artikel asal ditulis dalam Bahasa Melayu. Kalau nak baca, klik sini!)
Recently, the Transport Minister, Anthony Loke mentioned that the gomen will be taking over the airspace (yes, we've written about this and you can read it here) in the southern part of Johor from Singapore by stages, starting from the end of 2019 up to 2023. He added that Singapore was informed of this issue. However, Singapore wasn't happy and warned us about invading their space.
Dr Mahathir argued that this issue would be resolved according to the law and rights of each country. But actually right, there are other issues involving these countries which we would be discussing today. So sit back and hold your passport tightly as we'll bring you four Malaysia-Singapore projects that raised several eyebrows.
1. Malaysia planned to build an island… on a TINY ROCK??
TBH, we actually wrote an article on how Malaysia and Singapore argued over this tiny island called Batu Puteh before (click here to read more). FYI, we lose Batu Puteh to Singapore because of a letter the Johor gomen had written to Singapore in 1953 which indicated that Johor does not claim ownership of Pulau Batu Puteh. Yikes!
Although Malaysia couldn't claim Batu Puteh, we managed to claim Batuan Tengah (Middle EarthRock)… which isn't exactly an island. And here comes the odd part of it all. Malaysia planned to build an island on Middle Rock. What on earth??
But there's a catch. Our friends at SOSCILI interviewed a marine law expert, Dr Hazmi Rusli who believes that there are a few issues that Malaysia needs to solve before we can build an island on Middle Rock. This is because the distance between Middle Rock and Batu Puteh is only about 1km!
With such distance, a country would be able to claim territorial waters of about 12 nautical miles. This would mean that the island on Middle Rock may belong to either Singapore or Malaysia since the territorial water would overlap each other.
"If claims like this were to happen, it would be ideal if both countries find a formula to divide the territorial waters equitably (or fairly la), by drawing a line that separates Middle Rock (Malaysia) and Batu Puteh (Singapore)." – Dr Hazmi Rusli to SOSCILI.
This is why, according to Dr Hazmi, Malaysia doesn't need to build an island on Middle Rock since it is ours anyway.
"The (then) government stated that it is in debt. And it has been repeated every day. Why do we need to invest our money on something unnecessary (such as to build the island on Middle Rock)?" – Dr Hazmi Rusli in 2016 to Astro Awani.
2. Malaysia sells 1,000 gallons of water to Singapore at… RM0.03!?
If ugaiz feel like you're having déjà vu twice, that's because we've also written something about Malaysia-Singapore's water dispute. #ihatecilisos. The very first water agreement signed between Tanah Melayu and Singapore was in 1927 which was between Sultan Ibrahim (Johor) and the municipal commissioners of the town of Singapore.
After independence, we signed another water agreement with Singapore in 1961 and 1962. The agreement signed in 1961 was due in 2011 while the agreement signed in 1962 is due in 2061 (yea, another 43 years to go!). Malaysia actually agreed to sell 1,000 gallons of water to Singapore at RM0.03 through these agreements. Yeap, you saw that right… THREE SENS.
Malaysia actually tried to review the agreement la because the price is superlow. Haa, this was when the dispute began.
"Malaysia's request was rejected by Singapore and (Singapore) claimed that Malaysia has lose its right to review the price of water after not doing so in 1986 and 1987." – An excerpt from Water Dispute Issues Between Malaysia-Singapore journal.
Actually, it was stated in the Water Agreement 1961 and 1962 that the price of water can be reviewed after 25 years (aka in 1986 and 1987 la). However, there are a few contradictions in interpreting this. Jeng jeng jenggggg…
Malaysia's interpretation: review can be done anytime after 25 years although it is not done in 1986 and 1987.
Singapore's interpretation: Malaysia lost its rights to do a price review because it should be done in 1986 and 1987.
Even so, Lee Kuan Yew met Dr Mahathir on September 2001 to discuss the issue. As it turns out, Singapore suggested to increase the price of water to 45 sens (per 1,000 gallon) starting from 2002 to 2061 and 60 sens after 2061.
"(Singapore claimed that) Malaysia's stand on this issue changed after the country (Singapore) suggested three new prices on 7th October 2002 which is 60 sens from 2002-2007, RM3.00 after 2007 and that the price agreement would be reviewed every five years…" – An excerpt from Water Dispute Issues Between Malaysia-Singapore journal.
After hearing that request, Singapore rejected the suggestion and once again stated that Malaysia lost the rights to review the price in 1986 and 1987. And because we fought so much on this issue, there were no solution to this.
"… one of the main factor of this water dispute is Singapore's reluctance in agreeing with the formula for the price of water requested by Malaysia and Malaysia's rejection on the formula of the price of water suggested by Singapore." – An excerpt from Water Dispute Issues Between Malaysia-Singapore journal.
Due to this dispute, it looks like Malaysia will continue to bear the loss when water is being sold to Singapore at such a loooooowwwww price… until 2061. This water dispute became an issue again when Dr Mahathir announced that the water is being sold at a ridiculous price. So, another negotiation would be made between these two countries.
"The water dispute with Singapore should be solved and we have to sit and talk to them in a good manner." – Dr Mahathir for Malaysia Kini.
3. The crooked bridge project. Wanna build or not ah?
Out of all the projects signed between Malaysia and Singapore, this crooked bridge may have been the most popular project la. The suggestion to build a crooked bridge came from Dr Mahathir buttttt the project was cancelled during Pak Lah's time.
"… Dr Mahathir told me, Abdullah (Pak Lah) broke a few promises to continue a few mega projects including the 'Crooked Bridge' project." – Zainuddin Maidin, Utusan's former Chief Editor. An excerpt from his blog.
Actually, Malaysia wanted to build this bridge as a replacement to Johor's causeway which was built in 1923. When the causeway was first built, many people thought it was… a miracle in engineering.
However, the effect of this causeway was huge as it blocked the the Johor Straits as the sailing route for Tanah Melayu (and Malaysia).
"Johor causeway closed Johor Straits entirely as the maritime route that connects the East and West. Ships that sailed from the Tanjung Pelepas port in southeast of Johor sea had to sail around Singapore to go to the Pasir Gudang port which is located on the other side of the causeway…" – Dr Hazmi Rusli, for Astro Awani.
This is probably the reason why Dr Mahathir suggested to build a crooked bridge in the first place, so that ships can sail underneath it. And this bridge has to be crooked because Singapore didn't want to change the structure of the connection to the border of its country.
But just as we mentioned earlier, Pak Lah cancelled this project because he wanted to prevent any legal implication with Singapore later on la.
"Problems will arise when we want to cut through the causeway, pipelines and existing railway tracks to connect them with the new bridge. And the problem won't be solved." – Tun Abdullah Badawi, former Prime Minister. An excerpt from Utusan Malaysia (13/04/2006).
This cancellation has caused the gomen to pay a compensation fee of RM247 million to Gerbang Perdana, the company who had gotten the contract to build this bridge.
In the meantime, the cancellation of this crooked bridge was still seen as a lost to Malaysia. This is because if the bridge was successfully built, it could definitely allow ships to sail across it and Johor Straits will be re-opened after 80 years of being blocked by the causeway.
"With the opening of Johor Straits to the international sailing activity, the ships that sail the Johor Straits would be able to cross transit just like how it was stated in the United Nations' Convention for the Marine Law when Johor Straits became the regional hub that connects the maritime route between the East and West." – Dr Hazmi Rusli, for Astro Awani.
However, with the current national debt, Dr Hazmi mentioned that it may not be a wise decision to continue with this project.
"All the cost (of this project) should be transparent and for the rakyat. If the crooked bridge (project) is continued, then it may be a sign that the country's economy isn't as bad as it is said to be because this is a mega project." – Dr Hazmi Rusli to SOSCILI.
4. The KTMB land swap issue that went all the way to the international courts
Aside from the issues we mentioned, there's another issue related to the… Keretapi Tanah Melayu Berhad (KTMB) in Singapore. Aiyo, not another one!
In 1918, Malaya already had a somewhat decent railway system that complemented the tin mining and rubber industry, and probably as a means to bolster that, they would takeover the managing of the Singapore Railway too. As such, buildings and land in Singapore were bought over by the Federated Malay States Railway for $4.1 million on a 999-YEAR LEASE.  😮
This pretty much means that Malaysia owned land in Singapore under KTMB for railway purposes, even after Singapore and Malaysia divorced. However, there wasn't much drama until a few decades later, when Singapore and Malaysia signed the Malaysia–Singapore Points of Agreement (POA) of 1990. And despite its name, the only thing that these two countries agreed on was to pretty much disagree with everything in the 1990 document.
Similarly to the Water Agreement signed by both countries, they have interpreted this agreement differently too, hence, the lack of progress on it. We're going to try and simplify years of political debate, so bear with us here laa kay.
The old Singapore railway station, Tanjong Pagar, was supposed to be moved to Bukit Timah then Kranji, or straight to the latter, according to the 1990 POA. On top of that, Malaysia would be giving back various pieces of land that had been owned by the KTMB until then, and in return would get some land parcels in Marina-South and Ophir-Rochor. After that, a company called M+S Pte Ltd – with Khazanah owning 60% and Singapore's Temasek Holdings owning 40% – would be developing these lands.
The thing is M+S suddenly found themselves struck with development charges before being able to do anything. Now this development charge is basically a "tax on the enhancement in land value", and it's not like it's just a few hundred ringgit fee either – the development charges were allegedly as high as RM3.6 billion!
Singapore said the POA allows them to implement the tax, but Malaysia say not applicable. With no progress for two decades, it would eventually go all the way to the Permanent Court of Arbitration (think of it as international court for countries).
Here's where the story finally
somewhat
ends, as in 2014, the 
Court of Arbitration ruled in favour of Malaysia
, stating that Singapore cannot impose development charges on the lands that the two countries were originally supposed to develop together.
"Singapore and Malaysia have agreed to abide by and fully implement the decision of the Tribunal. By resolving this matter through third party arbitration, both countries have demonstrated our common commitment to settling disputes in an amicable manner, in accordance with international law," – Joint statement by both countries in 2014, as quoted by Astro Awani
That being said, not everyone was too pleased with the decision. Law professor at Universiti Utara Malaysia Dr Nuarrual Hilal questioned the need for Malaysia to have even said yes to Singapore in terms of swapping lands in the first place, seeing that there was plenty of time left on KTMB's 999 year lease. On top of that, veteran journalist Datuk Kadir Jasin also raised some questions about the deal, saying:
"KTMB used to fully own that land, but now the new pieces of land are to be shared with Singapore through M-S Pte Ltd, where Temasek holds 40%. Simply put, Singapore just got 40% of the land for free," – Datuk Kadir Jasin in 2010, translated from his blog.
But don't worry, Malaysia will still be BFFs with Singapore 😉
As we all know, Dr Mahathir had the longest history with Singapore and, ofcos, its former Prime Minister, Lee Kuan Yew. Dr Mahathir didn't always pick a fight with Singapore although it may look like it la.
"Dr Mahathir is a pragmatic leader, so he would've calculated all the benefit and loss in a lot of things including Malaysia-Singapore issues." – An excerpt from UM Students' Repository.
But we're pretty sure Malaysia and Singapore are BFFs. This is because Singapore is Malaysia's second largest trading partner after China with the amount of trade worth RM190.6 billion in 2016. So, just like any other relationships, Malaysia-Singapore tie will definitely has its ups and downs. Typical la, right?