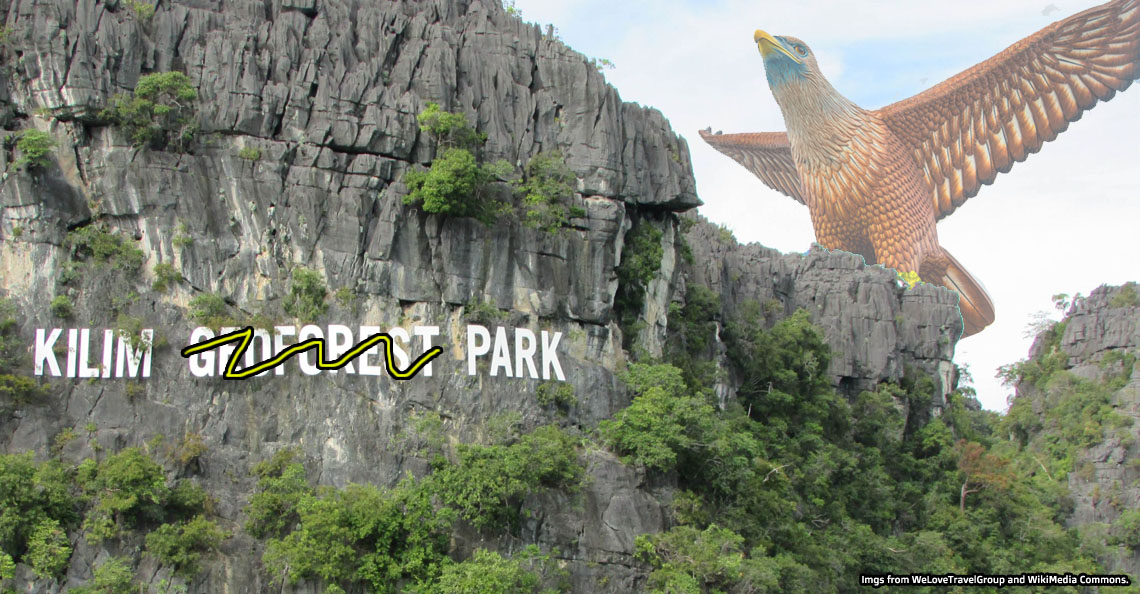 What comes to mind when you hear the name Langkawi? For some, it brings up images like…
But naaah. It's most probably this:
Perhaps a small fraction of us will skip past the duty-free sins and think about how Langkawi is the only place in Malaysia to be acknowledged as a UNESCO global geopark, which means that the earth formations in Langkawi are unique enough for UNESCO (the United Nations Educational, Scientific and Cultural Organization) to bestow that title upon it. And there's not many places that has that honor. Around the world, there are only 127 of them spread out in 35 countries.
Before we start puffing up our chests in pride, in recent news the Center to Combat Corruption and Cronyism (the C4) had claimed that Langkawi is about to lose its UNESCO status because of rampant "ill-advised" activities. Judging by the name of the center, we'd guess it means rampant corruption and cronyism. But before we get to that piece of news, to give an idea of why we should care it's helpful to first know…
What's so great about having a Unesco global whatever anyway?
Now be honest, guys.
"…nothing is more important to Langkawi now other than LANGKAWI GEOPARK. The agenda will be aggressively promoted in every opportunity and advantage here and abroad … LANGKAWI GEOPARK will be the best in the world and will be an example to all other Geopark[s] in the world…" – Tan Sri Khalid bin Ramli, former LADA (Langkawi Development Authority) CEO, as found on Lada's website a long time ago.
A geopark ('geo' as in bojio, 'park' as in Park Geun-Hye) is a unified area that promotes the use and protection of geological heritage in a sustainable way, and at the same time encourages the local people to make money out of it. If you're not sure what geological heritage means, a place with it either has a natural landscape that's great for education, has scientific value, has a rare formation or just plain pretty.
Langkawi is different from other pretty geological formations in Malaysia, like those found in Gunung Mulu National Park in Sarawak or the Kinabalu Park in Sabah. The latter two are UNESCO World Heritage Sites, and the difference between those and World Geoparks is basically this: world heritages are chosen to promote their conservation, while world geoparks are recognition given to places that involve the local community in promoting the idea that the Earth's rock formations are a big deal.
tl;dr, World Geoparks involve the local community, who can make money out of it.
"The Unesco status is crucial to our rice bowl and I believe the Langkawi Development Authority (Lada) will take the necessary measures to resolve the outstanding issues," – Tan Kok Liang, MATTA (Malaysian Association of Tour and Travel Agents) president, for FMT.
Being a World Geopark is believed to do wonders to the place's tourism industry, with tourists flying in to see the sights associated with geoparks. Plus, under the geopark concept, controlled development of the area is allowed, which means that the local authorities can build hotels and other money-generating businesses. But how does one become a geopark in the first place?
LADA's website stated that for a place to be internationally recognized as a geopark, it has to first become part of the Global Geoparks Network (GGN). Because of that, LADA claimed to have tirelessly petitioned the UNESCO for 11 years just to get Langkawi the GGN membership. Finally, in June 2007, Langkawi was recognized as a global geopark, becoming the first in South-east Asia and the 52nd in the world.
Langkawi's geopark story would have had a happy ever after ending, but just like Langkawi's famous myth Mahsuri that ended with a curse that lasted seven generations, the tale doesn't end with Langkawipuff winning the House Cup.
Being a UNESCO Global Geopark is a lot like being Malaysia's Prime Minister…
…in that your title is challenged every four years. Well, actually five years for the Prime Minister, but the header sounds cooler that way. Once a geopark is declared as a Global Geopark by UNESCO, every four years the quality and function of every single geopark around the world will be evaluated by two representatives from UNESCO themselves.
If everything's peachy, the park will stay a Global Geopark for another four years (called a "green card"). However, if the park doesn't quite measure up to UNESCO's standards, it will be given a "yellow card" and two years to get their toes on the line. If after two years their toes are still like a drunken guy's, they'll get a "red card" and no longer be called a UNESCO Global Geopark.
Langkawi passed its first assessment in 2011, and another one in 2014, albeit some sources saying that it's a near yellow card both times. According to a feature by the South China Morning Post, during 2011's assessment the UNESCO team considered giving Langkawi the yellow card as it fell short of providing what the UN considers a responsible duty of care, but the decision was reduced to the issuing of a report card as well as some cautionary advice after lobbying by people connected to Lada. It's a close miss, but Langkawi kept its Geopark status.
Then, in 2014, according to C4's report UNESCO's international audit team found that there was a lack of attention given to the significance of the geopark's status by the managing authorities, and Langkawi was again faced with the threat of losing its status due to failures in management. However, the inspection exercise went off without a hitch, and Langkawi's status was extended to 2019.
But there are two sides to this story. While Tan Kok Liang, MATTA's president, had agreed that there's room for improvement in terms of enforcement, he disagreed with C4's claim that Langkawi almost lost its status in 2014, saying that Langkawi actually passed with flying colors. Uzaidi Udanis, president of the Malaysian Inbound Tourism Association (MITA) agreed with Tan, saying that C4's claim was speculative. At the same time, he admitted that C4's concerns were not new.
Near miss or not, it would seem that Langkawi had been struggling to keep its geopark status even before it was admitted to the GGN, which brings us to the question…
What's wrong with the way Langkawi's Geopark is being managed?
Earlier, we mentioned that Langkawi's management got a report card in 2011 filled with points to improve on. There were 27 of them, and some of them are:
Control the eagle-feeding activities.
Stop boats from speeding around the Kilim area.
Increase community involvement in the operation of parks.
Employ park rangers to oversee daily activities.
Stop tourists, guides and bounty hunters from taking fossils and endangered plants and animals.
We won't go into detail on why eagle-feeding and speeding boats have detrimental effects on the environment, but you can follow those links to find out more. Anyways, it was said that after LADA received the list, it set about establishing plans and reports for everything, but months away from the following assessment in 2014, only a few of those plans materialized. Overall, not much had changed.
The C4 Center recently conducted interviews with the stakeholders of the island, and they've found some alleged instances of nepotism, cronyism and corruption happening on the island. Stanley Sudhagaran, C4's center northern unit coordinator, had said that these activities, if left unchecked, can seriously jeopardize Langkawi's environment and tourism industry, and consequently, their World Geopark status.
"It is an eye-opening account of never-before published tales of the disparity between developments on the ground and the administration. It also highlights the lack of enforcement, high number of businesses operating illegally, alleged mismanagement of the IWK (Indah Water Konsortium) sewerage system, deforestation due to rapid development, wastage of public funds, the fast-paced hotel development and big GLCs moving in as key business players," – Stanley Sudhagaran, for FMT.
Some interesting points from their interviews are:
Community leaders who were accorded logging rights sold logging permits to outsiders.
People who knew the right people got land with dubious land titles, and these were then leased to foreigners at an exorbitant price.
There is no transparency on how public funds are distributed.
Almost half of the hotels here are illegal.
Bus stands were built, but no bus services are offered.
Some projects were not awarded through an open tender.
Suspicions on new enterprises being a conduit for money laundering.
Red tape hindering relations between public and private sectors.
You can read the rest of the issues and the government responses on pages 25-31 of the report, but on allegations of corruption and such, the response had been that there's a MACC branch on Langkawi, and while there had been many allegations, hardly anyone had been found guilty. Regardless of what's really going on, the disparity is clear, and Stanley called for the state authorities to hold more meetings with the stakeholders to discuss what's best for the island. On that note…
To keep the geopark status, the Kedah government's solution is to set up a whole new department
In response to reports saying that Langkawi might lose its Geopark status next year, the Kedah government revealed plans to set up a "Geopark Department" to preserve the island's local communities and natural environment. Mohd Rawi Abd Hamid, the state's Religious, Tourism, Heritage and Public Works Committee (whoa) chairman, said that this is an effort by the state government to minimize the damage done to the environment because of the growing tourism industry.
"The challenge is to strike a balance between the economic needs of the people and environmental concerns," – Mohd Rawi Abd Hamid, to FMT.
For that, Mohd Rawi had stated that Langkawi will need more resources and support from the federal government, NGOs and the private sector. However, one might wonder if a new department will change anything. Following their warning from Unesco back in 2014, LADA already formed a division to oversee the management of the Geopark, as well as creating a new NGO called the Friends of Langkawi Geopark (FLAG). FLAG was supposed to act as a watchdog on Langkawi's Geopark status, yet four years on, Langkawi's Geopark status is still claimed to be in danger.
However, if the proposed Geopark Department is to have enforcement powers, there might be hope for Langkawi. In the past, one of the main problems was enforcement, as stated by Irshad Mobarak, owner of Jungle Walla, a Langkawi-based eco-tour agency. While Langkawi did follow UNESCO's recommendations and employed geopark wardens, these wardens had no authority to act, and the best they can do is take pictures and lodge reports, which ended up back in the bureaucratic circle. The solution Irshad suggested was increasing the public's awareness.
"This is not just for local communities and tour operators, but tourists, too. Tourists need to understand that when they buy an eagle- or monkey-feeding tour, they are contributing to the issues associated with them. There need to be pamphlets in the plane; in the ferry; in every hotel room. It's about supply and demand. If the customer demands better practices, the operators will have no choice but to adhere to them." – Irshad Mobarak, for the South China Morning Post.
So yeah. In the end, it all comes back to awareness.