In Parliament's first agenda on Monday, 26 March, it will be tabling the Anti-Fake News Bill for its last session before GE14. Prime Minister Najib Razak and his administration have been pushing to pass anti-fake news laws, with Minister in the PM's Department Azalina Othman heading the drafting of the Bill. They came up with a draft for the new law in LESS THAN 2 MONTHS and it received Cabinet's approval last Wednesday (21 Mar). Yayy Malaysia record holder!
"It will also identify the types of offences that can be regarded as spreading fake news. The proposed law is not meant to stop them from their right to freedom of speech as stated in the Federal Constitution. The Bill will send a clear message that the Government will not compromise on any matter detrimental to the nation's security and public order." – Azalina Othman, Minister in the PM's Dept, The Star
You won't believe how serious the punishment is… Civil rights lawyer New Sin Yew said the maximum fine of RM500,000 or maximum 10-year jail term was "excessive punishment". It's as serious as kidnapping and waging war with the Agong!
Oh no. So what is 'fake news' according to the Bill?
If the Bill is passed, it will become known as the Anti-Fake News Act 2018. Malaysiakini has uploaded the full PDF here if you wanna read it, but here's the TLDR:
Any person who knowingly creates, publishes, prints, distributes (yes FB shares included), circulates any fake news or publication containing fake news commits an offence.
Fake news is defined as any info which is wholly or partly false, in the form of features, visuals or audio recordings or in any other form capable of suggesting words or ideas. Who decides what's fake? According to Azalina in an FAQ, the Courts will.
Upon conviction, the punishment is a fine not exceeding RM500,000, or jail term not exceeding 10 years, or both.
Anyone who even provides financial assistance for the purpose of committing this offence can also be convicted.
Anyone who knows that something is fake news has a duty to remove it or else they face the music too. The punishment: RM100,000. In the case of continuing offence, a further fine not exceeding RM3,000 for every day the offence continues after conviction.
But actually we're not the first country to think of it.
Yep, Singapore, Vietnam and the Philippines started thinking about it WAY before we did. The Washington Post and Malay Mail have pretty good summaries, but we compress for u k?
SINGAPORE's Law and Affairs Home Minister K. Shanmugam initially said last June that the country was expected to introduce new laws to combat fake news in 2018. They had consulted with people from the legal profession, media profession and tech companies. The Government issued a public document on the the challenges and implications of "Deliberate Online Falsehoods", and they even appointed a parliamentary select committee to examine whether Singapore should enact laws to fight online fake news.
VIETNAM want to move in China's direction with a new cybersecurity law, while THE PHILIPPINES' lawmakers have been actively proposing laws against fake news. On June 21, 2017, Senator Joel Villanueva filed the Senate Bill No. 1942, a proposed law penalising the malicious distribution of "false news", which he defined as having 4 elements: malicious intent; published online, on print, or broadcast; may cause panic, chaos, violence, hate or spread propaganda to discredit one's reputation; and with the source knowing that the information or news is false.
Human Rights Watch (HRW), an international NGO that conducts research and advocacy on human rights, highlights the worry that Collins Dictionary deciding to name 'fake news' the Word of the Year, could be a disaster for human rights.
Actually why do we need an Anti-Fake News laws when we have other laws?
Why does the government need a new anti-fake news law when they already two laws that can be used to combat fake news? The Defamation Act 1957 and the Printing Presses and Publications Act 1984 (PPPA).
The Defamation Act is basically law that criminalizes telling lies about somebody. Malaysia has a very, very detailed Defamation Act 1957 which you can check out here. Basically, defamation occurs when a person expresses words that may lower another person's reputation in the eyes of the public. Libel covers things on record (emails, signed notes, etc) and slander covers things said or implied (in conversation or action).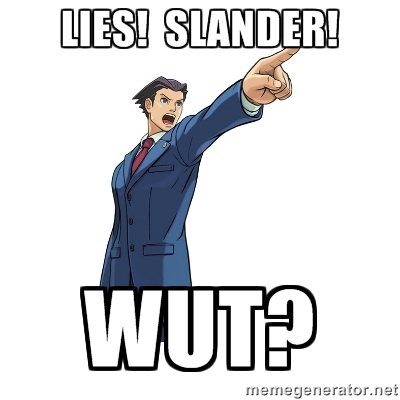 1. Civil case – a private person sues another private person, then the punishment is compensation, which is decided by the judge depending on the damage caused.
2. Criminal case – the state (gomen) prosecutes a private person, then Section 499 to 502 of the Penal Code applies, and the punishment is straight out 2 years jail max and/or fine (amount not specified).
The PPPA on the other hand is a law specifically for the media and any printing related stuff. Section 8a of the PPPA specifically touches on false news and already criminalises it. The punishment according to this Act is a jail term not more than 3 years or a fine not exceeding RM20,000, or both.
In fact, lawyers like Eric Paulsen are already saying that the Anti-Fake News Bill is a rehash of Section 8a of the PPPA. ON TOP OF THIS, we've got other laws like the proposed CMA and our long-serving Sedition Act to kowtim all those anti-harmony flers.
Maybe we can ask neighbouring Singapore, since they have those too 🙂
Hmmmm… wonder who will kena first?
In the most recent case, RPK had published an article accusing Robert Kuok of attempting to overthrow the government by channeling large amounts of money to the Opposition. It caused such a stir! When Robert Kuok caught wind of the article, he considering taking legal action against Raja Petra. At press time, RPK has yet to respond, but Robert Kuok is going old school, threatening Defamation, instead of Fake News.
There is just too much information out there and it's impossible to verify every single one of them. That's the problem we're facing in the world today. The rise of fake news, and the Trump era of delegitimizing media outlets has resulted in a "catastrophic failure of the marketplace of ideas," where no one believes anything – or everyone believes lies, said Aviv Ovadya, Chief Technologist at the Center for Social Media Responsibility at the University of Michigan. Aviv calls this an information apocalypse, or an "infopocalypse".
And sadly, what starts in the West, often ends up in the East.
"Analysts and observers say Asia's strongman leaders have been emboldened by the lack of criticism of their heavy-handed tactics from Washington and the administration of President Donald Trump, himself a fierce and persistent critic of the press." – CNN, Jan 29 2018
CILISOS often ends articles with what we can do about it, but currently, aside from writing to your MP (especially if you're from Pengerang or Kota Belud), we have no idea.