It's International Children's Day today (just to clarify, there are two Children's Days – 1 June and 20 Nov) and CILISOS would like to talk about a particular kid in Sabah who is beyond extraordinary. He was 1 of only 10 students chosen for an education programme in Indonesia, despite never having attended a real school before in his life. And you won't believe his insane, dangerous journey to get there.
After reading our glue-sniffing article, Al Jazeera shared their video Sabah's Invisible Children with us. This was how we got to know about Ferdinand. We spoke to one of the many social volunteers close to the project, to find out more. Since she'd prefer to remain anonymous, we'll refer to her Keeki in this article.
But first, a little bit about the video – it's a hard-hitting documentary on stateless kids in Sabah, who cannot get citizenship even though some of them were born here, simply because their parents are migrants. Every day, these kids live in fear because if the authorities catch 'em they will DEPORT them. Can you imagine running, running, running ALL your life? It's something Ferdi and other stateless kids have to live with.
Now we'd like you to meet… Ferdinand
Just in case you thought he's some toddler genius or 8-year-old Einstein, let us stop you there. Ferdinand is 17 years old now. That's him in the blue t-shirt (picture) and the guy on the left is his father, who works in a timber mill. Both his parents are Indonesians who came to Sabah during the 70's to earn a better living. "Most workers had no work in Indonesia and to survive, came here. But without them Sabah's economy would die," said Keeki
"On one of the estates where I have a school, 100% workers are Indonesian. And another, 98% Indonesian. Sabahans don't do that work and even then, we don't have the population to support all the palm oil and rubber planations. It's political and economic," she added. From the conversation we had with Datuk Shamsuddin Bardan, it's pretty clear that Malaysians don't want to do these 3D jobs – dirty, dangerous, difficult.
Because there's a rule that foreign workers in Malaysia cannot get married or have children, his mom secretly gave birth to him in their home. She has since passed away from an illness about 3 years ago.
For Ferdi, this country is his only home, but he's never existed in its records – unlike the rest of us who have birth certificates and the world's first biometric passports.
"Life is difficult here. I constantly worry about spot checks and not having a passport, It's difficult to move around because I'm always afraid." – Ferdi, stateless child in Sabah, Al Jazeera
So it was up to him to study hard and improve his future
Wait, how does that work if he's never been to school? Well, he's not enrolled in a government school, Keeki told us:
"It's totally impossible for an illegal child to be in a government school. The schools that Al Jazeera filmed were not government schools. We are not allowed to use the word 'school' either, so they are all 'learning centres'." – Keeki, Education Consultant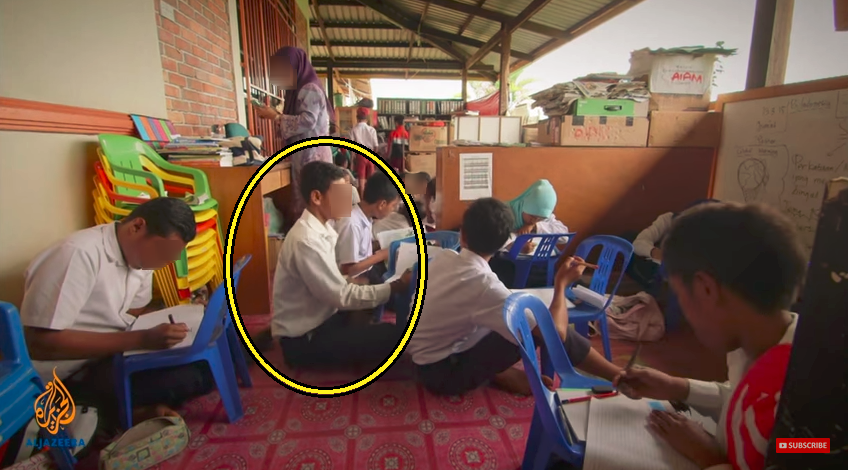 There are more than 120 of these learning centres in Sabah, and Keeki's society runs 5. For many years, they were illegal until March 2015, when the Government finally allowed these centres to operate for legal foreign workers. Yup, read the fine print – legal migrants only. We also found documentaries about UNICEF and Madrasah Hashimiah, and an article on PKPKM that run 'schools' for migrant kids.
We watched how these learning centre operate in the video and if you wanna compare how government school facilities are not as top notch as international schools', you should see how kesian these centres are. They've got no proper tables and summore the students have to sit on the floor… Yet, these kids still go. Why? Maybe because they want make themselves better, like Ferdi. He's one of their STAR students!
"He passed his Indonesian Primary 6 exams 2 years ago and did well (i.e. well above the average) and now he is in Form 2, although he is nearly 17," said Keeki. In 2016, he'll be taking the Indonesian Form 3 national exams. But all of this started in 2013, when Ferdi was given the chance in a lifetime to study in Indonesia.
Keeki discovered this exchange programme called Sabang Merauke, for poorer Indonesian kids to have a 3-week education experience in Jakarta. She nominated Ferdi who would have been about 14 at the time. None of her students had been to Jakarta or on a plane, and many had never set foot in Indonesia before. So fingers crossed, she sent in his details and……..HE.WAS.SELECTED.
The next problem was to smuggle him on a crazy boat ride into Indonesia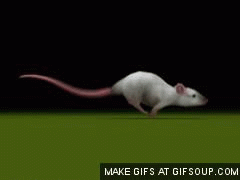 The obvious choice for his teachers was through Tawau and from there use the jalan tikus (rat trail).
What's a rat trail? It's a secret river route from Tawau, Sabah to Nunukan Island, Indonesia. Smugglers use it to sneak people in and out on boats. 1 boat fits 10 passengers.
Honestly, don't even bother Googling it. We tried and the suggestions are nowhere near Sabah or Indonesia. Dem smugglers are clever.
"We arranged to pay off people on the way to get him onto the sampan, which connects to the ferry mid sea. I can't exactly recall, but we paid around RM200 for the taxi from his current town to the border, and then paid the sampan to get him to the ferry. Maybe all in all it was about RM250. From there, it was easy to get to Nunukan and fly to Tarakan, then fly to Jakarta," said Keeki.
Despite the possibility of getting caught, Ferdi REALLY wanted to go. How do you say no when a child asks to be given a chance to study? So many of us might have taken school for granted when we were kids, but here you've got this boy who is desperate for education. 🙁
"We had to squeeze into this small boat and crouch so the police wouldn't see us. I was frightened throughout the journey. It was my first time." – Ferdi
And 2 teachers were waiting for him on a scheduled ferry leaving for Indonesia:
"It was very scary but the child deserved the opportunity. After all, he was only 14 at the time. He won and should have equal opportunity as any child." – Keeki.
Our adrenaline level pun naik giler reading about this story. But if we thought that's scary, Keeki told us about another boy who did get CAUGHT. This boy, (let's call him Lon) was also selected for the programme (currently). Now he's in the lockup. "But we are thinking how we can turn this to our benefit. Lon will be sent back to Nunukan for sure by immigration and we are trying to get him to go directly to Jakarta from there. This means Malaysian immigration will pay his passage to Nunukan and we won't have to use the rat trails to get him out. Yay! There are ways around everything," added Keeki. 😀
Was the worst over? What happened once Ferdi reached Indonesia?
He was adopted! Well not officially, but his stay was hosted by an Indonesian family.
The programme has this thing called Family SabangMerauke (FSM), where people host the kids during their stay in Jakarta. We found a touching post on Sabang Merauke written by Cosmas Widyawan (Ferdi's host 'dad') about his stay with their family.
"The Jakarta organisers are totally incredible to help him all the way, and then he stayed with an incredible host family who sponsored his schooling from then on, and they want him back in Jakarta to do university. I knew this would change Ferdinand's life, by meeting other teenagers and participating in the amazing programmes prepared for them." – Keeki
We were so happy that this kid Ferdi was given such an awesome chance. But what about the other migrant kids?
Who will give the other migrant kids a chance?
There are many undocumented kids like Ferdi – more than 53,000 in Sabah alone. But kids who've been on a programme like this, NONE. You see the tragic ratio? 53,000 kids, only ONE got this chance. According to Al Jazeera's video, many kids spend their time selling plastic bags for 10 sen at the local fish market.
Is it the same situation for migrant children all around the world? In Thailand and Singapore, migrant children barely get access to basic education except for a few organisations who do it out of charity. Kids fare better in Western countries. The US has government subsidised education for migrant kids, as well as the UK and Sweden. Trust Sweden to offer kindergarten to secondary school level free education even to illegal migrant kids.
Someone's people would say where do you draw the line coz these guys are illegal. However, when it comes to children, can you blame them? Kids like Ferdi are born in foreign countries, it's the only home they've ever known, and it's not like they have the money to go back to their home countries right? Thankfully for those in Malaysia, there are people like Keeki, PKPKM, Unicef, and other organisations.
So what are the possibilities for Ferdi's future, or any bright student without documents?
"Yes, good question. He is a very lucky boy with the host family in Jakarta wanting him back there for university and senior high school. Had he not been on that trip, there would not be too much hope for a good job without any documents.

But if he goes back to Indonesia, he will also have work issues and there are hundreds of thousands of university graduates there without work." – Keeki
Keeki's answer highlights a plight that goes deeper beyond just having qualifications. Ferdi won't be able to get any papers in Malaysia. He can go to Nunukan to get a passport, but that will only last him a month because he'll need a visa, and no one's gonna give him a visa because he has no sponsor for work, since he's only a kid.
"Anyway, even if he had a work sponsor, no employer in Sabah wants to pay the levy, as it's too high and they need to pay minimum wage for a worker. It is much cheaper to have illegal workers so they can pay much lower salaries and no levy," Keeki continued. No wonder we have an illegal foreign worker problem. Out of the 6 million migrants we have, only 2.9 million are legal. If their boss dun wanna pay then how?
Surely we could at least protect the kids right?
As mentioned in one of our articles, these kids don't get citizenship automatically just by being born in Malaysia. However, some people have adopted migrant children. But as a party to the United Nations Convention on the Rights of the Child, we should at least be protecting the children instead of throwing them into detention centres or deporting them.
Suhakam's 2014 report found that there are 1,196 children held in 12 immigration detention centres nationwide. Only 1 centre has specific blocks for children, which puts them at risk being abused. Yayasan Chow Kit co-founder and child rights advocate Dr. Hartini Zainuddin (who adopted a migrant child herself) said: "I cannot stress enough the need to keep them away from adults in detention, they are children after all and we need to protect them."
The report stated that the children were provided shelter, food and healthcare, but no education. So currently, Suhakam, Immigration Department and others need support from the Home Ministry to work on recommendations to improve the conditions of stateless kids.
Keeki was up front with us – she hoped people would realise the cruel situation where these children's rights are totally not recognised. What they really need is a document from Malaysia acknowledging they live here and have rights like Malaysian children.
"I'm not asking citizenship or even PR, but a paper recognising them as able to stay. They must have access to medical and education." – Keeki
Sounds like a great idea to us, because Ferdi deserves a chance….because CHILDREN deserve chance.