Since GE13 on 5 May 2013 and its results – which are disappointing for some and celebratory for others, depending on whose side you're on – Malaysians have been waiting for the next GE. What will the results be this time? So kan cheong.
It's that time again! Time for General Elections Malaysia!! But chup, the Elections Commission has NOT announced a date yet, so don't tell people CILISOS said got announcement already. However, we are beginning to see a lot of SIGNS that it might be soon. Very soon. Here are 5 signs…
1. The Information Department has frozen staff annual leave
Malaysia's Information Department released a circular (above) revealing that all staff annual leave applications for overseas travel will be frozen, starting 1 May. (Wuut, freezing leave on Labour Day? haha, how ironic. 😆 )
In this day and age where Malaysians kena tipu so many times by fake "official gomen circulars", this one turned out to be legit. The Department's Director-General Ibrahim Abdul Rahman confirmed its authenticity.
Actually, it is customary for this circular to be issued one year before Parliament is dissolved pending elections. However, the freeze will not affect people who want to perform the haj or umrah, while those who need to go overseas for important or emergency reasons, their applications could still be considered based on merit, for instance, the death of family members.
But how is the Info Department's staff leave related to General Elections? In the circular, it is stated very clearly:
"It is the responsibility of the department to help the Elections Commission in ensuring a smooth democratic process by running the voting campaigns and educating the public on voting procedures and methods through the media." – Ibrahim, Info Department Director-General, Borneo Post Online
Typically, their job is to work hand-in-hand with the Elections Commission. You know those stressful moments you are glued to the TV to see who won which area? Yup, it's the Info Department giving us the updates.
By far, this is one of the most obvious signs that elections is coming. But here's another…
2. It's raining handouts
We know that BR1M is not new. It's been around since 2012, starting right before the GE13 elections in 2013. BUT in their Budget 2017 speech, the government announced that they would be increasing the handout amount in four areas.
Households in the e-Kasih database with a monthly income below RM3,000 will see their BR1M increased to RM1,200 from RM1,050 and RM1,000. [P/S: e-Kasih is a needy family's database system to support the poverty programme.] As of 16 March this year, 2,782,799 applicants would receive this handout.
Secondly, households earning between RM3,000-RM4,000 will see their BR1M increased to RM900 from RM800. It started out with RM500 in 2012, and as of March, 243,434 are slated to receive this. Thirdly, single individuals earning below RM2,000 monthly will enjoy an increase to RM450 from RM400. As of March, 2,127,005 have been approved to receive this. Lastly, the Bereavement Scheme will also be continued with the RM1,000 compensation given to the next-of-kin of BR1M recipients (valid from 1 Jan to 31 Dec 2017).
"Overall, the BR1M programme will benefit seven million recipients with an allocation of RM6.8bil." – Datuk Seri Najib Tun Razak, the Prime Minister, The Star
In regard to
breakdown for states
,
Selangor recorded the highest number of approvals with 666,316 people
, followed by Sarawak with 537,588, and Sabah with 477,482.
3. We might have a weekly ceiling price for petrol
You may have read about this in our article. Three years ago, Malaysia was a country with petrol subsidies, but that changed when the government decided not to pay for subsidies any more. We then moved to a float system, where the prices we pay would be determined monthly by the worldwide petrol prices. Recently in February, the government announced another change… instead of monthly, we might now have a WEEKLY maximum price April onwards.
Aiya, but it sounds so menyusahkan. Petrol price to keep changing weekly? How is this supposed to be attractive to the rakyat? Well, for the average consumer, this could be good news because petrol companies will be clamouring to offer lower prices. So, according to Singapore bank UOB Kay Hian, putting a ceiling price could be a sign that GE14 is around the corner.
"It effectively shifts the Govern­ment's burden of potentially imposing more fuel subsidies to the relevant industry players by way of competition." – UOB Kay Hian, quoted in The Star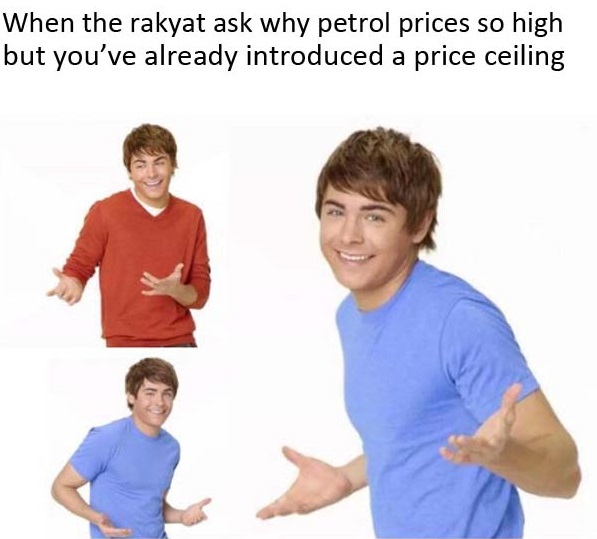 4. The government has taken a lot of hardline stances lately
Recently we've been seeing the government make a lot of hardline stances. There are a few examples, so bear with us. Where we previously refused to accept boatloads of Rohingya, we are now speaking up for them.
"I will not close my eyes and shut my mouth. We must defend the Rohingya not just because they are of the same faith but they are humans, their lives have values." – Datuk Seri Najib Tun Razak, PM, Says.com
This has caused a backlash in Myanmar and the Burmese to draw a cartoon of our PM. Making a stand like that is a big deal, simply because it is contradictory to the ASEAN policy of kenot sibuk-sibuk in each other's pasal. Myanmar's Deputy Director-General of the President's Office U Zaw Htay told The Myanmar Times that these actions "amounted to vote-seeking ahead of a Malaysian election expected soon."
Second example, is Pulau Batu Puteh…yup, the 'rock' that Malaysia is fighting Singapore over. If you want the full story, read our article here, but to summarise, Malaysia claims the football field-sized island belongs to Johor, while Singapore claims its theirs. The case was revived in February, which led to political analysts questioning the motive behind it. Why reopen the case all of a sudden? They believe it could be attempt to stir up nationalism ahead of elections:
"Such a stance will likely resonate with the Malay voter base, particularly the more nationalistic segment." – Mustafa Izzuddin, a Southeast Asian politics researcher at Singapore's ISEAS-Yusof Ishak Institute, South China Morning Post
Okok last example is Kim Jong-nam's murder. We're sure you probably don't need us to bring you up to speed on that, but in light of the impending elections, the government can't afford to look weak, Yang Razali, a Malaysian politics expert at the S. Rajaratnam School of International Studies in Singapore, told CNN in an email.
"The murder of Kim Jong-nam is a gift for Najib. At a time when every Malaysian, a devout UMNO supporter or not, has to question what sort of games have been played, he suddenly is handed a chance to look good." – Keith Loveard, Regional Risk Analyst, Concord Consulting, The Diplomat
Analysts said that the massive scale of international investigations into the PM, coupled with recent support over North Korea could prompt the PM to call an early election.
5. The Elections Commission shifted some voters around
To say that some voters have been 'shifted around' is the easiest way to explain our point. But the actual word for it is 'delineation'. It is the practice of moving voters around by way of changing the map. It is the Election Commission's ability to redraw the boundary for a constituency (constituency is the area you are voting for).
One day, DAP MP, Ong Kian Ming noticed that 5,590 voters from Batang Kali (which UMNO won for GE13) had been mysteriously moved to nearby Kuala Kubu Bharu (which DAP won). But WHY does the EC want to move these voters?
Let's say you had two jars. The Batang Kali jar is filled with MOSTLY black beans (80 black/20 yellow), and the other KKB jar has MOSTLY yellow beans (40 yellow/10 black).
What if you moved 40 black beans to the KKB jar?
The new balance would now be Batang Kali (40 black/20 yellow), and KKB (50 black/40 yellow), which means both jars now are MOSTLY BLACK.
The opposition is saying that the government is influencing our EC to move beans around to favour the ruling party, so that they can win both Batang Kali and KKB in the next election.
It is legal for the EC to shift voters around, EXCEPT this Batang Kali-KKB case might be ILLEGAL! Delineation is only allowed once every 8 years, and has to go through a whole lotta processes, like asking Parliament for approval, and making an announcement in the Federal Gazette and newspapers so that local authorities and voters agree to it.
Problem is, the EC did this in Batang Kali-KKB WITHOUT informing Parliament or voters, therefore making it ILLEGAL, hence the term "stealth delineation". Very interesting one…read more about it in our article.
So…FASTER, when is General Elections happening?
Well if you want the real answer, wait for the Elections Commission to announce lor.
At any rate, the term for Parliament is ending soon – it will automatically dissolve on 24 June 2018 (coz the first session of Parliament after GE13 was held on 24 June 2013. So yeah, five years is the term). Therefore, GE14 will have to happen on or before 24 August 2018. (But then again, you probably know that already, ehehe.) Every day brings us closer to the deadline.
As for the Election Commission, the Chairman Datuk Seri Hashim Abdullah told reporters that they were ready for elections any time:
"Don't worry. We make preparations in terms of logistics and such, all the time. We have made all preparations. Recently, we were able to immediately swing into action when an elected representative died. For our staff too, this is not the first time they will be handling a General Election. We have no problem if there is an early General Election or whatever." – Datuk Seri Hashim, Chairman of the EC, Malay Mail
MOST IMPORTANT thing to do now is… go register as a voter. Cepat cepat! Even if you've already voted before (however many times), it doesn't hurt to keep checking your status on SPR's site. It's very easy, just go here and key in your IC number, then all your details will be displayed. Just check if everything is in order, then good to go. 🙂
Whatever your opinion of the government and current political climate in Malaysia, every.vote.counts.