[UPDATE: Some details in this article have been changed based on reader feedback 🙂 ]
UH-OH! The telcos are in troubleee.
This was what happened…. Everyone was worried about prices being raised after GST, right? And sure enough the telcos raised their prices on prepaid top-up cards. On Day 1 of GST itself, Customs received 815 complaints. A big chunk of them, 40% specifically, were on prepaid top-up cards.
Poor Rakyat :(… luckily you got hero.
Super Maslan to the RESSSSCUE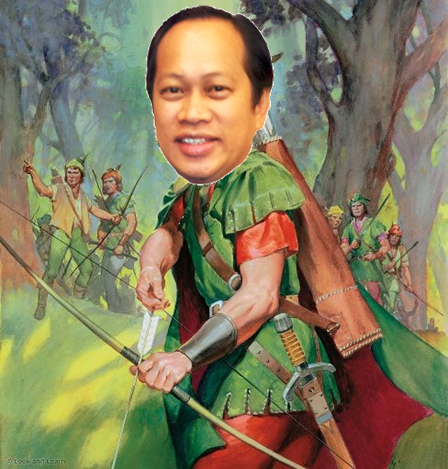 So then came Deputy Finance Minister Datuk Ahmad Maslan to save the day. He warned telcos they could be hauled to court if they insisted on imposing the 6%. He even called for the end of telco 'monopoly' on Twitter, Malaysiakini reported:
(2) Telco 4 ini wajar dipecahkan monopoli mereka agar dengar apa kehendak pengguna. Saya dah minta Kastam bincangkan lagi ttg keputusan itu.

— Ahmad Maslan (@ahmadmaslan) April 2, 2015
Fuyoh! He's a modern-day Robin Hood. And some people felt they had to express their thanks and/or agreement. On Malaysian Digest, the Malaysian Muslim Consumers Association (PPIM) president Datuk Nadzim Johan called telcos 'cheaters' and urged users not to see them as friends.
On Maslan's own Twitter account, a few others were pouring out their gratitude:
But the telcos told a different story…
So a few sources told CILISOS that before GST, they all had a sit-down with MCMC and Customs. Our sources also told us that telcos get directives from MCMC, not Customs or whoever else.
So after the public backlash against the new prices, it was decided that the telcos would charge the 6% tax, but they would give their customers FREEBIES (which was to give bonus air time of RM1.30 for RM10.60 prepaid reload).
The sources told us that in the pre-GST days, they used to have this thing called SST, or Sales and Service Tax. As service providers, telcos could either charge or waive it. So telcos used to ABSORB it. But with GST, it's collected by the Government and regulated by Customs as a tax on consumption, so as they understood from this meeting…..
…It was illegal if they didn't charge it.
HUH, whatchu mean absorbing GST is illegal?
According to The Star, the law doesn't permit anybody to absorb GST. Businesses must state the retail price and GST so that consumers know what they're paying for. Long story short, it means that by law they have to TELL YOU that you're being charged 6% tax on your receipt.
But so many are doing it – IKEA, Mr. DIY, McDonald's, TGV, etc.
Mydin is also absorbing GST. How? Through supplier rebates and SST refunds from existing pre-GST stock. At first, it confused everybody when after making that promise, Mydin's receipt still showed the 6% tax. So Datuk Wira Ameer Ali Mydin cleared the confusion: "Why it shows in the receipt is because, at the end of the day, it's required by law to show 6% on receipt," the Managing Director of Mydin explained in The Malay Mail Online.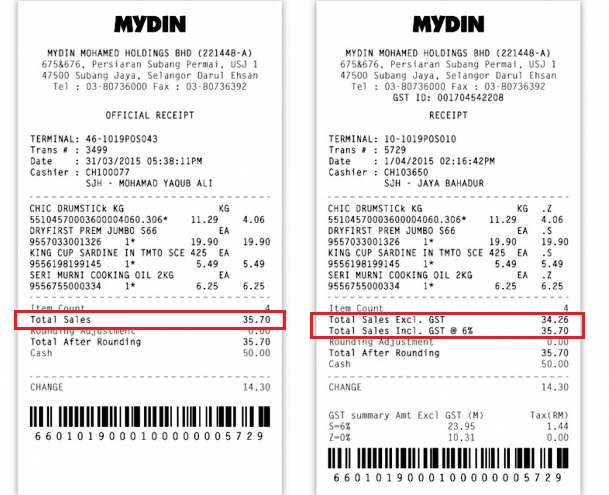 So technically, what this means is:
YES, business can absorb GST, but at their OWN cost.
The receipt will still show that a customer has been charged 6% even after the retailer has 'absorbed' it.
Businesses still have to pay Government that 6%.
Whatever way businesses choose to 'absorb' GST is their pasal.
But as for telcos, our sources told us that GST isn't something they can individually decide on how to accept or absorb or whatever. They are governed by MCMC policies.
Hmmm… so quite makes sense right? Telcos would charge 6% tax, but give bonus air time for customers. OK what, guys!
So who's confused now? The telcos or Maslan?
Well, it would be one's word against the others, except that the telcos themselves actually haven't actually objected to any of this, at least not in public. All the sources we talked to (mostly just friends in the industry) were strictly off the record, which is unfortunately a very common thing in Malaysia these days.
BUT THEN we found this….an MCMC press release on their agreement with the telcos on pricing:
Uh-oh. Maybe Maslan didn't get the memo.
Must be difficult doing business in Malaysia
Sigh. Telco quite poor thing also. MCMC is gomen body, Customs also gomen body, Ministry Of Finance also Gomen body – which one to listen to? The thing is that when this happens, they have A LOT OF CONFUSED CUSTOMERS.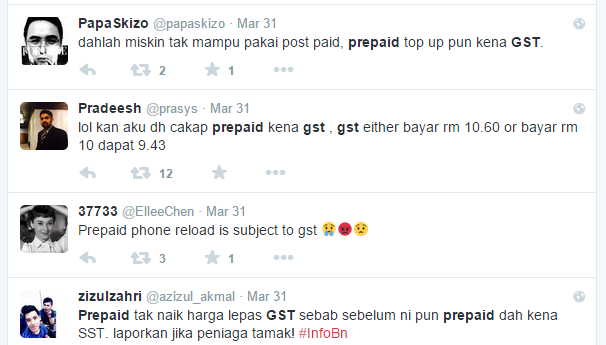 And this costs them real money in marketing, PR, legal or other things, to explain to their customers, change their deals and educate their staff and partners – which they also have to absorb, potentially on TOP of absorbing GST.
Sadly, this is just one example of a company suffering from conflicting government directives.
Look at what happened to Cadbury, for example. When the chocolate brand was accused of supposedly containing porky DNA, people were practically setting new standards of mob outrage! In the end, Cadbury had to be re-certified by Jakim, and was declared HALAL! YAY!
But till today, sales are still down, and they are STILL the victim of some very hideous comments on social media. Ouch!
So means got GST or don't have!? #ihatecilisos
Well, we tried Google. But even Google is confused. #ihategoogle?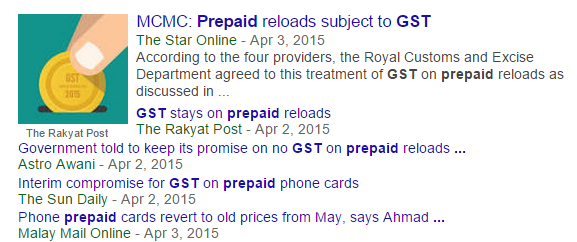 …while we, the customers, have to wait for them to do their survey to see if people prefer to stick with the old price or get the bonus air time.
Sorry guys, no easy answers here. Like everything else with GST, we're just as confused as you are.
Maybe ask the people's hero, Ahmad Maslan on Twitter?
https://twitter.com/ahmadmaslan