Hey, you took the clickbait! Good job to whoever who wrote this headline. 🙂
One of the things we seldom do here is to write about ourselves, but we thought after a whole 364 days of entertaining and educating Malaysians, we should be allowed ONE day to shiok sendiri.
If you've always wondered what it's like being in the CILISOS office, well here's a peek into what it's like.
1. Our office is brimming with MADE IN CHINA stuff
Among the many props we have in the office, there's also the infamous 'Hat of Shame' – a magnificent plastic police hat graffitied with all past typos done by the CILISOS team in liquid paper. We've also got the 'Thumb of Judgement' which doubles as a whacking instrument, and a weird thumb-up that lights up and plays a killer tune.
But while we're at this, we'd like to take the time to say sorry to the PropSocial team (our sister company and we co-share the office space). We know we sometimes leave our junk lying here and there, but we're trying to be tidyyyy! Better us in 2016 k? <3
2. We actually exercise our rights…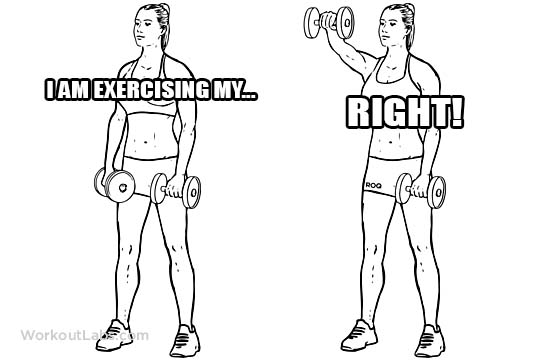 No, quite literally. We actually workout every Monday and Thursday nights by watching YouTube videos on our fancy TV. We do Jillian Michaels, a bit of PopSugar Fitness, and Fitness Blender (which is only slightly meh because they don't have that dush-dush-dush workout music in the background).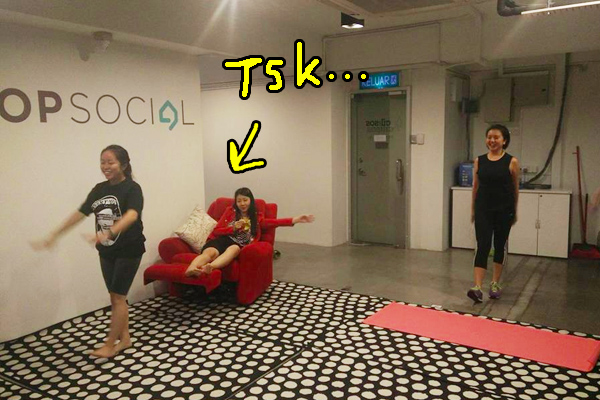 But in all honesty, we've realised that we got real fat ever since working in CILISOS. (Except Jolyn, she's got special worms that take care of her figure so long as she eats MSG-laden food and chocolates.) And what with all our stay-healthy-don't-take-your-health-for-granted articles, we gotta walk the walk la…. even if it includes 2.5kg ankle weights.
3. Wallase's apology signboard is still up.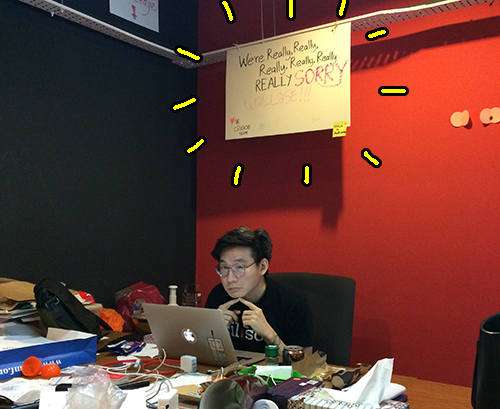 Despite our many political articles, we've only been invaded once, and for a porn article.
Sometime this time last year, we published an article on Malaysian Pornhub stats that unfortunately featured an innocent Wallase Tan in the background. The picture was actually taken from our editor's cameraphone, while at a popular cybercafe in Damansara Utama. Read more on our apology here.
Part of the apology is hanging this CARDBOARD SIGN up as a constant reminder for us to be more careful about innocent identities when it comes to publishing sensitive articles, and as we wrote in the article, the only one that has the power to take it down is WALLASE TAN.
Eh bro… one year already la. UiHua has been living in constant fear of it falling down and striking him fatally. Can come collect? Pleaseee… we give you coffee k?
4. Things tend to get weird at 5.30pm. Seriously.
According to some of our interns, we tend to get a bit sot-sot around 5.30pm, every day. Not sure if it's our bodies subconsciously releasing stress from all the writing and researching, but it's defo a daily occurrence. Like…
… and not to forget, the time when Uihua tried to induce vomit as a way to get rid of the pedas in his mouth:
5. For the longest time, even we ourselves couldn't explain what CILISOS is.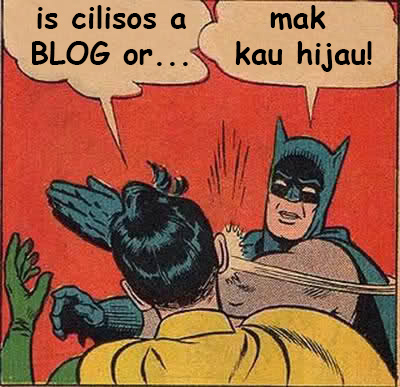 Ok fine, when we Googled 'blog definition', we got this….
BLOG /

bläɡ/ noun – 

a regularly updated website or web page, typically one run by an individual or small group, that is written in an informal or conversational style.
… and while the description fits us to a tee, we still found it really hard to call ourselves a blog. Cos like hello, our friends from Says.com also updates regularly but they're not a blog what!
And then some people call us a 'news portal', which isn't quite right cos we don't report news the way news sites do.
And then some people call us a lazy, 'social news website' that operates by copy-pasting everything from The Star, which ugaiz know is as true as GST helping Malaysia.
We've even heard of CILISOS being a 'content elevator', whatever the fukua that is. ¯\(°_°)/¯
And don't even get us started on how many people think we actually make and test chili sauces….
SO WHAT IS CILISOS THEN?! Well we've pretty much settled on a 'Features site that helps Malaysians understand Malaysia', cos… err… that's what we do lor ¯\_(ツ)_/¯
Malaysia very hard to understand meh?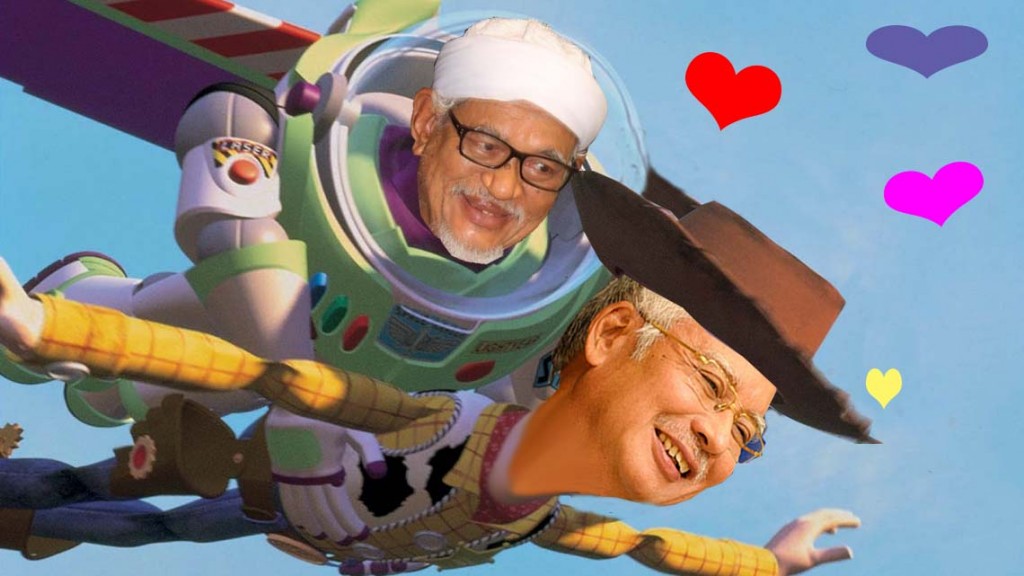 In a word, YEAH.
This year was a scary, political year – a ringgit that went down faster than the price of kangkung, political severities and several clampdowns on the freedom of speech that keeps sites like us alive.
And it's more important than ever to ensure that Malaysians are more well-informed than ever before. Because the more we know, hopefully the more we can do to make this the country we all know it has the potential to be.
So while we sign off from a rocky 2015, here's us wishing you a Better New Year. And don't forget, Malaysia Boleh 🙂