Culture
Lifestyle
Happy 1st B-day CILISOS! Our writers recall their first articles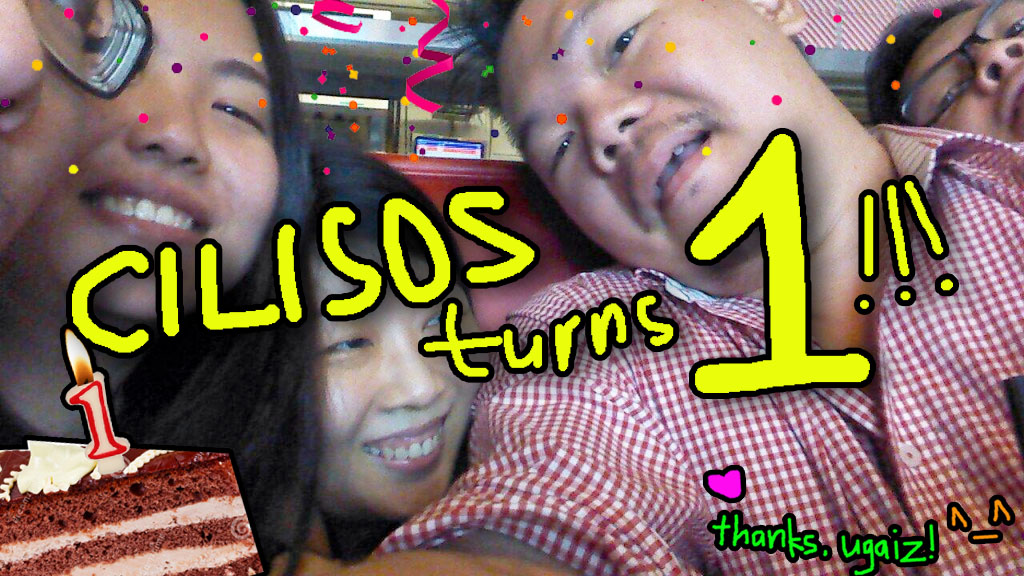 One year ago, CILISOS didn't really have a proper office. It was, quite literally, in the dining room of our Editor-in-Chief Chak with his two silly wiwwy pariah doggiesszz barking by our side. It looked like this: 
And then in September 2014, we moved in to a proper office in Kelana Jaya: 
We're ETERNALLY grateful for all the support we've gotten through the months, from our favourite lawyers such as Fahri Azzat, Eric Paulsen and Michelle Yesudas, to news sites like The Star, Malay Mail Online, Malaysiakini, The Malaysian Insider and many, many more… The incredible minds and hearts behind Sisters In Islam, Sinar Project, Loanstreet, Fake Malaysia News, Suaram, KPRU, Al-Jazeera 101 East, the MET department…
Plus Zunar, Gayathry (cos you keep tweeting us), Jonathan Freeman, Dominic Chin… All our amazing freelancer writers… And definitely Maxis for being our first advertiser, and Smirnoff for being our most regular advertiser <3 (cos you all keep food on our table!)
And not to mention our super-mega-awesome CILISOS readers who have been incredibly supportive throughout our 12 months delivering stories to your screens. Whether it's a share or a like, a comment or an email, we love hearing from all of you regardless whether it'll make us go "awww" or "oh crap why didn't I think of that?". Ugaiz have no idea how encouraging you all can be. :')
Now some stats to make this part look serious:
2,076,119 users came to our site, generating 4,173,601 page views
Our audience, which initially started out with general youths, have now flattened gradually. So yes, grandparents actually read our site! (Sorry we never thought you guys understood memes  :cry:)
In 2014, we produced 225 articles and they were all shared 198,292 times on social media. (Keeping 2015 stats for our new intern to find. S.A., we're looking at you!)
 Our Facebook page reached 10k likes on April's Fool!
There are actual CILISOS t-shirts which you can purchase here. #CILISOSshameless
And other redundant info bout the CILISOS team:
No. of tattoos = 7
No. of white cars = 2
No. of Android users = 4
Average daily coffee consumption = 8
Weirdest person = Jolyn
So while we're in this #syoksendiri mood, we've also gotten everyone to take a look at their first CILISOS article to reflect and tell us what they've learned so far. Oh, and 60% of the CILISOS team cringed when forced to re-read their stories.
"Back when I was still freelancing for CILISOS, I remember waking up to Chak's text telling me that the site's been launched and my article had just hit 400 shares. Horrified, I scanned my story over three to four times for crappy typos and all that. While all seemed ok, I still felt jittery inside. Nervous, very nervous, but incredibly excited. [Chak's edit: I actually thought there was a bug causing the numbers to rise so fast] 
Why? Cause I wrote that observational piece out of fun, barely thinking about the hundreds or thousands of people about to read it. (Throughout all my years in publishing, I've never had the chance to write stuff like this.) Just waiting for a hate comment, coming in anytime now…
And indeed, it happened. CILISOS received its first hate comment! Mind you, this was waaay before our current Disqus comment system. Back then, users had to CREATE an account on our site, authenticate their email and all that. So when a reader actually went through all the trouble juuuust to stick some hate in my face (with an account so aptly named 'Lydia Kwan You Suck'), we knew… Heck yeah! We made it!!!
That comment aside, my first story taught me two things: people like identifying themselves (kantoi! korang sumua narcissist!), and people actually read our stuff. The latter always reminds us that it's our duty as writers to be responsible over the stuff we publish. We're not politicians nor are we bosses, but the very fact that our voices are being heard means we should carry that power – no matter how small – with care and conscience.
So whether or not our stories are about current events or silly cats, it's important for us to weigh our points for balance, and believe in what we write about."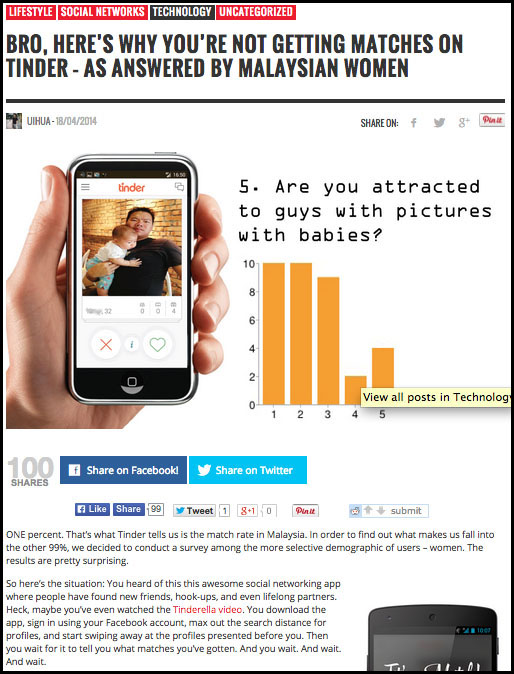 "I'll admit, I had absolutely no idea what I was doing when I wrote the Tinder article – my first ever one on CILISOS – but then again, I'm not sure if I know what I'm doing now. All I remember are multiple re-writes to meet the site standards and the tears from my failure to do so – something that still happens now (Sigh).
Looking back, I guess I could have worked to improve the layout and presentation but any misgivings I had about writing the article was offset by the epic matches I got on Tinder SO UGAIZ SHOULD TOTALLY READ AND SHARE IT OKAY.
But what I stuck with me most writing the article was the freedom to experiment with styles and approaches. I remember Chak telling me in the initial draft that I was being too "Shakespearean" with my writing and that I should loosen up. And this freedom is something I still enjoy today."
"My first article was 6 types of Malaysian parents. Summore can use 'lah' and intentionally make Malaysian grammar mistakes. Easy right? That's what I thought. It wasn't until I came on board full time with CILISOS that I realised how different writing was going to be here. Suddenly, level mode: VERY HARD.
It wasn't just some fluff piece like 6 types of Malaysian parents, you know! It was 6 types of Malaysian parents with research and links and stuff. How to research that Malaysians are like that?? They just are! Amaraite? But still I found the links. So my perception change is….never assume. Always verify your facts. And always look at both sides of the picture – meaning, as there are nurturing Malaysian parents, there are also rotan Malaysian parents.
And the results were 209 shares. OK la. Very grateful to all our readers out there. Love ugaiz!"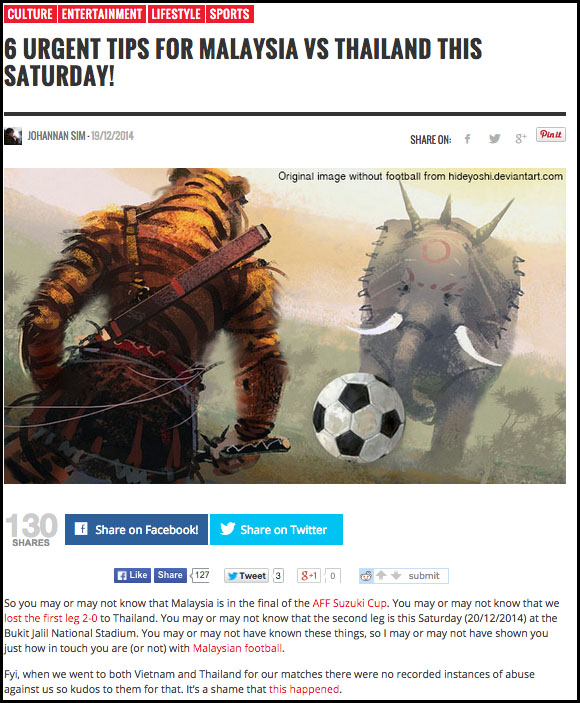 "My first article was, quite literally, my first article. I was an intern fresh out of college with no inclination whatsoever on how writing even worked in the industry and obviously felt like I had something to prove.
So when the opportunity finally came to write, I was like "I'm gonna try so hard that I overdo it." No I'm kidding, I didn't actually think that, but that's what happened. The first article that I worked on wasn't actually the one about the 'Suzuki Cup Final' but actually the one about 'Killer Weeds'. However, the former was published first because the football final was a lot nearer than the weeds were.
Anyway, in those two articles I felt that I tried really, really hard to be funny. Why? Because CILISOS writers write really funny stuff and I wanted to fit in too laaa. Thankfully, Chak noticed that in my drafts and very early on pointed that out. The two articles probably still ended up having many traces of trying-too-hard-ness in them and that's probably why neither did very well, but nevertheless it allowed me to be corrected of what I think could have been a huge problem with my writing: approval.
I was an intern at CILISOS for 3 months. In that time, I have changed the way I see things, both personally and as a member of society. As a website that talks about current issues in Malaysia, we basically followed politics every day, and to be honest, it was quite draining. I remember reaching the midway point of my internship and feeling a little bored by the repetitiveness of Malaysian politics. But then this happened.
A friend of mine who had been following CILISOS sent me a message asking about the Altantuya story. He asked if CILISOS had written anything about it because it was something that started back in 2006 (when the biggest thing on our mind was whether anyone would notice that massive pimple that had appeared on our forehead overnight). I said no and told him we'd look into it.
His reply was to let him know if we did. I realised then, that my friends were reading this stuff and it was in fact, helping them to read the news once again. I eventually wrote '4 possible reasons to why Altantuya's murder trial took so long', but more than that, the conversation with my friend was a huge encouragement which, in a sense, allowed me to see that I wasn't just simply writing stuff la but writing with some sort of purpose and goal in mind."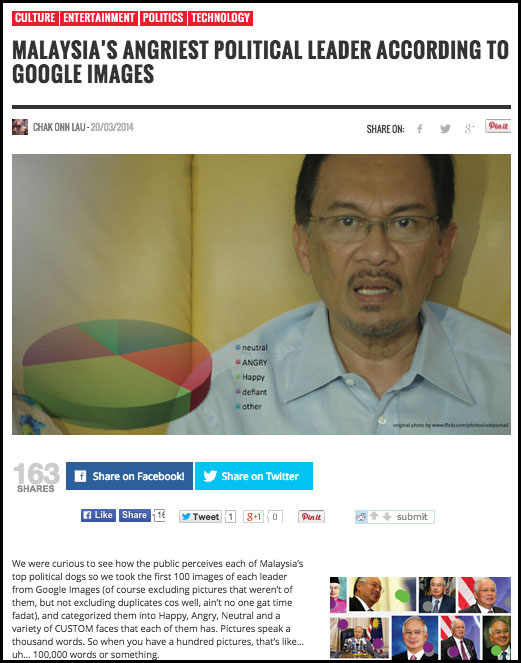 r
"When I was writing this article, I had no idea what I was doing. All I knew was that for the first time in my life, i had FULL EDITORIAL CONTROL. No brand i needed to live up to, no editorial history, no editor, no advertisers nothing.
And what did I write about? Malaysia's angriest politicians. Surprisingly tho, it nailed down alot of the values that CILISOS carries till today – an element of fun, mixed with weird research methods, and useful knowledge.
I'm glad that Karpal featured as least angry as well, since he passed away shortly after the article was published. In fact, I learnt alot about him as I wrote the article – a trend that I'm happy continues to this day. We learn as we write."
– ——- –
We wanna hear from you!
Like we said, our readers are super important to us, and their feedback important-er. How much have we grown since Day 1? Are we going in the right direction? Are we adding as much value as we can? Is there something that we're missing?
Let us know in the comments, or drop us an email at [email protected]
For now, here's hoping that our 2nd year would be just as kicka$$ as the 1st, if not better.