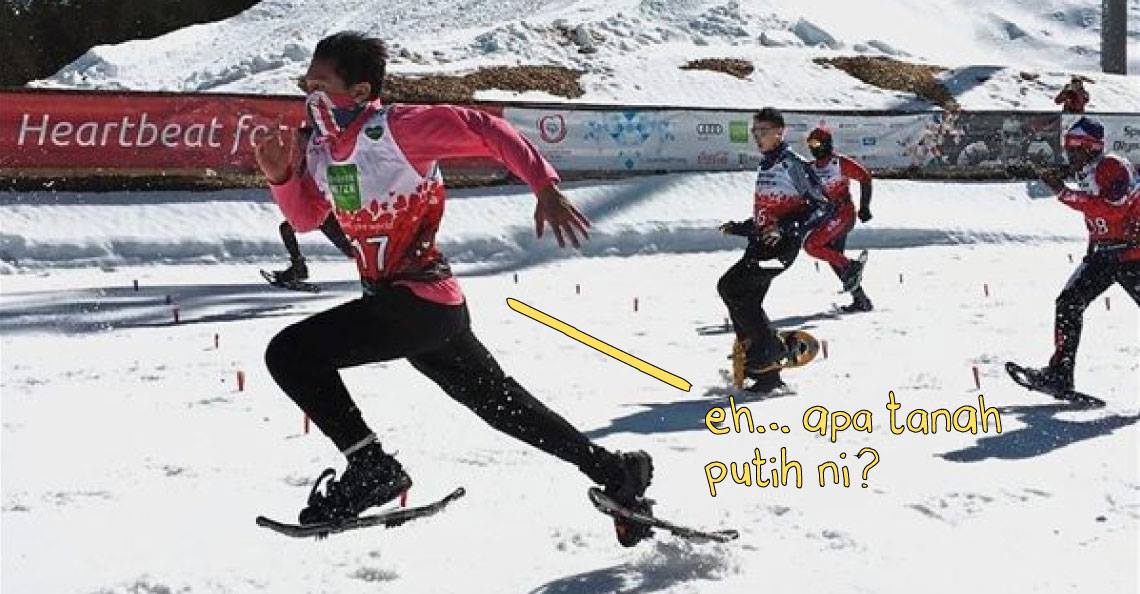 So the Special Olympics World Winter Games 2017 just concluded last week in Austria and do we have best news evarr. Out of 2,700 athletes from 107 nations Malaysia won three gold medals, two silver and a bronze! Yass, you read correctly, THREE gold medals. All five medals were won for snowshoeing races – it's like racing, except you wear the 'tennis racquet' on your feet to run on snow, though modern snowshoes tend to look more like this:
Here's the breakdown of who won what: Norysuhadatul Aulia Saidina Maarufi, 17, won two gold in the female division mixed age group (13-20 years) 100m and 200m events. Noraini Zakaria, 15, won one gold for the 200m event in the 12-15 years group. Danish Rosli, 17, won two silver, one each for the 100m and 200m for age 16 and above. Muhammad Umar Hafiy Mohd Firuz, 14, won the bronze in the 4x100m mixed group division snowshoeing relay.
Before we go on, we need to explain what the Special Olympics is. It is the world's largest sports organization for children and adults with intellectual disabilities. Like the Paralympics, Special Olympics is recognized by the Olympics. Danish from Miri and Muhammad Umar from KL have dyslexia, while Norysuhadatul and Noraini, both from Sandakan, have learning disabilities. Norysuhadatul also has hearing impairment.
But you're probably wondering how they classify athletes' disabilities. What if one athlete's disability puts him/her at a greater disadvantage than the others?
Actually, there are classifications to make the competition fair for all
When elements of competition are introduced to a sport, it becomes more important to group people according to their abilities in order to ensure fair competition. This applies to Special Olympics, Paralympics, and also Deaflympics.
Firstly, athletes who want to participate in the Special Olympics must meet the minimum eligibility criteria and be a member of an affiliated national association (which Malaysia is). An athlete must be at least 8 years old and be identified by an agency or professional as having an intellectual disability to be eligible.
Next, they have a unique system of 'divisioning' which groups athletes together based on age, gender and ability. This is a two-stage process. In the first stage, coaches submit a time or distance for each athlete for individual sports (like snowshoeing), while for team or judged sports, coaches submit athlete or team ratings and/or skills assessments.
In the second stage, divisioning races, judged events or short team matches are held to assess the athletes' or teams' ability levels. There should be no more than a 15% difference between the most highly skilled athlete/team and the lowest skilled athlete/team in a division. Based on those results, they are all then grouped into competitive divisions for the finals.
Eh chup, what if athletes CHEAT? What if they pretend to do badly during the testing, and then do amazingly well for the finals? Don't worry, the Special Olympics Committee people are experts. If any athlete tries to pull a stunt like this, they may be subject to disqualification. So, the coach plays a critical role in ensuring fair divisioning.
Similarly, the Paralympics Games also has eligibility criteria that differ across sports and disability groups. The six main categories of disabilities are: amputee athletes, cerebral palsy athletes, vision impaired athletes, wheelchair athletes, Les Autres ("the others") and intellectual impairment.
Each classification rule describes how severe an eligible impairment must be for an athlete to be considered eligible. These criteria are referred to as minimum disability criteria. Examples of minimum disability criteria could be a maximum height for short stature, or a level of amputation for athletes with limb deficiency. Minimum disability criteria should be defined on the basis of scientific research, which assesses the impact of impairments on the sport's activities.
But despite being differently abled, here's the more impressive part about Norysuhadatul and Noraini winning gold medals… both girls had NEVER seen snow in their lives, aaand the day before the race was the FIRST TIME they ever wore snowshoes WHAADUUPP! Then how did they win if they had never seen snow in their lives?!!
No snow, never mind. Good thing Malaysia has something similar!
To prepare for the competition, the Malaysian athletes trained on sandy beaches and in shallow water because it simulates snowy terrain. Thank goodness Malaysia has plenty of beaches then – particularly Sabah, where the girls are from. The team would also do cardiovascular training by running up and down the stairs at sports complexes, as well as run and train at the gym to build stamina.
Usually when we think of Olympics or any games, we think of badminton, cycling, and diving… no one really thinks of the Winter Olympics. But did you know Malaysia recently participated in the Winter games at youth level? In 2016, figure skater Chew Kai Xiang became the first ever Malaysian to compete at the Winter Youth Olympics in Norway. NO ONE has ever competed for Winter sports, whether at senior or youth level. But it's not so surprising la, coz we do have skating rinks.
After Kai Xiang come our recent heroes, Norysuhadatul, Noraini, Danish, and Muhammad Umar. 🙂 It's so cool that the snowshoeing team managed to train on home ground despite our country being located along the Equator, where it doesn't snow.
However, these aren't going to be just random instances Malaysia decided to go crazy and participate in Winter sports…
We're gonna start seeing Malaysian athletes in more winter games from now on
Come 2018, we'll might see more Malaysians competing in the Winter Olympics when our alpine ski team hits the slopes and figure skater Julian Yee Zhi-Jie hits the ice in PyeongChang, South Korea in 2018. Yup, Malaysian athletes have also formed a ski team even though we have no snowy alpine mountains. Only got Mt. Kinabalu la. This team consists of…Tun Dr. Mahathir's two grandkids (we wrote story before) and another member Jeffrey Webb.
"Malaysia has never featured in the Winter Olympics and I believe that the time has come for us to make our debut. Other Asian countries like India and Thailand already have their own national skiers. Malaysia should have a national skiing team too." – Othman Mirzan as quoted by The Star
And we're gonna start seeing a lot more Malaysian participation in Winter sports categories from now on, not just Olympics related. For example, there's news that we participated in the 2017 Asian Winter Games in Sapporo and Obihiro, Japan (February 19-26). Othman and Jeffrey competed in skiing for the first time at that. Plus, this year's SEA Games will introduce five new sports (including two winter sports – ice hockey and ice skating).
But if the regular Winter Olympics generally doesn't come to mind, imagine how much more niche the Special Winter Olympics is… As is it, we bet the average Malaysian doesn't really know what the Special Olympics even is, or that our country participates in it.
Perhaps there's a way to show special athletes our appreciation
It feels like there is so little exposure to on the Special Olympics Malaysia committee (yup, we actually have a Special Olympics Malaysia committee). Padahal right, Malaysia's special athletes have proven themselves quite a number of times in the international arena, for example, we've won SIX gold medals at the Special Olympics 2015 and also six gold medals in 2011. Whereas if our athletes won medals for the Olympics, Malaysians would go ape!
Lam Saw Yin, volunteer with the Special Olympics Sabah NGO and head of the Malaysian delegation at the recent Special Winter Olympics admitted that it wasn't easy to get sponsorship, that's why they couldn't only take part in snowshoeing in Austria. Perhaps our country can show its appreciation to these athletes by increasing sponsorship, because at the end of the day, allowing individuals with intellectual disabilities to participate in the Special Olympics and other similar activities is beneficial to their overall development.
"Hopefully, we can participate in future games and in other categories, maybe floorball or floor hockey." – Lam Saw Yin