*Our feature image was taken from a comic titled "Mahathir Mohamad: An Illustrated Biography" written by E. Yu. If any of ugaiz interested, you can get a copy here!*
OMG ugaiz did you hear? Tun Dr Mahathir Mohamad announced that he's leaving UMNO! 
"I want to leave UMNO because it is no longer UMNO. It is a party dedicated to supporting Najib, protecting Najib and I cannot be a member of such a party.

I won't call it UMNO anymore, it is Najib's party." – Tun Dr Mahathir Mohamad, as quoted by The Malay Mail Online
That's crazy right??? But guess what's more crazy? This actually isn't the first time he's left UMNO! Das tru. Before this current one, it happened once in 1969, and another time in 2008. But why right? Does he get a kick by leaving the party?
Well, that's what this article gon' be about. So grab yo' popcorn.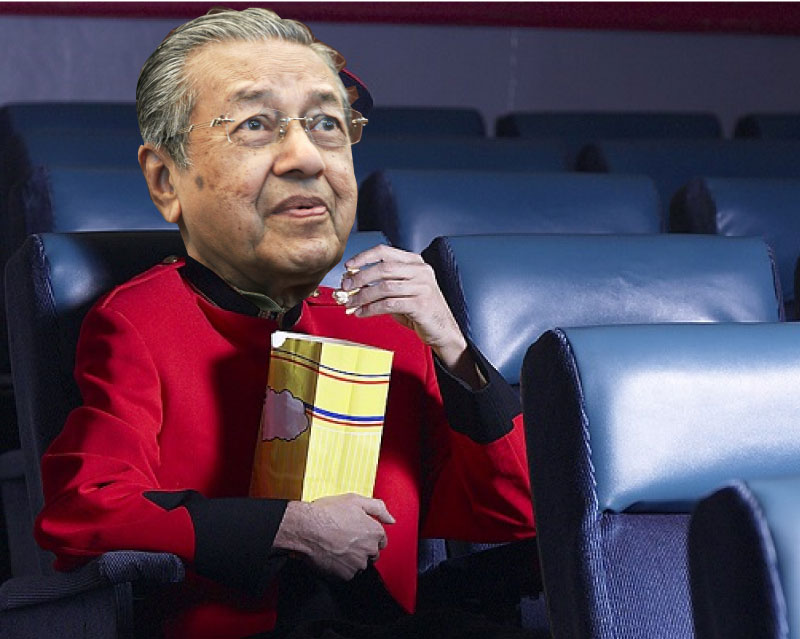 1969: The one where he spoke up against Tunku Abdul Rahman
Why he left: Err actually, he was kicked out after he wrote a letter to Tunku Abdul Rahman blaming him for the May 13 incident.
What happened after he left: Tunku Abdul Rahman resigned, and he rejoined the party.
Back when Tun M was at a wee, tender age of…44, he was actually quite a bit of a rebel. According to UMNO's official website, Tun M was kicked out of UMNO in September 1969 for being very critical of the UMNO leadership at the time, led by Tunku Abdul Rahman. 
Many of you would have heard of the May 13 incident. Parti Perikatan (BN of that time) had lost quite a number of seats to the opposition, and the results eventually led to a racial riot. 
Not long after the riots, Tun M, an UMNO Supreme Council member at the time, wrote an open letter to Tunku Abdul Rahman, blaming him for what happened during May 13. We couldn't find an official copy of this letter, but the letter was published on several blogs (here, and here, and a lot of others la). Here's an excerpt.
"The Malays whom you think will never revolt now have become mad and run amok , to the extent of losing their own lives and killing those that they hate because you accidentally gave face. The responsibility of the deaths, Muslim and non-Muslims, must be placed on the shoulder of the leader who made the wrong stand." – English excerpt of Tun Mahathir's letter to Tunku Abdul Rahman, from malaysiansmustknowthetruth.blogspot.my
It's probably best to read the full letter for context, but basically he held nothing back. He even told Tunku (and everyone else since it was an open letter), that Tunku had done a terrible job at leading the country, and that he should step down as PM. 
This was said to infuriate Tunku so much that Mahathir didn't just get kicked out of UMNO, he was almost arrested under the Internal Security Act. 
But Tunku didn't stay as PM for long as he resigned in September 1970. This eventually paved the way for him to rejoin UMNO in March 1972. 
2008: The one where Mahathir tak puas with Badawi in GE12
Why he left: He blamed Pak Lah for BN's worst performance ever in a General Election, and this time, he actually did resign.
What happened after he left: Pak Lah resigned, and once again, Tun M rejoined the party.
So when Tun Mahathir stepped down as PM in 2003, Tun Abdullah Ahmad Badawi (Pak Lah) was chosen to be the next PM. Someone who has been described as "handpicked" by Tun M for the job.
But fast forward 5 years and he was already calling for Pak Lah to resign. The reason? He blamed Pak Lah for the 2008 General Election train wreck. GE12 was dubbed a political tsunami because of how badly BN lost in that election, its worst (at the time) in the history of Malaysia.
Tun M put the blame solely on Pak Lah, and suggested that he step down as PM.
"I believe he (Tun Badawi) should take responsibility for this (loss). He must take responsibility 100 percent." – Tun Mahathir, as quoted by MalaysiaKini
We couldn't find evidence of anyone else in UMNO openly voicing out (except perhaps Mahathir's own son) but he looked to have been doing fine on his own. Aside from asking Pak Lah to take responsibility, he even said that Pak Lah had destroyed UMNO, and that appointing him was a mistake. 
However, it seems that Tun M's dissatisfaction towards Pak Lah may have gone beyond just GE12.
"I thought the party (United Malays National Organisation) might use me, ask for my views. But it turned out that the party doesn't want to have anything to do with me." – Tun M on how Pak Lah never asked for his counsel, as quoted by South China Morning Post
Besides that, he also mentioned he was disappointed at Pak Lah for halting certain things he started, most notably a 2nd bridge to Singapore (something that he was disappointed with Najib about too).
It just seems that GE12 was the last straw for Tun M, because not long after asking Pak Lah to step down, he dropped the bomb when he announced he was leaving UMNO, and that he would return when Pak Lah resigned.
And though he initially said he would not cave in to the pressure to step down, Pak Lah eventually caved about 6 months later. 
"In all my years of service, I have always been guided by my conscience … and I do not want a divided party and governing coalition, but one that is united and harmonious." – Tun Abdullah Ahmad Badawi, as quoted by BBC
And sure enough, Mahathir rejoined UMNO as promised, around the time Najib took over the reigns in March 2009.
So moral of the story is that when Tun M's advice isn't heeded, … he resigns. But hold on… why does this whole story sound so familiar!?
2016: The one where Mahathir tak puas until…the PM resign again???
Well, he said he's leaving UMNO this time because of PM Najib. So literally, every single time that he's left UMNO involves a Prime Minister, and the last 2 times that happened, the PM didn't last very long after that.
OMG does that mean Tun M actually has the power to remove PMs, and NAjib is next???
Well, it may be difficult to draw any comparison from the 1969 event because of the very different circumstances back then, but let's try with the 2008/2009 event. 
One thing that stands out in these two instances is the way that the PMs in question have responded to Tun M's call to resign. While Pak Lah eventually started to show a willingness to step down, it looks like the opposite is happening with PM Najib.
PM Najib has resisted the pressure for almost a year now. He has openly proclaimed not once, but twice, that he's here to stay. 
"With the strong support of Umno, I will not bow to the demand of one person to step down because three million Umno members are with me." – PM Najib, as quoted by The Star
And aside from saying that he would stay on, he also made a number of very controversial changes to the gomen, most notably, removing Tan Sri Muhyiddin Yassin as DPM AFTER he voiced his concern with the whole 1MDB issue, and introducing a law that gives the Malaysian PM pretty scary powers.
So it's really hard to say whether or not Tun M leaving the party this time is going to have ANY effect at all on the current situation.
"Many Umno members cried when Tun abruptly resigned as prime minister in 2002. But this time around, tears no more!" –  Datuk Abdul Rahman Dahlan,  BN strategic communications director, as quoted by The Star
But for Tun M it seems to be no longer about UMNO, but about Malaysia
In 1969, Mahathir spoke out to protect Malay rights.
"I wish to reiterate that the statement I made was to prevent the incidents that will increase animosity and hatred among the Malays towards the Government and encouraging the Chinese to further humiliate the pride of the Malays." – English excerpt of Tun Mahathir's letter to Tunku Abdul Rahman, from malaysiansmustknowthetruth.blogspot.my
In 2008,  Mahathir was trying to save UMNO.
"In my opinion, he (Tun Abdullah Ahmad Badawi) has spoiled UMNO, destroyed BN, and he must be responsible." – Tun Mahathir, as quoted by MalaysiaKini
But today in 2016, the language is quite different…
"There was a time when I go abroad, people talk highly of Malaysia. Today, if we go abroad, we meet people, what they say is that 'hey, what's happening to your country?'" – Tun Mahathir, as quoted by MalaysiaKini
And at the moment, it looks like he's willing to do things he's never done before to remove PM Najib, including working with opposition leaders like Lim Kit Siang, and the two of them don't actually like each other very much. Remember Ops Lalang?
Actually, them working together may only be a part of the bigger story at play here. Prominent lawyer, Dato' Zaid Ibrahim, pointed out in September last year that in this current state, the only person capable of standing up to PM Najib is Tun M himself. But as analyst Shahbudin Husin pointed out, that for real change to take place he cannot do it alone.
"I am here to remind you that political change in Malaysia requires Malays to accept change; and Malays will accept change only if the Malay leaders they respect tell them to do so. If Malays have fears, no matter how unjustified, they will only be able to overcome those fears and become brave if Malay leaders tell them to do so." – Dato' Zaid Ibrahim, as written on his website
Also keep in mind, despite his sharp mind and youthful appearance, Tun M turns 91 this July. But despite him not exactly being a spring chicken anymore… you can be sure that he'll be fighting till he can't fight anymore. Whether you think that's because he loves power, loves UMNO, loves Malaysia or just loves fighting… that's something to be respected.