First-time property buyers must be pretty stressed. With Malaysian property prices at an all-time high (although slowing), it's getting harder and harder to find something you can afford. Way back in 2005, our Editor wanted to buy this unit in Mont Kiara, and the price was about RM500k.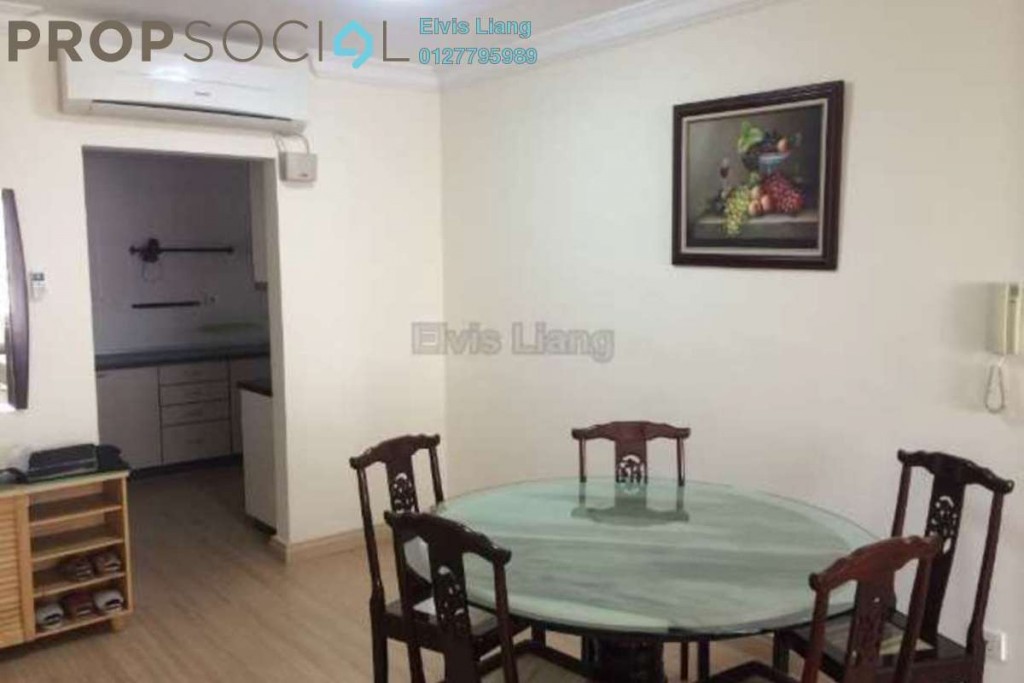 Six years later today, the same size unit is listed at RM850k on Propsocial.my (which incidentally shares a floor with CILISOS!). Sadly, salaries in the last six years haven't grown as fast as property prices, and this has left home-owners quite unhappy 🙁
"…increasing costs made the affordable segment — the RM200,000 to RM400,000 — financially unviable and unprofitable for developers." – The MalayMail Online, OCt 18 2016
But people still want to buy properties… and we thought we'd help ugaiz out! So we looked at properties all around Malaysia that people buy for RM500,000 (or around that figure) in different states, focusing on value for money to raise a family 🙂 Cos that's what we assume people buy houses for (not just to invest laaa).
1. Kuala Lumpur: A cosy condo *near* Publika yo
Price: RM530,000

Built-up:

1,100 sqft
Tenure: Freehold
A little bit PAST Mont Kiara and Publika, there's a decent sized area of condos in the not so glamorous area of Segambut (Solaris sounds so much more glam). But that's fine, because you can comfortably say "I live near Publika" instead.
And what a place. For just a little bit above the RM500k, you get a 3-bedroom, 2-bathroom, swimming pool, gym, sauna, tennis court, jogging track, playground, barbecue pit, mini market, 24-hour security and covered parking.
There are actually properties like this all over KL, but probably in older neighborhoods, and usually less glamorous (sure got gerai makanan downstairs, and kampung nearby aka Penchala) addresses. But for the money, you get a central location and a few rooms to build a family.
2. Humongous bungalow in a not so happening neighbourhood in Serendah
Price: RM480,000

Built-up:

 5,993 sqft
Tenure: Freehold
YES! THE DREAM IS TRUE! In Serendah, you can actually buy a bungalow! This bungalow is only a few away from the Serendah KTM station, a public secondary school (SMK Serendah), a government dental clinic and three speedmarts. And it's only 50 minutes away from KLCC (without traffic… THE DREAM! THE DREAM!), or 40+ minutes to Publika. The neighbourhood not so cantik though. You can see for yourself on Street View.
3. A swanky studio for people with no kids, 5 mins walk away from KLCC!
Price: RM480,000

Built-up:

 450 sqft
Tenure: Freehold
Aiyo, city centre sure mahal yo. This unit in Parkview KLCC is a 1-bedroom studio apartment that comes with housekeeping and 24-hour security. Oh and chandeliers – Lots n lots of chandeliers 🙂
It's a 5 minute walk from KLCC (!), which makes it great for people who don't plan to have children, or those who wanna put it on Airbnb, where it can get pretty good prices!
However, some have mentioned that the developer doesn't have such a strong reputation, so if you're buying one here… be a bit careful k?
4. A family semi-D in the land of siew pau Seremban
Price: RM450,000

Built-up:

2,626 sqft
Tenure: Freehold
Seremban prices aren't what they used to be. While the rest of Malaysia's property prices are slowing, Negeri Sembilan still recorded a 7.3% growth last year.  But even then, you can still find something decent (at least for now) within our budget.
This 2-storey semi-detached house has 4+1 rooms, 4 bathrooms, separate wet & dry kitchen, a built-in wardrobe in the master bedroom, 3 air-conds, 2 water heaters and water filter. And you still get to save RM50k summore. But for that budget or lower, you could also get terrace, link and superlink houses. Check it out here on PropSocial.
5. A slightly smaller bungalow in up and coming Ipoh
Price: RM480,000

Built-up:

3,595 sqft
Tenure: Leasehold
In Ipoh, prices are also going up together with the rest of this once-sleepy city. Luckily, we found this double-storey bungalow for our budget. It has 4 bedrooms and 4 bathrooms, and it's even newly refurbished. The master bedroom has a walk-in wardrobe too. According to the description given, the house is located in a very nice and quiet neighbourhood, plus it is close to schools, shops, mini markets and other amenities.
We also found out that you can buy terrace and semi-d houses for that budget in Ipoh, with plenty of hipster cafes nearby. Not so bad wor.
6. Gated and guarded community semi-D in Johor Bahru
Price: RM450,000

Built-up:

2,050 sqft
Tenure: Freehold
A few years ago, Johor properties were the fastest accelerating at 20.4% per year (!), but the market has slowed massively in the last two years. Last year, Johor recorded one of the lowest property price hikes at 3% annual. Prices still aren't cheap tho… cos brady Singaporeans were buying like mad at one point. RM500k won't get you much in central areas.
To find a nice big house within our RM500k budget, we had to look all the way out to the Pasir Gudang area, which is more industrial. However the bank value for this house is RM550k, so it sounds like a good deal. It's got 4 bedrooms and 3 bathrooms, plus it's in a 24-hour gated and guarded community.
7. Old skool apartment in historical Georgetown
Price: RM480,000

Built-up:

 900 sqft
Tenure: Freehold
Penang is also similar to Johor, in that prices went up massively in last coupla years (14.3% in 2014), but hasn't been growing much lately (3.5% last year). That's why LGE can get so cheap laaa 😉
New condos in Penang aren't that much cheaper than KL, most going into the millions. However, Desa Singora is an old and popular apartment building situated approximately 10 minutes away from the city centre, 20 minutes from the Penang Bridge and with easy access to the Tun Dr. Lim Chong Eu Expressway.
Eventhough it's quite old school, because of it's central location, Desa Singora has been appreciating in value over the years. This unit has 3 bedrooms, 2 bathrooms and it's partly furnished.
8. Can't even finish budget in Kota Bahru
Price: RM300,000

Built-up:

 1,374 sqft
Tenure: Freehold
Last year, Kelantan was the only state where property prices actually dropped – by 0.2%! In Kota Bharu, which is the capital of Kelantan, we found an old bungalow unit with 4 bedrooms and 2 bathrooms going for RM300k. Even if we naik bajet a bit, you can get a swag brand new semi-D with gated community and garden space for RM448k!
So morale is.. if you wanna live swag, move to Kelantan!
9. An outskirts terrace or a nice condo in Kota Kinabalu (like KL mebe 8 years ago)
Price: RM500,000

Built-up:

 2000 sqft
Tenure: Leasehold
KK prices have gone up too, but they sound alot like KL prices 8-10 years ago. Growth rate is same as KL in terms of prices too, with relatively good demand this year still.
"The demand for landed properties in good locations is still very strong for both rental and sale. I receive calls for landed properties within the range of RM600,000 to RM800,000 almost every day." – May, commenting on 2016 real estate market in KK to the MalayMailOnline
For RM500k, you can get either an old terrace house in the suburbs, or a decently lux-condo in the city centre. We found an old terrace house walking distance from Lintas square for RM500k on the dot, but it looks pretty basic.
ORR, you could instead get this brand new 1000-ft swanky condo called the Lido Four Season, with 3 rooms and 2 bathrooms, and comes partly furnished. As usual, it has the basic condo amenities like pool, gym, barbecue area, covered parking, security and so on.
10. A brand new 3D terrace house in Kuching
Price: RM410,000

Built-up:

 1000 sqft
Tenure: Freehold
In Sarawak, because of recent slowdowns in the property market… some of the newer properties can be bought for quite nice prices.
"In 2015, the anticipation of higher mortgage rates and the increased inflation pressures with the implementation of the 6% GST further dampened property sales as buyers took on a "wait-and-see" attitude." – The Sun Daily
We found one on PropSocial, which is a new, gated community called CG428, which starts at RM410,000 for the cheapest houses. It's pretty central too, but since it hasn't been finished yet, all you get to see for now is a showroom and a swanky 3D render!
Wow… ok wor RM500k homes. Relatively…
Recent years have been a bit crazy for the real estate market. But we're finally seeing a slowdown in the prices of houses (*whew*). You can thank Bank Negara for that, since they made it harder for people to get loans on properties, unless they can afford it. While it might make it harder for you to buy a house, it does a good job of making sure you can afford one too.
Of course, the main option is to move further away from city centres lor. Penang, Selangor and KL are obviously the most expensive, although Seremban, Melaka and Johor aren't as cheap anymore either. However, you'll realise that the closer you move towards a capital, the more expensive each square foot becomes. So, for RM500k, it was difficult to find a bigger property than a studio in the heart of KL, whereas you could buy bungalows in Serendah and Ipoh.
The main thing about property unlike other things (like clothes, cars or services), is that they can run out. For freehold properties – once you own it, no one else can own it until you KO (without anyone to inherit it).
"More land can't be built, so demand and prices will always rise, making real estate a great investment" – Investopedia
And with more people occupying the same planet, there's not going to be enough space to buy for everyone. Some markets, like Germany, are incredibly stable in price because everyone rents, which some people say is what should be done – because it maximises efficiency – most houses have people staying in them so people don't have to travel so far unnecessarily and waste a country's resources.
However, because many Malaysians (and foreigners too) are buying alot of properties for appreciation without staying in them, this creates empty spaces in city centres, which is kinda wasting space lor. Thankfully, in the long run… this will most likely make houses cheaper.
But don't worry! If you can't wait and want to buy a house, AND if you're tolerant of hantu, bad omen numbers and mining pools – there's always a bargain to be found here in Malaysia 😉