*Featured images from asia-city.com
If it hasn't happened to you yet, just wait for it. There will come a time in your life, when you'll find yourself making lame excuses to ditch parties, dinners and anything that requires wearing a jalan-jalan shirt. Instead, all you'll wanna do is to go home, put on your comfy pajamas, grab a tin of pineapple tarts, and start watching TV all night long.
And even if you're not watching anything, chances are you'll be on your phone or tablet, Facebooking or watching random stuff on YouTube. We know this cos we do it too, and quite frankly, WE LOVE IT. #cilisosnosociallifewan #AINTNOSHAMEINTHAT
And things are about to get even sweeter…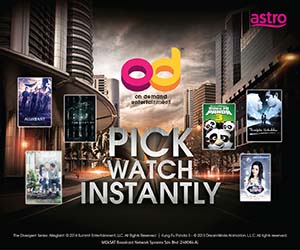 … because now you can download hours worth of TV programs and movies, LEGALLY! 
How you ask? If you didn't know, Astro, CILISOS' latest sponsor, has a really cool feature that lets you download shows with a box called the 'Connected PVR'. It will allow you to pick and watch anything you want instantly, so it's kinda like you have access to a huuuge library of entertainment at your fingertips. If you connect your PVR to your Wi-Fi, you can even download titles On Demand (a.k.a. OD).
There's a helluva lot of entertainment with OD, can OverDose on happiness wei. But you're about to get happier cos you can now…
… win cool stuff by telling us why you prefer watching shows/movies at HOME!
Das right, ugaiz. Now, we all have our reasons for staying in and watching stuff at home instead of going out… So tell us YOUR reason and the best entries will be rewarded with food and shopping vouchers worth RM100, courtesy of our cool friends at Astro!
Remember, we'll be publishing the best submissions, so make sure your entries are unique, funny and relatable! Hurry, contest closes 25th August 2016 🙂