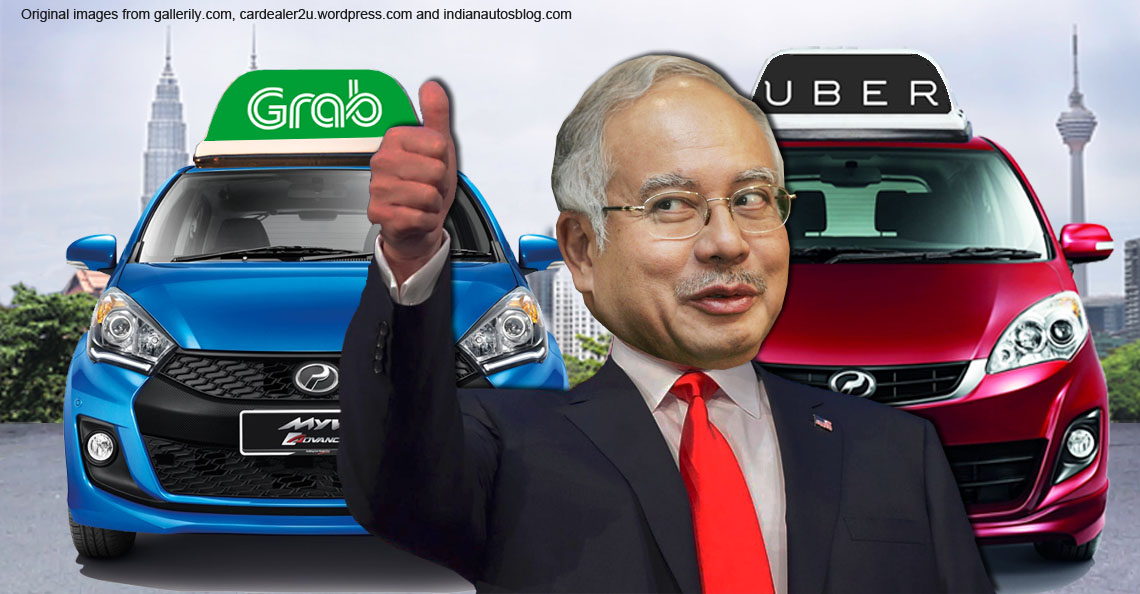 YAYY our days of bad taxi services may soon be over! Uber and GrabCar might be legalised by the government this year. If you are a heavy public transport user, especially in areas not serviced by trains or buses, this news is probably the sound of music to your ears.
Though this move has been a long time coming, it is quite surprising. With the scary way taxis have reacted to their competitors, we didn't expect the government to legalise Uber and Grab. So we thought of looking at 5 surprisingly progressive thing that have happened in the last two years in Malaysia. We'll be looking more specifically at mindset changes and led to policies being changed.
1. Paralympians now get the same reward as Olympians for winning medals
In the past, Paralympics and Olympics athletes didn't get rewarded the same for winning medals. But in August 2013, things changed when the Youth and Sports Minister Khairy Jamaluddin announced they've decided to give every athlete EQUAL incentives. This was brought to our attention after writing an article on Pendelela Rinong and Cheong Jun Hoong's silver medals, thanks to Regina Lee, Khairy's press secretary.
What was the deciding factor that made them fairly reward all athletes equally? According to Khairy, the decision was based on the "commitment and sacrifice" of athletes including Muhammad Ziyad Zolkefli, our shot putter who won a GOLD medal in the International Paralympic Committee (IPC) World Championships in Lyon.
Okla this was three years ago, but it has also brought RECENT change to our local sports – in January this year, it was announced that Paralympiad Games athletes and coaches will receive the same amount of incentives and training allowances as Sukma. The incentives for achieving a gold medal is RM5,000. If the same athelete gets a second gold medal, he or she will receive RM7,000, while a third gold is worth another RM5,000, said the Welfare, Women and Family Development Minister Datuk Fatimah Abdullah.
2. Uber and GrabCar might soon be legalised
This move was made after the Land Public Transport Commission's (SPAD) CEO Mohd Azharuddin Mat Sah presented their initiatives on revamping the old school taxi industry. So, all they're waiting on now is for Parliament to pass it in November. Uber and GrabCar will become legal like taxis, and likewise they'll be regulated by SPAD like taxis.
So what made the government decide to make this progressive move? Well, according to The Sun Daily, the gomen actually agreed that the inclusion of Uber and Grab and taxi industry transformation would benefit the rakyat. "It is apparent that the people want taxi services improved," said an official from the Prime Minister's Department. Indeed it is! 😀 We wonder what made them realise that. Could it be because 80% of people surveyed by SPAD prefer Uber and GrabCar over taxis? Maybe.
Currently, there are 77,000 registered taxi drivers, and it's expected that 150,000 new permits for Uber, Grab and taxi drivers will co-exist in the next three years. Co-exist…that's our new favourite word.
3. People can sue for sexual harassment now
Did you know, until 2 June this year, you couldn't sue your boss for sexual harassment? Yaaww WTH right?! We didn't know either until a landmark case changed sexual harassment laws in Malaysia forever. Here's the back story that led on this progression…Tabung Haji employee Asmah Mohd Nor's manager told her vulgar jokes, advice to pray for 'sexy dreams' and how to measure a man's sexual prowess using a coconut (hmph shudda smashed his head with the coconut).
So, Asmah made a complaint to Tabung Haji, who decided not to renew the manager's work contract. The manager sued her for defamation, and she responded by suing him back for sexual harassment. This case made its way to our highest court (Federal Court), which ultimately sided with Asmah and ordered the manager to pay her RM120,000. YASS justice!
Before this, people could only complain to their company and hope they do something about it. "All the power is in the hands of the employer. There is no way for the victim to appeal," a Women's Aid Organisation (WAO) spokesperson told CILISOS. Which is why Asmah's case is a historic one, one that the five presiding judges felt it was high time for Malaysia to progress in:
"[We decided] that it is timely to import the tort (law) of harassment into our legal and judicial system, with sexual harassment being part of it" – Tan Sri Zulkefli Ahmad Makinudin, Chief Judge of Malaya, as quoted by The Malay Mail Online.
4. Malaysia Film Festival abolishes language segregation
Previously, the Festival Filem Malaysia (FFM) – our country's equivalent of the Academy Awards – organised by the National Film Development Corporation (FINAS), was divided because of a policy that stated local movies must contain at least 70% Bahasa Malaysia in their scripts to qualify for Best Picture. So, the non-BM category was introduced in 2011.
But just recently, FFM came under fire for excluding two highly-praised movies from their Best Picture category because they didn't contain enough BM. Instead, Jagat (mainly in Tamil) and Ola Bola (a pretty even mix of Malaysian languages) were nominated under that non-BM category. This caused outrage – Harith Iskander spoke against it, filmmaker Afdlin Shauki instigated boycotts, local cinematographer Mohd Noor Kassim returned his FFM trophies in a trash bag:
But people defended FINAS also la, such as filmmaker Datuk Norman Abdul Halim who said that the removal of the BM criteria may dilute our sense of national identity. Okla, while we know BM is our national language, but we're Malaysia! We're memang a motley mix-up of different races, cultures and languages. And in this we can still remain united as a people. Isn't it something we should celebrate?
Anyways, the MCMC just announced that the Best Picture category is now open to all locally-made movies, regardless of language, then added a new category called Best Film in the National Language. Change is possible after all ?
5. Animal Welfare Act 2015
The Animal Welfare Bill was debated in Parliament for 4 years before it finally passed. This can be a whole article on its own, which we'll perhaps write in future, but for now let's briefly see why the Animal Welfare Act 2015 marks a new milestone for our country… Firstly, they will establish a Board to monitor organisations monitor animals (ie. a watchman watching the watchman).
Secondly, people and businesses that carry out activities involving animals must have licence, making sure the animals are free from suffering, injury and disease. Most importantly, cruelty offences have heavy punishments – anyone who tortures or abandons an animal could be imprisoned 3 years and fined between RM20k-RM100k. Authorities can enter premises to rescue an animal without warrant, and if you are really found to have tortured/neglected your pets, they can rampas your pet from you.
Also, now people are not allowed to breed animals for research or testing. Strays cannot be shot by local authorities to control their population – dogs and cats are listed as two of the animals that cannot be shot. In fact, it was partly because of this case where a pet dog Rocky was allegedly shot in front of its owner's house that spurred SPCA Selangor to urge the government to enforce this Act, along with many other incidents.
We're sure you guys have many questions regarding the Animal Welfare Act, even on some of the points we've brought up here, however this entry is not enough to cover everything. Like we said, we might cover this more extensively in future. But if you're itching to read the full Act first now, click here.
At a time when our country is swamped with regressive policies, these progressive ones give us hope…
There have been some recent policies making us regress as a country rather than move forward. Like the Malaysian Communications and Multimedia Commission (MCMC) heavily censoring the internet and blocking news sites (The Malaysian Insider, Malaysia Chronicle and Sarawak Report). And now any online sites might be forced to register with the gomen, which would prolly stifle freedom of speech even more.
And there's the recent passing of the National Security Council (NSC) Bill which gives the government insane control over the rakyat, plus the passing of the Prevention of Terrorism Act (POTA) which can allows people to be arrested without a proper trial!
Although this puts in us bad shape, the 5 PROgressive things we talked about give us hope. Aaand there could be more good ones to come… one for example, is setting up anti-grooming laws (grooming is the act of befriending a child to get the child to trust the sexual offender). The police have already passed a proposal along to the legal department and if all goes well, we could be one step closer to protecting Malaysian children better.
So yeah, change CAN happen, and as history has proved, change WILL happen. As an ancient Greek dude once said, change is the only constant in life. When the government does something progressive we should show our support, just like when they something regressive we voice out against it, coz if we don't they might just stop doing progressive things entirely.