Note: This article borrows heavily from an article we did last year about the MACC investigating Najib instead.
On June 29th, Penang's Komtar complex got the most action it's seen in years when a large crowd of people swarmed the building. Unfortunately, they weren't shoppers but police and media who were there for Penang Chief Minister Lim Guan Eng's arrest by the MACC. At the same time, the MACC also picked up businesswoman Phang Li Koon for the same case.
If you remember, Lim Guan Eng was put under the spotlight a few months ago over his purchase of a bungalow that was allegedly almost 50% below market price as a favor for the Penang state government's sale of a piece of land to a dental company in KL – a company that (no surprises here) Phang Li Koon has a financial stake in.
Lim Guan Eng is facing two corruption charges for abusing his power for personal gain while Phang Li Koon is facing a charge for abetment, a fancy term for being an accomplice. While the verdict on whether or not Lim Guan Eng is guilty of corruption still remains to be argued out in court, there were some really funny occurrences that have happened between the time of the bungalow issue and Lim Guan Eng's arrest, occurrences such as….
The investigation was ALLEGEDLY almost dropped by the MACC
You should take this point with a very large grain rock of salt because there isn't too much proof that this happened, but the theory is that the MACC initially recommended that the charges be dropped due to lack of evidence until Attorney-General (A-G) Apandi Ali stepped in to ask them to work harder.
While we don't usually use unofficial Facebook posts as evidence (we'll talk about Abu Kassim Mohamed's resignation later), there might be a small little stain of truth to this because when the MACC handed the investigation papers (IPs) over to the Attorney-General's Chambers on May 26th, they made the following statement:
"If Mohamed Apandi is satisfied with the evidence submitted in the IPs, then legal action will be taken accordingly. "On the other hand, if the MACC investigation is found not to contain sufficient evidence, then no legal action would be taken." – The MACC statement, as quoted by New Straits Times.
On June 6th, A-G Apandi asked his department to return the investigation papers back to the MACC for further investigation:
The chambers have returned the investigation papers so that the MACC can conduct further investigations. We have also instructed that the investigation papers be returned back in the soonest possible time. – A-G Apandi, as quoted in The Star.
While this may be a comment on the MACC's investigation abilities more than a Illuminati conspiracy theory, it was also recently revealed that…
A-G Apandi is personally leading the court case against Lim Guan Eng
Okay, so maybe we should give you some context here. You can read the full background in our other article, but the Attorney-General of Malaysia is basically the government's lawyer as laid out in the Federal Constitution. So for example, if you murder someone, then it will be Country vs You or more specifically, the A-G vs Your lawyer. At the same time, the A-G also decides which of these kinda cases should be brought to court. And here's where the problem is.
Because the A-G's department was placed under the Prime Minister's Office in 1980, it means that instead of operating independently/neutrally , the A-G is essentially working for the Prime Minister! This was something that became a topic of controversy when previous Attorney-General Gani Patail, who was involved in the 1MDB and RM2.6 Billion investigation against PM Najib, was suddenly removed from his post during the infamous cabinet reshuffle.
What's interesting about this is that the Sarawak Report claims that Gani was very close to finalizing the charges against PM Najib; and his successor – Apandi Ali – cleared PM Najib of involvement in both cases.
This didn't make A-G Apandi very popular with many people, especially the Malaysian Bar who tried to get him kicked out. So when A-G Apandi announced that he was leading the prosecution team to charge Lim Guan Eng, you can expect it didn't go down well – not just with much of the public – but also with some other politicians giving some super pedas comments:
"I would like to congratulate the Attorney-General, as he has framed probably the most ridiculous charge not only in the history of prosecution in Malaysia, but the world." – Lim Kit Siang, Lim Guan Eng's daddy and DAP's Secretary General, quoted by Free Malaysia Today.

"No AG would do a case of this sort, where the people are watching, unless he can secure a conviction. Not just the people watching, but his boss (PM Najib) too. After all this is an important case that if successful can propel AG to greater height." – Zaid Ibrahim, former Law Minister, quoted by Malaysiakini.
So IF it's true that A-G Apandi has some vested interest in the Lim Guan Eng case, the next question would be…
Can we trust the MACC?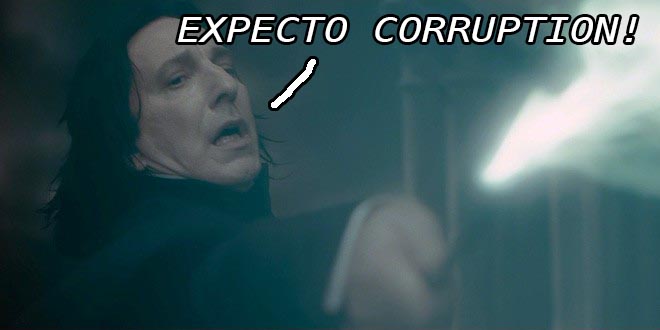 Public confidence in the MACC's ability to carry out their duties have been somewhat tainted by a number of scandals and questionable outcomes of their investigations over the years, such as:
The time they arrested their own officers – Police somehow lost the evidence and the officers were found not guilty.
The time they investigated a senior "Datuk" cop for a RM6 million laundering case – No arrests were made and the cop was transferred to Bukit Aman.

The time they investigated Sharizat's NFC "cow" case for siphoning RM250 million –

Sharizat was cleared.
The time they investigated Sarawak CM Taib Mahmud for 5 years with 30 officers – They couldn't find proof or wrongdoing.

The time two people died under their custody –

Teoh Beng Hock's death was ruled a suicide while Ahmad Sarbani's death was ruled an accident.
But to be fair, it isn't as if the MACC aren't doing their job – they've actually made a LOT of arrests over the years, with 841 in 2015 alone. You can view the records from 2011 onwards here.
In the case of Lim Guan Eng though, the criticism isn't so much that the MACC aren't doing their job, but rather that they are cherry-picking their cases by swooping down on Lim Guan Eng in a comparatively short period of time while not being as efficient or ignoring other cases of corruption by certain quarters within the government. In the most direct comparison, it took the MACC almost one and a half years to build up the case against former Selangor Menteri Besar Khir Toyo (who also bought a cheap bungalow) while Lim Guan Eng's investigation was completed in under 4 months.
So where does this leave us, the MACC, and Lim Guan Eng?
For a time, it looked as if the MACC were really trying to be independent and impartial – first being removed from the Prime Minister's Department and establishing themselves as an independent body, and enduring a number of setbacks such as having a senior official transferred to the Prime Minister's Department against his request, and being raided by Bukit Aman during the height of the 1MDB drama. During this time, there was a change in public perception, with many publicly supporting the MACC; with Lim Kit Siang and the rest of the Opposition leaders showing their support:
This may border on personal opinion, but it seems that the MACC is caught between a rock and a-ttorney general. Despite their recent independence, the MACC is still dependent on the A-G for any further course of action.
In a leaked internal memo, MACC chief Abu Kassim Mohamed stated that he would rather retire than punish his officers for doing their job. He resigned on June 23rd, with his last day being on August 1st.
We think that at this point, the question of whether Lim Guan Eng is guilty of corruption or not is best left to the two major Malaysian courts – the legal courts and the court of public opinion. Whichever way you or the courts stand on the issue, corruption by public officials should be taken seriously… we just hope that it's treated equally and fairly across the board as well.