We bet you've heard the saying that Malaysians are friendly people. In fact, we're apparently so nice that we've left a mark on many globe-trotters, including an Irish columnist who said, "I have consistently found Malaysians to be extremely friendly, kind, and generous, and though I will always be Irish I consider myself very lucky to be able to call Malaysia my home."
But… how true is this? Are we only friendly to tourists and ang mohs? How often do we greet strangers in the lift "Good Morning"? Are we instinctively protective over our bags if someone were to compliment our outfit?
Together with our friends at Grab, we've launched the Malaysian Fren-liness Survey 2017 to find out just how friendly we are.
Why is Grab so kepoh? They wanna make friends with us issit?
Actually more like, they want you to make friends with other passengers! Alright, by now you'd already know that Grab has been constantly coming up with pretty cool campaigns. There was the RM10 durian one, the Melaka trishaw one, and even the one that collected books for underserved children.
And now they've just launched their latest service… Introducing GrabShare, the first on-demand car-pooling service in Malaysia. With this, you can share a ride with another passenger who's on the same route, and get up to 30% off the total bill!
Here's one example of how it works – you're leaving One Utama PJ and are heading to Mid Valley KL. Along the way, someone wants to go to Pavilion KL, which is after Mid Valley. The app's algorithm will identify that it's roughly the same route, so the driver accepts the second job. If the app calculates that dropping you off is the most optimised route, then the driver will drop you off first, then the other guy. The both of you get a discounted price, so win-win lor!
There's a maximum two-stop guarantee so there'll be less detours. Tolls will also be split fairly if both parties are in the car, so if you join the ride after the driver passes the toll, that charge would be excluded from your bill. You can even use the system to your advantage – ride with one friend at a discounted price for the same booking, as long as you two share the same pickup and drop-off locations. But of course, do expect to share the ride with another party.
To use it, just book your ride as per usual… just make sure you select 'GrabShare' in the app. And voila – you'll be sharing a ride on-demand while being able to socialise with a fellow commuter 🙂
So… would you be friendly with a total stranger? Take our survey now!
Since GrabShare is all in the spirit of sharing and socialising, we felt that it was the perfect time to ask Malaysians about our own friendliness. Take the survey now – it'll only take 5 minutes. We also have RM5 GrabShare vouchers to give away to the first 300 survey respondents, so take it now! 🙂 Survey ends 28th February 2017.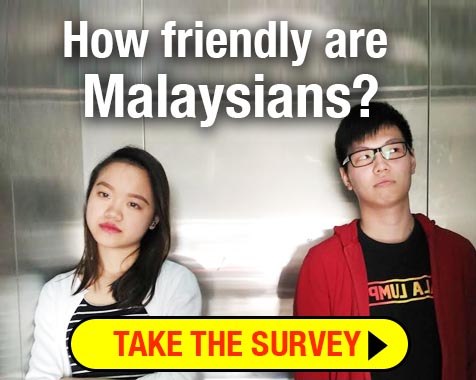 Click here to take the survey!