So the latest news is that Malaysian Taxis are complaining about new taxi-less driver service UBER stealing away their business, and you just know it's gonna get ugly. Surprisingly, aside from telling cab drivers to suck it up, one of the biggest questions alot of people ask is "How is was UBER so cheap?!". Some say it's because they don't have the overheads that taxis do (internet bizness mah), but we think it needs a closer look.
UPDATE: So that's not the latest news. This is. We don't quite agree with SPAD banning Uber effectively, we believe some minor legislation would have been a better way of doing things. It's kinda like saying someone is a little bit rude, and the next thing you know someone CHOPS HIS BLADY HEAD OFFF! 
UPDATE (copy): So that's not the latest news now. This is. Aaaaaand it's legal again. Aiyo. Uber has since responded with a list of facts about their business dealings in Malaysia, and even-though it doesn't clarify their business model, it does make a strong argument that they add value to the Malaysian transportation scene.
4 Facts about UBER KL (from UBER KL)
We received an official comment from Karun Arya, Communications Lead – South Asia for UBER .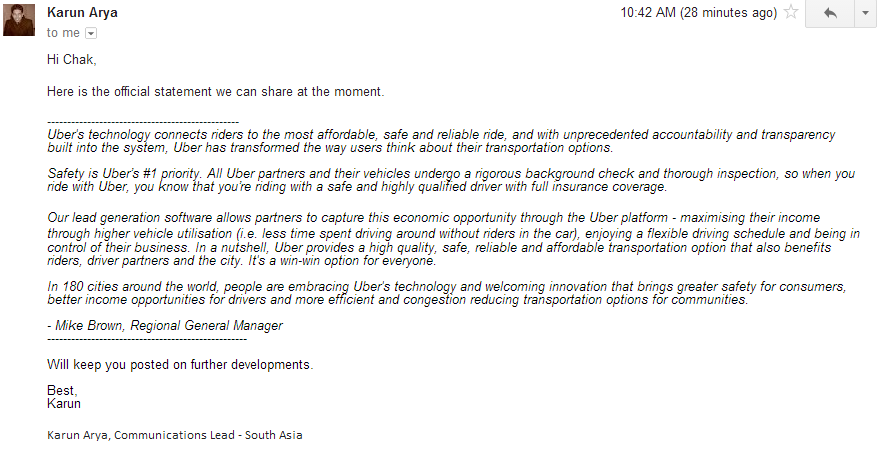 Anyways….
Here are the rates compared to taxis (we have our own interesting calculations in a bit).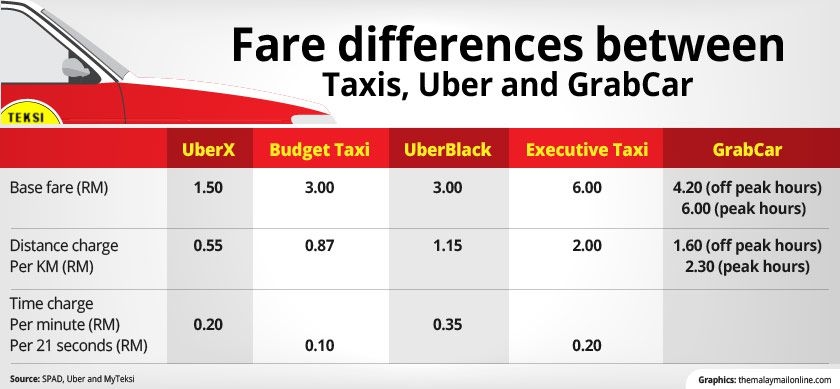 Uber prides itself as 'democratizing private transport' around the world. How they do this is basically allowing passengers and private car drivers to find each other via a mobile app, instead of through a traditional taxi service. They offer three services – UberLUX (for crazy lux cars like S Classes and Jaguars), UberBlack (for very decent mid-sized saloons like Camrys or even E class Mercs), and the recently launched UberX (which uses MyVis and Toyota Vios').
Many Malaysians have been raving about Uber, and how it's revolutionising the transport market, but the question on our mind is… can they actually turn in a profit at these rates given the price of cars in Malaysia?
To understand them, let's first take a look at their main competitor.
Malaysian Taxi Drivers
Seriously, anyone who's ever talked to their taxi driver will know this. They are quite poor thing la.
They work up to 14 hours a day, 7 days a week, in the horrendous jams of the Klang Valley, waiting in long NGV queues to earn between RM2500-RM3,000 a month. After that, they have to first use to pay off their LPG bills (which is about 10-15% cheaper than petrol), mechanical expenses, and finally, the long hire-purchase agreements (RM855 a month for an Iswara, and RM 1350 for a Waja) from their respective cab companies. These car models are mandated by SPAD, so they couldn't even get a better car if they wanted to.
To be honest, with the rapidly rising cost of living in Malaysia, we feel they should actually be given better rates. The current rate is RM3 at flag-off, with RM0.10 per 100m after. The last time rates were reviewed was in 2009, and we're sure you'll agree that things have changed alot since then (e.g. petrol has gone up 20%, and houses approximately eleventeen thousand times). In fact, before MyTeksi and other apps came on the scene, it was a dog-eat-dog world, where cabs often competed for whatever customers were advertised on their CB radios.
Unfortunately, it is when things are tight that quality of service drops, for instance taxi drivers feel the need to hold off on car repairs as long as they can. Of course, there are also those that resort to camping outside places like KLCC and Mid Valley, hoping to extort customers who have no choice but to pay ridiculous rates to get somewhere.
The problem isn't that taxi drivers are like inherently evil…
"Asked about a possible public outcry over such an increase, Syed Hamid said Malaysians could not hope to demand for good service and pay low rates at the same time." – SPAD hints at taxi fare increase", July 19, 2013, The Star
It's that they're paid too little to be really good.
(FULL DISCLOSURE: The editor of CILISOS (me) is friends with some of the shareholders of MyTeksi, but they did not ask, nor pressure us (me) to write this. Really one. No, really really one. Hopefully you won't RAGE QUIT now 🙂
So what about UBER Drivers?
To be honest, it wasn't easy finding out anything about UBER's practices in Malaysia. Their website is international, and the only contact we kinda found was a support email, and a WeChat account of its Head of Expansion in APAC, Chan Park, neither of which responded to our questions (to be fair, its been only 24 hours so we'll update this section when they do).
One of their drivers (who chooses to remain anonymous, so let's call him Elmo) eventually revealed that there are a Grand total of three UBER employees in Malaysia, and that this was their practice in most countries to keep costs down. Elmo was retrenched for a fairly comfortable job earlier this year, and is now employed under a limo company that is using UberBlack and UberLux.
So apparently what Uber does is strike a deal with rental companies like PRAC, or Comfort Limousines, and the rental companies find drivers to drive them. The rental companies are the ones that pay UBER drivers, and set their own policies, which are similar to this:-
1. They don't get a salary, but earn RM10 per ride. This is conditional upon hitting 10 rides a day. They also get an RM50 bonus if the ride is above RM250 in cost. They also get bonuses for good rep scores (4.7 or higher). These amounts are paid weekly. (apparently the 20% commission scheme has been abandoned for about two months now).
2. Petrol and rental are covered by the rental company. And toll is covered by the passenger, so essentially, RM10 a ride is pure profit. Simple math, if they work 7 days a week, they can earn RM3000 a month clean profit.
3. There is no training or manual. "When I signed up it was still very fresh, only a couple of months old," said the driver. "I didn't get any training. I just applied what I did… like extra cables for charging phones and stuff. Just gotta put yourself in the position of a passenger."
4. Cars are rotated each week. Basically, each driver gets a week in each car to be fair. This driver was for UberBlack and UberLux, so the cars ranged from Toyota Camry's all the way up to a Jaguar XJL. On weekdays, UberBlack customers can actually get UberLUX cars at no additional cost (it's random tho).
5. But accidents are covered by the driver. In fact, this must be a regular thing for drivers since there's a policy to retain 30% of their commissions till the end of each month to cover potential damages.
From what we know, UberX drivers have a much simpler procedure (similar to Uber in other countries). You submit your details online, including your car type, and once approved, it'll allow you to download the Uber Driver app, allowing you to start getting rides. You earn 80% of all fares taken.
So let's do some MAT MATIKSi (whoah)!
Here's where it gets weird.
We're assuming the typical driver does about 10 trips a day, each one an average of 15km. According to our sources, this is about right. The table below is based on daily costs and earnings, as well as fuel consumption estimates.

A Toyota Camry drinks about 8.4 litres of Petrol for every 100km which translates into RM17.64 per 100km, cheapest monthly rental rate we can find is RM5,280 a month. That's a cost of RM176 a DAY.
A Perodua MyVI drinks about 5.8 itres of Petrol for every 100km which translates into RM12.28 per 100km, lowest rent we could find was RM1,600 a month, which is about RM50 a day.
A Proton Exora NGV (according to cab drivers we called) runs about RM6 worth of NGV  per 100km, for which the cab pays a daily hire-purchase of RM28.50. Do keep in mind that these guys alternate between petrol and NGV, and often waste alot of their day queing up.
UberX drivers are paid 80% of their fares.
UberBlack drivers are paid RM10 a trip
If you find any errors in assumption here, please let us know ASAP and we'll correct it (You know math isn't my strong point).
So for normal cabs, using our formula (and assuming 20 work days), they earn about RM2780 a month, which is a wee bit higher than what we've been hearing. However, they still need to add more money for commissions to MyTeksi (RM2 a ride), twice-a-year Puspakom checks, and insurance fees.
For UberX though, something seems really fishy. Based on the 80%-20% rule, UberX drivers can only earn… RM952 a month!? That's what security guards earn. Even assuming they bought the car, their cost of fuel still exceeds a Taxi. There are rumours that UberX provides drivers with cars for free, in which case, drivers would earn a much more believable RM103.50 a day, or RM2070 a month, which is a much more believable number, albeit still quite low.
Things are equally weird for Uber, where the RM100 they pay drivers each month is MORE than their total estimated profit (RM40).
Sure, they may have preferential rental rates with these car companies, but even then… the margins would be non-existent. Also, this is based on the Camry – the cheapest model they use. They also have BMWs, Audis and even these…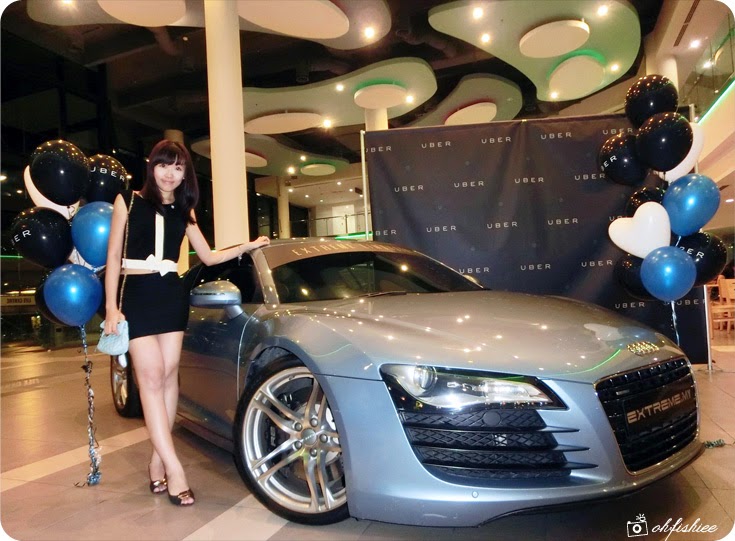 On top of this, most people can easily get vouchers for UBER (literally everyone we contacted begged us to use their voucher codes cos then THEY get RM30 credit for introducing a first timer too).
So not only is UBER operating at zero income, they also have to subsidize in CASH, all the vouchers they're giving away.
NO WAY… then how the heck is UBER cheaper than a TAXI?
Well,  the logical conclusion, and this has been speculated by many people within the industry, that UBER in Malaysia is operating at a HUGE LOSS (Uber, if you're reading this, please get in touch with us).
UPDATE: We've gotten the email of Karun, Communications Lead-South East Asia. His comments are basically…er … no comment.

Any traditional company would've gone bankrupt and run away with a coupla spare copies of MS Office by now, but UBER isn't just any company – it's a Silicon Valley company. It's currently valued at over US$18 billion, and experts say that valuation could increase to as much as US$100 billion in the next few years.
And it isn't all on paper either. The company recently closed investments of up to US$1.2 billion, and they've already got some pretty decent revenue coming in. This means that they've got deep pockets, and more so that profits, a company like this needs to demonstrate growth (think Amazon, Facebook, and Twitter, all of which are still operating at losses after years and years). In fact, WIRED just published an article claiming this is UBER's business model.
Malaysia has seen alot of growth in driven-car services, and because of that, it's a prime battleground for UBER. So it seems that UBER's strategy is to keep pumping money to build its market and perhaps even price out taxis entirely. However, at some point, it's going to need to show profits.
So how expensive is it going to be then? Well let's take a look at how much it costs in Singapore, to get some indication.
So why don't Taxi Drivers just become Uber Drivers?
Well, cos almost all of them are still paying off their ridiculous hire-purchase agreements to own cars they might not have bought if given the choice.
"Proton is cheap to maintain." The speedometer cable, is RM10.00 for one, and installation is RM8.00. He asked me, "Do you know how many times I have to change the cable for the last 5 years?" I said I don't know. He said "10 times!!"- True Account of a Proton Iswara User, 2009, Paultan.org.
This means that your neighbourhood taxi driver might soon have no choice but to rip off angmohs outside Lot 10.
But means I win right? Cheaper fares, nicer cars
Yes, in the short run at least – there is no downside to the consumer – you get nicer cars at cheaper rates. Who doesn't like that?! Well, some people might disagree with UBER's strongarming tools, which makes it difficult for operators with shallower pockets like MyTeksi to beat.
But looking even further, the concept of a Taxi might just change into a bunch of people with their own cars and apps on their phone to connect customer with driver. In fact, MyTeksi recently launched GrabCar, which is similar to UberX, allowing regular car owners to start their own taxi services.
When you think about it, the concept of a taxi is basically a car that takes you around. Sure, taxis can say they get checked by Puspakom, have uniforms and have some sort of training, but it's almost proven now that a simple "Reputation" rating system can do that better.
So what you'll get after all that is nicer cars, less conmen and better service. But it'll probably be quite a bit more expensive than it is now.