So, you might have seen a company called Cambridge Analytica on the news the past few days, as it is increasingly becoming the focus of both Malaysian and foreign media. If you don't know what's been happening, Cambridge Analytica, a data mining and analysis company has been exposed for knowingly stealing data from millions of Facebook users, and using it to manipulate a country's election!
In a worldwide shock, Channel 4 news outlet have exposed top operatives of the company of admitting to illegal conduct on video (You can watch the reports here and here). Among those filmed were the company's Managing Director and CEO, verbally boasting that they had helped their clients win elections by spreading fake news and other underhanded means.
More surprisingly, it was learned Malaysia was among Cambridge Analytica's client base! On their website, the company boast a campaign in Kedah as one of their success stories/ case studies for their services.
So were the elections in Kedah manipulated by fake news and foreign meddling? Was it only limited to Kedah? What does this scandal mean to elections in Malaysia and around the world? We dig deeper into the scandal to find out.
BN denied hiring the company, but they said that Mahathir's son might know something
With all the hoopla boopla surrounding the issue, even former BN leaders in the opposition were quizzed over it. Former DPM Muhyiddin Yassin said this was the first time that he'd heard of the company. The government itself actually issued a statement to address their involvement with Cambridge Analytica: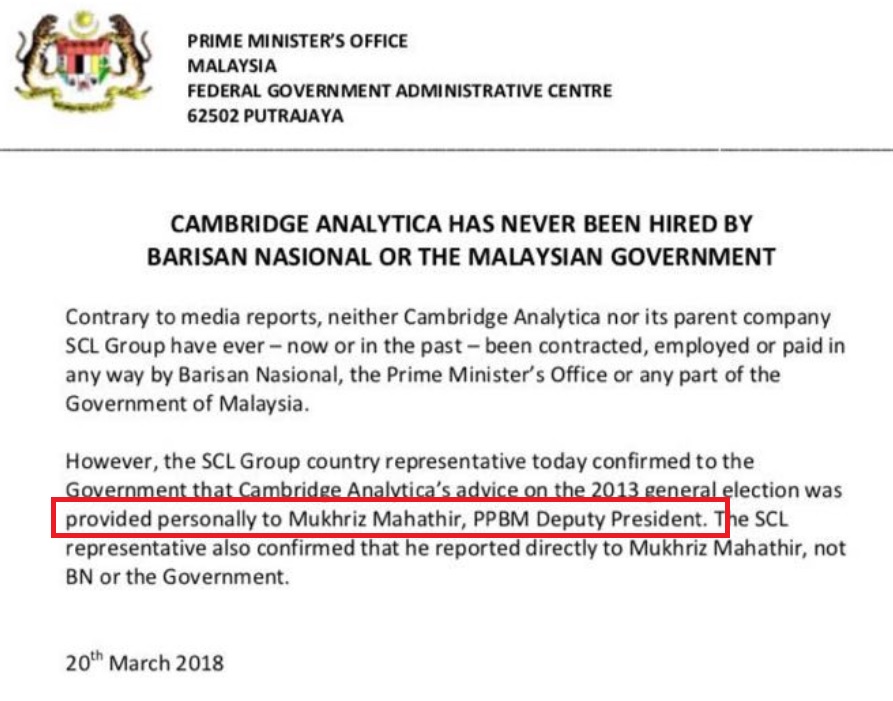 The government said that SCL (the parent company of Cambridge Analytica) confirmed that at the time, it was Mukhriz Mahathir that was in charge of communications with the company. But Mukhriz Mahathir in response has denied any contract or dealings with Cambridge Analytica, but has admitted to employing Azrin Zizal, the South-East Asia head of SCL group, when he was Deputy Minister of International Trade and Industry (Miti).
"If he says that he was their employee even during his employment with me, that would be a misrepresentation. He only worked for me between 2009-2013, when I was in Miti." – Mukhriz Mahathir, quoted from The Star
BUT THEN, Azrin Zizal retorts and claims that Mukhriz Mahathir is lying, saying that 2013 election advice from Cambridge Analytica was provided to him personally.
"Perhaps – while Mukhriz continues to deny my work for him and deny the benefits he gained from the advice I provided to him from Cambridge Analytica/SCL Group for Kedah during the 2013 general election – he will also deny Kedah winning an extra six parliament seats, winning over the state and him becoming Chief Minister?" – Azrin Zizal, quoted from Channel News Asia
Mukhriz stands by his statements, and said that allegations made against him were intended to "divert attention away from the possible use of illegal campaign tactics as admitted by Cambridge Analytica for BN". So is there any way for us to find out who is telling the truth? On Cambridge Analytica's website, they have an office located in Kota Damansara, but it turned out that the person who has been living there for 4 years has never heard of the company.
But finding out the truth might be almost impossible because…
Cambridge Analytica admitted Malaysia as their client, but also confessed to some very shocking things
Officially, Cambridge Analytica is a campaign consultancy company, that famously managed US President Donald Trump's campaign and helped him win the election. They deal with what's known as big data (which we've written about before), profiling millions and millions of people through their data linked to voting behaviours, to come up with more efficient and effective targeting messaging for their customers.
Actually both BN & Opposition have admitted to doing that to some degree here. But in an expose by Channel 4 News, top operatives of Cambridge Analytica seemingly confessed to Channel 4's fixer of providing extra services like spreading of false news and entrapping political opponents to manipulate elections in foreign countries. 
"Equally effective can be just to go and speak to the incumbents and to offer them a deal that's too good to be true and make sure that's video recorded… instantly having video evidence of corruption." – Alexander Nix, CEO of Cambridge Analytica, quoted from Channel 4
They claim they even know spies that will enter the country under disguise to dig up dirt on political opponents, and was also caught saying that they would enter contracts under a different entity with a different name so that there's no record of Cambridge Analytica being involved at all.
But aside from that, the company is also accused of stealing the data of 50 million Facebook users for their operations. According to Christopher Wylie, their former Director of Research, the "theft" was done by paying thousands of Facebook users to download an app and fill out a personality survey as part of an academic study.
But little did they know, the app didn't just mine the data of the people who downloaded it, it also took those of their Facebook friends who didn't adjust their privacy settings. Christopher adds that Facebook had known about the breach since 2015, but has done very little to make sure that the stolen data was deleted.
"The only contact that I had (with Facebook) was "Here's a form, fill it out, and send it back". Then it's done." – Christopher Wylie, quoted from a video interview with Channel 4
As a result, Facebook suspended the account of Cambridge Analytica and Christopher Wylie, but Facebook's share value had already fell by USD 37 billion in a day because of the scandal. On top of that, investigations are being launched by the governments of US, UK, and Brazil, and the Cambridge Analytica's CEO was recently suspended.
But possibly the scariest part of all this might not even be illegal (yet)
As you may know, as President Donald Trump became more famous, so did another phrase that we're already used to reading now.
In Channel 4's reports, Cambridge Analytica claims that they also specialise in crafting messages and advertisement before targeting them according to the profiling that they've done. What's scary is, these messages that they send out don't have to be factually true.
"It's no good fighting an election campaign on the facts, because actually it's all about emotions." – Mark Turnbull, Managing Director of Cambridge Analytica's political arm
Mr. Turnbull goes on to explain that in order to get information into the voter's minds, the content should be shaped around 2 basic things: Hopes and Fears.
"You didn't know that was a fear until you saw something that just evoke that reaction from you." – Mark Turnbull
Kinda like how you wouldn't normally worry about being mauled by a 120kg Malayan Tiger until you read about an escaped Malayan Tiger from a nearby zoo. Or how you wouldn't worry about a data company stealing your information and using it to craft factually doubtful messages to subtly influence your voting choices through mass media, until you heard about Cambrige Analytica.
Examples of the type of videos that they admitted to creating was like this Kenyan political campaign video. Though Cambridge Analytica denies all of these (of course), it's obvious that the effects and concerns of fake news is taking hold of the world, as Singapore and Malaysia are entering the arena against it fairly recently.
At the time of writing this article, the Malaysian cabinet had just approved a fake news law to be tabled in parliament on the last week of March, 2018. However, no details of the proposed bill is available, maybe except this:
"This Bill was drafted for public interest to protect citizens from the wave of fake news and from becoming victims of fake news. However, this Bill does not at all restrict the citizens' right to freedom of speech that is provided for under the Federal Constitution." – Datuk Seri Azalina Othman, Minister in the Prime Minister's Department, quoted from Malay Mail Online
Besides Facebook and Cambridge Analytica, is there anyone else to blame?
Cambridge Analytica responded to the allegations and reports by saying that they were edited to grossly misrepresent the company. They said that the company executives only said those things to humour the client to get him to disclose his real intentions. The company has even gone as far to say on Twitter that people are too smart to have advertising change their behaviour, while their slogan is literally:
In light of the severity of the scandal, Facebook founder Mark Zuckerberg has made his first public acknowledgement on Facebook's failure/ mistakes in preventing the whole thing from happening. He has promised to conduct an investigation of apps on its platform, restrict developers' access to Facebook user's data, and give users a tool that lets them more easily disable access to their data.
But some are taking a more radical approach to the scandal. Some on the social media are already starting a #DeleteFacebook movement, which calls people to deactivate and quit Facebook for the sake of privacy. Even WhatsApp co-Founder has jumped in on the trend.
But in the end, maybe Cambridge Analytica does have a point. Are we simply being too gullible in believing things that we read and see on mass media? Are we no longer "smart" enough to be second guessing and doubting the validity of information being put out? Or is it our fault for not being careful with our private information in the first place?
No matter what you believe, there's no reason to be more cautious about believing what you read and maybe being mindful about what companies can do with your data.