*Our feature image was taken from a very heart-warming story on The Online Citizen, about Malays and Chinese helping each other out. Read it here.
A lot of news is going around about the brawl at Plaza Low Yat that Sunday. Yeesh, you think people would wanna recuperate on Sunday to get ready for Monday, but noooo. Long story short – a guy tried to steal a phone, but people thought he got cheated by the seller and was given a fake device. Somehow, what started as a theft incident blew up into this:
Thankfully, no one got SERIOUSLY injured. Anyway, here's a clearer picture of the whole story.
But what we wanna focus on is responses like these Facebook comments on Mohd Ali Haji Baharom's page.
FYI, in case you're wondering who this man is, it's the guy who gave this gung-ho Independence Day-esque speech outside Low Yat. And by 'Independence Day', we mean totally racist and nasty like. Who is he? There's little info about him online except that he goes by the nickname Ali Tinju, used to (still is?) with UMNO, and he's apparently the President of a group called Persatuan Veteran Tentera Melayu 1Malaysia. Here's a video of him that spurred alot of the controversy:
FYI we voted for Sedition Act outlawed. Duneed it to deal with flers like this. AAAAANYWAY… We were curious how a simple handphone theft out of like approx 103,119 cases (seriously PDRM needs to have a more specific breakdown of theft stats) could turn into what some people have described as…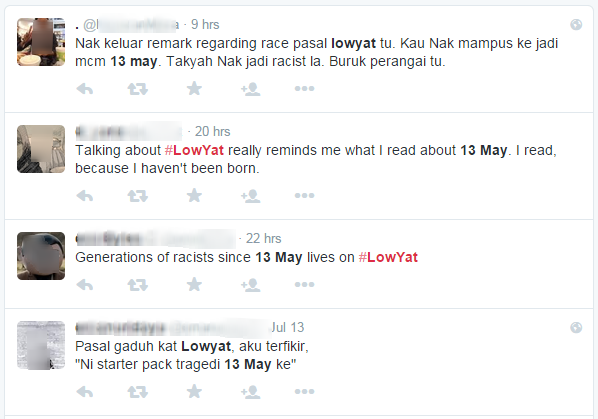 We spoke to a few eyewitnesses to find out what actually happened: Radzi Razak a reporter from Malaysiakini, Calvin Foong a journalist with a Chinese language newspaper (he was one of the guys beaten up), Joshua Eriksson Zen a trader at Low Yat Plaza for 8 years, and an expat from India who came by way of the US (he'd prefer to remain anonymous, so we'll go with the nickname Nitrogen).
So here are 4 things that might have somehow turned the Low Yat fight into a racial incident.
1. YOU might have shared misinformation
We understand how everyone wants to be the first to share news with their friends, but in doing so, you may have ter-shared the wrong information. Like:
Chinese 'conmen' sold the customer a fake Oppo phone
Dengar cerita sekarang anak melayu tengah berentap lagi dkt Plaza Lowyat, punca Cina menipu. Yang pahlawan menipu dkt putrajaya bila pulak?

— ASWJ (@allysyafiq) July 12, 2015
But actually what happened was, the 'customer' stole a Lenovo S860 and tried to escape. He was caught by the employees who work at the Oppo store near the entrance.
"It had nothing to do with Oppo. What happened was, the culprit ran towards the main entrance – that's where the Oppo shop is located. The upstairs shop sent word for help and the Oppo staff just stopped him from exiting." – Joshua
Betul wan, the event has been officially confirmed by IGP Khalid himself.
People thought Pekida was there to create trouble as well
But actually they weren't there! Not officially anyway, AND, they promised to go after members who got involved. 
"We contacted Pekida and they said they weren't there officially. Those guys at the site were local batches from Pekida. We spoke to a guy there who said he was an Ayahanda from Pekida." – Radzi
The group is often touted as a Malay extremist group (Like ISMA and Perkasa), but with gang ties, so people also automatically thought it was a race thing. They've also often tried to shake off a gangster image, but somehow people always tie them back to thugs, especially the Tiga Line group (apparently their logos almost the same). 
The video of a vendor whacking a customer IS NOT REAL
Another example of people sharing wrong information was when Perak Today posted a video showing a vendor roughing up a customer, (although they later took it down and replaced it with this message). The same video was shared by that Baharom guy too, but joke's on them coz the video is totally NOT THE SAME INCIDENT. When we did a search on YouTube, we found the same video posted up 6 months ago!
So every side was sharing unhealthy racist stuff all around even though it was all FALSE. Anyone wanna join us in a detox juice drinking session?  
2. EVEN when IGP said it wasn't a racial issue, we still dun believe
Low Yat – @PDRMsia akan ambil tindakan terhadap kedua dua pihak yg bergaduh. Ini tiada kena mengena dgn kaum. Cuma dua pihak yg bergaduh! — Khalid Abu Bakar (@KBAB51) July 12, 2015
The police were telling people to stay calm and that the incident was not a racial issue, but just a theft incident that spiralled out of control. So surprising when KBAB actually makes sense, we also dunno how to react.
In reply to his tweet, some people urged him to act against those who played on racial sentiments, and then there are others who don't really have faith the police will act at all.
To be honest, the police have done a pretty awesome job so far in this case – not just clarifying the facts, but arresting 19 people including Baharom (a.k.a. Ali Tinju) and they're going after blogger Papagomo (who's real name is Wan Muhammad Azri Wan Deris). They're even launching an inquiry into why the original thief was let off on the same day.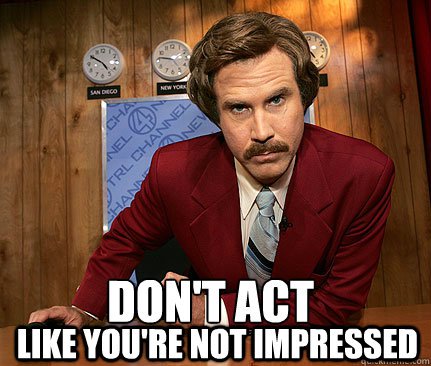 Just don't forget about #1MDB k, BAB?
3. People calling "Cina babi" and other nasty names
Aiyo, the whole Malay vs Chinese situation is the oldest battle in the book…not counting Spartans vs Persians. With so many insults being thrown around, no wonder people on fire. Baharom's Facebook was like a bombsite for comments, and oh yeah Boikot Plaza Low Yat, which seemed created specifically for this incident.
Of course, after something like May 13 (which we keep being reminded of), it's natural for these fears to come out. But let's forget the bad blood coz we'd rather talk about the people who HELPED each other in times of craziness, kerana kita 1Malaysia! Like this tweet for starters:
Really sad when some malays said cina babi… I thought all the while we are good friend for 58 years ? — feeling sad

— Genuine Motorsports (@GenuineMClub) July 13, 2015
And this journalist's account in The Star:
Plus Radzi and Joshua's account of people saving people from the mob.
"Some Malays were trying to stop the fight. For example, there were journalists who were being beaten and some Malays were trying to help them. My friends and I were trying to help too. We were worried about the Chinese journalists. Then we found them having a drink at a coffee shop." – Radzi
.
"Some Malays were trying to help the Chinese guys. I spoke to some of them, and they told me that the guys fighting are probably rempits, so yeah, it's not my own words. I witnessed this Chinese guy getting kicked in the face. Then a couple of Malays quickly pulled him back. They're not the ones hitting him. My own Malay friend was also trying to break up the fight." – Joshua
4. But it's also the sentiment of growing extremism in Malaysia
Why is it when KBAB said he will make arrests, people initially had doubts?
Could it be because some organisations and people have gotten away with it before? For example, Perkasa calling for Bibles to be burned, Agriculture and Agro-based Industries Minister Datuk Seri Ismail Sabri Yaakob calling for boycott of Chinese businesses, the cross protest, Ridhuan Tee and everything he says, etc.
No action was taken against them, so can ya blame anyone for having their doubts? How do you show fairness and the spirit of 1Malaysia if some people you tangkap (ie. Eric Paulsen for Jakim comments) and some people you don't. In fact, the different people are starting to have different ideas about what 1Malaysia really means.
So, sure la it makes everyone scared. Makes people think, 'oh dear, does everyone in Malaysia feel the same way?'
Makes you also wonder if social media really isn't good for us
Oh great! So now Minister in the Prime Minister's Department Nancy Shukri is saying we need to tighten our laws on social media to protect peace. Thanks Papagomo thanks. Although, when you think about it, maybe social media is really not good for us? Maybe we're not ready to hold that much power? Maybe the Sedition Act is *gasp* good?
Yes, it does help these things to spread like wildfire, both the good and bad. The good stuff being all the help Malaysians gave to those who live in the East Coast during the horrible flood last year. The bad being this incident and #CDM25. Racial sentiments spread fast to on social media, like the Boikot Barangan Cina Dap ORI Facebook page coming back into the limelight. Seriously, why do people associate DAP with Chinese only? Do you know DAP has Malay and Indian members too?
"This happened because people read questionable blogs than proper media nowadays. And this issue is becoming hard of the authorities as well." – Radzi
Hey, here's a suggestion – why don't you go after the crazy people who wrecked this WIRA instead? Easier right… their faces all there wut.
Good thing the moderates are getting louder too
Thankfully, a natural balance seems to be in order. We received questions from people checking to see if those tweets were real before making any conclusions! Which is a very good sign, guys.
Then there's this guy:
Even the Low Yat guys are in on the fight AGAINST racism. See, they have a hashtag #UniteAgainstRacism?
Proof that social media is not a breeding ground for just the extremists, and that the only racism we see is often a reflection of our own thinking. #deep.
But more importantly, perhaps the most important point in this Lowyat incident…
…