[This article was first done by SOSCILI. You can read it here.]
Not long ago, Buzzfeed announced that it was cutting 100 employees from its team. Then earlier in December 2017, Malaysia's Media Prima announced that it was going to offer unpaid career breaks to its workers, in what seems to be a series of cost cutting exercise since earlier this year. We personally understand the difficulty to survive while putting out free content… because we wouldn't wanna pay for stuff either HAH.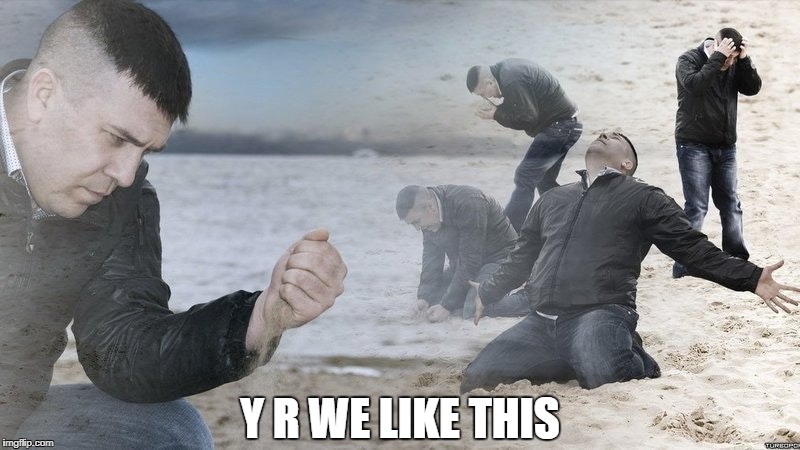 If you're thinking maybe its just the media that's suffering, Malaysian Employers Federation (MEF) executive director Datuk Shamsuddin Bardan actually revealed that the top 3 riskiest sectors in Malaysia are actually manufacturing, retail, and finance.
In Malaysia, the last few years have not been kind to employees across Malaysia. According to SOSCO (which we've written about here), almost 100,000 workers in Malaysia lost their jobs between 2015 to Jun 2017. But, does anyone know why so many people are losing their jobs?
More job cuts are expected in Malaysia, but you can expect a little relief
In 2016, the number of employees that lost their jobs were around 40,000, but it's probably much higher because many small and medium enterprises don't report their numbers. In 2015, it was more or less the same number. But things seem to be looking a bit brighter in 2017. Astro Awani reported that the number of retrenched workers this year was 17,000 as of June, while a more recent report actually suggest the number to be almost 23,000.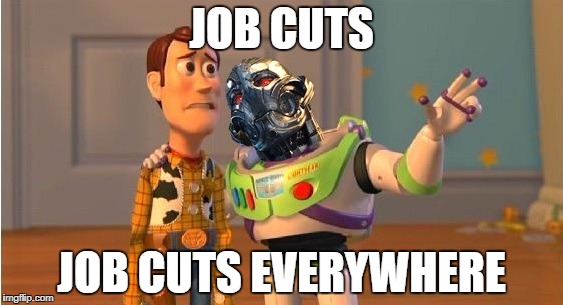 But the cuts are expected to continute, even decades from now according to the International Labour Organisation (ILO), and it's mainly due to the rapid rise of technology. A ILO report says 54% of all jobs in Malaysia are at high risk of being displaced by technology in the next 20 years.
Looking how quickly technology develops, more jobs will be able to be automated in all kinds of industry, and the retrenchment will continue in the future. – quoted from MStar.com
54% of all JOBS?! That's more than half of all existing jobs woih. In light of this, the Human Resources Ministry and SOSCO have been working to introduce a system to help workers who recently lost their jobs. It's called the Employment Insurance System (EIS) or Sistem Insurans Pekerjaan (SIP) in Bahasa Malaysia, and it gives you money in case you're out of a job!
HUH?! Free money?! Siapa punya grandfather is paying?
No one's grandfather is paying, it's actually ALL OF US that are pooling our salary together and contributing to the fund. Beginning Jan 1st 2018, employers and employees will each have to contribute 0.2% of an employee's base salary towards the EIS fund, equaling in a total contribution of 0.4% of our salaries to the scheme.
Walaueh, pay EPF and SOSCO already, now still need to pay summore? Well if its any consolation, 0.2% is a very small amount. If you're making RM2000 a month, you'll be contributing RM4 to the fund. The maximum salary is capped at RM4,000, meaning that even if you make more than RM4,000, the maximum you will need to pay is still RM8 (0.2% X RM4000). The Human Resource Minister Datuk Seri Richard Riot Jaem says that the current rate of 0.2% is one of the lowest in the world.
Another good news is, we don't have to worry about the hassle and paper work of registering and all that, because it all falls under the responsibility of the employer. Employers will have 60 days to register once the thing goes skrraa live, and it can be done through the online portal or over the SOSCO counter.
But actually, not every Ali, Ah Chong and Muthu is eligible to the money
The scheme actually only covers employees in the private sector. There's also an age limit for applicants, which is between 18 to 60 years old, but if you're aged 57 and above now, you might not be covered since you won't be contributing to the scheme anyway. Sorry lah, pak ciks and mak ciks.
The scheme only applies when you've lost your job through retrenchment or other similar reasons, meaning you cannot go ask for money if:
You sendiri resign
Your contract expired
Your contract terminated due to mutual consent
Your contract complete in accordance with the terms of conditions
You retired
Your contract terminated due to your own misconduct
If you got 2 jobs, you also cannot apply if you've only lost one of them. If you kena retrenched 2 times in a row in the same year, you will not receive allowance for the second retrenchment also. So it really, really is reserved for people that suddenly had no job anymore la.
With that out of the way finally, once you confirm you are truly deserving of the scheme already, how do you actually apply for it? Once you kena retrenched, you will have 30 days to apply for the allowance. EIS website tells us that you will be able to apply for it online. Once it's approved, you will receive a monthly allowance of RM600 per month, for up to 3 months maximum.
BUT WAIT, that's only PHASE ONE of the scheme! More money awaits in PHASE TWO!
The month allowance was only the first part, or what they call phase 1 of the system. Starting from 1st January 2019, which is phase 2, insured empoyees will be getting an additional "job searching allowance", and also free support service and classes to prepare you for a new job!
"In that 3 months, SOSCO can help connect retrenched employees with potential employers to ensure that they will find a new job as soon as possible." – Datuk Seri Richard Riot Jaem, Human Resource Minister, quoted from MStar.
The job search allowance will be given for 3 to 6 months based on a percentage of your previous pay, depending on how long you've contributed to the fund while you were working. For now, employees have to contribute for at least a year to be entitled to 3 months of allowance, and 2 years for the 6 month allowance. We're guessing this is why people aged 57 and above this year aren't entitled to the coverage, since they would have already retire by that time.
The allowance is also based on your previous salary, and will be given in an decreasing portion each month, as follows:
80% for month 1 + 

50% for month 2

+ 40% for month 3 + 40% for month 4 +

30% for month 5

+ 30% for month 6
The percentage is based on salary groups. Here's an example using a RM2,000 – RM2,100 salary, with RM2,050 as the assumed salary:
RM1640

+

RM1025

+ RM820 +

RM820

+

RM615

+

RM615

= RM5535
For the full breakdown of every salary group, you can go to page 35 of this PDF.
The scheme also offers a maximum of RM4,000 to pay the fees for each employee's vocational training, and on top of that, a RM10 – RM20 daily training allowance for you to attend classes. If you managed to to find a job anytime before the 6 month job searching period, they will still give you 25% of the remaining job search allowance as a reward!
Of course, thorough the entire time, SOSCO will be keeping a close eye, connecting you to potential employers and making sure that you're really looking for a job and not just shaking leg at home.
"SOSCO will interview the retrenched worker and work with various government and private recruitment agencies to help find him or her a job. We will monitor the interviews that they are called for and liaise with the potential employers." – Employment Insurance System Chief Mohd Sahar Darusman told Free Malaysia Today
The EIS is a safety net for employees, not a money dispensary
Perhaps one of the most consuming concerns when people lose their jobs is how they're going to survive without one. Earlier in 2017, Deputy Finance Minister Datuk Othman Aziz said that most Malaysians don't have enough savings to get them through emergencies.
"Based on a study, only 6% of Malaysians have savings to last them six months. This would mean that they will be facing a bleak future six months after becoming unemployed," – Datuk Othman Aziz said in a Dewan Rakyat session
While the EIS also serves as a financial band aid for the unfortunate, it also wants to help retrenched employees in Malaysia prepare to for their next job, and that is actually the true goal of the EIS.
"We want to make sure that people make the effort to get re-employed, that's why our monitoring of the support services is crucial. If the retrenched workers don't make an effort to gain re-employment, they will not be able to collect the benefits." – Mohd Sahar Darusman told Free Malaysia Today
So don't panic when you see an extra "charge" to your payslip next year, it's just saving up for a rainy day on your behalf.