DISCLAIMER: Investigations into this case is still ongoing so some info may be speculative or might change (we'll provide links and updates though). 
---
Alongside the Red Shirt Rally, yesterday's Malaysia Day "celebrations" was also marred by the saddening discovery of the body of lawyer Anthony Kevin Morais encased in a metal barrel filled with concrete. 
The case started close to two weeks back on September 4th, when Kevin was pulled out of his government-issue Proton Perdana by 3-4 men after his car was hit by a Mitsubishi Triton near his residence in Bangsar while on his way to work. He was put into the Triton while one of the men drove off in his Perdana. The next day, a burnt car resembling a Proton Perdana or Honda Accord (which the new Perdanas are based on) was found in an oil palm plantation in Perak, although the police have yet to confirm if the car belongs to Kevin as the fire had wiped out all the identifying features. However, the police did note that there were "elements of a crime".
And then, his body was found in a barrel dumped in a swampy area in Jalan Subang 3, USJ:
While the investigation to Kevin's cause of death is still ongoing, police are strongly looking into the angle that he was bludgeoned to death in the kitchen of a coffeeshop about 500 meters from where his body was found.
While the suspicious death of a high-profile lawyer is intriguing in itself, what's also caught the attention of many is the fact that Kevin was temporarily assigned to the MACC as a deputy director of prosecution for 10 years before returning to his post in the Attorney-General's Chambers as a deputy public prosecutor in July this year.
So if he's with MACC, this must have something to do with 1MDB, right????
[interaction id="55fb981e66f2b66b49cb4fcc"]
Kevin's brother, Datuk Richard Morais believed that Kevin was killed over a case he was involved in:
"I don't know what to say. This is not a normal death. … Everybody knows this was case related. This was case related" – Richard Morais, Kevin's brother, as quoted by The Star.
Also, the way that Kevin was abducted is reminiscent to methods used by the police in several other cases; such as with activist Hishamuddin Rais, who was tailed by plainclothes policemen and when he got off the taxi,
"One of them dragged him by the chest, covered Hisham's mouth to stop him from shouting. They threw Hisham into another car and took him to Dang Wangi." – PKR Communications director Fahmi Fadzil, as quoted in The Rakyat Post.
The brother of businessman K.Gobala Guru also found the circumstances familiar, when two individuals who identified themselves as policemen attempted to coerce Gobala into entering a car, which eventually led to him trying to escape and being caught and bundled into a Naza Citra in full view of the staff of a hotel he ran into. Gobala's BMW was eventually found burnt beyond recognition in Ulu Yam, though no trace of him has yet to be found. You can read the full account here.
So with all this in mind, let's look at how Kevin's murder is linked to the 1MDB investigation:
It's (probably) not related to 1MDB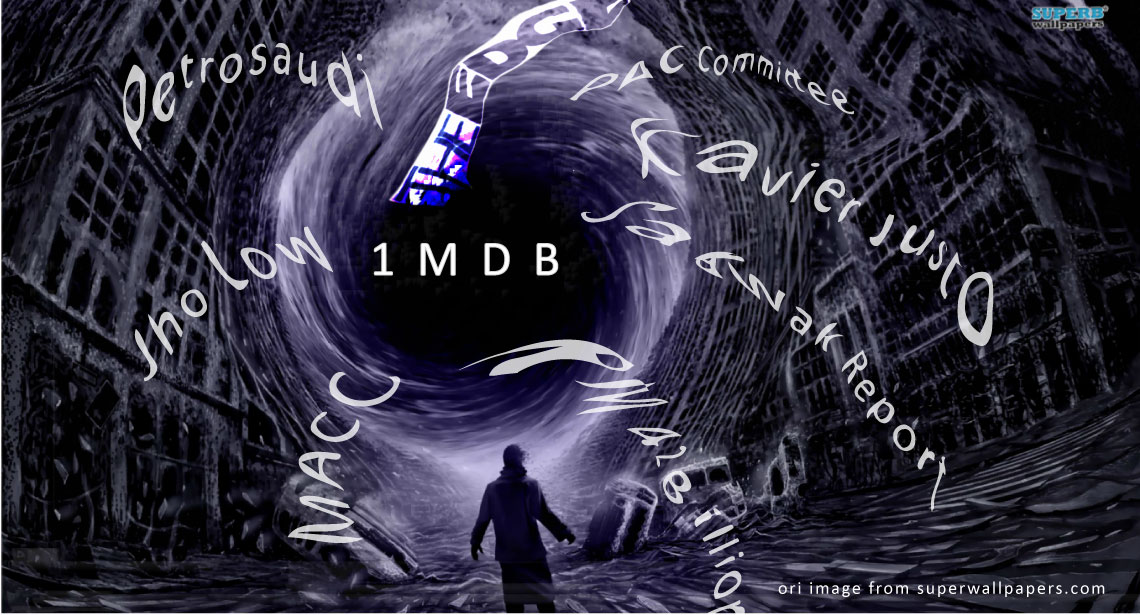 Yeah… it most likely isn't, but after all the bad things that's been happening to the MACC – with police raids, transferred officers, and heads going "on leave" – since the whole 1MDB debacle started, can you blame anyone for thinking otherwise?
In fact, the Sarawak Report published an article alleging that Kevin was the one who leaked drafts of documents for PM Najib's arrest, along with other allegations about his death that you should probably read yourself because CILISOS isn't too keen on cops ringing our doorbell.
But here are the reasons (from the official investigations, anyway) why it's not:
1. Kevin was not involved in the 1MDB investigation
Although Kevin has handled many high-profile cases (a current one involves Sime Darby's ex-president), Attorney-General Tan Sri Mohamed Apandi Ali clarified that 1MDB was not one of them:
"It is further clarified that Mr. Morais is not involved in any investigation pertaining to 1MDB and that the MACC cases which he is handling in his current portfolio are cases which he brought along with him for purposes of continuity of prosecution." – Tan Sri Mohamed Apandi Ali, Attorney-General, as quoted by Astro Awani.
2. 8 suspects had already been arrested… and it has nothing to do with 1MDB
The barrel containing Kevin's body wasn't discovered by chance. The police were led to the site after the arrest of 7 people, including a woman and a child who were not involved. An eighth suspect was arrested at the time of writing. Police also recovered a total of RM32,000 along with the Triton allegedly used in the abduction, and a receipt from a shop in Subang Jaya for cementing hardware. This points towards the likelihood of a paid hit… but by who?
3. It's a revenge killing related to a bribery case Kevin was involved in
Update: We've removed the doctor's name and picture as a reader (Thanks Qishin!) pointed out that it could jeopardize his current corruption hearing. 
Kevin was the deputy public prosecutor on a corruption case involving the supply of medicines and equipment to a military hospital. The suspect, a doctor with the rank of Colonel and head of the Pathology lab at Hospital Angkatan Tentera Tuanku Mizan, was on trial in September 2014 for two charges of bribery amounting to RM700,000. The Colonel is believed to have hired the other men to carry out the abduction as revenge after Kevin allegedly turned down his offer of a bribe.  
Again, these are the official results from the investigation so far. It would be a pretty straight-cut case putting an end to the theories of a government conspiracy if not for Kevin's link to yet another high-profile murder in 2013…
Kevin's death might be related to the murder of the AmBank Chairman
A few days after Kevin's abduction, Pascal Najadi, the son of AmBank founder Hussain Ahmad Najadi, released a statement asking for the authorities to investigate a possible link between Kevin's disappearance and his father's assassination. Hussain and his wife (who survived) were shot in the parking lot of the Kuan Yin Temple in Lorong Ceylon after a business meeting. The shooter has been caught and sentenced to death with the motive being a RM100 million land deal which had gone sour.
However, Pascal claims that, according to a verified source, the person who called his father to the location, as well as the last person to see his father alive; was Kevin's brother – Datuk Richard Morais.
According to the statement, Hussain was called to the temple on short notice where he met with Richard, had a friendly conversation, and left the temple grounds after exchanging friendly goodbyes… and was shot minutes after Richard left.
While the case was officially solved and closed, Pascal claims that the real reason his father was killed was because he planned to expose the details involving the RM2.6 billion found in PM Najib's private AmBank account, and that his father had rejected previous attempts to buy his silence:
"[Dad] then spoke about massive corruption. He also said that they [people in power] had lost the plot in the sense that they recklessly and behind their own population's backs raked in billions of ringgit from construction, oil & gas to defence & transportation. …I believe that he would have gone to senior regulators direct to report findings that he found out involving massive amounts being looted … They offered my Dad to flip (as a go between) a very large piece of KLCC land. My Dad at this lunch said that he told them off and said that he would never do such a corrupt flip flop etc." – Pascal Najadi, as quoted by The Sarawak Report. 
You can check out the full interview at Sarawak Report or, if blocked, excerpts from the interview at Malaysiakini.
IGP Khalid has denied any links between Hussain's shooting and 1MDB, although they did investigate the possibility that Kevin's disappearance was linked to the shooting. But is there a significance for Kevin's body being found in a barrel?
There have been at least 10 Malaysian cases where bodies were found in barrels
At risk of being morbid, we're only discussing this because some people have pointed out the conspiratorial tone or simply just the shock that Kevin's body was put in a concrete-filled barrel. However, this really isn't as uncommon as it may seem as there are at least 10 other cases in Malaysia in which bodies were found in cement or concrete-filled barrels since 1998.
Internationally, some other instances in which this method was used was the 2013 murder of Russian lawmaker Mikhail Pakomov, whose body was found in a cement-filled barrel in a private garage. Another instance is the murder of an English teacher in Japan, whose body was placed in a bathtub full of sand in preparation for her killer to pour a cement mix over it before the police showed up, and an Australian case where a man was shot, had his body placed in a cement-filled barrel and dumped in a river.
Also, unlike what you might watch in some movies, bodies are actually very hard to get rid of. Barrels have been used for some time as a way to transport bodies without being detected, and the filling of cement or concrete is usually used to weigh the barrel down, prevent smells from escaping, and/or to prevent dogs or equipment from detecting the body.
A call for witnesses!
The investigation into Kevin's murder is still ongoing, and the police are still calling out for witnesses… especially those information on an accident at Jalan Duta Mas on Sept 4 at about 7.51am .
In particular, they are looking for the driver or passengers of a WHITE TOYOTA ESTIMA who stopped and saw the incident according to CCTV footage.
Police are also looking for two more suspects to assist in the investigation:
Dinishwaran a/l Raman, 23
Vishwanath a/l Murugaya, 25
UPDATE: Vishwanath was arrested on the 20th after a tipoff from the public. 
Anyone with information can call any police station or the KL police hotline at 03-2115999.
Can we trust the police to properly investigate Kevin's murder?
Before we let you know what we think, we wanna know how you guys feel about this:
[interaction id="55fb8aa666f2b66b49cb369d"]
Again, the police have dismissed any links between Kevin's murder to 1MDB or Hussain Najadi (although they did investigate this angle). Kevin's brother Richard, the MACC, and the Attorney-General's Chambers have placed faith in the police to properly investigate the case, with commendations from Richard and the MACC for their work so far.
However, the court of public perception tells a different story:
But whether or not there is a conspiracy, perhaps these sentiments are more telling of the general mistrust of the government and the investigative authorities. We've seen this from more recent sentiments about the supposed double standards in the treatment of the Red Shirt Rally versus Bersih, or of the questionable investigations of Altantuya, Teoh Beng Hock, or 1MDB to name a few.
So for as long as there's a mistrust of the government, people will think that everything, especially something so high-profile, is linked as part of a greater conspiracy whether it is actually true or not. 
But in the end, it's sad that the Malaysia has lost a dedicated and highly regarded lawyer who's known to "uphold the law without fear or favor"  but even moreso, the loss of a brother, colleague, and friend.
Rest in Peace, Kevin Morais.