Over the weekend, we were hit with the news that former DPM, Tan Sri Muhyiddin Yassin, and former Kedah MB, Dato' Seri Mukhriz Mahathir, had been sacked from UMNO. So not just sacked from positions but TOTALLY kicked out of the party.
But barely a day later, there were reports that a new political party would rise from these ashes. The Gabungan Ketua Cawangan Malaysia or GKCM (a group of UMNO chiefs calling for Najib to quit) said that they are hoping to be part of a new political party led by Tun M, together with these 2 flers. They've already started referring to it as the "3M" party (because of their names, duh).
Among the 3M itself, Tan Sri Muhyiddin didn't specifically mention a political party BUT he was considering a new "political platform".
"The new political platform will give people a choice, so that our country's future is always safeguarded." – Tan Sri Muhyiddin Yassin, as quoted by The Malay Mail Online
But let's just say they actually go through with this political party. What could it possibly do to the political landscape? Well, new political parties are not that…new in Malaysia. And so we thought we'd compare this potential new party's impact with other new parties in Malaysia over the years. And there's been quite a few.
1. Like when….one of Malaysia's oldest parties split into two? (2015)
Some of you may recall that PAS was torn into 2 factions last year during their party elections, the ulama faction, and the progresif faction. Long story short, the ulama faction beat the progresif to a pulp. The progresifs eventually started a movement called Gerakan Harapan Baru, which became the party known as Amanah.
According to their President, Mohamad Sabu, Amanah was launched to continue the Islamic political legacy of their past leaders like Nik Aziz, and also "charting a trustworthy, progressive and caring political path".
When this happened, many eventually left PAS to join them, and they became pretty legit by forming an alliance with DAP and PKR, and contesting in the Sarawak state and by-elections. And it's fair to say, their presence is already being felt in some sense.
(In Kuala Kangsar, they won 4,883 votes, as compared to PAS' 5,684 and UMNO's 12,653 votes.)
But one thing common in both these by-elections was that if PAS and Amanah's votes were combined, they would actually be much closer to the amount that BN got. In fact, if you look back at these seats during GE13, BN won the Kuala Kangsar seat by about 1 thousand votes, and the Sungai Besar vote by a mere 400 votes! So the emergence of Amanah may have  actually split the votes between the opposition parties.
Will Tun M's new party become like Amanah?
Possibly, if they do manage to create as big as a fracture in UMNO as Amanah did. But it may be difficult for them to have the same impact because while we have the GKCM which doesn't support Najib, many other UMNO groups have pledged their loyalty to him.
So Tun M mayyyy be able to draw some support away from UMNO, but it's difficult seeing it have the same effect as Amanah did with PAS.
2. Like when….a former UMNO veteran started his own party? (2015)
Not many of us would have heard of IKATAN, a relatively new party that was launched a year ago by former Tourism Minister/UMNO Supreme Council member, Tan Sri Abdul Kadir Bin Hj Sheikh Fadzir.
You can find out more about them in one of our articles (we actually went for their launch!) but basically Tan Sri Kadir described his party as one found on the values of the founding fathers. But he also said during the launch that they are not interested in winning the General Elections.
"IKATAN is a party created for the future generations. It is not a party for the next election. Hence we are very free to push our position on the various issues facing the country that would bring maximum benefit to the country and future generations. IKATAN need not be just "populist"." – Extract of speech by Tan Sri Kadir
Ikatan actually chose to not align themselves with either Pakatan Rakyat (back then), or the gomen. And they could actually be something politics refers to as the "3rd party" whose role is to actually keep the bigger parties accountable (and maybe even steal votes from other parties) amongst other things.
Unfortunately, ever since their launch, very little has been heard about IKATAN. Earlier this year, they announced that they were forming an alliance with PAS. 
Will Tun M's new party become like IKATAN?
If Tun M's new party were to go through, it would be similar to IKATAN in the sense that it's formed by a former UMNO veteran, and they may not actually be aligned with the current opposition (but more on that later). One article even already started to mention the possibility of this new party becoming a "3rd force". But Tun M's party may have a bigger effect as a 3rd party simply because of one thing. First, let's see if we can test that one thing with this poll.
It's been more than a year, and we assume that many of you would still have answered no. But Tun M's party isn't even confirmed and people are already talking about it.
Sometimes politics is a popularity contest after all.
3. Like when…a former UMNO head united the opposition? (2008)
We're talking about when Anwar Ibrahim made his political comeback and brought the opposition to its biggest ever general election win (at that time) in 2008.
Anwar was released in 2004 and returned politics after winning the 2008 Permatang Pauh by-election (which was vacant after his wife resigned, obviously to let him compete), and taking over as the leader of the Malaysian opposition.
After that, the opposition won handsomely in the 2 following general elections. And while there are many factors why Pakatan Rakyat won, it can be said that Anwar Ibrahim was the one who united the opposition.
He made it clear in 2011 that hudud would not be a part of Pakatan Rakyat's policy, the very same issue which eventually tore Pakatan Rakyat apart last year, and coincidentally, not long after he was sent back to jail.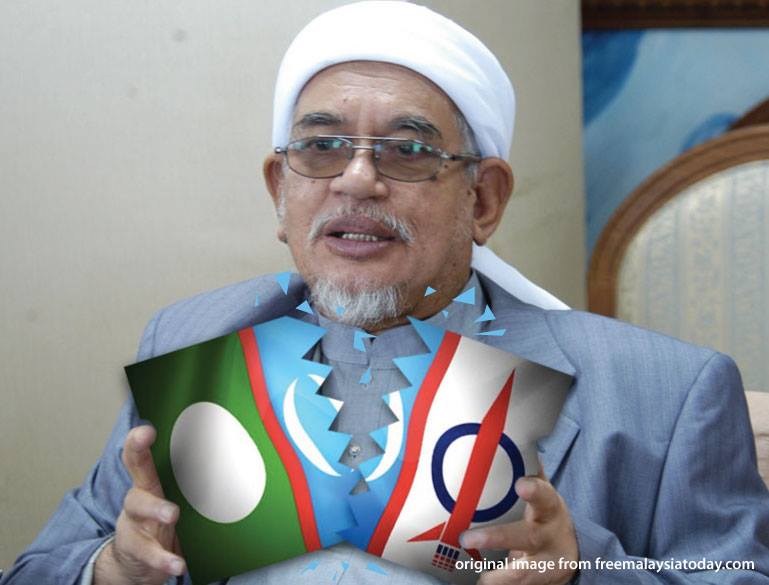 Will Tun M's new party become like Pakatan Rakyat?
While there would be similarities in the way Tun M is making a political comeback just like Anwar Ibrahim did, the impact could probably only be the same IF Tun M can unite the opposition to challenge BN once again.
But this is where it gets a bit tricky. Tun M and his son have both said that the former PM will not support the opposition. On the other hand, Anwar Ibrahim himself has warned PKR twice about working with Tun M. (But just a few months before that he said he supported Tun M's battle against Najib. Make up your mind Anwar!) However, Tun M may have had a change of heart because was recently campaigning for the opposition against BN, and publicly declared that he has nothing against Anwar now.
So maybe, maybe not. It really depends on whether both Tun M and the opposition both decide to work together.
4. Like when….UMNO was disbanded and established again (1988)
This may come as a shock to some people, but the UMNO we have today technically isn't the same UMNO as the one that Tunku Abdul Rahman led to independence.
Back in 1987, Tun M actually formed a "new" party. New in the sense that the old UMNO was declared illegal by the court. It's a long story but basically a civil war between PM Tun M and another prominent UMNO member, Tan Sri Tengku Razaleigh Hamzah (also known as Ku Li) who were both vying for the position of President of UMNO during the party's 1987 elections (where the party votes for their leaders).
Tun M won, but Ku Li and his supporters cried foul. They brought the election results to court, which eventually got UMNO banned. In response, Tun M formed "UMNO Baru", which is the UMNO we see today. Ku Li and his supporters were not surprisingly, left out of UMNO Baru. Ku Li himself, rejoined UMNO in 1996 and is currently the MP of Gua Musang, Kelantan.
So when UMNO was disbanded, all Tun M did was form a new party with his supporters, and regained power.
Will Tun M's new party become another new UMNO?
Once again, maybe not, because back in 1988, Tun M was still in charge. This article claims that when Ku Li challenged the UMNO election results, Tun M chose to allow the party to disband and rebuild because it allowed him to rewrite party rules.
Besides that, when UMNO was disbanded, Ku Li actually attempted to form his own UMNO. But that didn't work because Tun M was the head of the Home Ministry…which was in charge of approving new parties! Last but not least, it's been said that during this time, Tun M also damaged our court system when the judge who declared UMNO illegal was sacked, something that a former judge said we have not recovered from.
So it's highly unlikely that Tun M's latest party would have the same effect as UMNO Baru, simply because he doesn't have the power anymore, Najib does (powers that may have been bestowed on Najib by Tun M himself).
More parties the better?
Well, this article quotes a doctor that actually doesn't think we have too many political parties.
"Other democracies with competitive party systems also have a lot of political parties. India would be a good example." – Prominent social activist Dr Chandra Muzaffar, as quoted by Azman Ujang on The Sun
But maybe the number of political parties wouldn't be an issue but that despite the growing number of political parties all fighting to win, they're not exactly working together to achieve anything. That is a problem because divided country is easier to conquer, which is why if there is to be an opposition, they need to be more united than ever before.
"A vibrant civil society can challenge those in power by documenting corruption or uncovering activities like the murder of political enemies. In democracies, this function is mostly performed by the media, NGOs or opposition parties." – Evgeny Morozov, from BrainyQuote